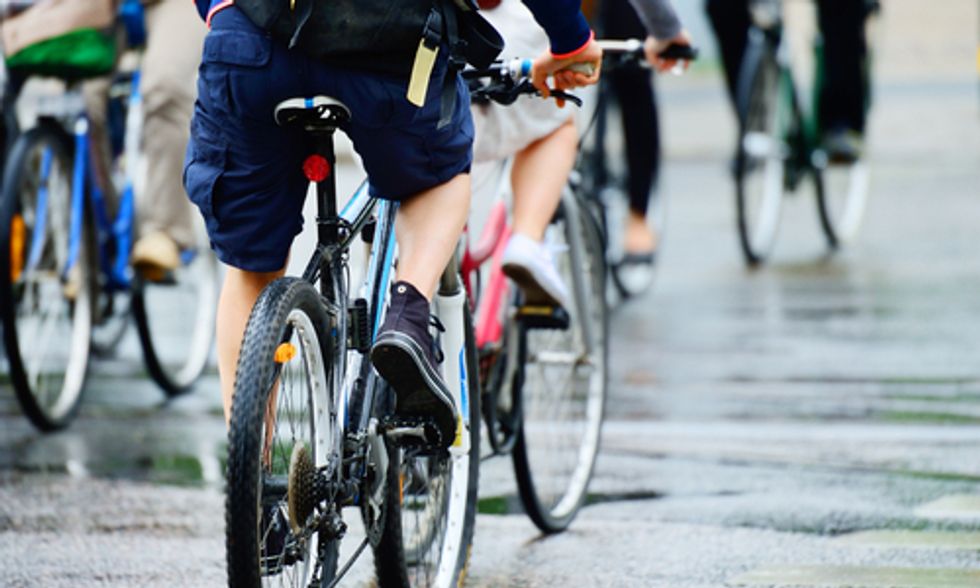 Perhaps you pedal year-round, to work, to school, to the library and coffee shop (and if so, a hat tip to you), or you are a recreational biker who likes to ride the trails on a summer weekend. Well whatever kind of biker you are, this month is for you.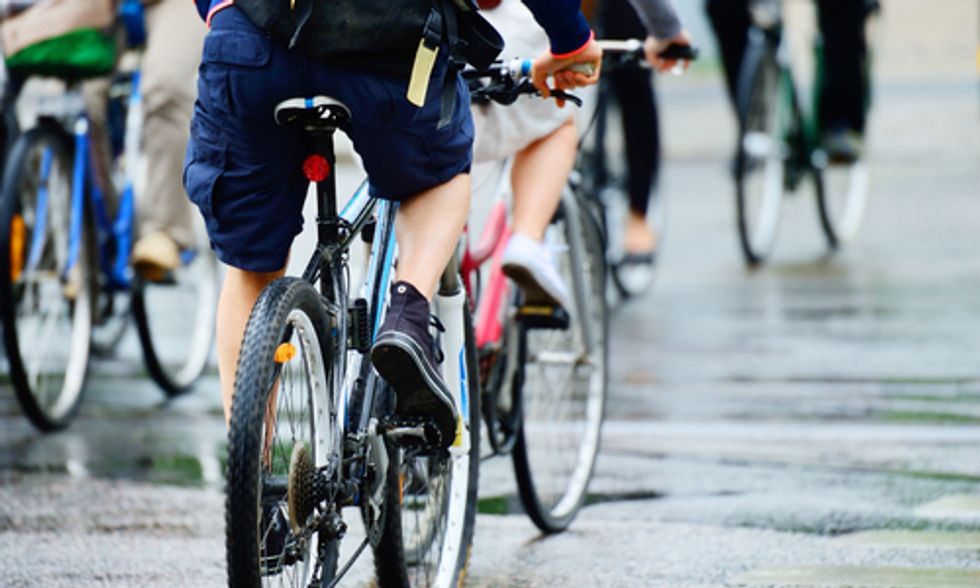 Photo courtesy of Shutterstock
May is National Bike Month, sponsored by the League of American Bicyclists, established in 1956 to encourage more people to bicycle—and to highlight all the benefits of doing so.
Bicycling offers a range of benefits from economics to environment to health. Bikes Belong offers the following bike statistics:
Bicycling is for everyone. Bicycling is the second most popular outdoor activity in the U.S.

Bicycling is the ideal way to take short trips. Most trips Americans make are short: 49 percent are less than 3 miles, 39 percent are less than 2 miles, and 24 percent are less than 1 mile.

Bicycling can help you live longer and better. Three hours of biking per week reduces the risk of heart disease and stroke by 50 percent.

Bicycling boosts the economy. Twice as many bicycles are sold in the U.S. each year than cars.

Bicycling is less expensive than driving a car. On a round-trip commute of 10 miles, bicyclists save around $10 daily.

Bicycling reduces road congestion and air pollution. For every 1 mile pedaled rather than driven, about 1 pound of CO2 is saved.

Bicycling is safe, and together we can make it safer. There is safety in numbers: the more cyclists there are, the safer bicycling is.
Whatever your reasons for biking, consider taking your bike to work tomorrow. May 16 is National Bike to Work Day. The League explains:
More than half of the U.S. population lives within five miles of their workplace, making bicycling a feasible and fun way to get to work. With increased interest in healthy, sustainable and economic transportation options, it's not surprising that, from 2000 to 2011, the number of bicycle commuters in the U.S. grew by more than 47 percent.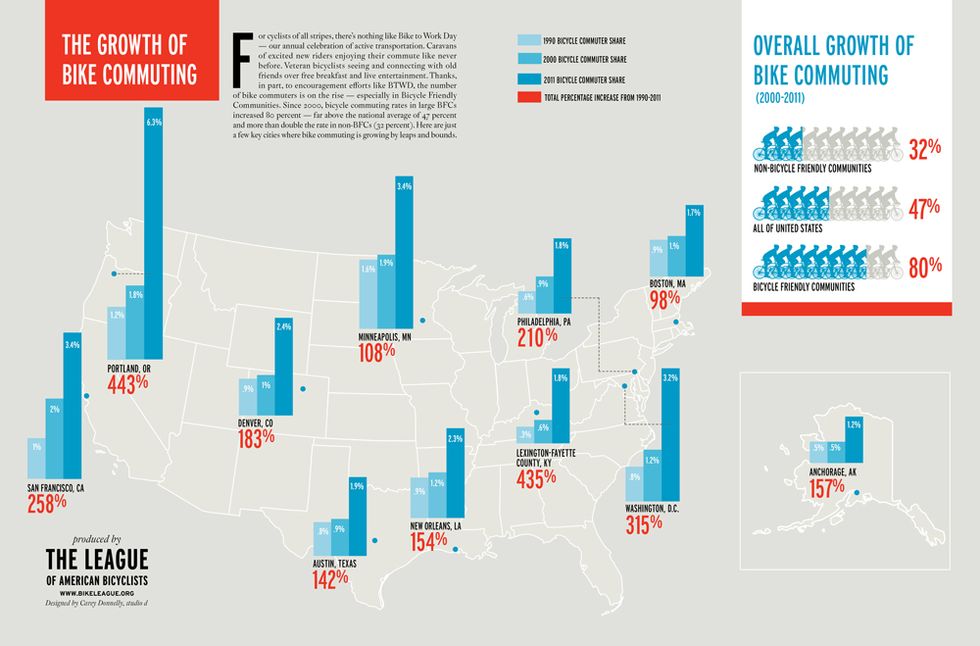 New to bicycling? The League offers a series of videos in their online Smart Cycling program on bike gear, riding safely on the road and more.
Want to bike for transportation or fun, but don't have the resources or space for your own bike? Then consider bike-sharing, which is growing in popularity around the world. According to Earth Policy Institute, currently about 600 cities in 52 countries offer bike-sharing programs, with a combined fleet of more than 570,000 bikes.
The Institute created a bicycle share fact sheet; here are a few highlights:
Spain leads the world with 132 separate bike-share programs. Italy has 104 and Germany 43.

The U.S. hosts 36 modern bike-sharing programs. With a number of new programs in the works and planned expansions of existing programs, the U.S. fleet is set to nearly double to more than 37,000 publicly shared bicycles by the end of 2014.

Bike-sharing cities are finding that promoting the bicycle as a transport option can lead to more mobility and safer streets for all.

Bike shares, lanes and other bicycle-friendly infrastructure are a boon to local economies.

With more than half the world's population now living in cities, there is tremendous potential for municipal governments and urban planners to increase bicycle use.

With annual memberships in most cities well below $100, bike sharing is far cheaper than the $7,800 average cost estimated by AAA to own a car and drive it 10,000 miles a year.
As Earth Policy Institute summarizes: "The prevalence of bicycles in a community is an indicator of our ability to provide affordable transportation, lower traffic congestion, reduce air pollution, increase mobility, and provide exercise to the world's growing population." And, as the League of American Bicyclists puts it, simply, when more people ride bikes, life is better for everyone.
So celebrate all-things-bicycling and ride to work May 16, or plan an event for Bike Month. Consider signing up for the League's National Bike Challenge, to challenge yourself to ride more and to connect with other bike-friendly people in your community and across the U.S.
——–
YOU MIGHT ALSO LIKE
Is Your City Listed in Latest Ranking of Bicycle Friendly Communities?
Dozens of U.S. Cities Join the Bike-Sharing Bandwagon
Doctors Prescribe Spending Time In Parks
——–
EcoWatch Daily Newsletter
Recent Stories from EcoWatch