This website uses cookies to ensure you get the best experience while browsing it. By clicking 'Got It' you're accepting these terms.
Richard Branson Presents Sustainia Award for World's Most Innovative City Solution
Dec. 06, 2015 01:02PM EST
Effective and inspirational, the redesign of Indian city Chennai wins the 2015 Sustainia Award, chaired by Arnold Schwarzenegger, for its solution to the city's mounting air pollution and traffic casualties. The city receives the award, while experiencing incessant rainfalls, overflowing rivers and lakes are causing thousands to flee the city, stressing the importance of sustainable solutions and climate adaptation.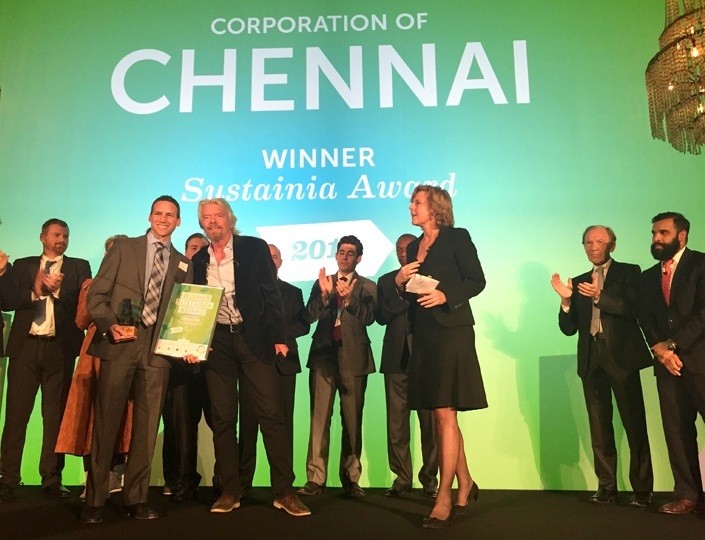 With more than 10,000 traffic crashes reported in Chennai every year—one of the highest rates of road deaths in India—and outdoor pollution as one of the region's top health risks, this year's Sustainia Award Winner addresses climate, transportation and health challenges in one go.
In 2012, the City of Chennai, along with the Institute for Transportation and Development Policy, implemented sweeping changes to give the city's streets back to the people. This policy solution requires that at least 60 percent of the city's transport budget to be allocated to constructing and maintaining infrastructure for non-motorized transit, including expanded footpaths, safe pedestrian crossings, protected cycle tracks, conveniently placed bus stops and clearly designated on-street parking.
So far, Chennai has created wide and continuous footpaths on 26 streets, and work on the next 60 streets is underway. Amazingly, there have been no new cases of any road crash fatalities reported from the streets that have undergone the redesign. The city aims to have safe and continuous footpaths on at least 80 percent of its streets by 2018, and as the expansion process continues, the city is serving as a model for other Indian cities, such as Trichy and Madurai, looking to make similar improvements.
The Chennai solution addresses major challenges linked to rapid urbanization in countries across the globe. In 1990, less than 40 percent of the global population lived in a city. In 2050, the expected number will increase to 70 percent. The World Health Organization warns that urban outdoor air pollution is responsible for 1.3 million premature deaths worldwide per year and by 2050, according to the OECD, air pollution is projected to become the biggest environmental cause of mortality worldwide.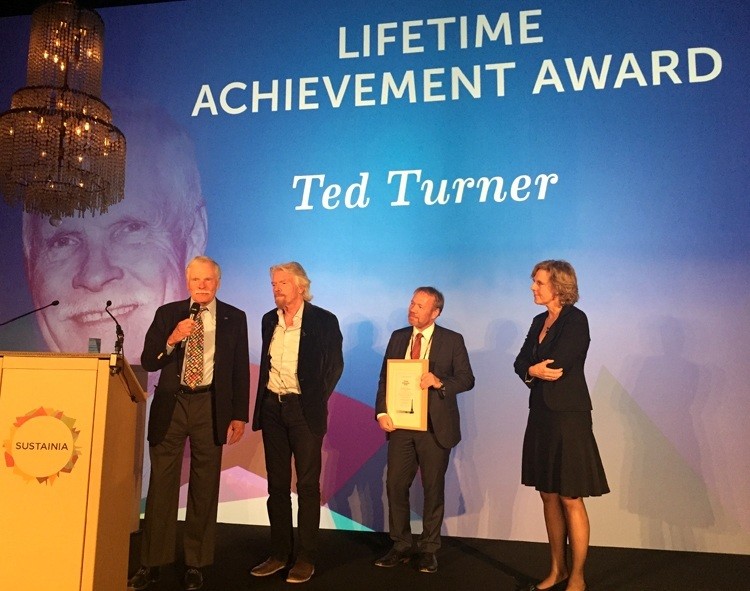 From Chennai to Paris
While our spotlight is on Chennai, another city grabbing the world's attention this week is Paris. Together with nine other leading innovations from nine different countries, the Indian city solution presented their project on stage at the annual Sustainia Award Ceremony, an event celebrating state-of-the-art innovations across 10 sectors such as food, fashion, transportation and buildings in an effort to bridge the gap between the political negotiations and the innovations on the ground.
The award ceremony was held in Paris on Dec. 5 during the UN climate change negotiations, COP21, to send a signal to global leaders that national level policies must be supported by concrete solutions and local action. Chennai's project proves that cities have the power to become healthier, safer and more sustainable places, and that committed local leadership can show national authorities that change is not only possible, it's necessary for a prosperous future.
About the Sustainia Award
Sustainia Award is an annual international award given to a solution, technology or project with a significant potential to help build a more sustainable future. Through a worldwide submissions campaign, the partners behind Sustainia Award each year create a list of 100 readily available innovations to highlight that a sustainable transition is possible and already happening.
YOU MIGHT ALSO LIKE
Leonardo DiCaprio: 'Do Not Wait Another Day' to Move to 100% Renewable Energy
Carl Pope: Cities Can Lead … Cities Want to Lead … So Let them!
Bill McKibben: 'Paris Summit is Missing One of the Great World Leaders on Climate' Because He's in Prison
Climate Change Blamed for Southern India's Worst Flooding in More Than a Century
William Happer, head of proposed White House climate panel, in the lobby of Trump Tower in 2017. Jabin Botsford / The Washington Post via Getty Images
The White House is assembling a climate change panel to be headed by a known climate denier who once took money from a coal company to testify at a hearing and who has compared criticism of carbon dioxide to Hitler's demonization of the Jews.
William Happer, a Princeton physicist who has never trained as a climate scientist, joined the Trump administration in September 2018 as senior director for emerging technologies at the National Security Council (NSC).
KarinaKnyspel / iStock / Getty Images
2018 saw a number of studies pointing to the outsized climate impact of meat consumption. Beef has long been singled out as particularly unsustainable: Cows both release the greenhouse gas methane into the atmosphere because of their digestive processes and require a lot of land area to raise. But for those unwilling to give up the taste and texture of a steak or burger, could lab-grown meat be a climate-friendly alternative? In a first-of-its-kind study, researchers from the Oxford Martin School set out to answer that question.
Three scissor-tailed flycatcher fledglings in a mesquite tree in Texas. Texas Eagle / CC BY-NC 2.0
By Gary Paul Nabhan
President Trump has declared a national emergency to fund a wall along our nation's southern border. The border wall issue has bitterly divided people across the U.S., becoming a vivid symbol of political deadlock.
PeopleImages / E+ / Getty Images
By Daniel Ross
Hurricane Florence, which battered the U.S. East Coast last September, left a trail of ruin and destruction estimated to cost between $17 billion and $22 billion. Some of the damage was all too visible—smashed homes and livelihoods. But other damage was less so, like the long-term environmental impacts in North Carolina from hog waste that spilled out over large open-air lagoons saturated in the rains.
Hog waste can contain potentially dangerous pathogens, pharmaceuticals and chemicals. According to the state's Department of Environmental Quality, as of early October nearly 100 such lagoons were damaged, breached or were very close to being so, the effluent from which can seep into waterways and drinking water supplies.