Rich Nations Failing to Do 'Fair Share' to Fight Climate Change
Oct. 19, 2015 09:23AM EST
Climate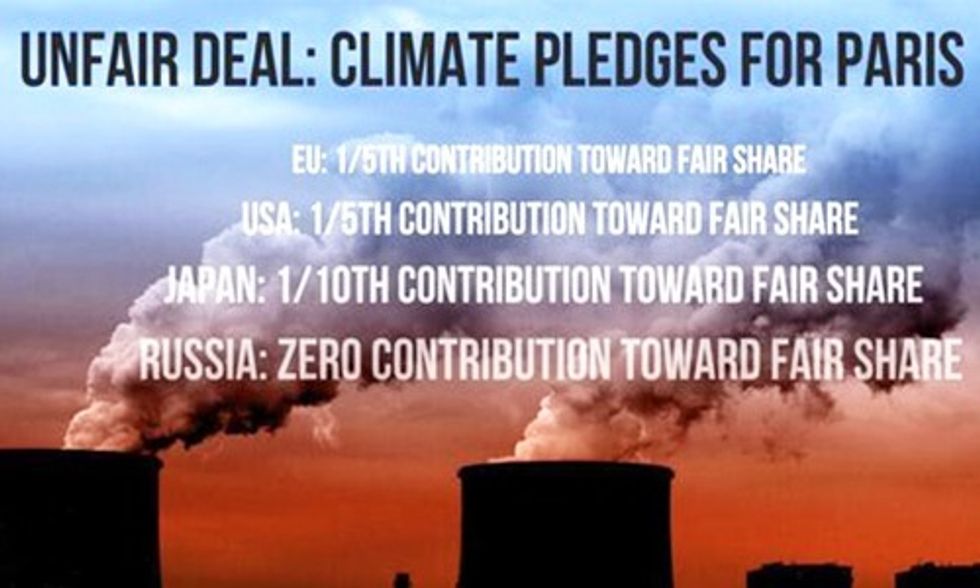 Friends of the Earth International warned today that rich countries—those most responsible for climate change—are putting us on course for irreversible and more devastating climate change, instead of taking the urgently needed radical action to reduce their carbon emissions.
Rich countries seek to shirk responsibility as #Bonn #climate talks open. Press Release: http://t.co/LP8he08Ewp http://t.co/M6KrREQ3SA

— FoEScot (@FoEScot)1445246107.0
The warning was issued as governments from around the world start a week-long gathering at the UN climate talks in Bonn to negotiate, for the first time, the text of a new global climate treaty to be agreed in Paris in December.
"Emission cut pledges made by rich countries so far are less than half of what we need to avoid runaway climate change," said Susann Scherbarth, climate justice and energy campaigner at Friends of the Earth Europe. "The draft Paris agreement on the negotiating table this week shows that many seem ready to accept irreversible and devastating consequences for people and the planet.
"This draft would even dismantle several key principles of the UN climate convention, such as equity. This is simply unacceptable. Richer countries must do their fair share. The new treaty must protect poorer countries and people, not let richer countries off the hook."
"Politicians are on track to fail us at their summit in Paris," said Dipti Bhatnagar, Friends of the Earth International's climate justice coordinator. "Many politicians, under pressure from transnational corporate polluters profiting from fossil fuels and dirty energy, are promoting coal, fracking and nuclear at the UN and nationally. Instead, they should commit to drastic emission cuts and a transformation of our energy system." 
Hundreds of thousands of people are paying with their lives for our governments' continued inaction. But the real leaders, the people, are taking action and showing the way with real solutions, such as community controlled renewable energy.
Thousands of people from all over the world, including Friends of the Earth supporters, plan to go to Paris to make their voices heard during the United Nations climate summit and to mobilize further in 2016 and beyond.
"Our governments must stop dirty energy and urgently follow the real leaders—the people, not the polluters. More and more people are supporting the real solutions, resisting fossil fuel extraction and leading us towards climate-safe societies," said Bhatnagar. 
Climate justice organizations, social movements, faith groups, trade unions, environmental and development organizations released a new report today: Fair Shares: A Civil Society Equity Review of INDCs.
The report shows that many developing countries are pledging to do more than their "fair share" to cut emissions while rich countries are dangerously failing to pull their weight.
The report is based on the information governments have submitted to the UN about their Intended Nationally Determined Contributions (INDCs), which outline by how much they pledge to cut their emissions.
The report argues that while "equity" is a core principle in the UN process to find a global deal, countries have so far been allowed to determine their own targets on a purely national basis without reference to the scale of the global effort needed.
In the report, the fair share that each country should have in tackling climate change is measured based on their level of responsibility in causing the crisis as well as their capacity to tackle climate change at this moment in time.
YOU MIGHT ALSO LIKE
50 Ways You Can Help Save the Earth
Obama Cancels Arctic Drilling Leases
Real Climate Action Starts With What's on Your Plate
150+ Events Across America Demand Bold Climate Action in Paris
EcoWatch Daily Newsletter
Related Articles from EcoWatch
Recent Stories from EcoWatch