This website uses cookies to ensure you get the best experience while browsing it. By clicking 'Got It' you're accepting these terms.
Rich Countries Fail to Agree to Rapid Decline of Greenhouse Gas Emissions
Jun. 08, 2015 09:02AM EST
Climate
Some of the world's richest countries are not doing enough to limit their greenhouse gas emissions, according to new analysis.
The report by Climate Action Tracker (CAT) says that all the G7 countries and the member states of the European Union (EU) have so far agreed to keep their emissions at around their present levels for the next 15 years, instead of cutting them fast.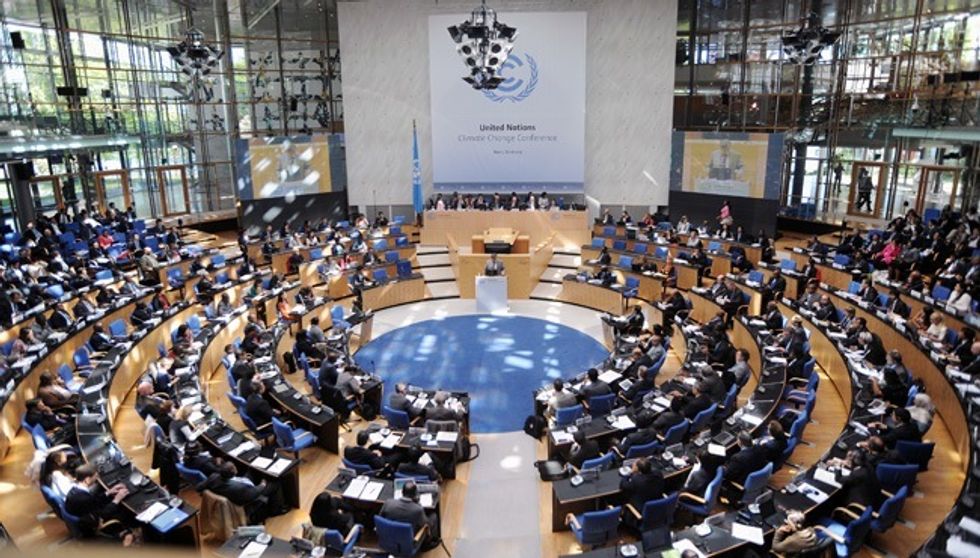 The combined climate plans for the G7 and the EU mark "a small step towards the right track to hold warming to two degrees Celsius, but they still leave a substantial emissions gap," according to analysts from CAT, which reports on countries' emissions commitments and performance.
The gap yawns so wide that the present level of commitment shown by the two blocs would go less than one-third of the way to staying within the two degrees Celsius limit, they find.
Extreme risk
And they say there is "an extreme risk" that this low level of ambition could continue until 2030 to keep emissions so high that it would be impossible to stay within the two degrees Celsius warming limit, agreed by the world's governments.
The concern is based on what climate negotiators call the blocs' Intended Nationally Determined Contributions (INDCs), undertakings given by governments about what each of them will do to implement the global agreement on tackling climate change that they hope to reach at the UN climate change conference in Paris later this year.
With the G7 countries meeting in Germany yesterday and today, CAT—a consortium of four research organizations—has looked at the combined INDCs of all G7 governments and the EU, who account together for around 30 percent of global greenhouse gas emissions and 40 percent of global gross domestic product (GDP).
The current policies of the G7 and the EU, CAT says, are projected only to stabilize emissions through 2030 at close to present levels, despite the need for a rapid decline in emissions.
The combined effect of the G7 and EU INDCs for 2025 and 2030 would bring the group to no more than 20-30 percent of the reductions needed to stay within the two degrees Celsius limit, or the more stringent 1.5 degrees Celsius threshold for which many climate scientists are pressing.
The authors say the G7 and EU governments must significantly improve on the INDCs they have submitted so far before the Paris talks start on Nov. 30. They also urge that the INDC commitments should be limited in time—for example, to the five years from 2021 to 2025—to avoid locking in emissions levels that are inconsistent with the two degrees Celsius and 1.5 degrees Celsius thresholds.
Major steps
"This gap shows us that it's very clear the G7 and EU need to urgently revise their current policies," says Bill Hare, of Climate Analytics, one of the consortium members. "They need to review—and increase—their stated climate plans before Paris, so that the Paris Agreement can make major steps towards setting the world on a below-two-degrees-Celsius pathway.
"The G7+EU INDCs on the table now show there is an extreme risk of locking in, until 2030, high emissions levels that are inconsistent with holding warming below two degrees Celsius and to 1.5 degrees Celsius. Waiting 15 years from today to increase emissions reductions—and 10 years after the 2020 agreement comes into force—could be very dangerous for the planet."
The authors say the EU's policies would bring it close to achieving its INDC in 2030, but the U.S., Canada and Japan still have a lot of work to do. They call Canada's INDC and Japan's draft INDC "inadequate."
YOU MIGHT ALSO LIKE
5,000+ Take to the Streets for Historic 'Tar Sands Resistance March'
World Leaders Urged to Kick Coal Habit to Save Lives, Money and the Planet
NOAA: There Has Been No 'Pause' or 'Hiatus' in Global Warming
EcoWatch Daily Newsletter
A volcano erupts on New Zealand's Whakaari/White Island on Dec. 9, 2019.
Michael Schade / Twitter
A powerful volcano on Monday rocked an uninhabited island frequented by tourists about 30 miles off New Zealand's coast. Authorities have confirmed that five people died. They expect that number to rise as some are missing and police officials issued a statement that flights around the islands revealed "no signs of life had been seen at any point,", as The Guardian reported.
Guardians of the Forest monitor passersby entering Juracal Village in Araribóia Indigenous Reserve, Maranhão, Brazil on Aug. 8, 2015. Bonnie Jo Mount / The Washington Post via Getty Images
Two indigenous leaders were killed in a drive-by shooting in Northeast Brazil Saturday, and two others were injured.
Human activity is smothering the ocean, the largest study of its kind has found, and it poses a major threat to marine life.
Pexels
Up to 20% of people may have a food addiction or exhibit addictive-like eating behavior.
Spiced hot chocolate. Lilechka75 / iStock / Getty Images
Food is the cornerstone of the holiday season. It brings friends and family together to share memories, cultural traditions, and great flavors.