Revolutionary Movement Fighting Tar Sands Pipeline Seizes Control of the Debate
Aug. 14, 2012 10:52AM EST
Energy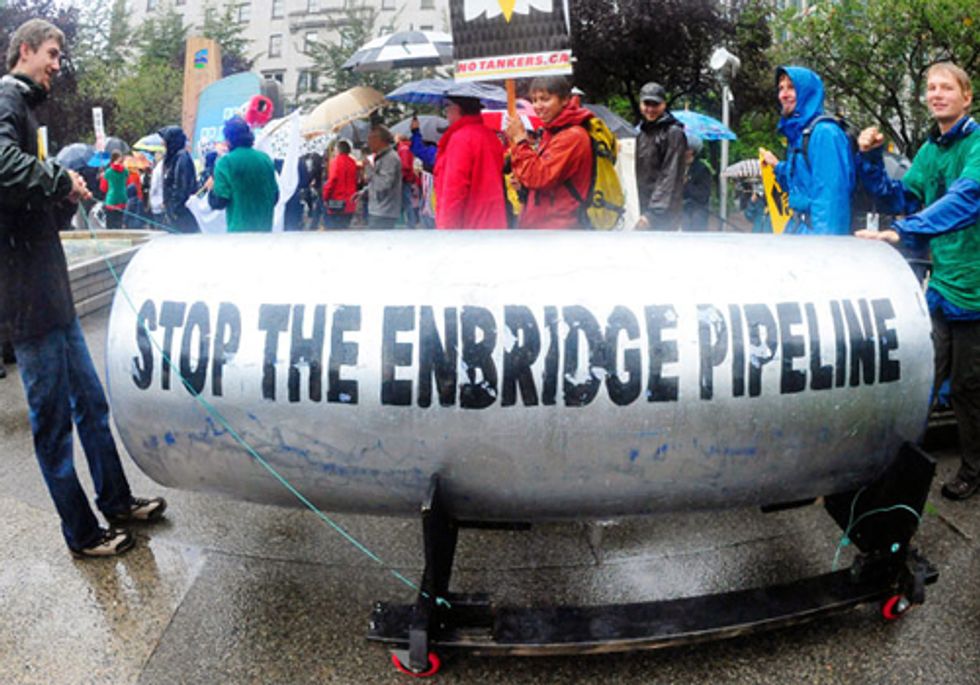 By Andy Rowell
Patrick Daniel, the CEO of Enbridge, knows he's in trouble.
The leader of the company that wants to build the controversial Northern Gateway pipeline from Alberta to British Colombia to export dirty tar sands, admits that his opponents have "seized control of the debate."
Daniel is left playing catch-up, trying belatedly to spin a message about safety and the need to bulldoze a pipeline to carry tar sands across indigenous lands, beautiful forests and through a seismically active area.
Speaking on Canadian radio, Daniel complained that "Everything that we say sounds defensive and self-interested, and on the other side, everything they say ... is really taken as gospel—and it isn't."
Daniel then added that, "I think we're facing a very strong, almost revolutionary movement to try to get off oil worldwide, and it creates a lot of passion and drive in those revolutionaries that are trying to change the environment in which we work."
As part of the company's catch-up, it has launched a counter public relations offensive, taking out advertisements in leading newspapers in British Colombia, Alberta and Ontario. The advertisements argue that the company has transported almost 12 billion barrels of crude oil in the last decade, with a safe delivery record better than 99.999 percent.
In Ottawa, the head of the Canadian Energy Pipeline Association, Brenda Kenny, agrees that the industry is playing catch-up with its media messaging. "We should have been more communicative earlier ... We recognize that it is of high importance to Canadians at this point in time, and very important to our country. So you will be seeing a lot more of us."
The advertisements and PR campaign cannot hide the fact that earlier this month a top Canadian cabinet minister criticized Enbridge's environmental record, including its devastating spill in Michigan two years ago.
Heritage Minister James Moore said, "This project will not survive public scrutiny unless Enbridge takes far more seriously their obligation to engage the public and to answer those very legitimate questions about the way in which they've operated their business in the very recent past."
But more importantly, Enbridge cannot escape the fact that last month the U.S. National Transportation and Safety Board released a scathing report that likened its response to the spill in Michigan to the bumbling Keystone Kops.
Tonight, CTV News at 6 explores the legacy of that spill in Michigan. The three-part series "investigates the devastating impacts of the spill, which gushed more than three million litres of oil into the Kalamazoo River and cost around $800 million U.S. to clean up."
The news channel warns: "Two years later many residents who were forced from their homes after the spill are warning British Columbians to think twice before allowing a pipeline to run through their backyards."
Visit EcoWatch's ENERGY page for more related news on this topic.
EcoWatch Daily Newsletter