This website uses cookies to ensure you get the best experience while browsing it. By clicking 'Got It' you're accepting these terms.
Revolutionary Honey Harvesting Beehive Crowdsources $2 Million in First Day
Feb. 23, 2015 03:05PM EST
Food
Father and son beekeepers from Bryon Bay, Australia—Stuart and Cedar Anderson—boast that they have created "a revolutionary beehive invention allowing you to harvest honey without opening the hive and with minimal disturbance to the bees." They say, "Flow is the most significant invention in beekeeping since 1852." And, apparently Stuart and Cedar Anderson are far from the only people that think so.
A lot of beekeepers have been looking at and sharing the Andersons' Indiegogo page, which launched on Feb. 22. In the first day, the campaign blasted past its $70,000 goal by more than 25 times, raising more than $2 million from more than 5,000 funders. It runs through April 5, so it's staggering to think how much it will eventually raise. The Andersons are already talking about adding manufacturing facilities in America to bring down shipping costs to the U.S. and Europe. They've got pledges from the U.S., the UK, France, Croatia, the Phillippines, Thailand and Abu Dhabi.
"I've wanted to raise bees for some time, but was overwhelmed by the extraction process and equipment required," Dale Rottschafer posted on the Flow Indiogogo page. "Thank you for removing that hurdle. Full steam ahead!"
"Parsons' Gold Apiaries here in northwestern OH, USA are super excited over the creation of this Flow Hive!" posted Deborah Kauble Wright Parsons. "My husband and I have talked about this creation and wished there was such a thing."
What is it that's got so many people so excited? The Andersons point out that beekeeping and honey-harvesting has typically been a labor-intensive activity.
"Harvesting your honey used to be a real labour of love," they say. "First you had to protect yourself from stings; Fire up a smoker to sedate the bees; Crack the hive open; Lift heavy boxes; Pull out the frames, trying not to squash bees; Brush the bees off the combs, or use a leaf blower; Transport the frames to a processing shed; Cut the wax capping off each frame with a heated knife or automatic uncapping machine; Put them in an extractor to spin out the honey; Filter out all the wax and dead bees; Clean up all the mess."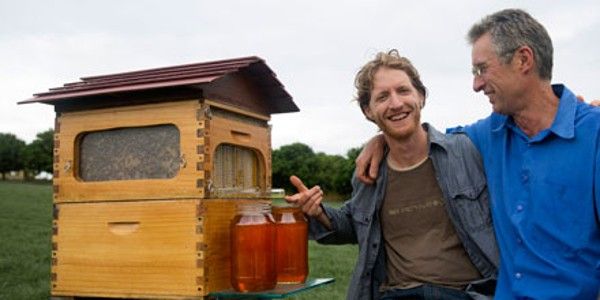 A beehive contains frames in which bees make wax honeycombs and fill them with honey. In a standard hive, the frames have to be removed to collect the honey. Flow comes with partly formed honeycomb cells on which the bees build and in which they deposit the honey. Flow then cuts through the cells to allow the honey to flow out of the hive through a tap. The bees quickly rebuild the cut cells. Not cutting the honeycombs by hand means less wax in the honey. And being able to extract it so easily means that it's easier to keep up with the bees' rate of production and harvest more honey. One intriguing aspect of the Flow frames: they have clear end frames so you can not only see when the frames are full of honey, but you can watch the bees making it.
"This also allows you to keep an eye on the strength of the hive," say the Andersons. "You will naturally develop a close relationship to your bees."
The Indiegogo campaign offers a "light" option of three or four Flow frames to go between the traditional frames of an existing hive; a Flow "superframe" to replace all the current frames in the hive; or a complete hive fitted with Flow frames, lacking only the bees to get started. They've sold more than 250 of the complete hives at  $600 a piece.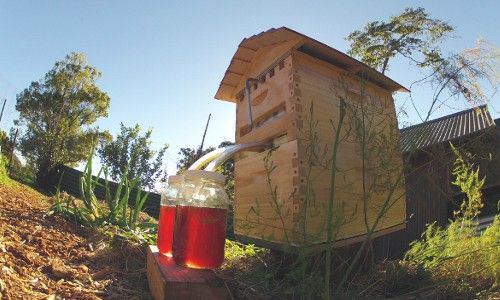 The Andersons have built and tested prototypes and shared them with other beekeepers in order to work out any glitches in the system prior to launching the Indiegogo campaign.
"The bees took to it quite quickly and filled the box in a couple of weeks," said Australian beekeeper Michael Howes. "The honey comes out clean, no filtering needed. The bees remove the caps off the comb and start filling it again. Great system.  I've seen this working and I would recommend it."
Explaining their connection to bees and why they spent more than three years developing this new system of honey harvesting, the Andersons say, "Beekeepers and bees have a special symbiotic relationship that goes back thousands of years. We have literally evolved together. We care for them, they pollinate our crops and of course make lots of delicious honey. Without the bees we may not be able to sustain human life as we know it, and without the beekeepers we wouldn't have enough bees. In this modern world of limited natural habitat, beekeepers have become vital carers of bee colonies. We hope Flow hive will encourage thousands more people to become passionate carers and advocates of bees and become more aware of the threats facing not only bees but the matrix of life."
YOU MIGHT ALSO LIKE
Obama Mandates Precedent-Setting Task Force to Protect Honey Bees and Other Pollinators
EcoWatch Daily Newsletter
Waterloo Bridge during the Extinction Rebellion protest in London. Martin Hearn / Flickr / CC BY 2.0
Money talks. And today it had something to say about the impending global climate crisis.
Sam Cooper
By Sam Cooper
Thomas Edison once said, "I'd put my money on the sun and solar energy. What a source of power!"
Simple swaps that cut down on kitchen trash.
Sponsored
By Kayla Robbins
Along with the bathroom, the kitchen is one of the most daunting areas to try and make zero waste.
A NOAA research vessel at a Taylor Energy production site in the Gulf of Mexico in September 2018. NOAA
The federal government is looking into the details from the longest running oil spill in U.S. history, and it's looking far worse than the oil rig owner let on, as The New York Times reported.
Golde Wallingford submitted this photo of "Pure Joy" to EcoWatch's first photo contest. Golde Wallingford
EcoWatch is pleased to announce our third photo contest!

Damage at the Malheur National Wildlife Refuge from the 2016 occupation. USFWS
By Tara Lohan
When armed militants with a grudge against the federal government seized the Malheur National Wildlife Refuge in rural Oregon back in the winter of 2016, I remember avoiding the news coverage. Part of me wanted to know what was happening, but each report I read — as the occupation stretched from days to weeks and the destruction grew — made me so angry it was hard to keep reading.
Computer model projection of temperature anomalies across Europe on June 27. Temperature scale in °C. Tropicaltidbits.com
A searing heat wave has begun to spread across Europe, with Germany, France and Belgium experiencing extreme temperatures that are set to continue in the coming days.
Skull morphology of hybrid "narluga" whale. Nature / Mikkel Høegh Post
In the 1980s, a Greenlandic subsistence hunter shot and killed a whale with bizarre features unlike any he had ever seen before. He knew something was unique about it, so he left its abnormally large skull on top of his toolshed where it rested until a visiting professor happened upon it a few years later.