This website uses cookies to ensure you get the best experience while browsing it. By clicking 'Got It' you're accepting these terms.


The best of EcoWatch, right in your inbox. Sign up for our email newsletter!
Revolutionary Honey Harvesting Beehive Crowdsources $2 Million in First Day
Feb. 23, 2015 03:05PM EST
Food
Father and son beekeepers from Bryon Bay, Australia—Stuart and Cedar Anderson—boast that they have created "a revolutionary beehive invention allowing you to harvest honey without opening the hive and with minimal disturbance to the bees." They say, "Flow is the most significant invention in beekeeping since 1852." And, apparently Stuart and Cedar Anderson are far from the only people that think so.
A lot of beekeepers have been looking at and sharing the Andersons' Indiegogo page, which launched on Feb. 22. In the first day, the campaign blasted past its $70,000 goal by more than 25 times, raising more than $2 million from more than 5,000 funders. It runs through April 5, so it's staggering to think how much it will eventually raise. The Andersons are already talking about adding manufacturing facilities in America to bring down shipping costs to the U.S. and Europe. They've got pledges from the U.S., the UK, France, Croatia, the Phillippines, Thailand and Abu Dhabi.
"I've wanted to raise bees for some time, but was overwhelmed by the extraction process and equipment required," Dale Rottschafer posted on the Flow Indiogogo page. "Thank you for removing that hurdle. Full steam ahead!"
"Parsons' Gold Apiaries here in northwestern OH, USA are super excited over the creation of this Flow Hive!" posted Deborah Kauble Wright Parsons. "My husband and I have talked about this creation and wished there was such a thing."
What is it that's got so many people so excited? The Andersons point out that beekeeping and honey-harvesting has typically been a labor-intensive activity.
"Harvesting your honey used to be a real labour of love," they say. "First you had to protect yourself from stings; Fire up a smoker to sedate the bees; Crack the hive open; Lift heavy boxes; Pull out the frames, trying not to squash bees; Brush the bees off the combs, or use a leaf blower; Transport the frames to a processing shed; Cut the wax capping off each frame with a heated knife or automatic uncapping machine; Put them in an extractor to spin out the honey; Filter out all the wax and dead bees; Clean up all the mess."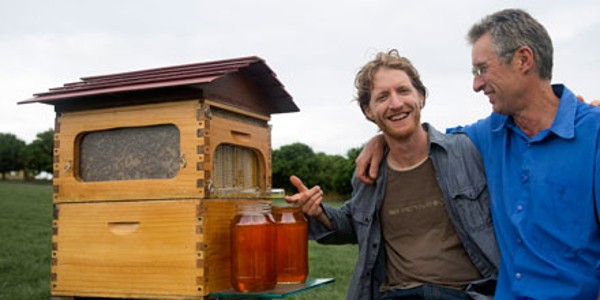 A beehive contains frames in which bees make wax honeycombs and fill them with honey. In a standard hive, the frames have to be removed to collect the honey. Flow comes with partly formed honeycomb cells on which the bees build and in which they deposit the honey. Flow then cuts through the cells to allow the honey to flow out of the hive through a tap. The bees quickly rebuild the cut cells. Not cutting the honeycombs by hand means less wax in the honey. And being able to extract it so easily means that it's easier to keep up with the bees' rate of production and harvest more honey. One intriguing aspect of the Flow frames: they have clear end frames so you can not only see when the frames are full of honey, but you can watch the bees making it.
"This also allows you to keep an eye on the strength of the hive," say the Andersons. "You will naturally develop a close relationship to your bees."
The Indiegogo campaign offers a "light" option of three or four Flow frames to go between the traditional frames of an existing hive; a Flow "superframe" to replace all the current frames in the hive; or a complete hive fitted with Flow frames, lacking only the bees to get started. They've sold more than 250 of the complete hives at  $600 a piece.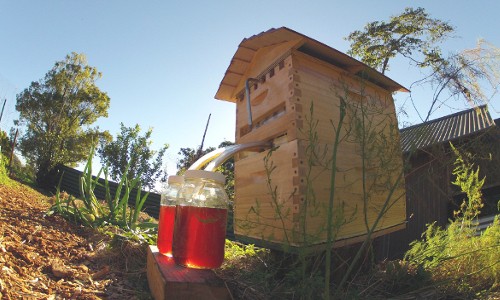 The Andersons have built and tested prototypes and shared them with other beekeepers in order to work out any glitches in the system prior to launching the Indiegogo campaign.
"The bees took to it quite quickly and filled the box in a couple of weeks," said Australian beekeeper Michael Howes. "The honey comes out clean, no filtering needed. The bees remove the caps off the comb and start filling it again. Great system.  I've seen this working and I would recommend it."
Explaining their connection to bees and why they spent more than three years developing this new system of honey harvesting, the Andersons say, "Beekeepers and bees have a special symbiotic relationship that goes back thousands of years. We have literally evolved together. We care for them, they pollinate our crops and of course make lots of delicious honey. Without the bees we may not be able to sustain human life as we know it, and without the beekeepers we wouldn't have enough bees. In this modern world of limited natural habitat, beekeepers have become vital carers of bee colonies. We hope Flow hive will encourage thousands more people to become passionate carers and advocates of bees and become more aware of the threats facing not only bees but the matrix of life."
YOU MIGHT ALSO LIKE
Obama Mandates Precedent-Setting Task Force to Protect Honey Bees and Other Pollinators
EcoWatch Daily Newsletter
Aerial view of the explosion site of a chemical factory on March 22 in Yancheng, Jiangsu Province of China. Caixin Media / VCG / Getty Images)
At least 47 people have died in an explosion at a plant in Yancheng, China Thursday run by a chemical company with a history of environmental violations, Sky News reported.
A fishmonger in Elmina, a fishing port in the Central Region of Ghana. Environmental Justice Foundation
By Daisy Brickhill
Each morning, men living in fishing communities along Ghana's coastline push off in search of the day's catch. But when the boats come back to shore, it's the women who take over.
Pexels
By Sam Nickerson
Links between excess sugar in your diet and disease have been well-documented, but new research by Harvard's School of Public Health might make you even more wary of that next soda: it could increase your risk of an early death.
The study, published this week in the American Heart Association's journal Circulation, found that drinking one or two sugar-sweetened beverages (SSBs) each day — like sodas or sports drinks — increases risk of an early death by 14 percent.
Tyson Foods is recalling approximately 69,093 pounds of frozen chicken strips because they may have been contaminated with pieces of metal, the U.S. Department of Agriculture (USDA) Food Safety and Inspection Service (FSIS) announced Thursday.
The affected products were fully-cooked "Buffalo Style" and "Crispy" chicken strips with a "use by" date of Nov. 30, 2019 and an establishment number of "P-7221" on the back of the package.
"FSIS is concerned that some product may be in consumers' freezers," the recall notice said. "Consumers who have purchased these products are urged not to consume them. These products should be thrown away or returned to the place of purchase."
Environmental exposure to pesticides, both before birth and during the first year of life, has been linked to an increased risk of developing autism spectrum disorder, according to the largest epidemiological study to date on the connection.
The study, published Wednesday in BMJ, found that pregnant women who lived within 2,000 meters (approximately 1.2 miles) of a highly-sprayed agricultural area in California had children who were 10 to 16 percent more likely to develop autism and 30 percent more likely to develop severe autism that impacted their intellectual ability. If the children were exposed to pesticides during their first year of life, the risk they would develop autism went up to 50 percent.
The ExxonMobil Torrance Refinery in Torrance, California.
waltarrrr / Flickr
ExxonMobil could be the second company after Monsanto to lose lobbying access to members of European Parliament after it failed to turn up to a hearing Thursday into whether or not the oil giant knowingly spread false information about climate change.
The call to ban the company was submitted by Green Member of European Parliament (MEP) Molly Scott Cato and should be decided in a vote in late April, The Guardian reported.
Bernie Sanders holds his first presidential campaign rally at Brooklyn College on March 02 in Brooklyn, New York. Kena Betancur / VIEWpress / Corbis. Getty Images
Bernie Sanders has become the first contender in the crowded 2020 Democratic presidential primary field to pledge to offset all of the greenhouse gas emissions released by campaign travel, The Huffington Post reported Thursday.