This website uses cookies to ensure you get the best experience while browsing it. By clicking 'Got It' you're accepting these terms.
Revolutionary Honey Harvesting Beehive Crowdsources $2 Million in First Day
Feb. 23, 2015 03:05PM EST
Food
Father and son beekeepers from Bryon Bay, Australia—Stuart and Cedar Anderson—boast that they have created "a revolutionary beehive invention allowing you to harvest honey without opening the hive and with minimal disturbance to the bees." They say, "Flow is the most significant invention in beekeeping since 1852." And, apparently Stuart and Cedar Anderson are far from the only people that think so.
A lot of beekeepers have been looking at and sharing the Andersons' Indiegogo page, which launched on Feb. 22. In the first day, the campaign blasted past its $70,000 goal by more than 25 times, raising more than $2 million from more than 5,000 funders. It runs through April 5, so it's staggering to think how much it will eventually raise. The Andersons are already talking about adding manufacturing facilities in America to bring down shipping costs to the U.S. and Europe. They've got pledges from the U.S., the UK, France, Croatia, the Phillippines, Thailand and Abu Dhabi.
"I've wanted to raise bees for some time, but was overwhelmed by the extraction process and equipment required," Dale Rottschafer posted on the Flow Indiogogo page. "Thank you for removing that hurdle. Full steam ahead!"
"Parsons' Gold Apiaries here in northwestern OH, USA are super excited over the creation of this Flow Hive!" posted Deborah Kauble Wright Parsons. "My husband and I have talked about this creation and wished there was such a thing."
What is it that's got so many people so excited? The Andersons point out that beekeeping and honey-harvesting has typically been a labor-intensive activity.
"Harvesting your honey used to be a real labour of love," they say. "First you had to protect yourself from stings; Fire up a smoker to sedate the bees; Crack the hive open; Lift heavy boxes; Pull out the frames, trying not to squash bees; Brush the bees off the combs, or use a leaf blower; Transport the frames to a processing shed; Cut the wax capping off each frame with a heated knife or automatic uncapping machine; Put them in an extractor to spin out the honey; Filter out all the wax and dead bees; Clean up all the mess."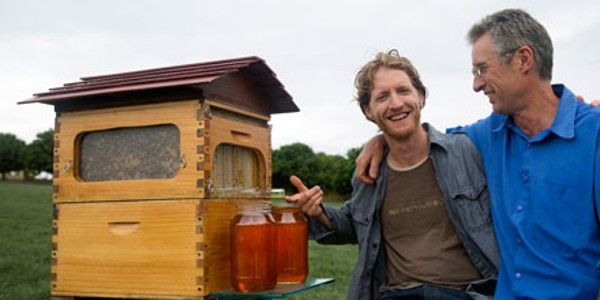 A beehive contains frames in which bees make wax honeycombs and fill them with honey. In a standard hive, the frames have to be removed to collect the honey. Flow comes with partly formed honeycomb cells on which the bees build and in which they deposit the honey. Flow then cuts through the cells to allow the honey to flow out of the hive through a tap. The bees quickly rebuild the cut cells. Not cutting the honeycombs by hand means less wax in the honey. And being able to extract it so easily means that it's easier to keep up with the bees' rate of production and harvest more honey. One intriguing aspect of the Flow frames: they have clear end frames so you can not only see when the frames are full of honey, but you can watch the bees making it.
"This also allows you to keep an eye on the strength of the hive," say the Andersons. "You will naturally develop a close relationship to your bees."
The Indiegogo campaign offers a "light" option of three or four Flow frames to go between the traditional frames of an existing hive; a Flow "superframe" to replace all the current frames in the hive; or a complete hive fitted with Flow frames, lacking only the bees to get started. They've sold more than 250 of the complete hives at  $600 a piece.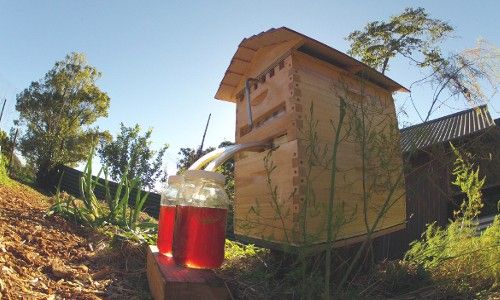 The Andersons have built and tested prototypes and shared them with other beekeepers in order to work out any glitches in the system prior to launching the Indiegogo campaign.
"The bees took to it quite quickly and filled the box in a couple of weeks," said Australian beekeeper Michael Howes. "The honey comes out clean, no filtering needed. The bees remove the caps off the comb and start filling it again. Great system.  I've seen this working and I would recommend it."
Explaining their connection to bees and why they spent more than three years developing this new system of honey harvesting, the Andersons say, "Beekeepers and bees have a special symbiotic relationship that goes back thousands of years. We have literally evolved together. We care for them, they pollinate our crops and of course make lots of delicious honey. Without the bees we may not be able to sustain human life as we know it, and without the beekeepers we wouldn't have enough bees. In this modern world of limited natural habitat, beekeepers have become vital carers of bee colonies. We hope Flow hive will encourage thousands more people to become passionate carers and advocates of bees and become more aware of the threats facing not only bees but the matrix of life."
YOU MIGHT ALSO LIKE
Obama Mandates Precedent-Setting Task Force to Protect Honey Bees and Other Pollinators
EcoWatch Daily Newsletter
Six Extinction Rebellion protesters were arrested as they blocked off corporations in the UK. The group had increased their actions to week-long nationwide protests.
Sari Goodfriend
By Courtney Lindwall
Across the world, tens of thousands of young people are taking to the streets to protest climate inaction. And at the historic Apollo Theater in Harlem last month, more than a dozen of them took to the stage.
Golde Wallingford submitted this photo of "Pure Joy" to EcoWatch's first photo contest. Golde Wallingford
EcoWatch is pleased to announce our third photo contest!

Pumpjacks on Lost Hills Oil Field in California. Arne Hückelheim, Wikimedia Commons
By Julia Conley
A national conservation group revealed Wednesday that President Donald Trump's drilling leases on public lands could lead to the release of more carbon emissions than the European Union contributes in an entire year.
Pixabay
By Marlene Cimons
For nearly a century, scientists thought that malaria could only spread in places where it is really hot. That's because malaria is spread by a tiny parasite that infects mosquitoes, which then infect humans — and this parasite loves warm weather. In warmer climates, the parasite grows quickly inside the mosquito's body. But in cooler climates, the parasite develops so slowly that the mosquito will die before the it is fully grown.
The summit of Mauna Kea in Hawaii, which is considered sacred by some Native Hawaiians. Charmian Vistaunet / Design Pics / Getty Images
A decade-long fight over the proposed construction of a giant telescope on a mountain considered sacred by some Native Hawaiians came to a head Wednesday when 33 elders were arrested for blocking the road to the summit, HuffPost Reported.
A boy walks past a plastic-choked canal in in Phnom Penh, Cambodia on Jan. 17, 2019. TANG CHHIN SOTHY / AFP / Getty Images
Cambodia is the latest Asian country to reject the wealthy world's plastic waste.
Pick one of these nine activism styles, and you can start making change. YES! Illustrations by Delphine Lee
By Cathy Brown
Most of us have heard about UN researchers warning that we need to make dramatic changes in the next 12 years to limit our risk of extreme heat, drought, floods and poverty caused by climate change. Report after report about a bleak climate future can leave people in despair.