This website uses cookies to ensure you get the best experience while browsing it. By clicking 'Got It' you're accepting these terms.
Revolutionary Family Shows True Meaning of Self-Reliance
Jan. 23, 2015 02:02PM EST
Think you can't grow much food in an urban area? Think again. One family's 4,000 square foot farm in Pasadena, California "not only feeds a family but revolutionizes the idea of what can be done in a very unlikely place—the middle of a city." KCET reporter Val Zavala gives us a glimpse into the Dervaes family's Path to Freedom Urban Homestead. "I brought the country to the city rather than having to go out to the country," said Jules Dervaes, who created the farm with his three adult children, Justin, Anais and Jordanne.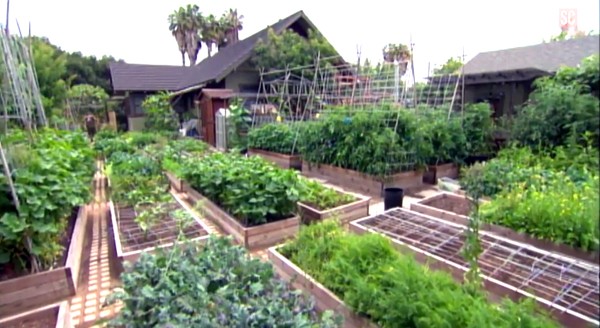 They grow almost all of the food they need. Ninety percent of their all-organic, vegetarian diet comes from their garden. The operation involves 400 varieties of vegetables, fruits and edible flowers, which is 6,000 pounds of food a year. They raise eight chickens, four ducks and two goats, which provide them with eggs and milk. Chefs from high-end restaurants come directly to their house to buy their excess.
When asked if he had any doubts in the beginning, Jules admits he did. "I kept thinking this place was too small. There's no way that we are going to be able to feed ourselves, plus I never thought we'd be able to grow the vegetables for the market," he said. Dervaes decided to embark on this endeavor because he was concerned about what was in his and his children's food. He wanted them to eat organic, GMO-free food, and he knew the best way to ensure that was to grow it himself.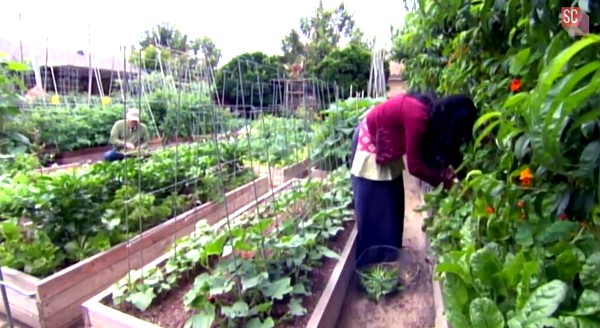 The family has a solar panel on the roof that provides all of their electricity. Not that they use much. Most of their "gizmos," says Anais, "are hand-powered" like their hand-crank smoothie maker. That puts their electricity bill at about $12 per month. Their car runs on biodiesel, which they make from vegetable waste that restaurants drop off at their house for free. These people have all the hook ups.
But it's not all sunshine and flowers (though they have plenty of both). The Dervaes' work very hard, make roughly $20,000 a year and have to deal with weather-related disasters, pests, disease and now climate change. Justin said, "we've been gardening so long that you can sense things are off. We have this little bug, the Junebug, that comes out in June, but now it doesn't come out until July, August and September—so something is off." Water is also a serious issue. With the drought in California, Jules has relied on clay pot irrigation, an ancient form of irrigation, to conserve water.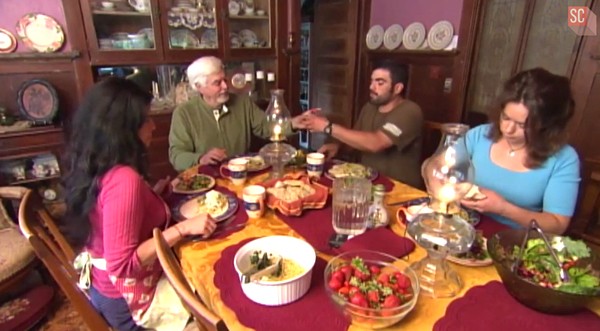 By growing all of their food themselves, except staples such as wheat, rice and oats, they are able to eat fresh and delicious, organic food for $2 a day per person. They have attracted a lot of attention since they began homesteading in the mid 1980s. Many homesteaders have emulated their model. They offer workshops and events on their farm, and they even have a blog. They are proof of the bounty you can grow on one-tenth of an acre.
Watch here as KCET's Zavala reports on this revolutionary family:
YOU MIGHT ALSO LIKE
Grow Food Year Round With Radically Sustainable Passive Solar Greenhouse
10 Most Important Things We Can Do to Change the Food System
Finding Solutions That Nourish Ourselves and Protect the Planet
William Happer, head of proposed White House climate panel, in the lobby of Trump Tower in 2017. Jabin Botsford / The Washington Post via Getty Images
The White House is assembling a climate change panel to be headed by a known climate denier who once took money from a coal company to testify at a hearing and who has compared criticism of carbon dioxide to Hitler's demonization of the Jews.
William Happer, a Princeton physicist who has never trained as a climate scientist, joined the Trump administration in September 2018 as senior director for emerging technologies at the National Security Council (NSC).
KarinaKnyspel / iStock / Getty Images
2018 saw a number of studies pointing to the outsized climate impact of meat consumption. Beef has long been singled out as particularly unsustainable: Cows both release the greenhouse gas methane into the atmosphere because of their digestive processes and require a lot of land area to raise. But for those unwilling to give up the taste and texture of a steak or burger, could lab-grown meat be a climate-friendly alternative? In a first-of-its-kind study, researchers from the Oxford Martin School set out to answer that question.
Three scissor-tailed flycatcher fledglings in a mesquite tree in Texas. Texas Eagle / CC BY-NC 2.0
By Gary Paul Nabhan
President Trump has declared a national emergency to fund a wall along our nation's southern border. The border wall issue has bitterly divided people across the U.S., becoming a vivid symbol of political deadlock.
PeopleImages / E+ / Getty Images
By Daniel Ross
Hurricane Florence, which battered the U.S. East Coast last September, left a trail of ruin and destruction estimated to cost between $17 billion and $22 billion. Some of the damage was all too visible—smashed homes and livelihoods. But other damage was less so, like the long-term environmental impacts in North Carolina from hog waste that spilled out over large open-air lagoons saturated in the rains.
Hog waste can contain potentially dangerous pathogens, pharmaceuticals and chemicals. According to the state's Department of Environmental Quality, as of early October nearly 100 such lagoons were damaged, breached or were very close to being so, the effluent from which can seep into waterways and drinking water supplies.