Rev. Yearwood: How We Reach Critical Mass to Stop Climate Chaos
This upcoming weekend at the University of the District of Columbia Law School, Bill McKibben, Dr. Michael Dorsey, Lester Brown, Professor Mark Jacobson, Mustafa Ali from the U.S. Environmental Protection Agency, Professor Phillip Harvey, Barbara Arnwine, Rev. Rodney Sadler, Jay Nightwolf, Krystal Williams, Joe Uehlein, Ted Glick, Chuck Rocha, Professor Joel Rogers, Nikisha Glover, Mike Ewall, Jeffrey Wolfe, Joel Segal, State Sen. Ben Ptashnik, Jacquelyn Patterson, Terrence Muhammad, Mark Magana, Dr. Gabriela Lemus, Leslie Fields, Andrea Miller and many, many more, will address these two central questions in a convening sponsored by People Demanding Action:

How do we reach the political "critical mass'" to stop climate chaos, and simultaneously tackle poverty and its accompanying social inequities?
The social ills that create poverty and accompanying social inequalities are created by the same mechanisms which thwart the proper response to climate change. How can we change them all together?
The objective of this convening is to build a movement of solidarity which includes climate crisis action and reestablishment of justice.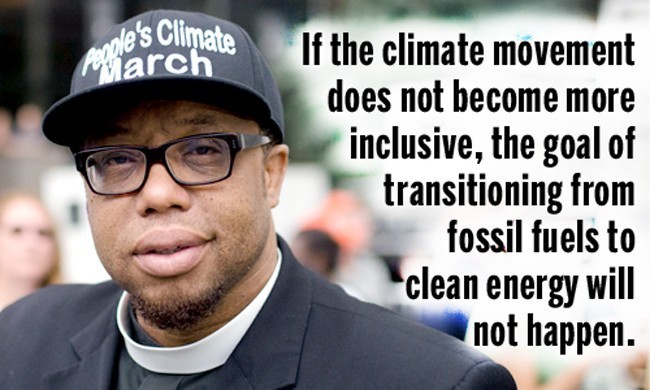 Many in the climate movement will agree that these questions must be answered, but will also wonder silently, why stop and deal with this question of building an inclusive climate movement now, when we are starting to win on so many fronts?
Last year was the biggest year of climate activism ever. More leaders from various sectors—from environmentalists and scientists, to CEOs and business leaders, to faith and moral leaders—are now lending their considerable influence to call for climate action at all levels of government, as well as in civic institutions and corporations.
Yet, to some degree, we are singing to the choir. The next critical step for the climate movement is contending for indelible mainstream cultural relevance. Put plainly, if the climate movement does not become more inclusive, the goal of transitioning from fossil fuels to clean energy will not happen.
This is the key to winning public support and political will for climate action that will meet the demands of science.
The modern environmental movement, some 50 years old, has invested tremendous amounts of resources in predominantly white and predominantly elite communities to fight for clean air, clean water, open space and a sustainable planet for all of us. This movement model has achieved incredible victories for the public good. The reality, however, is that there is not enough power in the environmental community alone to lead a global transition from fossil fuels to clean energy. The movement needs to expand, and to do so we need to re-frame the issue of climate change to make it an everyday, every person issue.
This gathering at UDC School of Law will bring together some of the brightest minds in the progressive, climate, human and civil rights movement to discuss how the climate movement builds an inclusive climate movement to create community power.
This free conference encourages community participation (although space is limited). The conference will work to bring new voices of great value to the climate movement. Through both democratic and economic strategies we are working to empower diverse communities to mobilize for powerful climate solutions.
I'm proud that we can have this ongoing conversation in the climate movement of what following people of color-led work is and means. With each iteration of the conversation we get closer to making fundamental change within our movement, which is a process we must model, because we are fundamentally asking the entire world to make some big and important changes for an equitable, sustainable, 100 percent clean energy future. It's quite simple, we (the climate movement) must be the change we want to see in the world.
YOU MIGHT ALSO LIKE
250,000 People Call for Action on Climate Change and an End to Extreme Poverty
Net Zero Carbon Emissions: An Idea Whose Time Has Come
Watch Obama and Bill Nye Take on 'Climate-Denier Club' in Congress
Disturbing footage of a snake in Goa, India vomiting an empty soft drink bottle highlights the world's mounting plastic pollution crisis.
Keep reading...
Show less
By Melissa Hellmann
When her eldest son was in elementary school in the Oakland Unified School District, Ruth Woodruff became alarmed by the meals he was being served at school. A lot of it was frozen, processed foods, packed with preservatives. At home, she was feeding her children locally sourced, organic foods.
Keep reading...
Show less
May. 28, 2017 01:33PM EST
Laurie Woolever
By James O'Hare
There are 20 million people in the world facing famine in South Sudan, Somalia, Nigeria and Yemen. In developed nations, too, people go hungry. Venezuela, for instance, is enduring food insecurity on a national level as a result of economic crisis and political corruption. In the U.S., the land of supposed excess, 12.7 percent of households were food insecure in 2015, meaning they didn't know where their next meal would come from.
Keep reading...
Show less
May. 28, 2017 01:22PM EST
Melwater, Greenland ice sheet. Diane Tuft
Artists are taking the climate crisis into frame and the results are emotional, beautiful and stirring.
So you've seen the best climate change cartoons and shared them with your friends. You've showed your family the infographics on climate change and health, infographics on how the grid works and infographics about clean, renewable energy. You've even forwarded these official National Oceanic and Atmospheric Administration graphs that explain the 10 clear indicators of climate change to your colleagues at the office.
Keep reading...
Show less
May. 27, 2017 01:11PM EST
As the Trump administration moves full speed ahead on boosting the oil and fossil fuel industry, opposition to increased pipeline construction is cropping up in different communities around the country.
Keep reading...
Show less
May. 27, 2017 01:02PM EST
Minke whale stranding near Havergate Island in Suffolk. MCGA.
By Simon Evans
Last Saturday, two dead whales washed up on the coast of Suffolk, in eastern England, and a third was spotted floating at sea.
What happened next illustrates how news can spread and evolve into misinformation, when reported by journalists rushing to publish before confirming basic facts or sourcing their own quotes.
Keep reading...
Show less
May. 27, 2017 01:22PM EST
By Monica Amarelo and Paul Pestano
Sun safety is a crucial part of any outdoor activity for kids, and sunscreen can help protect children's skin from harmful ultraviolet rays. Kids often get sunburned when they're outside unprotected for longer than expected. Parents need to plan ahead and keep sun protection handy in their cars or bags.
Keep reading...
Show less
May. 27, 2017 01:02PM EST
By Joe McCarthy
A lot of people take part in community clean-up efforts—spending a Saturday morning picking up litter in a park, mowing an overgrown field or painting a fence.
Keep reading...
Show less