This website uses cookies to ensure you get the best experience while browsing it. By clicking 'Got It' you're accepting these terms.
Rev. Yearwood: How We Reach Critical Mass to Stop Climate Chaos
May. 05, 2015 08:33AM EST
Climate
This upcoming weekend at the University of the District of Columbia Law School, Bill McKibben, Dr. Michael Dorsey, Lester Brown, Professor Mark Jacobson, Mustafa Ali from the U.S. Environmental Protection Agency, Professor Phillip Harvey, Barbara Arnwine, Rev. Rodney Sadler, Jay Nightwolf, Krystal Williams, Joe Uehlein, Ted Glick, Chuck Rocha, Professor Joel Rogers, Nikisha Glover, Mike Ewall, Jeffrey Wolfe, Joel Segal, State Sen. Ben Ptashnik, Jacquelyn Patterson, Terrence Muhammad, Mark Magana, Dr. Gabriela Lemus, Leslie Fields, Andrea Miller and many, many more, will address these two central questions in a convening sponsored by People Demanding Action:

How do we reach the political "critical mass'" to stop climate chaos, and simultaneously tackle poverty and its accompanying social inequities?
The social ills that create poverty and accompanying social inequalities are created by the same mechanisms which thwart the proper response to climate change. How can we change them all together?
The objective of this convening is to build a movement of solidarity which includes climate crisis action and reestablishment of justice.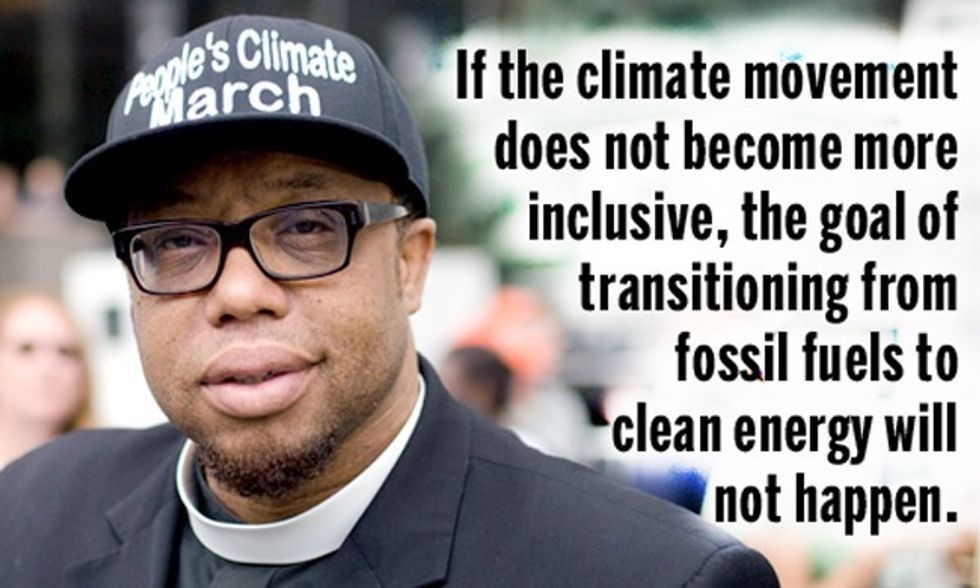 Many in the climate movement will agree that these questions must be answered, but will also wonder silently, why stop and deal with this question of building an inclusive climate movement now, when we are starting to win on so many fronts?
Last year was the biggest year of climate activism ever. More leaders from various sectors—from environmentalists and scientists, to CEOs and business leaders, to faith and moral leaders—are now lending their considerable influence to call for climate action at all levels of government, as well as in civic institutions and corporations.
Yet, to some degree, we are singing to the choir. The next critical step for the climate movement is contending for indelible mainstream cultural relevance. Put plainly, if the climate movement does not become more inclusive, the goal of transitioning from fossil fuels to clean energy will not happen.
This is the key to winning public support and political will for climate action that will meet the demands of science.
The modern environmental movement, some 50 years old, has invested tremendous amounts of resources in predominantly white and predominantly elite communities to fight for clean air, clean water, open space and a sustainable planet for all of us. This movement model has achieved incredible victories for the public good. The reality, however, is that there is not enough power in the environmental community alone to lead a global transition from fossil fuels to clean energy. The movement needs to expand, and to do so we need to re-frame the issue of climate change to make it an everyday, every person issue.
This gathering at UDC School of Law will bring together some of the brightest minds in the progressive, climate, human and civil rights movement to discuss how the climate movement builds an inclusive climate movement to create community power.
This free conference encourages community participation (although space is limited). The conference will work to bring new voices of great value to the climate movement. Through both democratic and economic strategies we are working to empower diverse communities to mobilize for powerful climate solutions.
I'm proud that we can have this ongoing conversation in the climate movement of what following people of color-led work is and means. With each iteration of the conversation we get closer to making fundamental change within our movement, which is a process we must model, because we are fundamentally asking the entire world to make some big and important changes for an equitable, sustainable, 100 percent clean energy future. It's quite simple, we (the climate movement) must be the change we want to see in the world.
YOU MIGHT ALSO LIKE
250,000 People Call for Action on Climate Change and an End to Extreme Poverty
Net Zero Carbon Emissions: An Idea Whose Time Has Come
Watch Obama and Bill Nye Take on 'Climate-Denier Club' in Congress
EcoWatch Daily Newsletter
California Gov. Gavin Newsom speaking with attendees at the 2019 California Democratic Party State Convention at the George R. Moscone Convention Center in San Francisco.
Gage Skidmore
/ Flickr /
CC BY-SA 2.0
California Gov. Gavin Newsom imposed new restrictions on oil exploration in his state yesterday by putting a moratorium on hundreds hydraulic fracturing permits until the projects are reviewed by independent scientists, as the AP reported.
The endangered Houston toad. Courtesy of U.S. Fish and Wildlife Service
While the planet continues to heat up, almost every single one of the 459 species listed as endangered in the U.S. will struggle as the climate crisis intensifies, according to new research published in the journal Nature Climate Change.
"This singular scientific achievement was accomplished at Heliogen's commercial facility in Lancaster, California."
Heliogen
A startup backed by Bill Gates unveiled a breakthrough solar technology Tuesday that could free heavy industry from fossil fuels.
Rhodiola rosea is an adaptogenic herb that can help with chronic fatigue and stress-related burnout. Tero Laakso / Flickr
By Gavin Van De Walle, MS, RD
While everyone has specific life stressors, factors related to job pressure, money, health, and relationships tend to be the most common.
Stress can be acute or chronic and lead to fatigue, headaches, upset stomach, nervousness, and irritability or anger.
A video shows a woman rescuing a koala from Australia's wildfires.
VOA News / YouTube screenshot
More than 350 koalas may have died in the wildfires raging near the Australian town of Port Macquarie in New South Wales, but one got a chance at survival after a woman risked her life to carry him to safety.