This website uses cookies to ensure you get the best experience while browsing it. By clicking 'Got It' you're accepting these terms.
Results of Glyphosate Pee Test Are in 'And It's Not Good News'
May. 12, 2016 09:42AM EST
Food
Last month, Members of the European Parliament (MEPs) volunteered to take a urine test to see if glyphosate—the cancer-linked weedkiller—is in their system. Forty-eight MEPs from 13 different European Union countries participated in the test, and now the results are in.
According to ELISA test results from the accredited Biocheck Laboratory in Germany: "All participants excreted glyphosate by urine."
The experiment was spearheaded by the Green Party in the European Parliament, which wants a ban on the controversial herbicide in the European Union.
The group noted in a press release of their so-called "#MEPee" test:
On average, the MEPs had 1.7 micrograms/liter of glyphosate in their urine, 17 times higher than the European drinking water norm (0.1 microgram/litre). This means that everyone we tested was way above the limit for residues of pesticides in drinking water.
Of the 48 participants, EU-parliament members from Belgium, France and Germany made up more than 80 percent of the whole investigated participants. The test showed that EU-parliament members from Lithuania, Spain and Croatia had the highest concentrations of glyphosate. The lowest concentrations were in the urines of participants of from Italy, Finland and Ireland.
"Nevertheless all investigated EU-parliament members were glyphosate contaminated. This will show glyphosate is also in the food chain of members of the EU-parliament," the report states.
Glyphosate, which the World Health Organization's International Agency for Research on Cancer (IARC) declared a possible carcinogen last March, is the main ingredient in Monsanto's widely used weedkiller, Roundup. It is also found in herbicides manufactured by Syngenta and Dow.
The Greens conducted the test ahead of European Parliament's April 13 resolution that opposed the European Union's relicensing of glyphosate.
Despite fierce opposition from European Parliament, countries such as France, Sweden, Italy and the Netherlands, and the 1.4 million people who have signed a petition calling on an EU ban, the European Commission—the executive body of the European Union—reportedly plans to relicense glyphosate for nine years.
According to the Green Party, the European Commission's latest proposal, which will be voted on May 19, will "plough ahead with a full-fledged approval of glyphosate's license for nine years."
"It considers only symbolically if at all the European Parliament's resolution calling for a very limited scope of approval. Responsibility for the protection of operators and for multiple risks is discharged onto Member States in a non-legally binding manner," the party said. "We are pissed off that our governments want to allow this poison for another nine years! No politician should have this in his or her body, and not a single citizen either!"
Glyphosate approval in the EU expires at the end of June. The chemical has been the subject of incredible controversy in Europe especially after the European Food Safety Authority famously rejected the IARC's classification of glyphosate as a possible carcinogen in November.
Agri-business giant Monsanto has also vehemently denied glyphosate's health and cancer risks and demanded a retraction of the IARC report.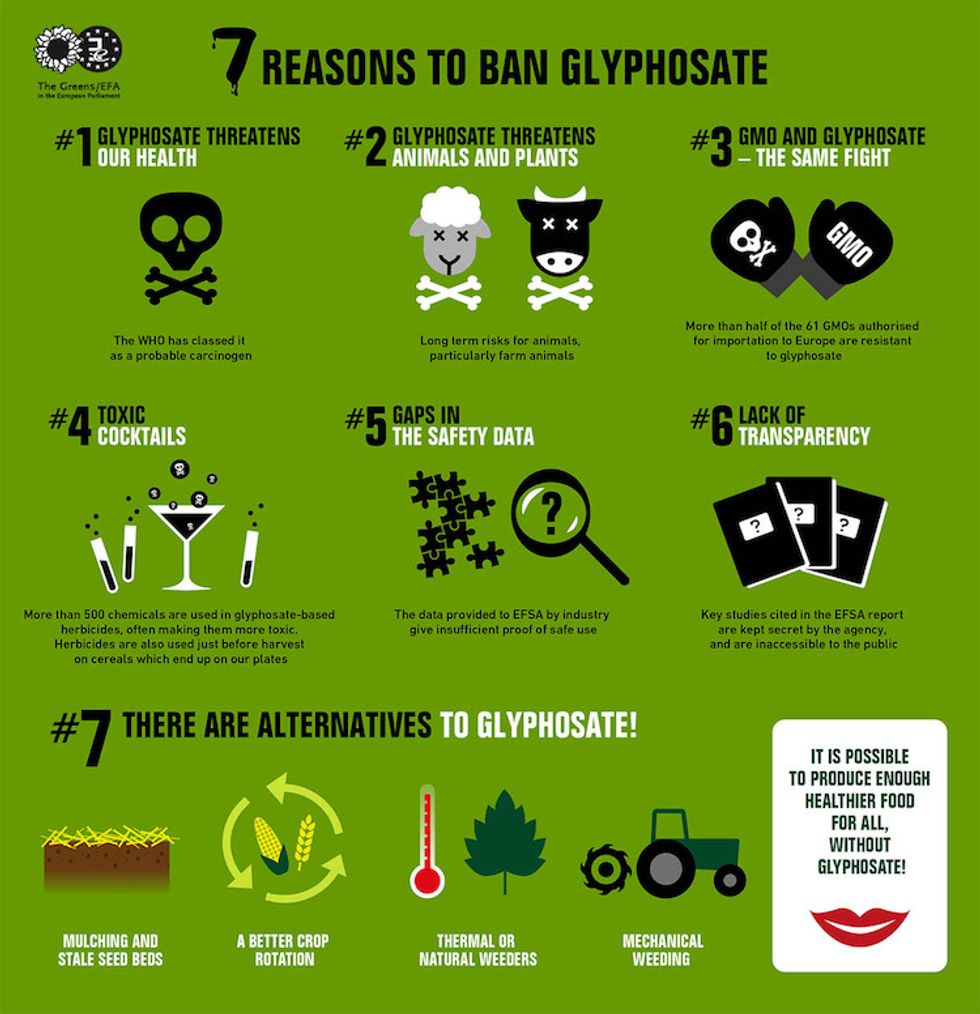 The Green Party's MEPee test was inspired by a German study "Urinale 2015," which sampled glyphosate concentrations in urine from more than 2,000 participants.
"The study found that the scale of the glyphosate problem is enormous, with detected concentrations in urine between five and 42 times over the maximum value of residues for drinking water in Europe," the Green Party pointed out. "No less than 99.6 percent of all citizens who took part in this survey had higher residue levels. This means that virtually all citizens are contaminated with glyphosate."
A number of other studies have detected glyphosate—the "most widely applied pesticide worldwide"—in feminine hygiene products, everyday food items and, yes, human bodies. A 2013 Friends of the Earth Europe study reported people in 18 European countries have traces of glyphosate in their urine.
YOU MIGHT ALSO LIKE
Monsanto Faces Rejection in U.S. Over GMO Soybean
'Mistaken' Release of Glyphosate Report Raises Questions Over EPA's Ties to Monsanto
EcoWatch Daily Newsletter
A Starbucks barista prepares a drink at a Starbucks Coffee Shop location in New York. Ramin Talaie / Corbis via Getty Images
By Cathy Cassata
Are you getting your fill of Starbucks' new Almondmilk Honey Flat White, Oatmilk Honey Latte, and Coconutmilk Latte, but wondering just how healthy they are?
By Sharon Kelly
Back in April last year, the Trump administration's Environmental Protection Agency decided it was "not necessary" to update the rules for toxic waste from oil and gas wells. Torrents of wastewater flow daily from the nation's 1.5 million active oil and gas wells and the agency's own research has warned it may pose risks to the country's drinking water supplies.
Swedish climate activist Greta Thunberg takes part in a "Friday for Future" youth demonstration in a street of Davos on Jan. 24, 2020 on the sideline of the World Economic Forum annual meeting. FABRICE COFFRINI / AFP via Getty Images
Treasury Secretary Steven Mnuchin pretended not to know who Greta Thunberg is, and then he told her to get a degree in economics before giving world leaders advice, as The Guardian reported.
The Visible Infrared Imaging Radiometer Suite on the Suomi NPP satellite acquired this image of forest fire smoke hovering over North America on Aug. 15, 2018. NASA Earth Observatory
New York City isn't known for having the cleanest air, but researchers traced recent air pollution spikes there to two surprising sources — fires hundreds of miles away in Canada and the southeastern U.S.
If temperatures continue to rise, the world is at risk from global
sea-level rise
, which will flood many coastal cities as seen above in Bangladesh. NurPhoto / Contributor / Getty Images
The mounting climate emergency may spur the next global financial crisis and the world's central banks are woefully ill equipped to handle the consequences, according to a new book-length report by the Bank for International Settlements (BIS), as S&P Global reported. Located in Basel, Switzerland, the BIS is an umbrella organization for the world's central banks.