This website uses cookies to ensure you get the best experience while browsing it. By clicking 'Got It' you're accepting these terms.


The best of EcoWatch, right in your inbox. Sign up for our email newsletter!
Results of Glyphosate Pee Test Are in 'And It's Not Good News'
May. 12, 2016 09:42AM EST
Last month, Members of the European Parliament (MEPs) volunteered to take a urine test to see if glyphosate—the cancer-linked weedkiller—is in their system. Forty-eight MEPs from 13 different European Union countries participated in the test, and now the results are in.
According to ELISA test results from the accredited Biocheck Laboratory in Germany: "All participants excreted glyphosate by urine."
The experiment was spearheaded by the Green Party in the European Parliament, which wants a ban on the controversial herbicide in the European Union.
The group noted in a press release of their so-called "#MEPee" test:
On average, the MEPs had 1.7 micrograms/liter of glyphosate in their urine, 17 times higher than the European drinking water norm (0.1 microgram/litre). This means that everyone we tested was way above the limit for residues of pesticides in drinking water.
Of the 48 participants, EU-parliament members from Belgium, France and Germany made up more than 80 percent of the whole investigated participants. The test showed that EU-parliament members from Lithuania, Spain and Croatia had the highest concentrations of glyphosate. The lowest concentrations were in the urines of participants of from Italy, Finland and Ireland.
"Nevertheless all investigated EU-parliament members were glyphosate contaminated. This will show glyphosate is also in the food chain of members of the EU-parliament," the report states.
Glyphosate, which the World Health Organization's International Agency for Research on Cancer (IARC) declared a possible carcinogen last March, is the main ingredient in Monsanto's widely used weedkiller, Roundup. It is also found in herbicides manufactured by Syngenta and Dow.
The Greens conducted the test ahead of European Parliament's April 13 resolution that opposed the European Union's relicensing of glyphosate.
Despite fierce opposition from European Parliament, countries such as France, Sweden, Italy and the Netherlands, and the 1.4 million people who have signed a petition calling on an EU ban, the European Commission—the executive body of the European Union—reportedly plans to relicense glyphosate for nine years.
According to the Green Party, the European Commission's latest proposal, which will be voted on May 19, will "plough ahead with a full-fledged approval of glyphosate's license for nine years."
"It considers only symbolically if at all the European Parliament's resolution calling for a very limited scope of approval. Responsibility for the protection of operators and for multiple risks is discharged onto Member States in a non-legally binding manner," the party said. "We are pissed off that our governments want to allow this poison for another nine years! No politician should have this in his or her body, and not a single citizen either!"
Glyphosate approval in the EU expires at the end of June. The chemical has been the subject of incredible controversy in Europe especially after the European Food Safety Authority famously rejected the IARC's classification of glyphosate as a possible carcinogen in November.
Agri-business giant Monsanto has also vehemently denied glyphosate's health and cancer risks and demanded a retraction of the IARC report.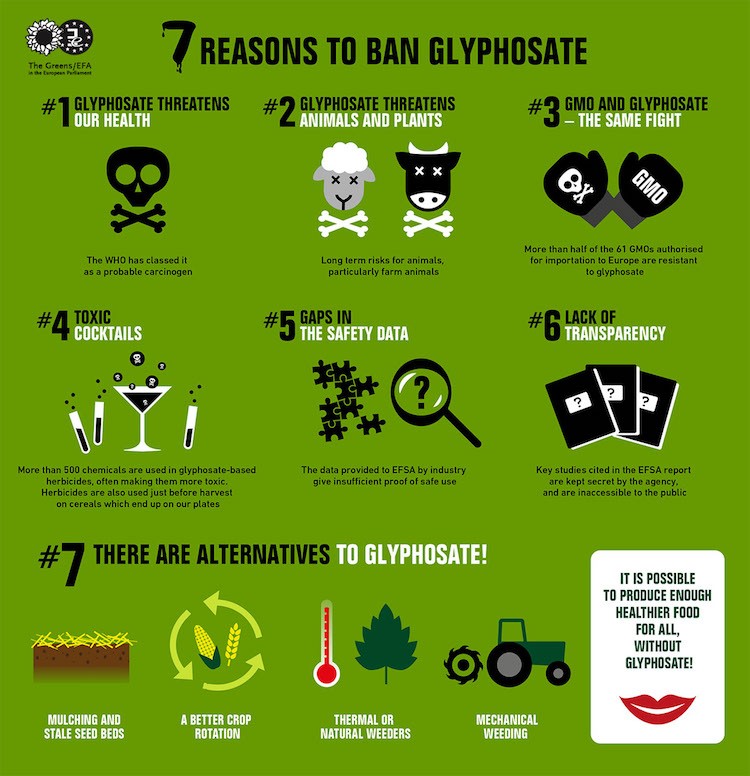 The Green Party's MEPee test was inspired by a German study "Urinale 2015," which sampled glyphosate concentrations in urine from more than 2,000 participants.
"The study found that the scale of the glyphosate problem is enormous, with detected concentrations in urine between five and 42 times over the maximum value of residues for drinking water in Europe," the Green Party pointed out. "No less than 99.6 percent of all citizens who took part in this survey had higher residue levels. This means that virtually all citizens are contaminated with glyphosate."
A number of other studies have detected glyphosate—the "most widely applied pesticide worldwide"—in feminine hygiene products, everyday food items and, yes, human bodies. A 2013 Friends of the Earth Europe study reported people in 18 European countries have traces of glyphosate in their urine.
YOU MIGHT ALSO LIKE
Monsanto Faces Rejection in U.S. Over GMO Soybean
'Mistaken' Release of Glyphosate Report Raises Questions Over EPA's Ties to Monsanto
EcoWatch Daily Newsletter
A metal fence marked with the U.S. Border Patrol sign prevents people to get close to the barbed/concertina wire covering the U.S./Mexico border fence, in Nogales, Arizona, on Feb. 9. ARIANA DREHSLER / AFP / Getty Images
D'Bone Collector Museum head Darrell Blatchley shows plastic found inside the stomach of a Cuvier's beaked whale in the Philippines this weekend. - / AFP / Getty Images
Yet another whale has died after ingesting plastic bags. A young male Cuvier's beaked whale was found washed up in Mabini, Compostela Valley in the Philippines Friday, CNN reported. When scientists from the D' Bone Collector Museum in Davao investigated the dead whale, they found it had died of "dehydration and starvation" after swallowing plastic bags―40 kilograms (approximately 88 pounds) worth of them!
Pexels
By Jeff Turrentine
"Be careful what you wish for; you just might get it." This is something that everybody has to learn at some point. Lately, the lesson has hit home for a group of American automakers.
Art direction: Georgie Johnson. Illustrations: Freya Morgan
By Joe Sandler Clarke
"Don't expect us to continue buying European products," Malaysia's former plantations minister Mah Siew Keong told reporters in January last year. His comments came just after he had accused the EU of "practising a form of crop apartheid."

A few months later Luhut Pandjaitan, an Indonesian government minister close to President Joko 'Jokowi' Widodo, warned his country would retaliate if it was "cornered" by the EU.
Torres and his parents walk along the Rio Grande. Luis Torres / Earthjustice
By Luis Torres
For some people who live along the U.S.-Mexico border, President Trump's attempt to declare a national emergency and extend the border wall is worse than a wasteful, unconstitutional stunt. It's an attack on their way of life that threatens to desecrate their loved ones' graves.
Flooding caused by last week's bomb cyclone storm has broken records in 17 places across the state of Nebraska, CNN reported Sunday. Around nine million people in 14 states along the Mississippi and Missouri Rivers were under a flood watch, CNN meteorologist Karen Maginnis said.
A car destroyed by Cyclone Idai in Beira, Mozambique. ADRIEN BARBIER / AFP / Getty Images
At least 150 people have died in a cyclone that devastated parts of Mozambique, Zimbabwe and Malawi over the weekend, The Associated Press reported Sunday. Cyclone Idai has affected more than 1.5 million people since it hit Mozambique's port city of Beira late Thursday, then traveled west to Zimbabwe and Malawi. Hundreds are still missing and tens of thousands are without access to roads or telephones.
"I think this is the biggest natural disaster Mozambique has ever faced. Everything is destroyed. Our priority now is to save human lives," Mozambique's Environment Minister Celso Correia said, as AFP reported.