This website uses cookies to ensure you get the best experience while browsing it. By clicking 'Got It' you're accepting these terms.


The best of EcoWatch, right in your inbox. Sign up for our email newsletter!
Restoring Louisiana's Coast Will Require Restoring Its Democracy—Governor Jindal Is Trying to Undermine Both
Apr. 16, 2014 05:11PM EST
Insights + Opinion
The Mississippi's River southernmost delta is home to a rich ecosystem, robust, culture and booming economy. Wetlands provide critical storm protection for the Louisiana's coast. A recent poll by America's Wetland Foundation found that 74 percent of Louisiana residents "consider saving the coast to be the most important issue [in the state] of our lifetime." For Delta citizens, flood protection is a matter of survival. Louisiana wetlands are disappearing at a rate of approximately one football field every hour and coastal communities are already washing into the Gulf of Mexico. To date, roughly 2,000 square miles of land have disappeared under water and the erosion is accelerating. The disappearing land once buffered communities including New Orleans from catastrophic storm surges.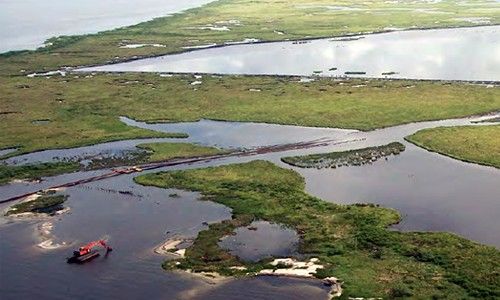 Managing the Mississippi River Delta is a daunting challenge, but the greatest barrier to restoration and flood protection is politics. Last year, a board of flood experts, acting to protect New Orleans, ignited a battle that has starkly pitted the public welfare against the sycophantic fealty of Louisiana's toadying politicians to a rapacious oil and gas industry.
The Southeast Louisiana Flood Protection Authority-East (SLFPA-E) oversees the greater New Orleans levee system. The deterioration of the wetlands that protect the levees surrounding New Orleans led the SLFPA-E to file suit against 97 oil and gas companies. While the Army Corp of Engineers diversion projects have contributed to wetland shrinkage by starving the delta of sediments, study after study, including those conducted by the state and the oil industry, point to oil and gas activities as a principle culprit in the loss of Louisiana's wetlands. The petroleum titans have dredged approximately 10,000 miles of canals through Louisiana's fragile wetlands in their thirst for oil and gas allowing wave action and salt water from the Gulf to infiltrate and destroy what is left. State issued dredge permits require these companies to restore the injured wetlands. Petroleum industry practice is to ignore those permit mandates.
SLFPA's suit seeks to force these companies to finally repair the damage they have inflicted on coastal wetlands as the law requires.
These permit violations are not victimless crimes. In breaking the laws that require wetland restoration, these companies endanger everyone who depends on Louisiana's productive and delicate coasts. The protection of the many should take precedence over the protection of the money, but Louisiana's servile politicians seem more concerned with protecting cash flow for the most profitable industry in history—an industry that provides local pols their largest source of campaign lucre.
Genuflecting to Big Oil's pressure, the industry's chief indentured servant, Governor Bobby Jindal, is leading an attempt to kill the suit by orchestrating the replacement of several members of the levee authority. Jindal's caper violates state laws that guarantee that body's political independence. Urged on by the Governor, crooked Legislators are currently advancing bills to undermine the levee board and retroactively kill the lawsuit. Louisiana is a classic corporate kleptocracy. There is no sunshine in Baton Rouge; Like so many cockroaches Big Oil's state house sock puppets are working their mischief in the darkness with no accountability or public participation.
A Louisiana elected official once said "the flag of Texaco flies over the Louisiana State Capitol." Right now that flag is flapping in the face of every citizen. Tax-hating governor Jindall now wants to spend tens of millions of dollars of tax payer money to plug oil canals which companies are required by law to plug themselves. That money pales beside to the $50 billion cost of the state's master plan to protect the coast. Jindal's funding proposal caper will protect his oil industry patrons and stick the public with the bill: taxpayers will cover the costs of damage caused by oil companies.
A recent poll by the nonprofit, Restore Louisiana Now, found that 90 percent of state residents believe the oil and gas industry should pay it's fair share, and 75 percent believe the governor has no business shielding the oil and gas industry from the costs of its misbehavior.
As Seneca observed "To greed, all of nature is insufficient."
EcoWatch Daily Newsletter
Denali national park. Domen Jakus / Flickr / CC BY-NC 2.0
By Stephanie Gagnon
Happy National Parks Week! This year, between April 20 and 28, escape to the beautiful national parks — either in person or in your imagination — and celebrate the amazing wildlife that calls these spaces home.
fstop123 / iStock / Getty Images Plus
At EcoWatch, our team knows that changing personal habits and taking actions that contribute to a better planet is an ongoing journey. Earth Day, happening on April 22, is a great reminder for all of us to learn more about the environmental costs of our behaviors like food waste or fast fashion.
To offer readers some inspiration this Earth Day, our team rounded up their top picks for films to watch. So, sit back and take in one of these documentary films this Earth Day. Maybe it will spark a small change you can make in your own life.
Sesame, three months old, at Seal Rescue Irleand.
Screenshot / Seal Rescue Ireland Instagram
On Friday, Seal Rescue Ireland released Sesame the seal into the ocean after five months of rehabilitation at the Seal Rescue Ireland facility. Watch the release on EcoWatch's Facebook.

Beer packs of Guinness will now come in a cardboard box. Diageo

By Jordan Davidson
Guinness is joining the fight against single use plastic. The brewer has seen enough hapless turtles and marine life suffering from the scourge of plastic.
Maskot / Getty Images
People of all ages are spending more of their day looking at their phones, computers and television screens, but parents now have another reason for limiting how much screen time their children get — it could lead to behavioral problems.
Rapper and comedian Lil Dicky released a 7-minute climate change awareness song and video today, ahead of Earth Day on Monday, with proceeds going to the Leonardo DiCaprio Foundation.
Pexels
By Eoin Higgins
The New York City Council passed the world's "largest single carbon reduction effort that any city, anywhere, has ever put forward" on Thursday afternoon, marking a major milestone in the fight against the climate crisis.