This website uses cookies to ensure you get the best experience while browsing it. By clicking 'Got It' you're accepting these terms.
Restore the Colorado River Delta Petition Hits 2,500 Signatures, 25 Groups
Nov. 21, 2011 04:33PM EST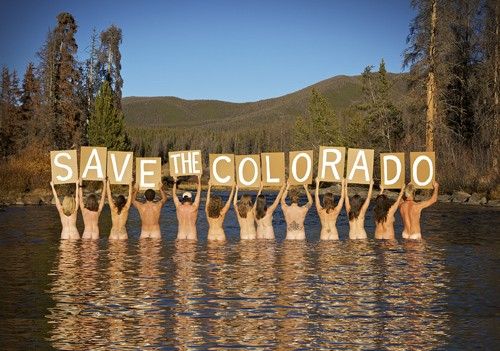 The Change.org online petition to restore water to the Colorado River Delta has hit more than 2,500 signatures and is supported by 25 conservation groups.
For more than a decade the Colorado River has been drained completely dry before it reaches the Gulf of California—5 trillion gallons of water drained out (view an image here) by thirsty cities and farms across the Southwest U.S. and Mexico. The U.S. and Mexico are currently negotiating a Bi-National Agreement through the International Boundary Waters Commission and the Bureau of Reclamation that may restore a small amount of water to the devastated ecosystem. Twenty-five conservation organizations from the top of the Colorado River basin to the bottom are supporting the petition.
"The Colorado River system is the lifeblood of the American Southwest, nourishing some of the richest and most diverse wetlands in the region and providing key habitat for endangered fishes and wildlife," said Erik Molvar, wildlife biologist with Biodiversity Conservation Alliance in Wyoming. "It would be irresponsible to allow this lifeblood to be drained dry."
The Bi-National Agreement could better manage the Colorado River so that water supply reliability can be enhanced for cities, farms and natural ecosystems benefiting both the U.S. and Mexico. If structured properly, the agreement would allow both countries to have better drought supplies while also addressing the devastating drought of water in the Delta ecosystem.
"The Colorado River is critical to San Diego communities, just as it is vital to the plants, birds and other animals in the Delta area," said Gabe Solmer of San Diego Coastkeeper. "We must work together to share and safeguard these precious resources."
The Change.org online action is petitioning U.S. Secretary of State Hillary Clinton who oversees the International Boundary Waters Commission, and U.S. Secretary of Interior Ken Salazar who oversees the U.S. Bureau of Reclamation. The negotiators for the State and Interior Departments are predicting that an agreement may be reached in December of 2011 or January of 2012.
"The more people learn about the degraded Colorado River Delta, the more people want to step up and provide support," said Gary Wockner of the Save the Colorado campaign, which is leading the petition effort. "These 25 conservation groups are proud to provide positive support to the U.S. negotiators to help bring the Colorado River Delta back to life."
For more information, click here.
—————
The following conservation organizations are supporting the petition: Save the Colorado, Sierra Club—Rocky Mountain Chapter, Biodiversity Conservation Alliance, Living Rivers—Colorado Riverkeeper, The Environmental Group, Western Rivers Institute, Blue Legacy, The Ocean Foundation, Clean Water Fund, San Diego Coastkeeper, Save the Poudre: Poudre Waterkeeper, American Whitewater, Waterkeeper Alliance, Food and Water Watch, Colorado Ocean Coalition, Glen Canyon Institute, Save the Colorado River Delta: Sonoran Institute, Sheep Mountain Alliance, Grand Canyon Trust, American Rivers, Citizens for Dixie's Future, Great Basin Water Network, Redford Center: River Red Film, Planning and Conservation League of California, and Defenders of Wildlife.
EcoWatch Daily Newsletter
A. Battenburg / Technical University of Munich
By Sarah Kennedy
Algae in a pond may look flimsy. But scientists are using algae to develop industrial-strength material that's as hard as steel but only a fraction of the weight.
Variety of fermented food korean traditional kimchi cabbage and radish salad. white and red sauerkraut in ceramic plates over grey spotted background. Natasha Breen / REDA&CO / Universal Images Group / Getty Image
Even if you've never taken probiotics, you've probably heard of them.
These supplements provide numerous benefits because they contain live microorganisms, such as bacteria or yeast, which support the healthy bacteria in your gut (1, 2, 3, 4).
Pexels
Singapore will become the first country in the world to place a ban on advertisements for carbonated drinks and juices with high sugar contents, its health ministry announced last week. The law is intended to curb sugar consumption since the country has some of the world's highest diabetes rates per capita, as Reuters reported.
A typical adult takes around 20,000 breaths per day. If you live in a megacity like Beijing, with many of those lungfuls you're likely to inhale a noxious mixture of chemicals and pollutants.
Fred Stone holds his brown swiss cow Lida Rose at his Arundel dairy farm on March 18 after a press conference where he spoke about PFAS chemical contamination in his fields. Gregory Rec / Portland Portland Press Herald via Getty Images
By Susan Cosier
First there was Fred Stone, the third-generation dairy farmer in Maine who discovered that the milk from his cows contained harmful chemicals. Then came Art Schaap, a second-generation dairy farmer in New Mexico, who had to dump 15,000 gallons of contaminated milk a day.
Protesters attend the 32nd annual Fur-Free Friday demonstration on Nov. 23, 2018 in Beverly Hills, California. Ella DeGea / Getty Images
California Governor Gavin Newsom signed into law a bill that that bans the sale and manufacture of fur products in the state. The fur ban, which he signed into law on Saturday, prohibits Californians from selling or making clothing, shoes or handbags with fur starting in 2023, according to the AP.
By Simon Evans
During the three months of July, August and September, renewables generated an estimated total of 29.5 terawatt hours (TWh), compared with just 29.1TWh from fossil fuels, the analysis shows.
A demonstrator waves an Ecuadorian flag during protests against the end of subsidies to gasoline and diesel on Oct. 9 in Quito, Ecuador. Jorge Ivan Castaneira Jaramillo / Getty Images