This website uses cookies to ensure you get the best experience while browsing it. By clicking 'Got It' you're accepting these terms.
Residents Fight Gas Company over Seized Property for Gas Pipeline
Feb. 16, 2012 09:10AM EST
Energy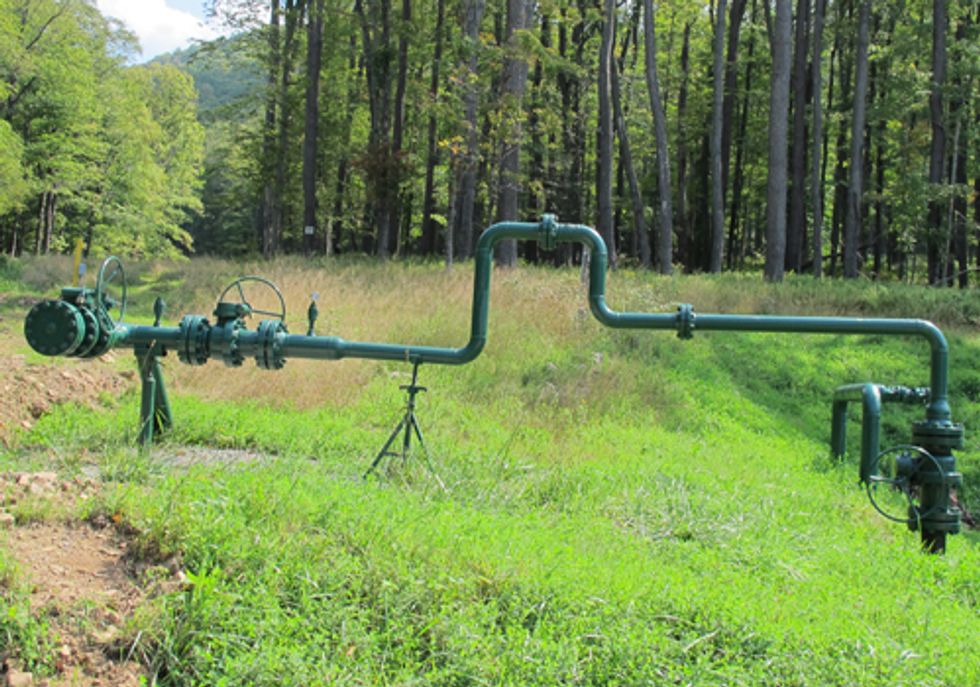 Residents are suing to halt tree-cutting along the route of a controversial gas pipeline through the Endless Mountains region of Northeast Pennsylvania. Represented by the nonprofit environmental law firm Earthjustice, members of Pennsylvania Chapter of the Sierra Club, Damascus Citizens for Sustainability, and the Coalition for Responsible Growth and Resource Conservation filed an emergency motion this week challenging a decision by the Federal Energy Regulatory Commission (FERC). FERC denied an earlier motion for rehearing by the groups, prompting this week's legal action. Feb. 16 is the deadline for FERC to respond to the groups' motion.
FERC authorized Central New York Oil and Gas Company (CNYOG) to begin cutting trees before the company had fulfilled all necessary pre-construction requirements.
The U.S. Environmental Protection Agency (EPA) has estimated the project would result in the destruction of more than 200,000 mature trees. The 39-mile industrial gas pipeline, which would tear up 600 acres of land and cross more than 100 waterways, has drawn criticism from EPA officials, 35 state representatives, and more than 22,000 members of the public.
The pipeline project cuts through land owned by more than 100 property owners. FERC granted CNYOG the power to seize private property for the pipeline on Nov. 14. Within a matter of days, the company began condemnation proceedings against nearly half of the property owners along the pipeline's route. View a map of the proposed pipeline route by clicking here.
The following is a statement from Earthjustice attorney Deborah Goldberg:
"We are seeing a very troubling pattern at work. At every turn, the Central New York Oil & Gas Company has pressured FERC regulators to fast-track this project. FERC is bowing to this pressure, even to the point of bending its own rules.
"We've been watching and we've seen property owners mistreated. We've seen the failure to disclose how dangerously close this pipeline runs to an elementary school. What we have not seen is the thorough review of this project's environmental and public health impacts that the law clearly requires. This is why we are taking legal action. To remind regulators of their duty—to watch out for the people and places that will be impacted by this project.
"Furthermore, given the gas industry's current financial woes, now is not the time to be rushing a project in a previously undeveloped area. A hastily approved and constructed pipeline is the last thing this region needs."
For more information, click here.
EcoWatch Daily Newsletter
Ocean pollution concept with plastic and garbage.
Anton Petrus
/ Moment / Getty Images
Nestlé cannot claim that its Ice Mountain bottled water brand is an essential public service, according to Michigan's second highest court, which delivered a legal blow to the food and beverage giant in a unanimous decision.
A number of supermarkets across the country have voluntarily issued a recall on sushi, salads and spring rolls distributed by Fuji Food Products due to a possible listeria contamination, as CBS News reported.
A U.S. Border Patrol agent gathers personal effects from immigrants before they are transferred to a McAllen processing center on July 02, 2019 in Los Ebanos, Texas. John Moore / Getty Images
Poverty and violence in Central America are major factors driving migration to the United States. But there's another force that's often overlooked: climate change.
Retired Lt. Cmdr. Oliver Leighton Barrett is with the Center for Climate and Security. He says that in Guatemala, Honduras and El Salvador, crime and poor economic conditions have long led to instability.
"And when you combine that with protracted drought," he says, "it's just a stressor that makes everything worse."
Barrett says that with crops failing, many people have fled their homes.
"These folks are leaving not because they're opportunists," he says, "but because they are in survival mode. You have people that are legitimate refugees."
So Barrett supports allocating foreign aid to programs that help people in drought-ridden areas adapt to climate change.
"There are nonprofits that are operating in those countries that have great ideas in terms of teaching farmers to use the land better, to harvest water better, to use different variety of crops that are more resilient to drought conditions," he says. "Those are the kinds of programs I think are needed."
So he says the best way to reduce the number of climate change migrants is to help people thrive in their home countries.
Reporting credit: Deborah Jian Lee / ChavoBart Digital Media.
Reposted with permission from Yale Climate Connections.
Chris Pratt arrives to the Los Angeles premiere of "Jurassic World: Fallen Kingdom" on June 12, 2018 in Los Angeles, California. Michael Tran / FilmMagic / Getty Images

Chris Pratt was called out on social media by Game of Thrones star Jason Momoa after Pratt posted an image "low key flexing" with a single-use plastic water bottle.