This website uses cookies to ensure you get the best experience while browsing it. By clicking 'Got It' you're accepting these terms.
Residents Fight Gas Company over Seized Property for Gas Pipeline
Feb. 16, 2012 09:10AM EST
Energy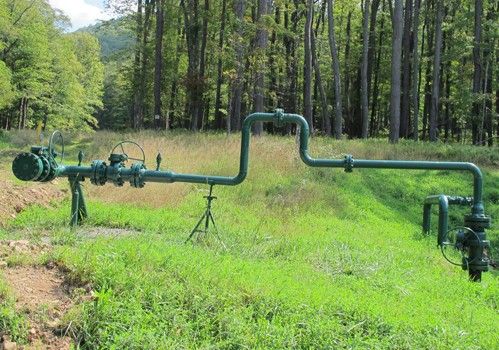 Residents are suing to halt tree-cutting along the route of a controversial gas pipeline through the Endless Mountains region of Northeast Pennsylvania. Represented by the nonprofit environmental law firm Earthjustice, members of Pennsylvania Chapter of the Sierra Club, Damascus Citizens for Sustainability, and the Coalition for Responsible Growth and Resource Conservation filed an emergency motion this week challenging a decision by the Federal Energy Regulatory Commission (FERC). FERC denied an earlier motion for rehearing by the groups, prompting this week's legal action. Feb. 16 is the deadline for FERC to respond to the groups' motion.
FERC authorized Central New York Oil and Gas Company (CNYOG) to begin cutting trees before the company had fulfilled all necessary pre-construction requirements.
The U.S. Environmental Protection Agency (EPA) has estimated the project would result in the destruction of more than 200,000 mature trees. The 39-mile industrial gas pipeline, which would tear up 600 acres of land and cross more than 100 waterways, has drawn criticism from EPA officials, 35 state representatives, and more than 22,000 members of the public.
The pipeline project cuts through land owned by more than 100 property owners. FERC granted CNYOG the power to seize private property for the pipeline on Nov. 14. Within a matter of days, the company began condemnation proceedings against nearly half of the property owners along the pipeline's route. View a map of the proposed pipeline route by clicking here.
The following is a statement from Earthjustice attorney Deborah Goldberg:
"We are seeing a very troubling pattern at work. At every turn, the Central New York Oil & Gas Company has pressured FERC regulators to fast-track this project. FERC is bowing to this pressure, even to the point of bending its own rules.
"We've been watching and we've seen property owners mistreated. We've seen the failure to disclose how dangerously close this pipeline runs to an elementary school. What we have not seen is the thorough review of this project's environmental and public health impacts that the law clearly requires. This is why we are taking legal action. To remind regulators of their duty—to watch out for the people and places that will be impacted by this project.
"Furthermore, given the gas industry's current financial woes, now is not the time to be rushing a project in a previously undeveloped area. A hastily approved and constructed pipeline is the last thing this region needs."
For more information, click here.
EcoWatch Daily Newsletter
Protesters attend the 32nd Annual Fur-Free Friday demonstration on Nov. 23, 2018 in Beverly Hills, California. Ella DeGea / Getty Images
California Governor Gavin Newsom signed into law a bill that that bans the sale and manufacture of fur products in the state. The fur ban, which he signed into law on Saturday, prohibits Californians from selling or making clothing, shoes or handbags with fur starting in 2023, according to the AP.
By Simon Evans
During the three months of July, August and September, renewables generated an estimated total of 29.5 terawatt hours (TWh), compared with just 29.1TWh from fossil fuels, the analysis shows.
A demonstrator waves an Ecuadorian flag during protests against the end of subsidies to gasoline and diesel on Oct. 9 in Quito, Ecuador. Jorge Ivan Castaneira Jaramillo / Getty Images
Protesters block the road outside Mansion House in London during an XR climate change protest. Gareth Fuller / PA Images via Getty Images
Protestors marched outside the Prudential Center in Newark, New Jersey on Monday, August 26, during the MTV Video and Music Awards to bring attention to the water crisis currently gripping the city. Karla Ann Cote / NurPhoto / Getty Images
By Will Sarni
It is far too easy to view scarcity and poor quality of water as issues solely affecting emerging economies. While the images of women and children fetching water in Africa and a lack of access to water in India are deeply disturbing, this is not the complete picture.
Pexels
Mice exposed to nicotine-containing e-cigarette vapor developed lung cancer within a year.
More research is needed to know what this means for people who vape.
Other research has shown that vaping can cause damage to lung tissue.
A new study found that long-term exposure to nicotine-containing e-cigarette vapor increases the risk of cancer in mice.
Demonstrators with The Animal Welfare Institute hold a rally to save the vaquita, the world's smallest and most endangered porpoise, outside the Mexican Embassy in DC on July 5, 2018. SAUL LOEB / AFP / Getty Images
Six months: That's how much time Mexico now has to report on its progress to save the critically endangered vaquita porpoise (Phocoena sinus) from extinction.
Pexels
It may seem innocuous to flush a Q-tip down the toilet, but those bits of plastic have been washing up on beaches and pose a threat to the birds, turtles and marine life that call those beaches home. The scourge of plastic "nurdles," as they are called, has pushed Scotland to implement a complete ban on the sale and manufacture of plastic-stemmed cotton swabs, as the BBC reported.