Residents Deliver Giant Check to 'Buy Back' NY Senator's Support from Fracking Interests
Jun. 14, 2013 02:12PM EST
Energy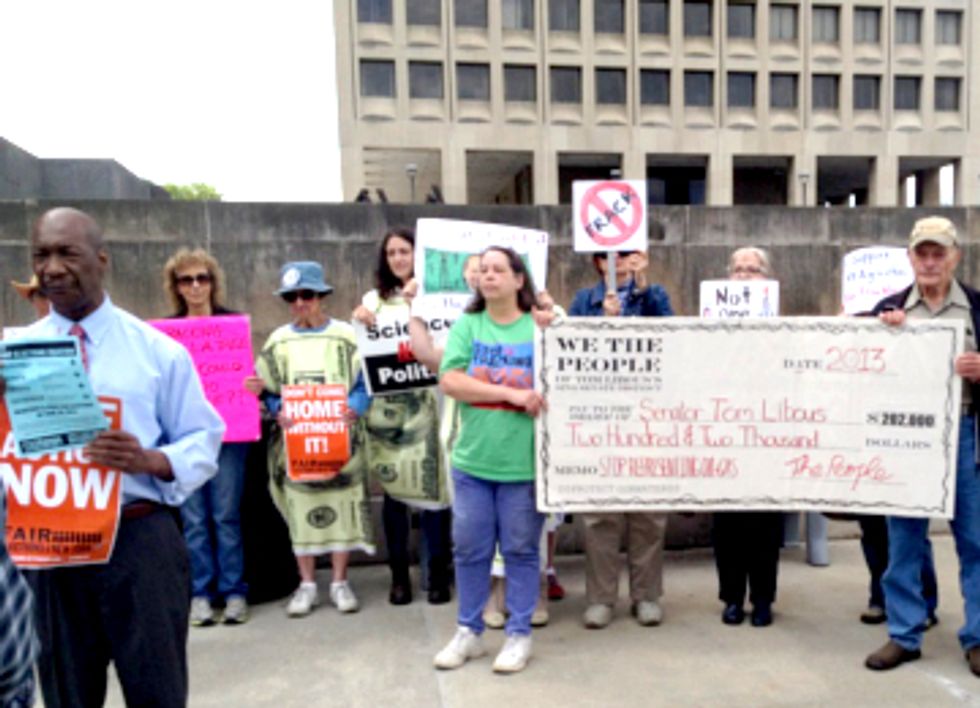 Southern Tier Residents
Southern Tier residents delivered a $202,000 giant eight by three foot fake check to Sen. Libous' (R-NY) Binghamton district office today to "buy their senator back" from pro-fracking business interest and from big oil and gas lobbyist. $202,000 is the same amount of money Sen. Libous took in campaign contributions from fracking oil and gas interests in the last two years, according to the good government group Common Cause. Community residents presented the check and demanded that Sen. Libous put science and the people's interest above oil and gas interests, that Sen. Libous stop saying "the Southern Tier supports fracking" and that he stops taking contributions from pro-fracking business interests. The bottom line: residents demanded that Sen. Libous represent his constituents, not big oil and gas industry.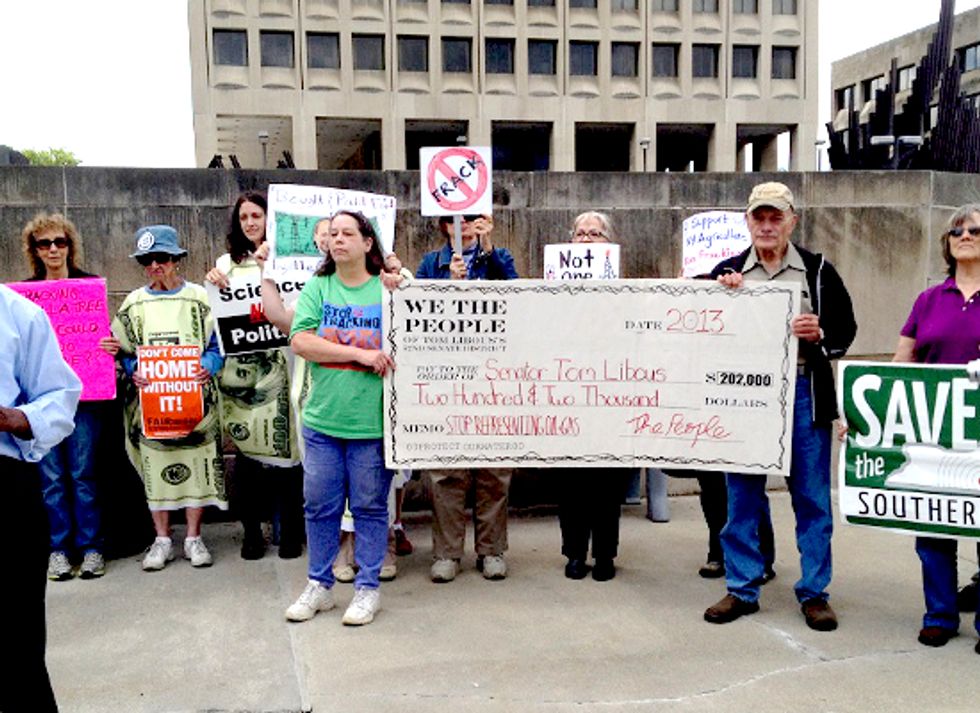 The outrageous sum of contributions from pro-fracking interests is made worse by recent revelations that Sen. Libous has questionable personal ties to companies and relationships with individuals who stand to financially benefit significantly from fracking.
For years, Sen. Libous has been a staunch proponent of fracking, advocating for it in the legislature, in the press and speaking at gas industry sponsored rallies. He claims the Southern Tier overwhelmingly supports fracking, even as the polls show that is not the case. This year, Sen. Libous vowed to prevent a moratorium bill from coming to the Senate floor for a vote.
"Southern Tier residents are fed up with Sen. Libous being a puppet of the oil and gas industry," said Isaac Silberman-Gorn of Citizen Action New York. "Sen. Libous has long misrepresented his constituents on fracking in place of his own financial ties and outrageous campaign contributions from the oil and gas lobby. The fact is that a majority of Southern Tier residents don't want fracking because the truth is that fracking threatens our health, our water, our air and our way of life."
"It's unconscionable that Sen. Libous not only acts the part of the oil and gas industry's puppet but is also undermining the values of Democracy by preventing a vote on a fracking moratorium in the senate," said Alex Harris of Democracy Matters. "Adding insult to injury, he opposes campaign finance reform which would prohibit our elected officials from being bought and sold like Sen. Libous is by the oil and gas industry."
Residents delivered the eight by three foot check for $202,000.00 to Sen. Libous' district office at 44 Hawley Street in Binghamton, NY.
"Sen. Libous has unquestionably espoused gas industry propaganda for years without giving the actual science and evidence about the harms caused by fracking a second thought," said Scott Lauffer of the Sierra Club. "The only thing Sen. Libous has represented on fracking is big oil and gas."
"This is the reality of Campaign Finance Reform in NYS. The state Assembly passed the Fair Elections Act, the Senate has two bills that have been introduced (The Fair Elections Act and The Integrity in Elections Act), the Governor introduced Campaign Finance Reform Act, this week," said Lawrence Parham, upstate campaigns manager. "Lastly, the vast majority of statewide polls show that there is bipartisan majority support for Fair Elections (72 percent Siena poll) all across the state. We need the IDC [Independent Democratic Conference] and the Senate Republicans to let the Fair Elections bills come to the floor for a vote because it will place limits on big money's influence in our state politics."
Although the gas industry's spokespeople and propaganda campaign assure the safety of fracking, New Yorkers are not buying it and remain opposed to fracking, while the truth is coming out that fracking is far from safe and that the gas industry cannot be trusted. A recent investigation by the Times Tribune in Pennsylvania revealed many cases of water contamination from fracking.
Visit EcoWatch's FRACKING page for more related news on this topic.
——–
Sign the petition today, telling President Obama to enact an immediate fracking moratorium:

EcoWatch Daily Newsletter