This website uses cookies to ensure you get the best experience while browsing it. By clicking 'Got It' you're accepting these terms.
Researchers Look to Blizzards for Clues on Improving Efficiency of Wind Turbines
Jun. 25, 2014 02:32PM EST
Renewable Energy
A first-of-its-kind study by researchers at the University of Minnesota (UMN) using snow during a Minnesota blizzard is giving researchers new insight into the airflow around large wind turbines. This research is essential to improving wind energy efficiency, especially in wind farms where airflows from many large wind turbines interact with each other.
The study by researchers at the UMN College of Science and Engineering's St. Anthony Falls Lab was published yesterday in Nature Communications, a major scientific journal.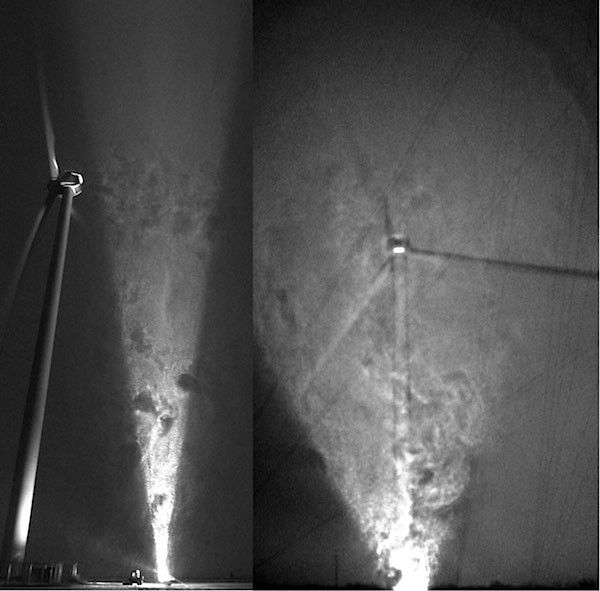 Wind energy is one of the fastest-growing renewable energy sources. The U.S. Department of Energy estimates energy losses in wind farms to be as high as 10-20 percent and identifies complex airflows created by the turbines as the major culprit for such losses. As wind turbines have grown to more than 100 meters tall, field research in real-world settings has become more difficult.
"In the lab we use tracer particles to measure airflows of wind turbine models in wind tunnels, but our research was extremely constrained by an inability to measure flows at the large scale," said Jiarong Hong, a UMN mechanical engineering assistant professor and lead researcher on the study. "Most researchers thought measurements of this kind at the real-world scale were impossible."
Hong, who grew up in southwest China, had only seen snow a few times growing up. When he moved to Minnesota in 2012, he wondered if snow might be the solution to their dilemma.
"We have everything we needed in Minnesota for this research," Hong said. "We have a fully-equipped large research wind turbine at the U.S. Department of Energy-funded Eolos Wind Energy Research Center run by the University. We also have snow to serve as the particulates to measure the airflows and committed researchers and engineers to carry out such an unprecedented effort."
After a number of previous attempts when the snow was poor quality or the instruments malfunctioned in the cold weather, researchers headed to the Eolos 2.5 KW wind turbine in Rosemount, MN, in the early morning hours of a snowstorm on Feb. 22, 2013.
They braved the harsh conditions in the middle of the night to set up a large searchlight with specially designed reflecting optics to generate a gigantic light sheet next to the 130-meter-tall wind turbine for illuminating the snow particles in a 36-meter-wide-by-36-meter-high area. The snow is easier to see in the light at night, much like the average person looks into a streetlight to see how much it is snowing during a snowstorm. Researchers videotaped the snow particles as the wind turbine spun to show airflow patterns. The video (below) was digitized and synchronized with wake flow and load data from the fully instrumented research wind turbine. 
Results of the experiment showed that this technique was successful in measuring the turbulence of the airflow structure around the wind turbine. It is a first step in showing significant differences in the patterns of airflows in the field at large scale compared to those measured in the lab.
"These measurements are extremely important in our efforts to improve the efficiency of wind energy that will reduce our reliance on fossil fuels," said Fotis Sotiropoulos, co-author of the study and director of the University's St. Anthony Falls Lab and the Eolos Wind Energy Research Center. "Who would have ever thought we'd use a Minnesota blizzard to help fight global warming."
In addition to Hong and Sotiropoulos, other University of Minnesota researchers who were part of this study include civil engineering assistant professor Michele Guala, mechanical engineering Ph.D. student Mostafa Toloui, civil engineering Ph.D. student Kevin Howard, mechanical engineering student Sean Riley, St. Anthony Falls Lab engineer James Tucker, and former post-doctoral researcher Leonardo Chamorro who is now at the University of Illinois at Urbana-Champaign.
EcoWatch Daily Newsletter
A glacier is seen in the Kenai Mountains on Sept. 6, near Primrose, Alaska. Scientists from the U.S. Geological Survey have been studying the glaciers in the area since 1966 and their studies show that the warming climate has resulted in sustained glacial mass loss as melting outpaced the accumulation of new snow and ice. Joe Raedle / Getty Images
By Mark Mancini
On Aug. 18, Iceland held a funeral for the first glacier lost to climate change. The deceased party was Okjökull, a historic body of ice that covered 14.6 square miles (38 square kilometers) in the Icelandic Highlands at the turn of the 20th century. But its glory days are long gone. In 2014, having dwindled to less than 1/15 its former size, Okjökull lost its status as an official glacier.
Members of Chicago Democratic Socialists of America table at the Logan Square Farmers Market on Aug. 18. Alex Schwartz
By Alex Schwartz
Among the many vendors at the Logan Square Farmers Market on Aug. 18 sat three young people peddling neither organic vegetables, gourmet cheese nor handmade crafts. Instead, they offered liberation from capitalism.
Hackney primary school students went to the Town Hall on May 24 in London after school to protest about the climate emergency. Jenny Matthews / In Pictures / Getty Images
Bird watching in the U.S. may be a lot harder than it once was, since bird populations are dropping off in droves, according to a new study.
Amazon CEO Jeff Bezos announces the co-founding of The Climate Pledge at the National Press Club on Sept. 19 in Washington, DC. Paul Morigi / Getty Images for Amazon
The day before over 1,500 Amazon.com employees planned a walkout to participate in today's global climate strike, CEO Jeff Bezos unveiled a sweeping plan for the retail and media giant to be carbon neutral by 2040, 10 years ahead of the Paris agreement schedule.
For the past seven years, the Anishinaabe people have been facing the largest tar sands pipeline project in North America. We still are. In these dying moments of the fossil fuel industry, Water Protectors stand, prepared for yet another battle for the water, wild rice and future of all. We face Enbridge, the largest pipeline company in North America, and the third largest corporation in Canada. We face it unafraid and eyes wide open, for indeed we see the future.
The climate crisis often intensifies systems of oppression. Rieko Honma / Stone / Getty Images Plus
By Mara Dolan
We see the effects of the climate crisis all around us in hurricanes, droughts, wildfires, and rising sea levels, but our proximity to these things, and how deeply our lives are changed by them, are not the same for everyone. Frontline groups have been leading the fight for environmental and climate justice for centuries and understand the critical connections between the climate crisis and racial justice, economic justice, migrant justice, and gender justice. Our personal experiences with climate change are shaped by our experiences with race, gender, and class, as the climate crisis often intensifies these systems of oppression.