This website uses cookies to ensure you get the best experience while browsing it. By clicking 'Got It' you're accepting these terms.


The best of EcoWatch, right in your inbox. Sign up for our email newsletter!
Researchers Find Trees in Borneo Soak Up More CO2 Than Trees in the Amazon Rainforest
May. 12, 2014 08:50AM EST
Climate
If there was just one place in the world where it would make sense to protect trees, maintain the rainforest and damp down global warming, scientists have confirmed that it would be the island of Borneo.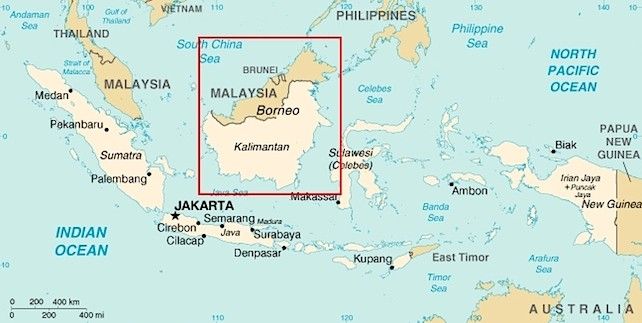 A new research report published in the Journal of Ecology says that while the Amazon rainforest might be the biggest and most important area of green canopy on the planet, Borneo soaks up, tree for tree, more carbon from the atmosphere.
Lindsay Banin, an ecologist at the UK-based Centre for Ecology and Hydrology (CEU), and colleagues from Malaysia, Brunei, the U.S., Brazil, Taiwan, Peru and Ecuador investigated what is called above-ground wood production—the most visible, tangible indicator of carbon uptake—to see how forests in Amazonia and Indonesia measured up as consumers of atmospheric carbon.
The tropical rainforests cover only one-tenth of the planet's land surface, but they account for about one-third of the terrestrial primary production—that is, about one-third of the conversion of sunlight into greenery happens in the tropical forests—and they soak up about half of all terrestrial carbon.
Vigorous Consumers
However, it turns out that some tropical forests are more vigorous consumers than others. The Amazon and the Borneo forests have similarities—for example, neither has an annual dry season, and each has a range of soil types. So if there is a difference, it must be in the trees.
The researchers examined data from 17 plots in Amazonia and 11 in Borneo, with a total of 12,000 trees—all of which have been monitored for more than two decades.
They found that the woody growth in north Borneo was almost half as much again (49 percent) as in the north-west Amazon. South-east Asian trees of a given diameter were taller than Amazon trees, which meant they amassed a greater volume of wood. On average, the south-east Asian plots grew 3.2 tons of wood per hectare more than the South American plots.
The research matters because climate scientists still have an uncertain picture of the carbon cycle. Simulations of future temperatures depend on what happens to carbon dioxide emissions, and how vigorously the natural world responds to all that extra potential fertility.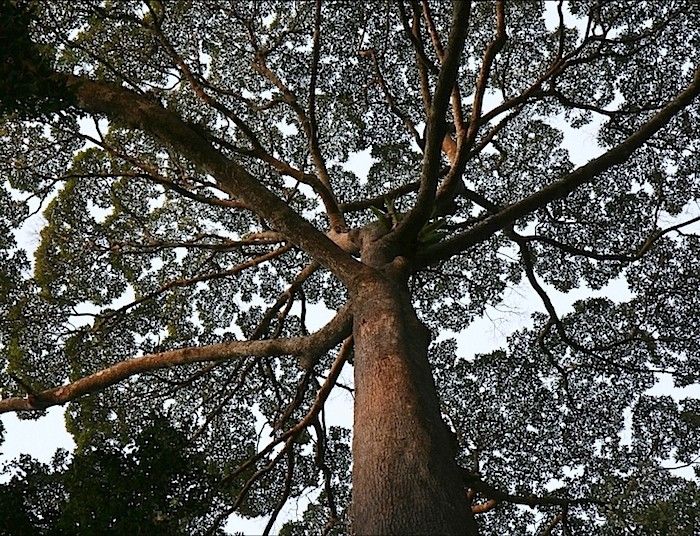 There has been recent concern that higher temperatures and changes in rainfall pattern could drastically alter the rainforests in the Congo and in the Amazon rainforests.
But there is also evidence that mature forests, with a high population of elderly giant trees, can still soak up surprising quantities of carbon dioxide.
Alarming Rate of Loss
On the debit side, Borneo has been losing its primal forest cover at an alarming rate. More than half of the lowland forests of Kalimantan—the equivalent of an area the size of Belgium—were felled for timber between 1985 and 2001.
If trees in Borneo grow faster than anywhere else in the tropics, then any loss of those trees is likely to accelerate global warming.
The next step in the research is to try to figure out what Borneo has that Amazonia hasn't.
The difference can be linked to local evolutionary history and the types of trees that flourish in each region.
"In Borneo, dipterocarps—a family of large trees with winged seeds—produce wood more quickly than their neighbours," said Dr. Banin, lead author of the CEU report. "This means that they have evolved something special and unique—and what this is exactly remains a mystery.
"Dipterocarps are known to make special relationships with fungi in the soil, so they may be able to tap into scarce nutrient resources. Or they may be trading off growth of other plant parts."
--------
YOU MIGHT ALSO LIKE
Research Finds Vapors From Coniferous Trees Could Help Slow Global Warming
New Research Shows Tree Roots Regulate CO2, Keep Climate Stable
5 of the World's Most Amazing Trees
-------- 
EcoWatch Daily Newsletter
Pxhere
By Richard Denison
Readers of this blog know how concerned EDF is over the Trump EPA's approval of many dozens of new chemicals based on its mere "expectation" that workers across supply chains will always employ personal protective equipment (PPE) just because it is recommended in the manufacturer's non-binding safety data sheet (SDS).
By Grant Smith
From 2009 to 2012, Gregory Jaczko was chairman of the Nuclear Regulatory Commission, which approves nuclear power plant designs and sets safety standards for plants. But he now says that nuclear power is too dangerous and expensive — and not part of the answer to the climate crisis.
A lake in Rocky Mountain National Park. Brett Walton / Circle of Blue
By Brett Walton
When Greg Wetherbee sat in front of the microscope recently, he was looking for fragments of metals or coal, particles that might indicate the source of airborne nitrogen pollution in Rocky Mountain National Park. What caught his eye, though, were the plastics.
Gabriele Holtermann Gorden / Pacific Press / LightRocket / Getty Images
In a big victory for animals, Prada has announced that it's ending its use of fur! It joins Coach, Jean Paul Gaultier, Giorgio Armani, Versace, Ralph Lauren, Vivienne Westwood, Michael Kors, Donna Karan and many others PETA has pushed toward a ban.
This is a victory more than a decade in the making. PETA and our international affiliates have crashed Prada's catwalks with anti-fur signs, held eye-catching demonstrations all around the world, and sent the company loads of information about the fur industry. In 2018, actor and animal rights advocate Pamela Anderson sent a letter on PETA's behalf urging Miuccia Prada to commit to leaving fur out of all future collections, and the iconic designer has finally listened.
Amer Ghazzal / Barcroft Media / Getty Images
If people in three European countries want to fight the climate crisis, they need to chill out more.
That's the conclusion of a new study from think tank Autonomy, which found that Germany, the UK and Sweden all needed to drastically reduce their workweeks to fight climate change.
Amazon Employees for Climate Justice held a press conference after the annual shareholder meeting on May 22. Amazon Employees for Climate Justice
An artist's rendering of the recomposition facility. MOLT Studios
Washington became the first U.S. state to legalize human composting Tuesday, offering residents a more environmentally friendly way to dispose of their remains, AFP reported.
Mr.TinDC / Flickr / CC BY-ND 2.0
Many nutrients are essential for good health.