This website uses cookies to ensure you get the best experience while browsing it. By clicking 'Got It' you're accepting these terms.
Researchers Find Trees in Borneo Soak Up More CO2 Than Trees in the Amazon Rainforest
May. 12, 2014 08:50AM EST
Climate
If there was just one place in the world where it would make sense to protect trees, maintain the rainforest and damp down global warming, scientists have confirmed that it would be the island of Borneo.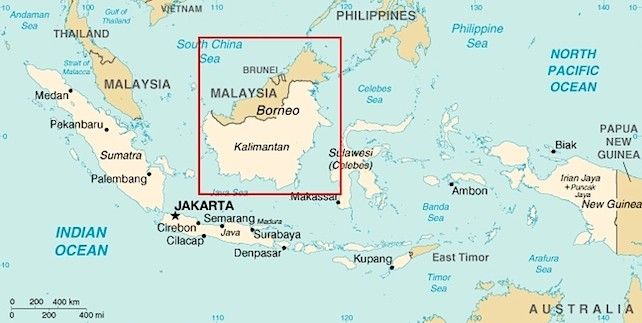 A new research report published in the Journal of Ecology says that while the Amazon rainforest might be the biggest and most important area of green canopy on the planet, Borneo soaks up, tree for tree, more carbon from the atmosphere.
Lindsay Banin, an ecologist at the UK-based Centre for Ecology and Hydrology (CEU), and colleagues from Malaysia, Brunei, the U.S., Brazil, Taiwan, Peru and Ecuador investigated what is called above-ground wood production—the most visible, tangible indicator of carbon uptake—to see how forests in Amazonia and Indonesia measured up as consumers of atmospheric carbon.
The tropical rainforests cover only one-tenth of the planet's land surface, but they account for about one-third of the terrestrial primary production—that is, about one-third of the conversion of sunlight into greenery happens in the tropical forests—and they soak up about half of all terrestrial carbon.
Vigorous Consumers
However, it turns out that some tropical forests are more vigorous consumers than others. The Amazon and the Borneo forests have similarities—for example, neither has an annual dry season, and each has a range of soil types. So if there is a difference, it must be in the trees.
The researchers examined data from 17 plots in Amazonia and 11 in Borneo, with a total of 12,000 trees—all of which have been monitored for more than two decades.
They found that the woody growth in north Borneo was almost half as much again (49 percent) as in the north-west Amazon. South-east Asian trees of a given diameter were taller than Amazon trees, which meant they amassed a greater volume of wood. On average, the south-east Asian plots grew 3.2 tons of wood per hectare more than the South American plots.
The research matters because climate scientists still have an uncertain picture of the carbon cycle. Simulations of future temperatures depend on what happens to carbon dioxide emissions, and how vigorously the natural world responds to all that extra potential fertility.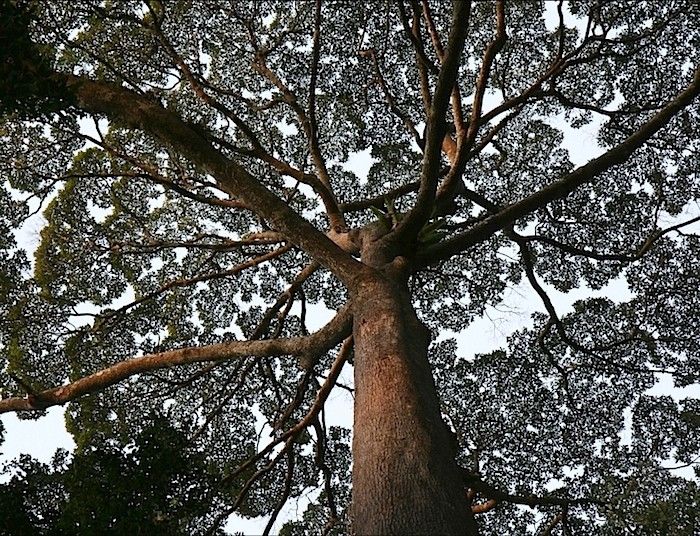 There has been recent concern that higher temperatures and changes in rainfall pattern could drastically alter the rainforests in the Congo and in the Amazon rainforests.
But there is also evidence that mature forests, with a high population of elderly giant trees, can still soak up surprising quantities of carbon dioxide.
Alarming Rate of Loss
On the debit side, Borneo has been losing its primal forest cover at an alarming rate. More than half of the lowland forests of Kalimantan—the equivalent of an area the size of Belgium—were felled for timber between 1985 and 2001.
If trees in Borneo grow faster than anywhere else in the tropics, then any loss of those trees is likely to accelerate global warming.
The next step in the research is to try to figure out what Borneo has that Amazonia hasn't.
The difference can be linked to local evolutionary history and the types of trees that flourish in each region.
"In Borneo, dipterocarps—a family of large trees with winged seeds—produce wood more quickly than their neighbours," said Dr. Banin, lead author of the CEU report. "This means that they have evolved something special and unique—and what this is exactly remains a mystery.
"Dipterocarps are known to make special relationships with fungi in the soil, so they may be able to tap into scarce nutrient resources. Or they may be trading off growth of other plant parts."
--------
YOU MIGHT ALSO LIKE
Research Finds Vapors From Coniferous Trees Could Help Slow Global Warming
New Research Shows Tree Roots Regulate CO2, Keep Climate Stable
5 of the World's Most Amazing Trees
-------- 
EcoWatch Daily Newsletter
By Pam Radtke Russell in New Orleans
Local TV weather forecasters have become foot soldiers in the war against climate misinformation. Over the past decade, a growing number of meteorologists and weathercasters have begun addressing the climate crisis either as part of their weather forecasts, or in separate, independent news reports to help their viewers understand what is happening and why it is important.

While airlines only serve bottled drinking water directly to customers, they use the plane's water for coffee and tea, and passengers can drink the tap water. Aitor Diago / Getty Images
You might want to think twice before washing your hands in an airplane bathroom.
By Allegra Kirkland, Jeremy Deaton, Molly Taft, Mina Lee and Josh Landis
Climate change is already here. It's not something that can simply be ignored by cable news or dismissed by sitting U.S. senators in a Twitter joke. Nor is it a fantastical scenario like The Day After Tomorrow or 2012 that starts with a single crack in the Arctic ice shelf or earthquake tearing through Los Angeles, and results, a few weeks or years later, in the end of life on Earth as we know it.
A pregnant woman works out in front of the skyline of London. SHansche / iStock / Getty Images Plus
Air pollution particles that a pregnant woman inhales have the potential to travel through the lungs and breach the fetal side of the placenta, indicating that unborn babies are exposed to black carbon from motor vehicles and fuel burning, according to a study published in the journal Nature Communications.
Teen activist Greta Thunberg delivered a talking-to to members of Congress Tuesday during a meeting of the Senate Climate Change Task Force after politicians praised her and other youth activists for their efforts and asked their advice on how to fight climate change.
Ten feet of water flooded 20 percent of this Minot, North Dakota neighborhood in June 2011.
DVIDSHUB
/
CC BY 2.0
A protestor holds up her hand covered with fake oil during a demonstration on the U.C. Berkeley campus in May 2010. Justin Sullivan / Getty Images
The University of California system will dump all of its investments from fossil fuels, as the Associated Press reported. The university system controls over $84 billion between its pension fund and its endowment. However, the announcement about its investments is not aimed to please activists.