This website uses cookies to ensure you get the best experience while browsing it. By clicking 'Got It' you're accepting these terms.
Researchers Celebrate First Live Encounter With Sumatran Rhino in Borneo for 40+ Years
Apr. 02, 2016 11:17AM EST
Animals
Researchers announced the first live encounter with a Sumatran rhino in Borneo for more than 40 years. But t-he human pressures that have pushed this species to the brink of extinction are still very much in play.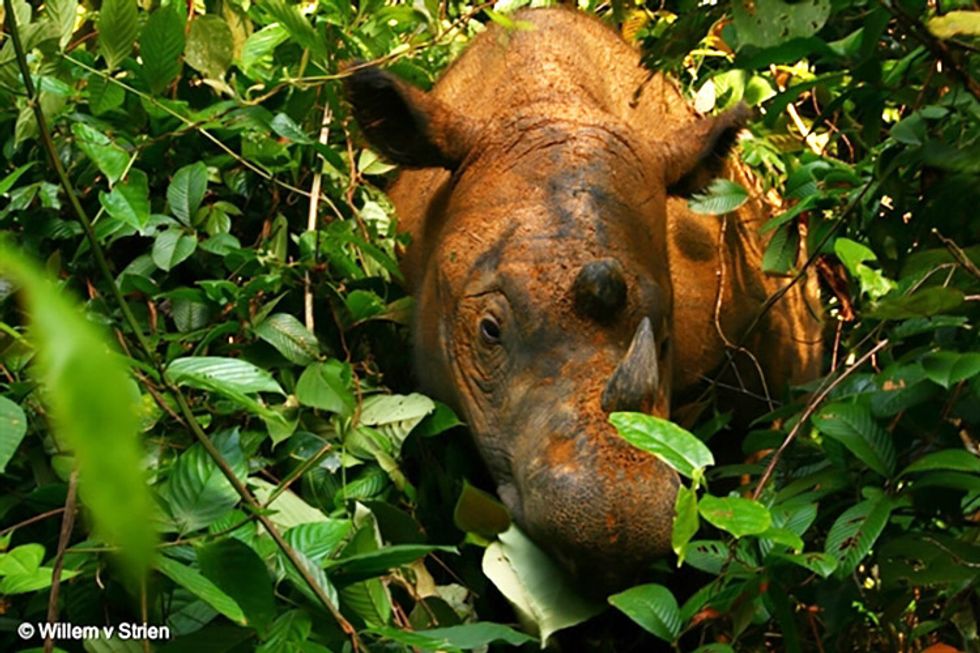 An excited World Wildlife Fund (WWF) team released details of how the female rhino was safely captured in East Kalimantan (part of Indonesian Borneo) last month and has now been transported to a more protected region. Over the last few years, evidence from camera traps and footprints has indicated that these rhinos still survived in Borneo's forests, but this is the first known encounter with a live animal since the early 1970s.
The rather inaccurately-named Sumatran rhino was once found across large swathes of southern and south-east Asia, but in modern times has survived only in Malaysia and Indonesia. Just last year, it was declared extinct in the wild in Malaysia and now Indonesia is the rhino's last refuge.
The discovery of one more rhino is fantastic, but in reality this news does little to secure the future of the species as a whole. These rhinos are still perilously close to extinction, surviving in tiny, scattered populations which are exquisitely vulnerable to any kind of threat, of which there are many.
A significant problem is the destruction of the rhinos' rainforest habitat, largely due to the ongoing expansion of the palm oil and pulpwood industries. In fact, some of the East Kalimantan rhinos have been detected in an area containing oil palm plantations, as well as a coal mine and "production forest" (which are areas in which selected trees are logged, damaging and degrading the forest or opening them up to plantations).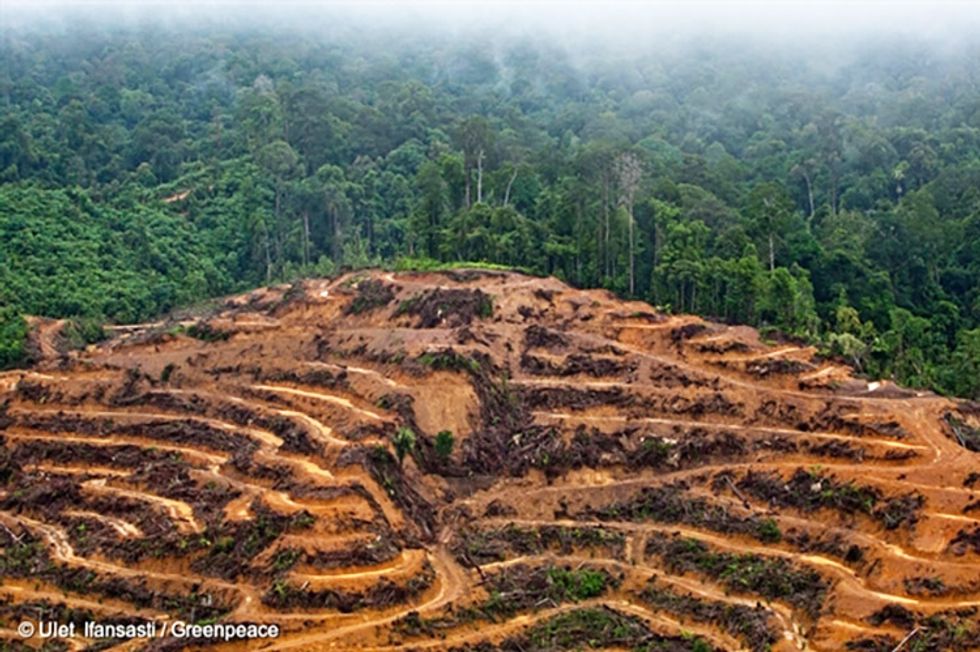 Taking away the trees robs the rhinos of their natural food sources and according to WWF they're often forced to venture into logged areas to feed on new plant growth or crops. This makes them more vulnerable to the most direct and imminent threat: poaching. Rhino horn—even the relatively small ones possessed by Sumatran rhinos—fetch huge prices and rhinos are valuable targets even though trade is illegal.
The double whammy of habitat loss and poaching has reduced rhino numbers to perilously low levels. The latest reports suggest there are little more than 100 left in the wild. These tiny populations living in fragments of forest also become susceptible to chance local events like disease or natural disasters, so it can take just one freak storm to obliterate a small outlying group and nudge the species even closer to extinction. Without the means to travel about safely under forest cover, these groups can't meet to interbreed and genetic diversity becomes an issue as inbreeding leads to less healthy and less successful rhinos.
Diseases and storms will always happen though. What needs to change is human behavior. The commercial drive to turn ever-increasing areas of forest over to plantation industries must be challenged because this isn't just a problem for the Sumatran rhino. Orangutans, tigers and elephants are the species that are conspicuously disappearing, but habitat loss also affects less charismatic creatures like amphibians and insects, as well as trees such as ramin which is protected internationally but also logged illegally.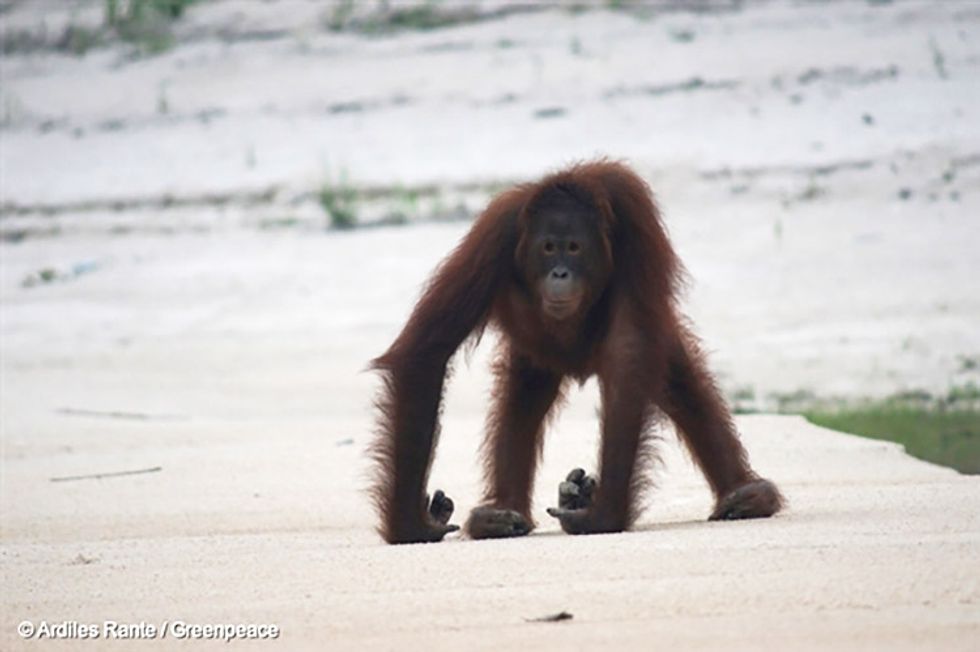 The newly-discovered rhino is being shepherded to relative safety and her presence does increase the chances of survival if she can give birth to healthy calves, but so much more needs to be done. Protecting forests on a grand scale is the only way we're going to prevent these species from slipping away—not just pockets here and there, but at landscape and ecosystem levels to provide the huge areas that large animals like tigers and elephants need to survive, as well as the space for millions of forest species to thrive.
Without a wholesale shift to safeguarding entire forests, Sumatran rhinos and many species have little chance of surviving outside zoos. And that is a sad, sad thought.
YOU MIGHT ALSO LIKE
Leonardo DiCaprio Faces Deportation Threat After Criticizing Indonesia's Palm Oil Industry
Photo Ark: One Man's Journey to Save the World's Most Endangered Species
First New Butterfly Species Found in Alaska in 28 Years: Is it an Ancient Hybrid?
EcoWatch Daily Newsletter
With well over a billion cars worldwide, electric vehicles are still only a small percentage. An economist from the University of Michigan Energy Institute says that is likely to change. Maskot / Getty Images
In 2018, there were about 5 million electric cars on the road globally. It sounds like a large number, but with well over a billion cars worldwide, electric vehicles are still only a small percentage.
Nestlé is accelerating its efforts to bring functional, safe and environmentally friendly packaging solutions to the market and to address the global challenge of plastic packaging waste.
Nestlé
/ Flickr /
CC BY-NC-ND 2.0
Nestlé, the world's largest food company, said it will invest up to $2 billion to address the plastic waste crisis that it is largely responsible for.
Determining the effects of media on people's lives requires knowledge of what people are actually seeing and doing on those screens. Vertigo3d / iStock / Getty Images Plus
Indigenous people of various ethnic groups protest calling for demarcation of lands during the closing of the 'Red January - Indigenous Blood', in Paulista Avenue, in São Paulo, Brazil, Jan. 31, 2019. Cris Faga / NurPhoto / Getty Images
By Raphael Tsavkko Garcia
Rarely has something so precious fallen into such unsafe hands. Since Jair Bolsonaro took the Brazilian presidency in 2019, the Amazon, which makes up 10 percent of our planet's biodiversity and absorbs an estimated 5 percent of global carbon emissions, has been hit with a record number of fires and unprecedented deforestation.
Microsoft's main campus in Redmond, Washington on May 12, 2017. GLENN CHAPMAN / AFP via Getty Images
Microsoft announced ambitious new plans to become carbon negative by 2030 and then go one step further and remove by 2050 all the carbon it has emitted since the company was founded in 1975, according to a company press release.