This website uses cookies to ensure you get the best experience while browsing it. By clicking 'Got It' you're accepting these terms.
Researchers Assign Monetary Value to Nature to Promote Sustainability
Jun. 10, 2014 12:07PM EST
Imagine that you are considering selling stocks that you own in a company. You would probably consider how much the shares are worth today, how much they might be worth in the future and how much you might receive in dividend payments for each year you hold onto the stock. Much of your decision is informed by market wisdom and research.
Now imagine that you manage acres of old-growth forest—or another natural resource, like some fish in the ocean. How do you decide whether to use the resource now or conserve it as natural capital for the future?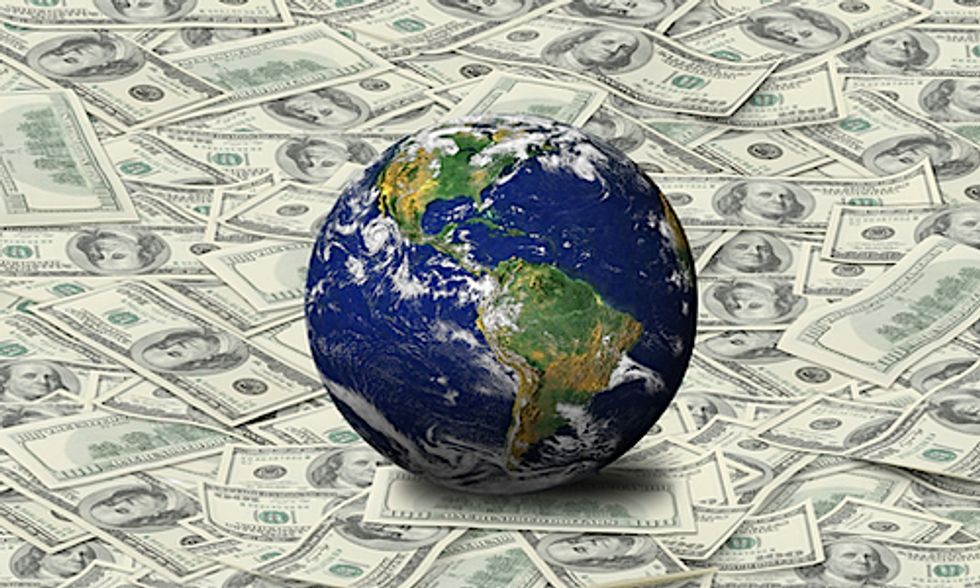 Photo courtesy of Shutterstock
In a study published recently in the Journal of the Association of Environmental and Resource Economists, researchers from Arizona State University (ASU) and Yale University have developed a first-of-its-kind, interdisciplinary equation to estimate the current monetary value of natural resources such as fish stocks, groundwater or forests in the U.S. In assigning natural capital monetary value, the approach will have widespread implications for policymakers and various stakeholders, and will also advocate for the creation of robust asset markets for natural capital, a much-needed advance.
Nature Is Capital
"It is often said that nature is capital, but this has largely been a metaphor thus far; former measurement methods have lacked necessary inputs from experts from various disciplines, resulting in vast gaps of information," said Joshua Abbott, associate professor at ASU's School of Sustainability who coauthored the study with Eli Fenichel, assistant professor at the Yale School of Forestry and Environmental Studies.
"This approach to valuation is forward-looking and inherently interdisciplinary," added Fenichel. "It accounts for the role of ecological dynamics in shaping the future direction of natural capital stocks, and also incorporates the role of human behavior in shaping this direction, as well as how real-world management policies mold this behavioral feedback."
Unlike earlier approaches, the method takes into consideration the "opportunity cost" of losing future units of natural capital that could have helped replenish the resource, providing economic benefits in the long run. It is underpinned by the economic principles also used to value physical or human capital.
The Value of a Fish in Water
Consider the example of reef fish in the Gulf of Mexico. During their research, Abbott and Fenichel found that the value of preserving live reef fish was more than $3 a pound in 2004, a price that jumped to almost $9 in 2007 after policymakers implemented management reforms that incentivized conservation. Under the scheme, fishermen were assigned individual tradable quotas or shares of the fish stock, which created a market for the fish as a capital asset.
The Gulf's reef fish contributed more than $256 million to U.S. national wealth in 2004—and three times that after management reforms.
"We know from experience in the corporate world that changes in management practices can enhance the overall value of a company's assets; it is no different with natural capital—our management of it can either enhance or detract from its value," said Abbott.
According to him, what goes unmeasured often goes unvalued. The ability to treat fish in the water as a capital asset encouraged fishermen to preserve the natural resource, in turn enhancing sustainable fishing practices that led to higher returns.
Implications for Sustainable Policymaking
In assigning a dollar value to natural capital, Abbott and Fenichel's approach will have widespread implications for policymakers and various stakeholders, putting natural capital on an equal footing with other, more easily measured parts of society's wealth. The researchers hope to apply the method to measure the value of all U.S. fish stocks, as well as other natural assets like groundwater and forests.
"Sustainability can be defined as ensuring that the assets the next generation inherits are worth at least as much as they were when the previous generation received them," said Abbott. "As humans, we are not going to have zero impact on the environment, but we want to make sure that the value of human, physical and natural capital that we pass on to future generations is worth no less than when we inherited them."
"We are pursuing this research to help provide better measurements of society's wealth, so we can know whether we're moving in a sustainable direction," Abbott concluded. 
--------
YOU MIGHT ALSO LIKE
10 Reasons Why We Must Save the Indonesian Peatlands
7 Places With Unexpected Forest Restoration Potential
Species Are Going Extinct 1,000 Times Faster Because of Humans 
--------
EcoWatch Daily Newsletter
One of the 25 new Long Beach Transit hybrid gasoline-electric buses on April 23, 2009. Jeff Gritchen / Digital First Media / Orange County Register / Getty Images
In Long Beach, California, some electric buses can charge along their route without cords or wires.
When a bus reaches the Pine Avenue station, it parks over a special charging pad. While passengers get on and off, the charger transfers energy to a receiver on the bottom of the bus.
Semi trucks travel along I94 on June 21 near Lake forest, Illinois. Scott Olson / Getty Images
The Trump administration pushed through an exemption to clean air rules, effectively freeing heavy polluting, super-cargo trucks from following clean air rules. It rushed the rule without conducting a federally mandated study on how it would impact public health, especially children, said the Environmental Protection Agency (EPA) Inspector General Charles J. Sheehan in a report released yesterday, as the AP reported.

A time-restricted eating plan provides a new way to fight obesity and metabolic diseases that affect millions of people worldwide. RossHelen / iStock / Getty Images Plus
By Satchin Panda and Pam Taub
People with obesity, high blood sugar, high blood pressure or high cholesterol are often advised to eat less and move more, but our new research suggests there is now another simple tool to fight off these diseases: restricting your eating time to a daily 10-hour window.
Kunhui Chih / iStock / Getty Images Plus
A man and his dog walk past an H&M store in Stockholm, Sweden on March 11, 2014. Melanie Stetson Freeman / The Christian Science Monitor via Getty Images
By Ashutosh Pandey
H&M's flagship store at the Sergels Torg square in Stockholm is back in business after a months-long refurbishment. But it's not exactly business as usual here.