Rescued Chimp Who Lived Alone for 18 Years Won't Stop Holding Hands With New Friend
Sometimes, all you need is a friend.
Two rescued chimpanzees found exactly that in each other. In fact, they're holding onto their friendship and refusing to let go.
A recent video posted by the Save the Chimps sanctuary in Florida shows Terry and Jeannie, two rescued chimpanzees, holding each other's hands, never breaking contact—even when one of them flips over and repositions:
The sanctuary wrote on its
Facebook page
that the two recently met and became fast friends. It's no surprise that they could find comfort in one another—their pasts are equally as troubling.
Terry spent years of his life with someone who trained chimpanzees for the Ice Capades, although he never performed himself. In 1995, he and another chimpanzee named Simon were moved to the Las Vegas Zoo, but Terry didn't have his companion for long, as Simon died shortly after the move. For 18 years, Terry was held in solitary confinement at the decrepit Las Vegas Zoo, a notoriously substandard facility that confined 150 animals on just three acres. However, in 2013, when all the zoo staff mysteriously quit, he finally had a chance and People for the Ethical Treatment of Animals (PETA) saw an opportunity to help him.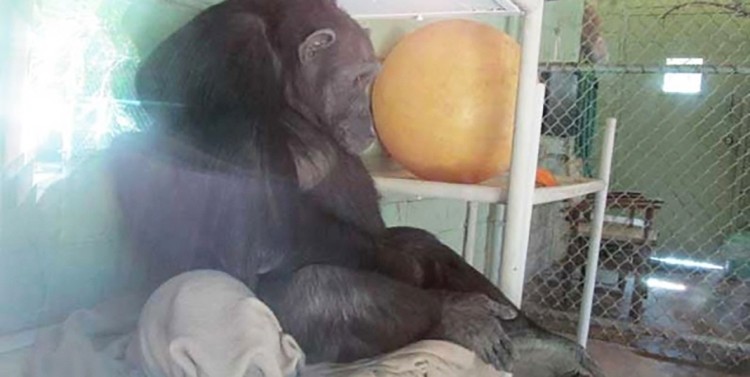 We contacted the North American Primate Sanctuary Alliance to express our support for sending Terry to a sanctuary instead of another roadside zoo. That required funds and that's where our hero Sam Simon and another wonderful PETA President's Circle patron stepped in. Thanks to their generous support, PETA could contribute to Terry's transfer to Save the Chimps, where he has lived ever since.
But despite Save the Chimps' sprawling acreage and outstanding care, Terry didn't adjust right away. The more than 250 chimpanzees at Save the Chimps live on 12 separate islands in large "family" groups. According to the sanctuary's site, Terry didn't get along with all the members of the family in which he was initially placed. This prompted the sanctuary to move him to another group—Jeannie's.
Jeannie—lovingly called "Jeannie Mama" by some—was rescued from a notorious laboratory in 2002, after 20 years spent there, according to Save the Chimps. During her time there, she was used for breeding and gave birth to at least four babies and had two miscarriages. Even though the bond between chimpanzee mothers and babies is similar to the one that humans share with their children, Jeannie's babies were taken away from her at birth. Despite never having raised her own babies, at Save the Chimps, she is free to "mother" and care for the other rescued chimpanzees, a role that was denied to her for so many years.
She and Terry may share painful pasts, but now they seem to have all the love they need. Sometimes, they demonstrate even more affection than just by holding hands: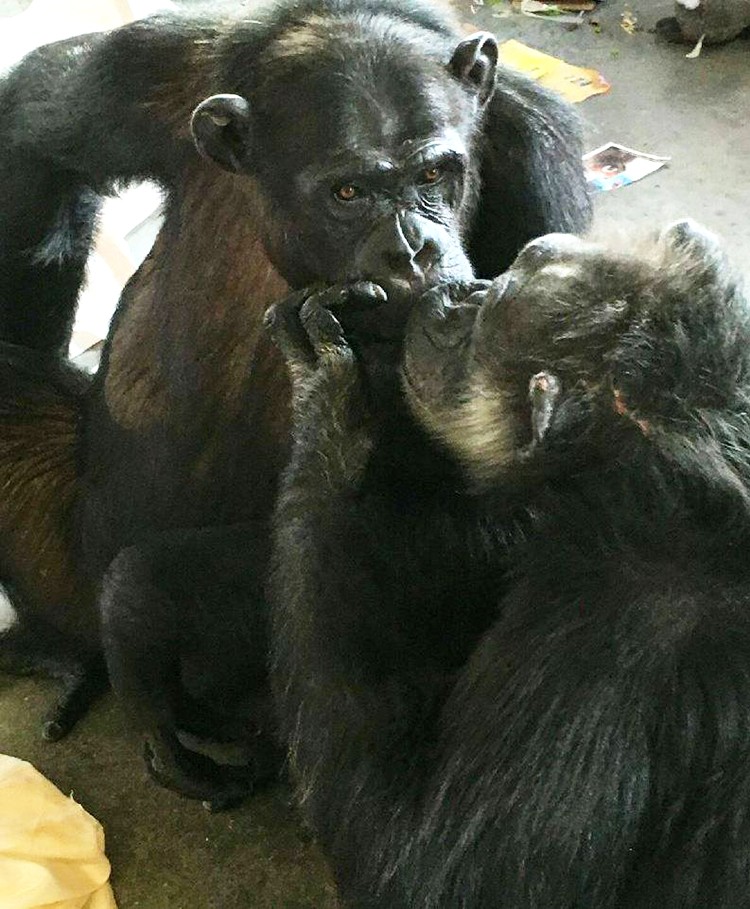 And now they can be together for the rest of their days.
What You Can Do
Although Terry and Jeannie were rescued, so many other chimpanzees need our help. Click here to learn about how you can help chimpanzees kept in solitary confinement.
YOU MIGHT ALSO LIKE
Penguin Swims 5,000 Miles Each Year to Visit the Man Who Rescued Him
Palm Oil Scorecard: Find Out Which Brands Are (and aren't) Helping Save Indonesia's Rainforests
Wild Baby Wolverines Make On-Screen Debut in Remarkable New Documentary
Grizzly Bears at Risk of Being Hunted for the First Time in Decades
Bill Maher is sick of billionaires' obsession with Mars, more like "Mars-a-Lago," he said.
In a new animation produced by ATTN:, the popular talk show host of Real Time, discusses the perils of our planet, including how "climate change is killing us."
Keep reading...
Show less
Dr. Benjamin D. Santer, research scientist
A group of prominent climate scientists have written a study explicitly refuting statements made by the U.S. Environmental Protection Agency Administrator Scott Pruitt on climate data. During his Senate confirmation hearing, Pruitt claimed in a written response that satellite data shows a "leveling off" of warming over the past two decades.
Keep reading...
Show less
By David Pomerantz
The Nevada Assembly passed a bill Wednesday that would dramatically increase the growth of renewable energy in the state, but Sheldon Adelson, the casino magnate and major donor to Donald Trump, is attempting to prevent the bill from becoming law.
Keep reading...
Show less
Matt Crossick
By Yosola Olorunshola
Whether it's through fashion or protest, Vivienne Westwood is not a woman afraid of making a statement.
On May 23, she rocked up to the residence of the Archbishop of Canterbury in London with a special guest—the Grim Reaper—to issue a strong statement on the Church of England's position on fracking.
Keep reading...
Show less
Military veterans from across Virginia released a letter Thursday opposing two proposed fracked-gas pipelines: Dominion Energy's Atlantic Coast Pipeline and EQT's Mountain Valley Pipeline. These pipelines would cross through pristine areas of Virginia, taking private property by use of eminent domain, removing mountain ridgetops and threatening valuable drinking water resources. The veterans view this as contrary to their service to protect and defend the freedom and security of American citizens.

Keep reading...
Show less
By Paul Brown
The food industry and big agricultural concerns are driving climate change and at the same time threatening to undermine efforts to feed the world's growing population, according to GRAIN, an organization that supports small farmers.
Particularly singled out for criticism are the large chemical fertilizer producers that have gained access to the United Nations talks on climate change. GRAIN accuses them of behaving like the fossil fuel companies did in the 1990s, pushing false information in the hope of delaying real action on climate change.
Keep reading...
Show less
May. 24, 2017 06:55PM EST
By Sydney Robinson
President Trump has no doubt been given a long list of extravagant, elaborate gifts in his lifetime, but the gift given to him today by Pope Francis may not make it on his most favorite list.
Keep reading...
Show less
May. 24, 2017 07:17PM EST
By John Rogers
Maybe it's because I first started working on clean energy while serving in the Peace Corps he founded, or maybe it's my years of working on these issues from his home state. But I can't help thinking about the 100th anniversary of John F. Kennedy's birth, and connecting his stirring rhetoric to the energy challenges of our times.
Here's what our 35th president might have said about the challenges of energy transition and the opportunities in clean energy:
"Change is the law of life. And those who look only to the past or present are certain to miss the future."
Keep reading...
Show less


Get EcoWatch in your inbox