This website uses cookies to ensure you get the best experience while browsing it. By clicking 'Got It' you're accepting these terms.
Reports Affirm Climate Change Could Lead to Drastic Increases In Food Prices
Jan. 28, 2014 12:11PM EST
Climate
Climate impacts are likely to lead to drastic increases in the prices of common food-stuffs over the next few decades, according to a series of new studies from the Potsdam Institute for Climate Impact Research.
The studies strongly suggest that the agricultural industry won't be able to adapt fast enough to the shifting climatic patterns to prevent a decrease in production—hence rising prices.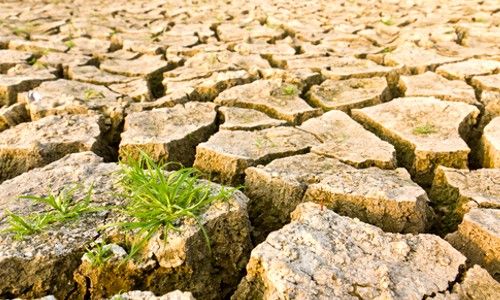 Photo courtesy of Shutterstock
The research also addresses the concerns that some have that expanding biofuel production could also lead to higher food prices. Such an expansion could indeed lead to increases in food prices according to the new research, increases of up to five percent by the year 2050. While such a rise is quite significant, it is absolutely dwarfed by the rise that is now expected to be caused by climate change. The new research predicts increases in food prices as high as 25 percent by the year 2050 as a result of climate impacts. That means up to 25 percent higher without even including important secondary effects, such as increased war/conflict, increasing levels of disease/plant diseases, increasing populations of common pests, etc.
In total, three separate studies were completed—one assessing the impact of climate change on demand for cropland, one assessing the impact on crop yields and one assessing the impact of second-generation biofuels on the transport sector.
The lead researcher on the cropland study, Christoph Schmitz, notes that climate impacts are "likely to lead to a drastic increase in demand for cropland." Continuing: "We find most models projecting an increase in cropland by 2050 that is more than 50 percent higher in scenarios with unabated climate change than in those assuming a constant climate," adding that the "increase meant the world would require 320 million hectares instead of about 200 million hectares by 2050—a difference equal to an area roughly three times the size of Germany."
Business Green provides more:
He warned that with most of the demand for new cropland likely to come in South America and Sub-Saharan Africa, there was a real risk that climate impacts would have a knock-on effect of pushing up greenhouse gas emissions.

One of the reasons why demand for cropland is likely to increase was explored in a separate study, which concluded that while climate change may lead to higher agricultural yields in some regions, others will be hit by steep declines in food production.
"Potential climate change impacts on crop yields are strong but vary widely across regions and crops," stated lead-author Christoph Müller. Adding that "for rice, wheat, maize, soybeans and peanuts, the study finds a climate-induced decrease in yields of between 10 percent and 38 percent globally by 2050 in a business-as-usual scenario of rising greenhouse-gas emissions, compared with current conditions."
Müller argues that in order to deal with these changes that it will be necessary to create "a more flexible global agricultural trading system would be needed"—something that is very unlikely to happen. A far more likely response to vastly diminished agricultural productivity in many parts of the world will be mass-migration and/or war.
The new studies were just published in the journal Agricultural Economics.
Visit EcoWatch's CLIMATE CHANGE and FOOD pages for more related news on this topic.

EcoWatch Daily Newsletter
Brown bear fishing for salmon in creek at Pavlof Harbor in Tongass National Forest, Alaska. Wolfgang Kaehler / LightRocket / Getty Images
The Trump administration has moved one step closer to opening Earth's largest intact temperate rainforest to logging.
The Democratic primary candidates take the stage during Tuesday's debate. SAUL LOEB / AFP via Getty Images
On Tuesday night, the Democratic presidential candidates gathered for what The Guardian said was the largest primary debate in U.S. history, and they weren't asked a single question about the climate crisis.
A. Battenburg / Technical University of Munich
By Sarah Kennedy
Algae in a pond may look flimsy. But scientists are using algae to develop industrial-strength material that's as hard as steel but only a fraction of the weight.
Variety of fermented food korean traditional kimchi cabbage and radish salad. white and red sauerkraut in ceramic plates over grey spotted background. Natasha Breen / REDA&CO / Universal Images Group / Getty Image
Even if you've never taken probiotics, you've probably heard of them.
These supplements provide numerous benefits because they contain live microorganisms, such as bacteria or yeast, which support the healthy bacteria in your gut (1, 2, 3, 4).
Pexels
Singapore will become the first country in the world to place a ban on advertisements for carbonated drinks and juices with high sugar contents, its health ministry announced last week. The law is intended to curb sugar consumption since the country has some of the world's highest diabetes rates per capita, as Reuters reported.
A typical adult takes around 20,000 breaths per day. If you live in a megacity like Beijing, with many of those lungfuls you're likely to inhale a noxious mixture of chemicals and pollutants.
Fred Stone holds his brown swiss cow Lida Rose at his Arundel dairy farm on March 18 after a press conference where he spoke about PFAS chemical contamination in his fields. Gregory Rec / Portland Portland Press Herald via Getty Images
By Susan Cosier
First there was Fred Stone, the third-generation dairy farmer in Maine who discovered that the milk from his cows contained harmful chemicals. Then came Art Schaap, a second-generation dairy farmer in New Mexico, who had to dump 15,000 gallons of contaminated milk a day.
Protesters attend the 32nd annual Fur-Free Friday demonstration on Nov. 23, 2018 in Beverly Hills, California. Ella DeGea / Getty Images
California Governor Gavin Newsom signed into law a bill that that bans the sale and manufacture of fur products in the state. The fur ban, which he signed into law on Saturday, prohibits Californians from selling or making clothing, shoes or handbags with fur starting in 2023, according to the AP.