Reports Affirm Climate Change Could Lead to Drastic Increases In Food Prices
Climate impacts are likely to lead to drastic increases in the prices of common food-stuffs over the next few decades, according to a series of new studies from the Potsdam Institute for Climate Impact Research.
The studies strongly suggest that the agricultural industry won't be able to adapt fast enough to the shifting climatic patterns to prevent a decrease in production—hence rising prices.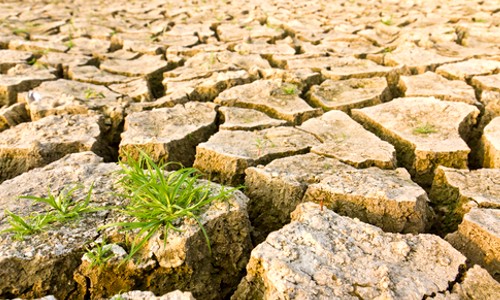 Photo courtesy of Shutterstock
The research also addresses the concerns that some have that expanding biofuel production could also lead to higher food prices. Such an expansion could indeed lead to increases in food prices according to the new research, increases of up to five percent by the year 2050. While such a rise is quite significant, it is absolutely dwarfed by the rise that is now expected to be caused by climate change. The new research predicts increases in food prices as high as 25 percent by the year 2050 as a result of climate impacts. That means up to 25 percent higher without even including important secondary effects, such as increased war/conflict, increasing levels of disease/plant diseases, increasing populations of common pests, etc.
In total, three separate studies were completed—one assessing the impact of climate change on demand for cropland, one assessing the impact on crop yields and one assessing the impact of second-generation biofuels on the transport sector.
The lead researcher on the cropland study, Christoph Schmitz, notes that climate impacts are "likely to lead to a drastic increase in demand for cropland." Continuing: "We find most models projecting an increase in cropland by 2050 that is more than 50 percent higher in scenarios with unabated climate change than in those assuming a constant climate," adding that the "increase meant the world would require 320 million hectares instead of about 200 million hectares by 2050—a difference equal to an area roughly three times the size of Germany."
Business Green provides more:
He warned that with most of the demand for new cropland likely to come in South America and Sub-Saharan Africa, there was a real risk that climate impacts would have a knock-on effect of pushing up greenhouse gas emissions.

One of the reasons why demand for cropland is likely to increase was explored in a separate study, which concluded that while climate change may lead to higher agricultural yields in some regions, others will be hit by steep declines in food production.
"Potential climate change impacts on crop yields are strong but vary widely across regions and crops," stated lead-author Christoph Müller. Adding that "for rice, wheat, maize, soybeans and peanuts, the study finds a climate-induced decrease in yields of between 10 percent and 38 percent globally by 2050 in a business-as-usual scenario of rising greenhouse-gas emissions, compared with current conditions."
Müller argues that in order to deal with these changes that it will be necessary to create "a more flexible global agricultural trading system would be needed"—something that is very unlikely to happen. A far more likely response to vastly diminished agricultural productivity in many parts of the world will be mass-migration and/or war.
The new studies were just published in the journal Agricultural Economics.
Visit EcoWatch's CLIMATE CHANGE and FOOD pages for more related news on this topic.

Ryan Zinke with Rick Perry at the Boy Scouts Jamboree. Twitter
In less than one week, Interior Sec. Ryan Zinke will submit his final recommendations to President Trump on whether 27 national monuments around the country should be downsized, eliminated, transferred to state control or left alone.
But as Aaron Weiss, the media director of the conservation group Center for Western Priorities, pointed out: "Rather than spending his final week hearing from local communities who have worked tirelessly to protect their natural and cultural heritage as national monuments, Secretary Zinke is on vacation in the Mediterranean. His wife, Lola Zinke, tweeted a picture early this morning of herself and Secretary Zinke enjoying a sunrise on the Bosphorus Strait."
Keep reading...
Show less
Richland County Wetland destroyed by spilled drilling fluids during construction of Rover Pipeline, April 14. Sierra Club

Energy Transfer Partners' controversial $4.3 billion Rover pipeline has more negative inspection reports than any other major interstate natural gas pipeline built in the last two years, according to a new Bloomberg analysis.
The 713-mile pipeline, which will carry fracked gas across Pennsylvania, West Virginia, Ohio and Michigan and Canada, has been stalled from numerous environmental violations, including a 2 million gallon drilling fluid spill into an Ohio wetland in April.
Keep reading...
Show less
Pipes for the Constitution Pipeline are stacked at a pipe yard in Altamont, New York.
The U.S. Court of Appeals for the Second Circuit upheld New York State's denial of a water quality certification for the Constitution Pipeline Friday, a critical win for the Attorney General's office and the state's authority to take necessary action to protect its waters and natural resources. The appeals court noted that the state is entitled to "conduct its own review of the Constitution Project's likely effects on New York waterbodies and whether those effects would comply with the state's water quality standards."
New York must be able to do what's necessary to protect our environment—and we're glad that the court agreed.

Keep reading...
Show less
iStock
By Anne Bolen
On Aug. 21, for the first time since 1918, a total solar eclipse will cross the U.S. from coast to coast. Along the path of totality, the moon will completely block out the sun, turning day to twilight for nearly three minutes. While a partial eclipse will be visible throughout the U.S., millions will be flocking to spots along the path of totality, which begins in Salem on Oregon's coast about 10:15 a.m. Pacific Daylight Time and exits the nation at Charleston, South Carolina, where maximum coverage will occur about 2:47 p.m. Eastern Daylight Time. Perhaps no other natural event will inspire so many people to go outdoors.
Keep reading...
Show less
The Trump administration released an environmental review Thursday of Hilcorp Alaska's Arctic offshore drilling development. Hilcorp plans to build a 9-acre artificial island and 5.6-mile pipeline in the Beaufort Sea for its offshore drilling project. The Trump administration's draft environmental impact statement proposes to greenlight the dangerous drilling plan, which would be a first for federal waters in the Arctic.
Keep reading...
Show less
Equinac
Not again! A baby dolphin died last Friday in southern Spain after beachgoers took the mammal out of the water and passed it around for photos, according to media reports.
The incident was detailed in several Facebook posts from Equinac, a Spanish marine wildlife conservation group.
Keep reading...
Show less
President Trump has made sweeping efforts to scrap Obama-era environmental protections, but the current administration's latest moves are oddly specific.
The National Park Service (NPS) announced Wednesday that it has rescinded the 2011 "Water Bottle Ban" that allowed parks to prohibit the sale of disposable plastic water bottles. That same day, news emerged that the Trump administration removed a nine-slot Capital Bikeshare station at the White House that was requested and installed during the Obama years and used by staffers.
Keep reading...
Show less
Energy
Aug. 17, 2017 11:46AM EST
In March 2013, ExxonMobil's Pegasus Pipeline sprung a leak,
spilling
210,000 gallons of tar sands crude into a neighborhood of Mayflower, Arkansas.
By Catherine Collentine
In March of 2013, ExxonMobil's Pegasus Pipeline sprung a leak, spilling an estimated 210,000 gallons of toxic tar sands crude into a residential neighborhood of Mayflower, Arkansas.
This week, a federal court ruled that the Obama administration over-penalized Exxon for dumping hundreds of thousands of gallons of a pollutant onto the streets of Mayflower and threw out a number of safety violations levied against Exxon on the basis that the company met its legal obligations to consider the risks associated with the pipeline.
Keep reading...
Show less