Reports Affirm Climate Change Could Lead to Drastic Increases In Food Prices
Climate impacts are likely to lead to drastic increases in the prices of common food-stuffs over the next few decades, according to a series of new studies from the Potsdam Institute for Climate Impact Research.
The studies strongly suggest that the agricultural industry won't be able to adapt fast enough to the shifting climatic patterns to prevent a decrease in production—hence rising prices.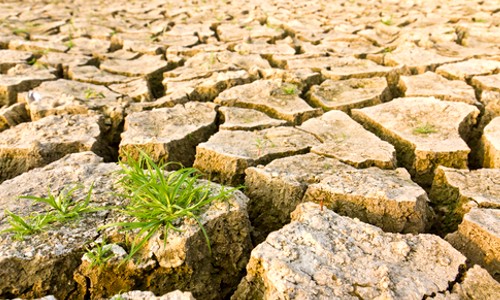 Photo courtesy of Shutterstock
The research also addresses the concerns that some have that expanding biofuel production could also lead to higher food prices. Such an expansion could indeed lead to increases in food prices according to the new research, increases of up to five percent by the year 2050. While such a rise is quite significant, it is absolutely dwarfed by the rise that is now expected to be caused by climate change. The new research predicts increases in food prices as high as 25 percent by the year 2050 as a result of climate impacts. That means up to 25 percent higher without even including important secondary effects, such as increased war/conflict, increasing levels of disease/plant diseases, increasing populations of common pests, etc.
In total, three separate studies were completed—one assessing the impact of climate change on demand for cropland, one assessing the impact on crop yields and one assessing the impact of second-generation biofuels on the transport sector.
The lead researcher on the cropland study, Christoph Schmitz, notes that climate impacts are "likely to lead to a drastic increase in demand for cropland." Continuing: "We find most models projecting an increase in cropland by 2050 that is more than 50 percent higher in scenarios with unabated climate change than in those assuming a constant climate," adding that the "increase meant the world would require 320 million hectares instead of about 200 million hectares by 2050—a difference equal to an area roughly three times the size of Germany."
Business Green provides more:
He warned that with most of the demand for new cropland likely to come in South America and Sub-Saharan Africa, there was a real risk that climate impacts would have a knock-on effect of pushing up greenhouse gas emissions.

One of the reasons why demand for cropland is likely to increase was explored in a separate study, which concluded that while climate change may lead to higher agricultural yields in some regions, others will be hit by steep declines in food production.
"Potential climate change impacts on crop yields are strong but vary widely across regions and crops," stated lead-author Christoph Müller. Adding that "for rice, wheat, maize, soybeans and peanuts, the study finds a climate-induced decrease in yields of between 10 percent and 38 percent globally by 2050 in a business-as-usual scenario of rising greenhouse-gas emissions, compared with current conditions."
Müller argues that in order to deal with these changes that it will be necessary to create "a more flexible global agricultural trading system would be needed"—something that is very unlikely to happen. A far more likely response to vastly diminished agricultural productivity in many parts of the world will be mass-migration and/or war.
The new studies were just published in the journal Agricultural Economics.
Visit EcoWatch's CLIMATE CHANGE and FOOD pages for more related news on this topic.

Monsanto, the maker of the glyphosate-based herbicide Roundup, filed a motion June 16 in U.S. District Court, Northern District of California to reconsider the chemical's addition to California's Proposition 65 list of agents known to cause cancer.
The agrochemical giant made this move based on a June 14 Reuters investigation of Dr. Aaron Blair, a lead researcher on the World Health Organization's International Agency for Research on Cancer (IARC) committee, that classified glyphosate as a "2A probable human carcinogen" in March 2015.
Keep reading...
Show less
By Avery Friedman
Algae is often considered a nuisance, but for Sweden, the rapidly growing sea plant is now an asset.
As the Scandinavian country works to cut all of its greenhouse gas emissions by 2045, it's using algae to sop up the carbon emissions from cement.
Keep reading...
Show less
Jun. 24, 2017 01:35PM EST
By Itai Vardi
A recent intensification in protests against Williams Partners' planned Atlantic Sunrise pipeline in Pennsylvania prompted a state senator to propose legislation aimed at limiting demonstrations.
Last month, Pennsylvania Sen. Scott Martin (R-Norman) announced his intention to introduce legislation that would pass the costs of law enforcement responding to protests onto the demonstrators. Martin also helped introduce a different bill that would criminalize protests at natural gas facilities.
Keep reading...
Show less
Jun. 24, 2017 01:29PM EST
Black Shogun / iStock
The Federal Energy Regulatory Commission (FERC) released its Final Environmental Impact Statement Friday for the Mountain Valley Pipeline, a controversial 303-mile pipeline that would carry two billion cubic feet of fracked gas per day from West Virginia through Virginia.
Keep reading...
Show less
Jun. 24, 2017 01:46PM EST
Falcon PEV
The so-called "first and last mile" problem is one of the biggest hurdles with public transportation. How do you encourage more people to take Earth-friendlier commutes when their homes are miles away from the train or bus station?
One solution, as this Estonian electric scooter company proposes, is to simply take your commute with you—literally. Tallinn-based Stigo has developed a compact e-scooter that folds to the size of a rolling suitcase in about two seconds.
Keep reading...
Show less
Jun. 24, 2017 05:12PM EST
Connect4Climate
[Editor's note: I'm still in shock after hearing the news that Lucia Grenna passed away in her sleep last week. When we first met in April of 2014 at a Copenhagen hotel, I was immediately taken by here powerful presence. We spent the next couple days participating in a Sustainia climate change event where Lucia presented her audacious plans to connect people to the climate issue. I had the chance to partner with Lucia on several other projects throughout the years and work with her incredible Connect4Climate team. I was always in awe of her ability to "make the impossible possible." Her spirit will live on forever. — Stefanie Spear]
It is with a heavy heart that Connect4Climate announces the passing of its founder and leading light, Lucia Grenna. Lucia passed peacefully in her sleep on June 15, well before her time. We remember her for her leadership and extraordinary ability to motivate people to take on some of the greatest challenges of our time, not least climate change.
Keep reading...
Show less
Jun. 23, 2017 07:29PM EST
Wikimedia Commons
By Stacy Malkan
Neil deGrasse Tyson has inspired millions of people to care about science and imagine themselves as participants in the scientific process. What a hopeful sign it is to see young girls wearing t-shirts emblazoned with the words, "Forget princess, I want to be an astrophysicist."
Keep reading...
Show less
Jun. 23, 2017 01:57PM EST
www.youtube.com
By Andy Rowell
Any day now we will truly witness climate change in action. Within days at worst, maybe weeks at best, scientists predict that a huge section of the Larsen C ice shelf in Antarctica will break off into the ocean, in what is called a major "carving" event.
Keep reading...
Show less
Jun. 23, 2017 02:27PM EST
www.youtube.com
President Trump visited Cedar Rapids, Iowa on June 21 to speak to a large crowd in the U.S. Cellular Center at a political rally organized by his campaign.
As Trevor Noah noted during The Daily Show episode last night (starts at 2:25), the real reason Trump has these rallies is to "get back in front of his loyal crowds and feed of their energy." Noah believes that "Trump supporters are so on board with their dude he can say anything and they'll come along for the ride."
Keep reading...
Show less