Report Shows How Fracking Industry's Failure to Follow Regulations Impacts Human Health
A new report out today from Environment America Research & Policy Center shows that all types of fracking companies, from small to large, are prone to violating rules intended to protect human health and the environment.
The report, Fracking Failures: Oil and Gas Industry Environmental Violations in Pennsylvania and What They Mean for the U.S., analyses Pennsylvania's oil and gas industry over a four-year period and found that the top offenders of regulations—averaging more than one environmental violation every day—represented a wide range of companies from Fortune 500 companies like Cabot Oil, to mom-and-pop operators, to firms like Chevron.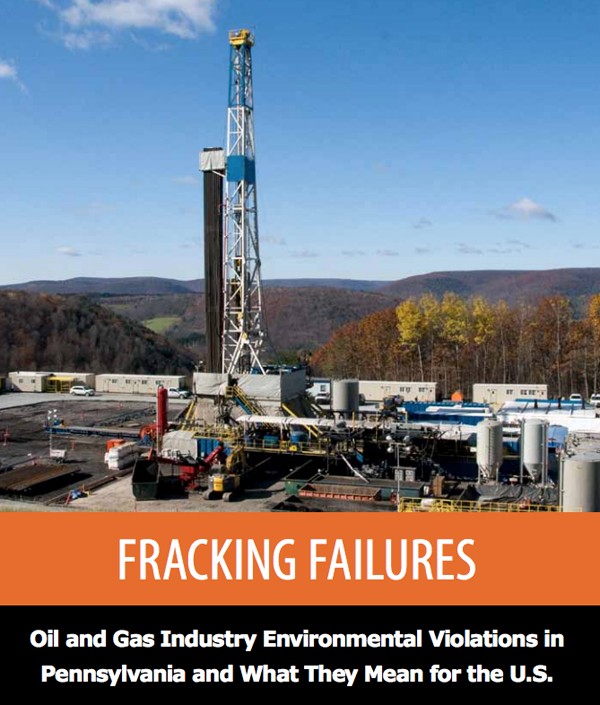 "Fracking is an inherently risky, dirty, dangerous practice, and regulations can't change that," said John Rumpler, senior attorney with Environment America. "But this report shows that a range of oil and gas companies struggle to meet even modest protections for our environment and public health."
The report tracks lapses such as allowing toxic chemicals to leach into the air and water, endangering drinking water through improper well construction and dumping industrial waste into waterways.
According to Environment America, fracking operators in Pennsylvania have committed thousands of violations of oil and gas regulations since 2011 with violations that are not "paperwork" violations, but lapses that pose serious risks to workers, the environment and public health, including:
Allowing toxic chemicals to flow off drilling sites and into local soil and water. In July 2012, for example, Chief Oil & Gas was cited by the Pennsylvania Department of Environmental Protection (DEP) when the company allowed 4,700 gallons of hydrochloric acid to flow off of its drilling site in Leroy Township, Bradford County, and into nearby Towanda Creek, causing a fish kill.

Endangering drinking water through improper well construction. Well problems, including leaks, contaminated drinking water supplies in as many as 243 cases across Pennsylvania between December 2007 and August 2014—81 of them between 2011 and 2014. In one such case Carrizo (Marcellus) LLC was cited for failing to properly restore a water supply its fracking activities had contaminated.

Dumping industrial waste into local waterways. One operator, EQT Production, was cited twice in 2012 by the Pennsylvania Department of Environmental Protection (DEP) for violations at a well in Duncan Township, Tioga County, that polluted a local stream.

Otherwise disposing of waste improperly. In one 2012 incident at an Exco Resources well in Bell Township, Clearfield County, the company was cited for contaminating underground drinking water supplies as a result of leaks from a well drilled for the specific purpose of injecting toxic waste underground.
The report ranks Pennsylvania's 20 most frequently cited fracking companies by number of environmental and health violations from January 2011-August 2014. Houston-based Cabot Oil, a Halliburton contractor, committed the most total violations with 265.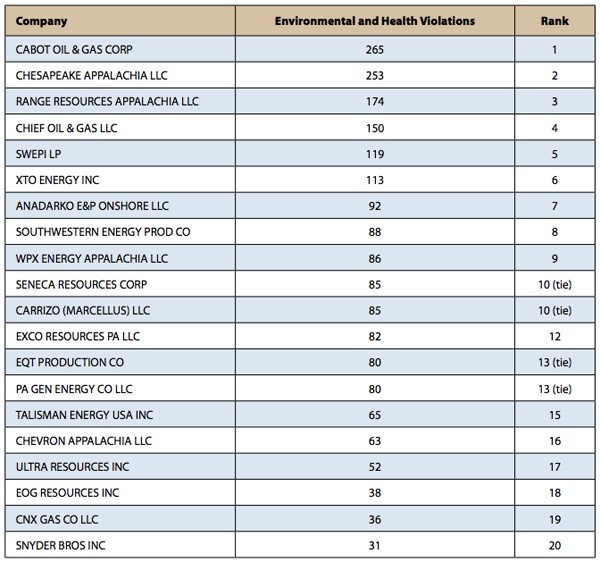 The report highlights the growing number of scientific studies that links the drilling practices of fracking to various health risks. Studies have shown that the proximity to well pads increases a person's risk for respiratory and neurological problems, as well as birth defects. Here's a chart showing the recognized health effects of air emissions from natural gas activities: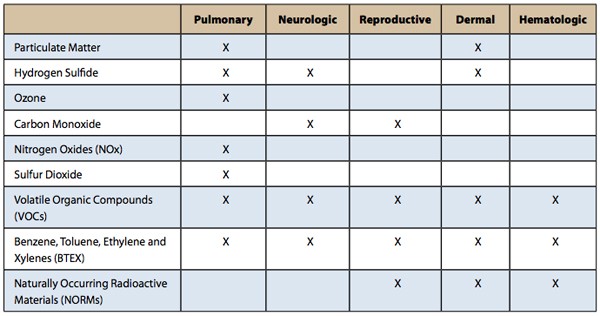 This report comes on the heels of the worst fracking wastewater spill in North Dakota since the boom began in the state, leaking 3 million gallons into the river.
"Fracking is a failure for our environment and health," said Rumpler. "That's why we should keep this dirty drilling out of our national parks, forests and other public lands."
YOU MIGHT ALSO LIKE
Worst Fracking Wastewater Spill in North Dakota Leaks 3 Million Gallons Into River
How We Banned Fracking in New York
How Fracking Impacts Everything, Including Professional Sports
Wikimedia Commons
By Stacy Malkan
Neil deGrasse Tyson has inspired millions of people to care about science and imagine themselves as participants in the scientific process. What a hopeful sign it is to see young girls wearing t-shirts emblazoned with the words, "Forget princess, I want to be an astrophysicist."
Keep reading...
Show less
www.youtube.com
By Andy Rowell
Any day now we will truly witness climate change in action. Within days at worst, maybe weeks at best, scientists predict that a huge section of the Larsen C ice shelf in Antarctica will break off into the ocean, in what is called a major "carving" event.
Keep reading...
Show less
www.youtube.com
President Trump visited Cedar Rapids, Iowa on June 21 to speak to a large crowd in the U.S. Cellular Center at a political rally organized by his campaign.
As Trevor Noah noted during The Daily Show episode last night (starts at 2:25), the real reason Trump has these rallies is to "get back in front of his loyal crowds and feed of their energy." Noah believes that "Trump supporters are so on board with their dude he can say anything and they'll come along for the ride."
Keep reading...
Show less
The Kamuthi solar plant in the southern Indian state of Tamil Nadu.
The rapid growth in renewable energy continues to put a dent in the demand for coal.
Coal India, the world's biggest coal mining company and producer of 82 percent of the country's coal, announced the closure of 37 mines that are financially "unviable."
Keep reading...
Show less
www.youtube.com
By Katie O'Reilly
Two years ago—long before coal became one of the most dominant and controversial symbols of the 2016 presidential election—Bloomberg Philanthropies approached production company RadicalMedia with the idea of creating a documentary exploring the U.S. coal mining industry. Last spring, they brought on Emmy-nominated director Michael Bonfiglio, tasked with forging a compelling story out of the multitudes of facts, statistics and narratives underlying the declining industry.
Keep reading...
Show less
Mayors for 100% Clean Energy
Keep reading...
Show less
www.youtube.com
Thanks to Newsy for their coverage on Thursday's news that the U.S. Fish and Wildlife Service removed grizzly bears in the Greater Yellowstone region from the Endangered Species List.
Watch above as Newsy explains that the decision comes despite serious concerns from the environmental and scientific community, and Tribal Nations about a declining, isolated grizzly bear population with diminishing food resources and record-high mortalities.
Keep reading...
Show less
www.facebook.com
By Francine Kershaw
Seismic airguns exploding in the ocean in search for oil and gas have devastating impacts on zooplankton, which are critical food sources for marine mammals, according to a new study in Nature. The blasting decimates one of the ocean's most vital groups of organisms over huge areas and may disrupt entire ecosystems.
And this devastating news comes on the heels of the National Marine Fisheries Service's proposal to authorize more than 90,000 miles of active seismic blasting. Based on the results of this study, the affected area would be approximately 135,000 square miles.
Keep reading...
Show less
By Jill Richardson
Is coconut oil:
good for you
bad for you
neither good nor bad
scientists don't know
The subject of this question is the source of a disagreement. Initially, the question was thought to be settled decades ago, when scientist Ancel Keys declared all saturated fats unhealthy. Coconut oil, which is solid at room temperature, is a saturated fat.
Keep reading...
Show less


Get EcoWatch in your inbox