This website uses cookies to ensure you get the best experience while browsing it. By clicking 'Got It' you're accepting these terms.
Report Shows How Fracking Industry's Failure to Follow Regulations Impacts Human Health
Jan. 27, 2015 10:32AM EST
Energy
A new report out today from Environment America Research & Policy Center shows that all types of fracking companies, from small to large, are prone to violating rules intended to protect human health and the environment.
The report, Fracking Failures: Oil and Gas Industry Environmental Violations in Pennsylvania and What They Mean for the U.S., analyses Pennsylvania's oil and gas industry over a four-year period and found that the top offenders of regulations—averaging more than one environmental violation every day—represented a wide range of companies from Fortune 500 companies like Cabot Oil, to mom-and-pop operators, to firms like Chevron.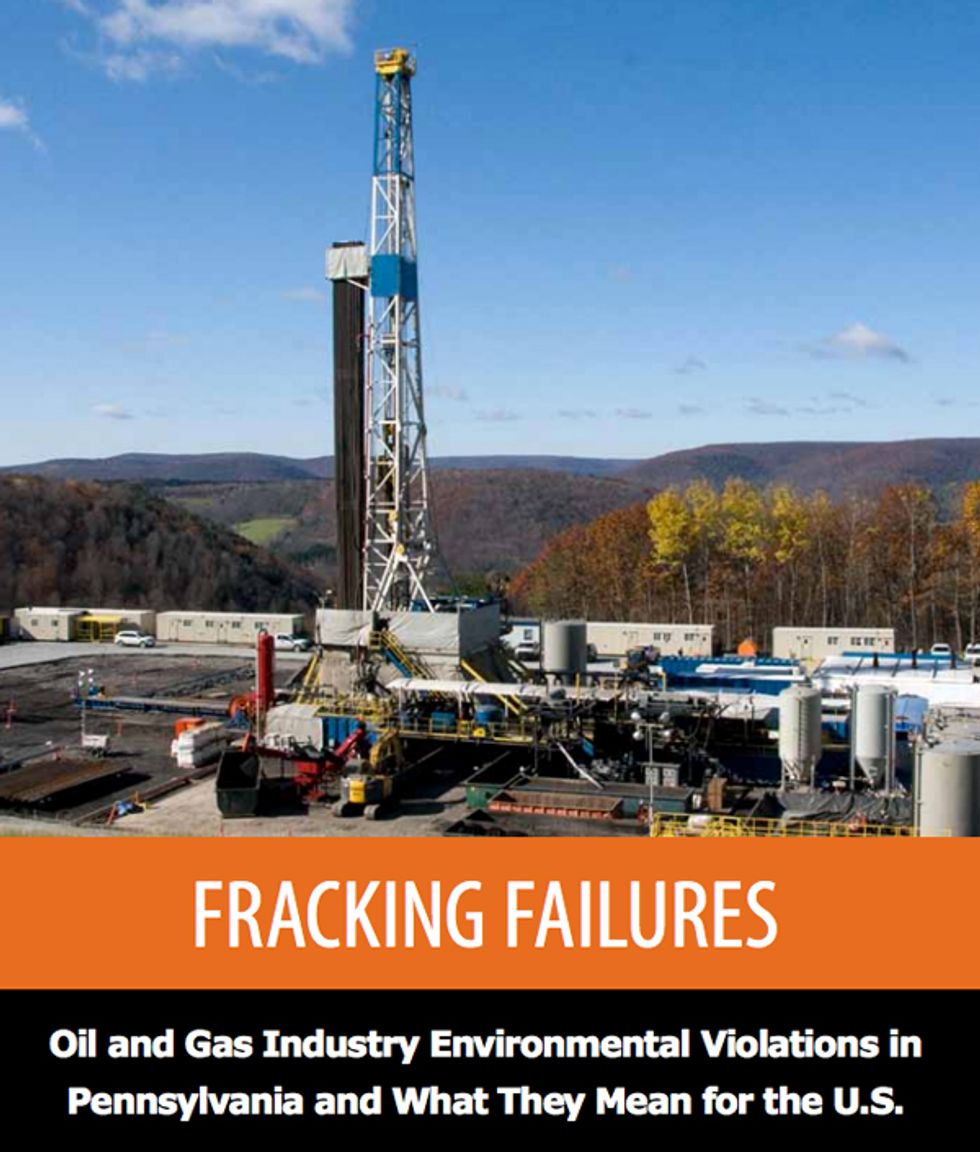 "Fracking is an inherently risky, dirty, dangerous practice, and regulations can't change that," said John Rumpler, senior attorney with Environment America. "But this report shows that a range of oil and gas companies struggle to meet even modest protections for our environment and public health."
The report tracks lapses such as allowing toxic chemicals to leach into the air and water, endangering drinking water through improper well construction and dumping industrial waste into waterways.
According to Environment America, fracking operators in Pennsylvania have committed thousands of violations of oil and gas regulations since 2011 with violations that are not "paperwork" violations, but lapses that pose serious risks to workers, the environment and public health, including:
Allowing toxic chemicals to flow off drilling sites and into local soil and water. In July 2012, for example, Chief Oil & Gas was cited by the Pennsylvania Department of Environmental Protection (DEP) when the company allowed 4,700 gallons of hydrochloric acid to flow off of its drilling site in Leroy Township, Bradford County, and into nearby Towanda Creek, causing a fish kill.

Endangering drinking water through improper well construction. Well problems, including leaks, contaminated drinking water supplies in as many as 243 cases across Pennsylvania between December 2007 and August 2014—81 of them between 2011 and 2014. In one such case Carrizo (Marcellus) LLC was cited for failing to properly restore a water supply its fracking activities had contaminated.

Dumping industrial waste into local waterways. One operator, EQT Production, was cited twice in 2012 by the Pennsylvania Department of Environmental Protection (DEP) for violations at a well in Duncan Township, Tioga County, that polluted a local stream.

Otherwise disposing of waste improperly. In one 2012 incident at an Exco Resources well in Bell Township, Clearfield County, the company was cited for contaminating underground drinking water supplies as a result of leaks from a well drilled for the specific purpose of injecting toxic waste underground.
The report ranks Pennsylvania's 20 most frequently cited fracking companies by number of environmental and health violations from January 2011-August 2014. Houston-based Cabot Oil, a Halliburton contractor, committed the most total violations with 265.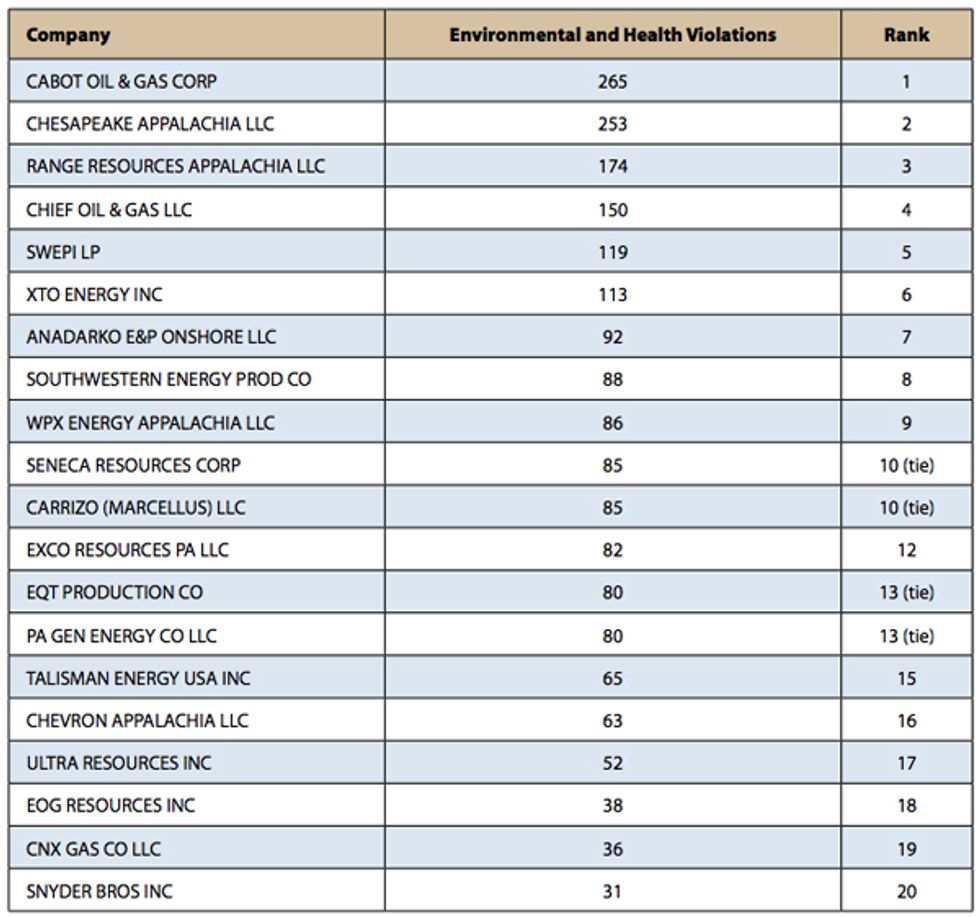 The report highlights the growing number of scientific studies that links the drilling practices of fracking to various health risks. Studies have shown that the proximity to well pads increases a person's risk for respiratory and neurological problems, as well as birth defects. Here's a chart showing the recognized health effects of air emissions from natural gas activities: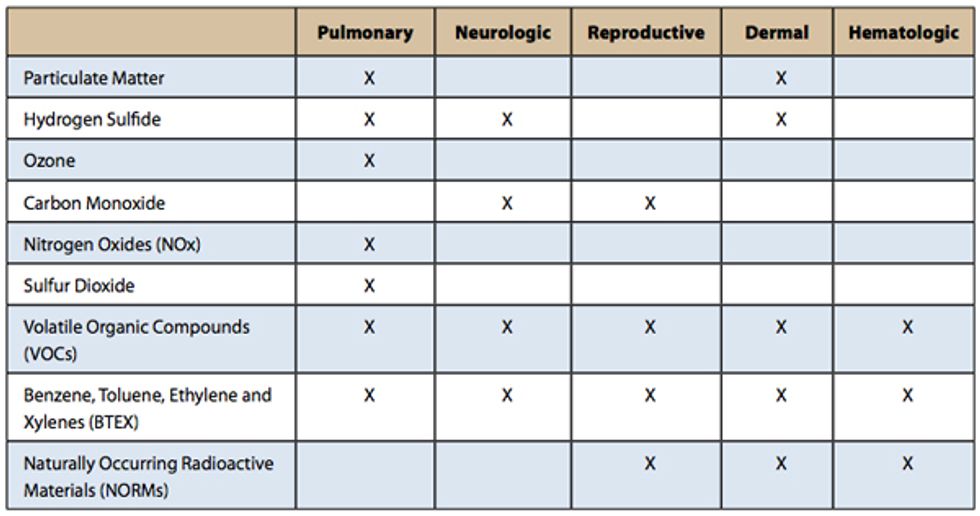 This report comes on the heels of the worst fracking wastewater spill in North Dakota since the boom began in the state, leaking 3 million gallons into the river.
"Fracking is a failure for our environment and health," said Rumpler. "That's why we should keep this dirty drilling out of our national parks, forests and other public lands."
YOU MIGHT ALSO LIKE
Worst Fracking Wastewater Spill in North Dakota Leaks 3 Million Gallons Into River
How We Banned Fracking in New York
How Fracking Impacts Everything, Including Professional Sports
EcoWatch Daily Newsletter
Pro-environment demonstrators on the streets of Washington, DC during the Jan. 20, 2017 Trump inauguration.
Mobilus In Mobili
/ Flickr /
CC BY-SA 2.0
By Dr. Brian R. Shmaefsky
One year after the Flint Water Crisis I was invited to participate in a water rights session at a conference hosted by the US Human Rights Network in Austin, Texas in 2015. The reason I was at the conference was to promote efforts by the American Association for the Advancement of Science (AAAS) to encourage scientists to shine a light on how science intersects with human rights, in the U.S. as well as in the context of international development. My plan was to sit at an information booth and share my stories about water quality projects I spearheaded in communities in Bangladesh, Colombia, and the Philippines. I did not expect to be thrown into conversations that made me reexamine how scientists use their knowledge as a public good.
Mt. Rainier and Reflection Lake on Sept. 10, 2015. Crystal Geyser planned to open a bottling plant near Mt. Rainier, emails show.
louelke - on and off / Flickr
Bottled water manufacturers looking to capture cool, mountain water from Washington's Cascade Mountains may have to look elsewhere after the state senate passed a bill banning new water permits, as The Guardian reported.
Large storage tank of Ammonia at a fertilizer plant in Cubatão, Sao Paulo State, Brazil. Luis Veiga / The Image Bank / Getty Images
The shipping industry is coming to grips with its egregious carbon footprint, as it has an outsized contribution to greenhouse gas emissions and to the dumping of chemicals into open seas. Already, the global shipping industry contributes about 2 percent of global carbon emissions, about the same as Germany, as the BBC reported.
At high tide, people are forced off parts of the pathway surrounding DC's Tidal Basin. Andrew Bossi /
Wikimedia
The Jefferson Memorial in Washington, DC overlooks the Tidal Basin, a man-made body of water surrounded by cherry trees. Visitors can stroll along the water's edge, gazing up at the stately monument.
But at high tide, people are forced off parts of the path. Twice a day, the Tidal Basin floods and water spills onto the walkway.
Lioness displays teeth during light rainstorm in Kruger National Park, South Africa. johan63 / iStock / Getty Images
Ahead of government negotiations scheduled for next week on a global plan to address the biodiversity crisis, 23 former foreign ministers from various countries released a statement on Tuesday urging world leaders to act "boldly" to protect nature.