This website uses cookies to ensure you get the best experience while browsing it. By clicking 'Got It' you're accepting these terms.
Report Shows Benefits of Green Infrastructure's Impact on Clean Water
Nov. 21, 2011 11:00AM EST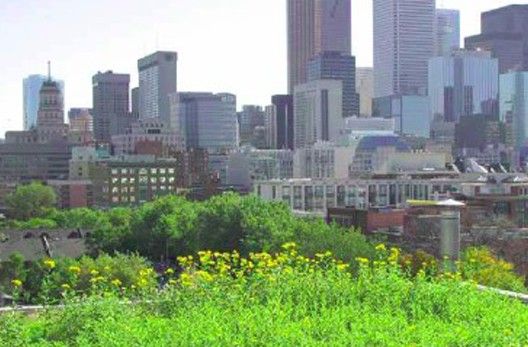 By Noah Garrison
The Natural Resources Defense Council (NRDC) released a new report called Rooftops to Rivers II: Green Strategies for Controlling Stormwater and Combined Sewer Overflows. The report discusses the considerable problems that stormwater runoff, which carries pollution to our rivers, lakes and beaches and causes sewage system overflows, poses for our communities, and ways that cities are using green infrastructure practices to clean up their waters, literally greening their cityscapes in the process. 
My colleagues David Beckman, Jon Devine and Rebecca Hammer have pointed out that green infrastructure is a simple and powerful solution to water pollution that makes cities function, from a water perspective, more like the natural landscape by reducing the amount of hardened, paved surfaces that generate rainfall runoff; that cities that use green infrastructure practices to capture rain where it falls have improved their ability to manage stormwater and reduce runoff pollution while saving money and beautifying neighborhoods at the same time—success stories that should encourage the U.S. Environmental Protection Agency (EPA) and local officials to adopt policies to drive similar approaches and outcomes nationwide; and, provided specific examples of initiatives cities are taking to stop flooding, reduce pollution and use green infrastructure practices to take on their own unique water management challenges.  Overall, Rooftops to Rivers II profiles the approaches taken by 14 cities in the U.S. and Canada (as well as provides examples from several others), revealing just how far the use of green infrastructure has spread and just how adaptable it is to different regions and climates, to changes in geography and geology, and to the various issues faced by each city.  Green infrastructure works everywhere.
For example, Pittsburgh, whose metropolitan area's 4,000 miles of sewer pipes and 450 combined and separate sewer overflow structures release 22 billion gallons of untreated municipal waste into surrounding waters every year, has enacted a stormwater ordinance that requires development sites larger than 10,000 square feet in size to retain the first one-inch of rainfall from any storm event on-site, using practices that infiltrate, evapotranspirate with plants, or capture and re-use the rain.  Publicly funded projects are required to retain 1.5 inches of rainfall on-site. The city has also begun a "Green Up Pittsburgh" initiative that offers support for community greening efforts.  The effort has led to more than 120 vacant city lots being transformed into functioning green spaces, removing blight and safety hazards, inspiring community pride and providing environmental benefits.
Toronto stands out for its investment in and long-term vision for green infrastructure to clean up and protect Lake Ontario, which was listed as an "Area of Concern" in a 1972 agreement between the U.S. and Canada.  In 2003 Toronto adopted its Wet Weather Flow Master Plan, a 25-year, $1 billion comprehensive strategy to use both traditional and green infrastructure to eliminate the adverse impacts of stormwater runoff.  Both separately and under the plan, Toronto has taken a multitude of steps to incorporate green infrastructure into city planning and development, including:
Establishing specific runoff volume reduction targets to encourage infiltration and rainwater harvesting
Initiated a voluntary pilot downspout disconnection program for property owners whose downspouts were directly connected to the city's combined or separate sewer systems.  Based on the success of the program, in 2007 the City Council voted to make downspout disconnections mandatory throughout the city
Formed a Green Roof Task Force to investigate and promote the benefits of green roofs.  A 2005 study estimated that if green roofs were installed on every flat roof in the city, Toronto would save $270 million in municipal capital costs and nearly $30 million annually in benefits.  In 2009 the City Council adopted construction standards requiring all new buildings and retrofits with more than 2,000 square meters (21,500 square feet) of floor area to include a green roof in their design.
And Kansas City, M0., which created a stormwater utility in 1999 that assesses fees based on the size of a property's impervious, or runoff generating surface area, has recently broken ground on a 100-acre pilot project that represents the largest focused installation of green infrastructure as the sole control for combined sewer overflows in the nation.  The Middle Blue River Basin Pilot Project, located in the city's Marlborough neighborhood, will potentially save the city $10 million in capital costs relative to what would have been spent if only traditional stormwater infrastructure was used.
Dozens of other cities across the country have begun incorporating green infrastructure in a similar manner:
Indianapolis has completed a Green Infrastructure Master Plan for the city and is using green infrastructure practices like tree plantings, rain gardens and other techniques that absorb rainfall to meet the terms of a federal consent decree that requires a reduction in combined sewer overflows, achieving significant cost savings relative to traditional infrastructure in the process.  Cleveland and Cincinnati are likewise looking to green infrastructure as a means of meeting the terms of consent decrees that require those cities to reduce the amount of combined sewer overflows that send polluted sewage into their waters.
Minneapolis has a stormwater ordinance requiring public and private development sites of 1-acre or more to include on-site stormwater management, and is greening a 143-acre, formerly underserved community now known as heritage park in a project that will create a system of interconnected ponds and trails and bring park-like amenities to area residents while using natural systems to treat stormwater runoff
Jacksonville, Fla. has partnered with the EPA to focus resources on its neglected downtown urban core, using green infrastructure to reduce runoff and add open space for its residents.  The city is in the process of developing a green infrastructure guidance manual as a tool for developers, architects, engineers, government employees and  anyone seeking clear permitting specifications for green infrastructure construction
Tucson, Ariz., which receives an average rainfall of only about 11 inches per year, has embraced rainfall as a valuable resource, and now requires rainwater harvesting to supplement other available water supplies. The city adopted the nation's first municipal rainwater harvesting ordinance for commercial projects, which took effect on June 1, 2010 and requires facilities subject to the ordinance to meet 50 percent of their landscape irrigation water demand using harvested rainwater.
Green infrastructure works.  It works everywhere.  And it provides benefits that extend well beyond water quality.  As these, and other cities profiled in Rooftops to Rivers II demonstrate, there's a wide array of approaches, practices, and ultimately, solutions to the problems caused by stormwater runoff that green infrastructure can provide.  And if your community hasn't embraced the practice yet, then Rooftops to Rivers II provides plenty of examples for how green infrastructure can be used in your city, and how it can help clean up waters while saving your city money and creating a greener, healthier landscape.
For more information, click here.

EcoWatch Daily Newsletter
Pexels
Singapore will become the first country in the world to place a ban on advertisements for carbonated drinks and juices with high sugar contents, its health ministry announced last week. The law is intended to curb sugar consumption since the country has some of the world's highest diabetes rates per capita, as Reuters reported.
A typical adult takes around 20,000 breaths per day. If you live in a megacity like Beijing, with many of those lungfuls you're likely to inhale a noxious mixture of chemicals and pollutants.
Fred Stone holds his brown swiss cow Lida Rose at his Arundel dairy farm on March 18 after a press conference where he spoke about PFAS chemical contamination in his fields. Gregory Rec / Portland Portland Press Herald via Getty Images
By Susan Cosier
First there was Fred Stone, the third-generation dairy farmer in Maine who discovered that the milk from his cows contained harmful chemicals. Then came Art Schaap, a second-generation dairy farmer in New Mexico, who had to dump 15,000 gallons of contaminated milk a day.
Protesters attend the 32nd Annual Fur-Free Friday demonstration on Nov. 23, 2018 in Beverly Hills, California. Ella DeGea / Getty Images
California Governor Gavin Newsom signed into law a bill that that bans the sale and manufacture of fur products in the state. The fur ban, which he signed into law on Saturday, prohibits Californians from selling or making clothing, shoes or handbags with fur starting in 2023, according to the AP.
By Simon Evans
During the three months of July, August and September, renewables generated an estimated total of 29.5 terawatt hours (TWh), compared with just 29.1TWh from fossil fuels, the analysis shows.
A demonstrator waves an Ecuadorian flag during protests against the end of subsidies to gasoline and diesel on Oct. 9 in Quito, Ecuador. Jorge Ivan Castaneira Jaramillo / Getty Images
Protesters block the road outside Mansion House in London during an XR climate change protest. Gareth Fuller / PA Images via Getty Images
Protestors marched outside the Prudential Center in Newark, New Jersey on Monday, August 26, during the MTV Video and Music Awards to bring attention to the water crisis currently gripping the city. Karla Ann Cote / NurPhoto / Getty Images
By Will Sarni
It is far too easy to view scarcity and poor quality of water as issues solely affecting emerging economies. While the images of women and children fetching water in Africa and a lack of access to water in India are deeply disturbing, this is not the complete picture.