This website uses cookies to ensure you get the best experience while browsing it. By clicking 'Got It' you're accepting these terms.
Report: New York Does Not Safely Monitor Treatment or Disposal of Fracking Wastewater
May. 07, 2012 06:15AM EST
Energy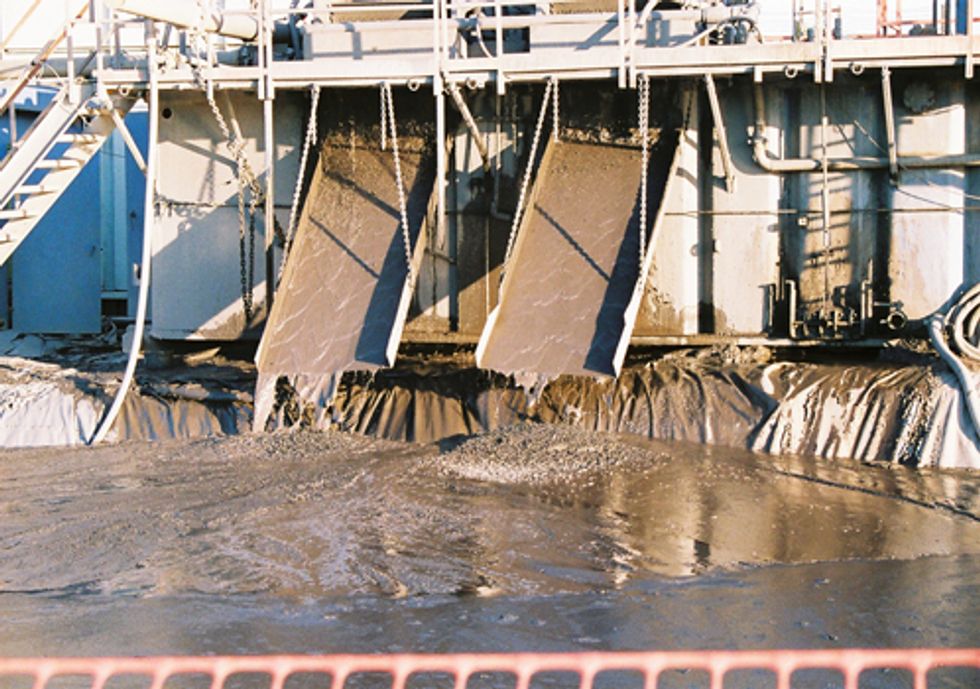 The New York State Department of Environmental Conservation (DEC) has failed to responsibly monitor the transport, treatment or disposal of waste from the state's active gas wells, according to a new report released by Environmental Advocates of New York. The report examines how wastes from existing gas drilling operations are disposed in an effort to shed light on how public health and the environment may be affected by the anticipated influx of waste from gas drilling by means of high-volume hydraulic fracturing, or "fracking," operations. As of 2009, the state was home to 6,628 gas wells, approximately 90 percent of which use low-volume fracking to extract the gas. The report also notes that the state's proposed oversight of high-volume fracking would create a two-tier regulatory system, even though all fracking waste poses a threat to the safety of New York's waters and communities.
"New York is not safely monitoring the transport, treatment or disposal of gas drilling waste, and based on the proposals under review, the state is not ready to provide responsible oversight of the millions of gallons of wastewater high-volume fracking will dump on our doorstep, if Governor Cuomo decides to permit it," said Katherine Nadeau, Water & Natural Resources director, Environmental Advocates of New York. "We're calling on the governor to close the hazardous waste loophole for drilling waste, require that new measures to protect New York from high-volume fracking apply to all fracking operations, prohibit sewage plants from accepting drilling waste, and ban road spreading."
The report is based on the review of nearly 100 permit documents from the DEC for the state's operating gas wells. Environmental Advocates submitted a Freedom of Information Law requests to the agency in November 2011 and February 2012. The report, Out of Sight, Out of Mind: New York's Failure to Track or Treat Fracking Waste Endangers Public Health & the Environment, describes the state's flawed process for permitting drilling operations; the makeup of fracking wastewater and its environmental hazards; and a discussion of the likely ways fracking wastewater is disposed of today.
Under state law, the DEC asks drillers two questions during the application process regarding waste disposal:
How will drilling fluids and stimulation fluids be contained and disposed of?

If brine will be stored onsite, how will it be stored and disposed of?
Environmental Advocates' review of drillers' responses shows cause for alarm. In at least 16 cases, drillers failed to identify where waste was hauled or disposed of. On no fewer than 25 forms, gas companies stated that wastes were disposed of at "approved facilities" without identifying the facilities; in nine cases, drillers said waste was disposed of per DEC regulations without specifying what this means. In addition, some applications identified multiple disposal options leading to further ambiguities.
"Based on our review of nearly 100 permits and permit documents for gas drilling, following the waste stream from well to ultimate disposal is nearly impossible," said Nadeau.
Fracking wastewater hazards include toxic chemicals used in fracking fluids, the exact composition of which are considered trade secrets known only to the gas industry. In addition, fracking wastewater can be up to six times as salty as seawater depending on the rock formation drilled and the amount of time water spends in the well. Fracking may also bring naturally occurring radioactive materials to the surface in drilling wastes.
Both low- and high-volume fracking wastes are exempt from treatment as hazardous wastes, although if produced by any other industry, Marcellus Shale fracking wastes would likely be classified and treated as hazardous based on barium levels alone.
Although Gov. Cuomo and the DEC have proposed requiring the gas industry to submit drilling waste disposal plans for high-volume fracking, these requirements fall short of the publicly available cradle-to-the-grave tracking, handling and disposal measures required for other hazardous wastes.
Gov. Cuomo is contemplating whether to allow gas drilling by means of high-volume  hydraulic fracturing, or "fracking," in the Marcellus and Utica Shales. If fracking is permitted, how the industry is required to handle, treat and dispose of high volume fracking's toxic wastes will be among the administration's greatest challenges.
For more information, click here.
EcoWatch Daily Newsletter
A new study shows that half of all Arctic warming and corresponding sea-loss during the late 20th century was caused by ozone-depleting substances. Here, icebergs discharged from Greenland's Jakobshavn Glacier. Kevin Krajick / Earth Institute /
EurekAlert!
The world awakened to the hole in the ozone layer in 1985, which scientists attributed it to ozone depleting substances. Two years later, in Montreal, the world agreed to ban the halogen compounds causing the massive hole over Antarctica. Research now shows that those chemicals didn't just cut a hole in the ozone layer, they also warmed up the Arctic.
Diane Wilson holds up a bag full of nurdles she collected from one of Formosa's outfall areas on Jan. 15. Julie Dermansky / DeSmogBlog
On the afternoon of Jan. 15, activist Diane Wilson kicked off a San Antonio Estuary Waterkeeper meeting on the side of the road across from a Formosa plastics manufacturing plant in Point Comfort, Texas.
After Wilson and the waterkeeper successfully sued Formosa in 2017, the company agreed to no longer release even one of the tiny plastic pellets known as nurdles into the region's waterways. The group of volunteers had assembled that day to check whether the plant was still discharging these raw materials of plastics manufacturing.
Malaysian Environment Minister Yeo Bee Yin (front 2nd L) and officials inspect a container containing plastic waste shipment on Jan. 20, 2020 before sending back to the countries of origin. AFP via Getty Images
The Southeast Asian country Malaysia has sent 150 shipping containers packed with plastic waste back to 13 wealthy countries, putting the world on notice that it will not be the world's garbage dump, as CNN reported. The countries receiving their trash back include the United States, the United Kingdom, France and Canada.
Trump leaves after delivering a speech at the Congress Centre during the World Economic Forum annual meeting in Davos on Jan. 21, 2020. JIM WATSON / AFP via Getty Images