This website uses cookies to ensure you get the best experience while browsing it. By clicking 'Got It' you're accepting these terms.
Report Finds Many Communities Still Vulnerable to Oil Spills
Apr. 30, 2012 10:07AM EST
Energy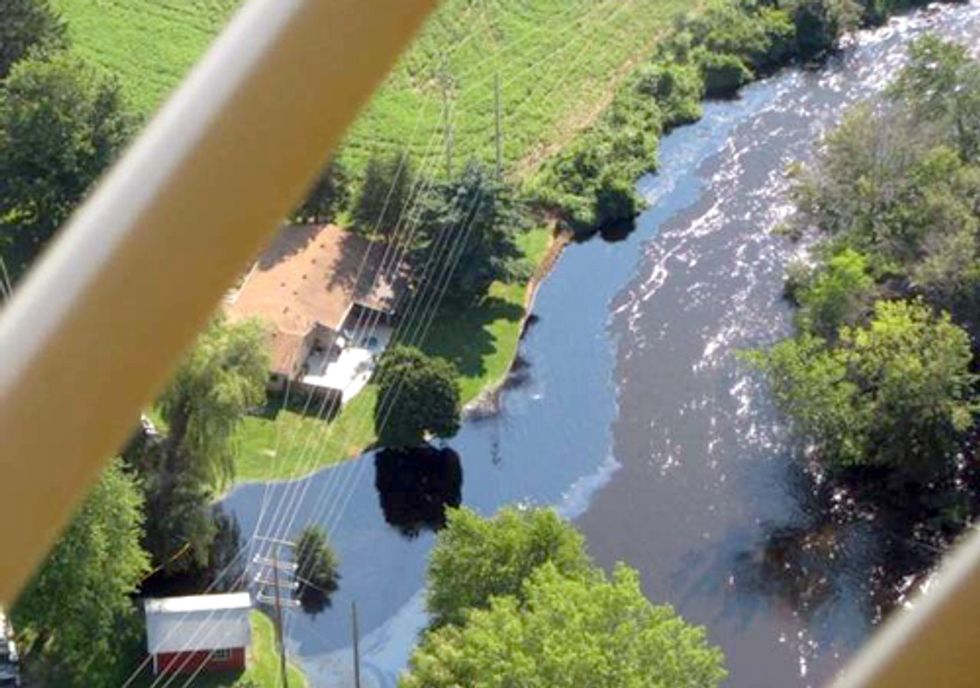 By Jordan Lubetkin
Nearly two years after one of the worst oil spills in Midwest history, a new legal analysis by the National Wildlife Federation (NWF) reveals that laws governing oil pipelines do not adequately protect the Great Lakes and its communities from oil pollution—and that states have not passed their own laws to fill in the gaps.
"Current laws leave the door open to future oil spills," said Sara Gosman, water resources attorney for the National Wildlife Federation's Great Lakes office and lecturer at the University of Michigan Law School. "Contrary to common perception, oil spills are an ongoing problem in the region. Federal and state laws should do more to prevent spills and protect our communities, economy and wildlife."
Pipeline spills in the Midwest are not an anomaly—they occur frequently and result in significant damage. The Great Lakes states of Illinois, Indiana, Michigan, Minnesota, New York, Ohio, Pennsylvania and Wisconsin contain 26,972 miles of hazardous liquid pipelines, according to the Pipeline and Hazardous Materials Safety Administration. (Hazardous liquid pipelines primarily carry petroleum and petroleum products, as opposed to gas pipelines which primarily carry natural gas.) There were 277 hazardous liquid pipeline accidents in the region between 2007-2011, which spilled more than 3.8 million gallons of these liquids into the environment, resulting in more than $893 million dollars of property damage, according to the agency.
"Pipeline safety is a problem that has remained under the radar for far too long," said Nick Schroeck, executive director of the Great Lakes Environmental Law Center. "Increasing public disclosure and strengthening environmental protection is long overdue."
The new report—written by NWF's Gosman and University of Michigan Law School students—analyzes pipeline safety laws from beginning to end, from siting and routing of pipelines to how pipelines are maintained and repaired once they are in the ground; and finally to how operators must plan for and report spills if they happen.
After the Marshall Spill: Oil Pipelines in the Great Lakes Region, A Legal Analysis exposes gaps in laws that leave communities vulnerable to future oil pollution. The report finds:
There is no federal review of the long-term risks associated with routing of new oil pipelines or consideration of impacts to entire watersheds such as the Great Lakes basin
The federal Integrity Management program, which requires operators to assess the condition of existing lines, install leak detection systems and repair defects on a set timeline, only protects some environmentally sensitive areas
Spill response planning may not be adequate because oversight is divided between federal agencies
Further, the report finds that Great Lakes states have done little, if anything, to improve pipeline safety. Many states have ignored the issue, while other states have imposed minimal requirements. Moreover, public involvement in federal pipeline regulation is limited, as is public access to information.
"It's clear that the status quo is not getting the job done," said Gosman, "and that stronger protections are urgently needed."
The report recommends several policy changes at the state and federal level to prevent future oil spills in the Great Lakes region, including:
Pipeline laws should consider the effects of oil pipelines on the Great Lakes basin as a whole and should protect all areas that are environmentally sensitive to oil pollution
Pipeline information should be publicly available, consistent with national security interests
States should regulate intrastate pipelines and participate in the oversight and inspection of interstate pipelines.
The National Wildlife Federation report comes nearly two years after a July 2010 oil pipeline rupture near Marshall, Mich., in which an Enbridge Energy Partners pipeline spilled approximately 1 million gallons of heavy crude oil into Talmadge Creek and the Kalamazoo River. The spill contaminated more than 30 miles of a major Lake Michigan tributary, raised health concerns and killed wildlife. It also exposed numerous weaknesses in pipeline regulation.
The Enbridge oil spill is one of several recent high-profile oil pipeline disasters—from the Yellowstone River spill to the contamination of Red Butte Creek in Salt Lake City—that illustrate the risks posed by pipelines in communities across the country. Nationally, over the last 5 years, there have been more than 1,700 spills from hazardous liquid pipelines causing more than $1.4 billion in property damage.
"The nation continues to face oil spills from pipelines that exact huge tolls on the environment and economy," said Carl Weimer, executive director of the Pipeline Safety Trust. "The good news is we know what needs to be done—but unless public officials act, communities will still be left vulnerable. It's time for Congress, state legislatures and agencies to step up to the plate to close loopholes, strengthen protections and protect communities now and for generations to come."
For more information, click here.
EcoWatch Daily Newsletter
No longer will the options when we die be a choice between just burial or cremation. Soon it will be possible to compost your remains and leave your loved ones with rich soil, thanks to a new funeral service opening in Seattle in 2021 that will convert humans into soil in just 30 days, as The Independent reported.
You can reduce the footprint of a medium-sized live tree by donating it to elephants at a local zoo, like this African elephant pictured above. eans / iStock / Getty Images
The holiday season is supposed to be about giving and sharing, but often it is actually about throwing away. The U.S. generates 25 percent more garbage between Thanksgiving and New Year's than it does during the rest of the year. That's around one million extra tons per week, according to National Environmental Education Foundation (NEEF) figures reported by The Associated Press.
The Opera House is seen with smoke haze which enveloped Sydney Harbor on Dec. 10 in Sydney, Australia. Smoke haze hangs over the city as the New South Wales fire danger risk is raised from 'very high' to 'severe'. James D. Morgan / Getty Images
The brushfires raging through New South Wales have shrouded Australia's largest city in a blanket of smoke that pushed the air quality index 12 times worse than the hazardous threshold, according to the Australia Broadcast Corporation (ABC).
People walk across the bridge near Little Raven Court in downtown Denver. Younger Americans increasingly prefer to live in walkable neighborhoods. Helen H. Richardson / The Denver Post via Getty Images
By David B. Goldstein
Energy efficiency is the cornerstone of any country's plan to fight the climate crisis. It is the cheapest option available, and one that as often as not comes along with other benefits, such as job creation, comfort and compatibility with other key solutions such as renewable energy. This has been recognized by the International Energy Agency (IEA) for at least a decade.
Activists from Extinction Rebellion New York City engaged in nonviolent direct action to confront climate change outside City Hall on April 17, 2019. Erik McGregor / Pacific Press / LightRocket via Getty Images
By Andrea Germanos

Over 500 groups on Monday rolled out an an action plan for the next president's first days of office to address the climate emergency and set the nation on a transformative path towards zero emissions and a just transition in their first days in office.