Report Finds Dozens of Schools Near Toxic Pesticide Fields
A new report from the California Department of Public Health finds 36 percent of public schools in the state have pesticides of public health concern applied within a quarter mile of the school. Persistent and toxic pesticides like chlorpyrifos, methyl bromide and malathion are among the pesticides found to be applied near schools. The report also finds that Latino children are also more likely to attend schools near areas with the highest use of pesticides of concern.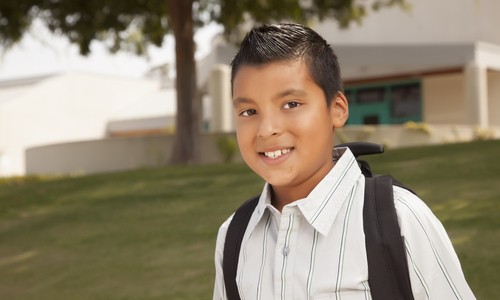 Latino schools in California disproportionately suffer from exposure to pesticides due to pesticide spraying near their schools. Photo courtesy of Shutterstock
The report, "Agricultural Pesticide Use Near Public Schools In California," released this month, looked at 2,511 schools in the 15 California counties with the highest overall use of farm pesticides in California for 2010, and finds that counties in the southern part of the Central Valley had the most schools near farms where pesticides were applied. Fresno County had the highest number of schools–131 –with pesticides applied nearby. Five percent of schools are within a quarter mile of where the highest volumes of pesticides are used: 2,635–28,979 pounds of active ingredient. Latino children are 46 percent more likely than white children to attend schools where pesticides of concern were applied nearby.
The report's findings are being touted by health professionals who say dangerous pesticides are coming too close to kids. "This is truly important information that we've not previously had," said Irva Hertz-Picciotto, PhD, MPH, a professor in environmental and occupational health at UC Davis. "These pesticides are not entirely benign, and several of them affect brain development."
The reports lists the top 10 pesticides with the highest application by volume within a quarter mile of a public school, including chloropicrin, 1,3-dichloropropene, paraquat dibromide, captan, malathion and chlorpyrifos. According to the report, all 10 pesticides are classified as priority pesticides for assessment and monitoring by the state. The majority of the pesticides are restricted use, requiring special permits for their application, as well as application restrictions. However, monitoring data show that pesticides can volatilize and drift, and move over long distances fairly rapidly through wind and rain. Some studies have found that pesticides can drift for miles. Documented exposure patterns resulting from drift cause particular concerns for children and other sensitive population groups. Adverse health effects, such as nausea, dizziness, respiratory problems, headaches, rashes and mental disorientation, may appear even when a pesticide is applied in compliance with label directions.
For instance, chlorpyrifos, banned from household use due to concerns of children's exposures, is a highly neurotoxic organophosphate, and prenatal and early childhood exposure has been linked to low birth weights, developmental delays, ADHD and other health effects. Last year, the U.S. Environmental Protection Agency (EPA) found that chlorpyrifos may volatilize from treated fields at levels resulting in exposure to children and others who live, work or otherwise spend time nearby, resulting in exposures that could cause adverse effects.
Currently, California runs tests for air particles (drift) for several pesticides and their breakdown products and measures the results against screening levels established by the California Department of Pesticide Regulation (CDPR). However, critics maintain that the state's sampling is not representative of peak agricultural exposures and question whether any level of a toxicant in air is reasonable under the law, given the viability of alternative agricultural practices that do not rely on these chemicals.
Several fumigants, including methyl bromide, also made the top 10 list. Methyl bromide, while phased-out in the U.S., has continued to be used in alarming amounts across California due to a sizable loophole in regulations. Other pesticides found to be applied near these sensitive areas include several carcinogens (captan, diuron, mancozeb), reproductive and developmental toxicants (carbaryl, linuron, EPTC) and neurotoxicants (naled, chlorpyrifos, diazinon).
Although the report identified schools near sites where pesticides are used, it did not assess the effect of the chemicals on children, nor did it account for how the pesticides might drift onto school territory, or how children could be affected. However, children are especially sensitive to pesticide exposure as they take in more pesticides relative to their body weight than adults, and have developing organ systems that are more vulnerable and less able to detoxify toxic chemicals. Even at low levels, exposure to pesticides can cause serious adverse health effects. Numerous studies document that children exposed to pesticides suffer elevated rates of childhood leukemia, other cancers and birth defects. Studies also link pesticides to childhood asthma, respiratory problems, learning disabilities and inability to concentrate. See the Pesticide Induced Disease Database.
Latino children made up 54.1 percent of the population in the public schools in the 15 counties, and comprised 67.7 percent of the population in schools in the highest quartile of pesticide use. While not inferred by the report, these children may mostly belong to farmworker communities living near agricultural areas. These communities tend to have disproportionate exposure risks to pesticides due to pesticide drift, and are at higher risks of developing serious chronic health problems such as cancer, neurological impairments and Parkinson's disease. EPA has previously found that Latino schools in California disproportionately suffer from exposure to pesticides due to pesticide spraying near their schools, but has yet to adequately remedy these risks. A lawsuit was filed by concerned parents challenging EPA's lack of action, arguing that ongoing pesticide monitoring set up by CDPR did not protect children from excessive exposure to pesticides.
California farmers produce nearly half of all U.S.-grown fruits, nuts and vegetables, greatly benefiting public health statewide and nationally. According to the report, in 2007, California accounted for 23 percent of all agricultural pesticides used in the U.S. In 2010, more than 160 million pounds were applied in California. However, our food choices have a direct effect on those who grow, harvest and live near what we eat around the world. This is why food labeled organic is the right choice. In addition to serious health questions linked to actual residues of toxic pesticides on the food we eat, our food buying decisions support or reject hazardous agricultural practices, protection of farmworkers and farm families.
For more information, see Beyond Pesticides' Children and Schools page. To see more scientific research on the effects of pesticides on human health, see our Pesticide-Induced Diseases Database.
——–
YOU MIGHT ALSO LIKE
Minnesotans vs. McDonald's Toxic Taters
New Report Documents Chemical Disasters and Environmental Injustice in the U.S.
——–
As the Trump administration moves full speed ahead on boosting the oil and fossil fuel industry, opposition to increased pipeline construction is cropping up in different communities around the country.
Keep reading...
Show less
Minke whale stranding near Havergate Island in Suffolk. MCGA.
By Simon Evans
Last Saturday, two dead whales washed up on the coast of Suffolk, in eastern England, and a third was spotted floating at sea.
What happened next illustrates how news can spread and evolve into misinformation, when reported by journalists rushing to publish before confirming basic facts or sourcing their own quotes.
Keep reading...
Show less
By Monica Amarelo and Paul Pestano
Sun safety is a crucial part of any outdoor activity for kids, and sunscreen can help protect children's skin from harmful ultraviolet rays. Kids often get sunburned when they're outside unprotected for longer than expected. Parents need to plan ahead and keep sun protection handy in their cars or bags.
Keep reading...
Show less
By Joe McCarthy
A lot of people take part in community clean-up efforts—spending a Saturday morning picking up litter in a park, mowing an overgrown field or painting a fence.
Keep reading...
Show less
May. 26, 2017 03:22PM EST
Rink Glacier in western Greenland, with a meltwater lake visible center. NASA/OIB
Scientists have had their eyes on Greenland as its iconic glaciers have begun disappearing due to a warming climate. But, what they didn't expect to see was a whole new type of melting.
Keep reading...
Show less
May. 26, 2017 03:40PM EST
A coalition of conservation groups and others announced Thursday that a historic number of comments and petitions of support have been submitted to the U.S. Department of the Interior in support of Bears Ears National Monument. Despite the entirely inadequate 15-day comment period ending on May 26, more than 685,000 comments in support of Bears Ears National Monument have been collected.
Keep reading...
Show less
May. 26, 2017 02:50PM EST
Mountain View Fire
By Lena Moffitt
An oil tanker in Mead, Colorado exploded, killing one and injuring three on Thursday. Authorities are continuing to investigate the cause of the explosion.
Keep reading...
Show less
May. 26, 2017 01:27PM EST
Banner created by Alliance for Climate Education
Keep reading...
Show less


Get EcoWatch in your inbox