This website uses cookies to ensure you get the best experience while browsing it. By clicking 'Got It' you're accepting these terms.
Report Finds 4 out of 5 Americans Hit by Recent Weather Disasters
Feb. 16, 2012 02:05PM EST
Climate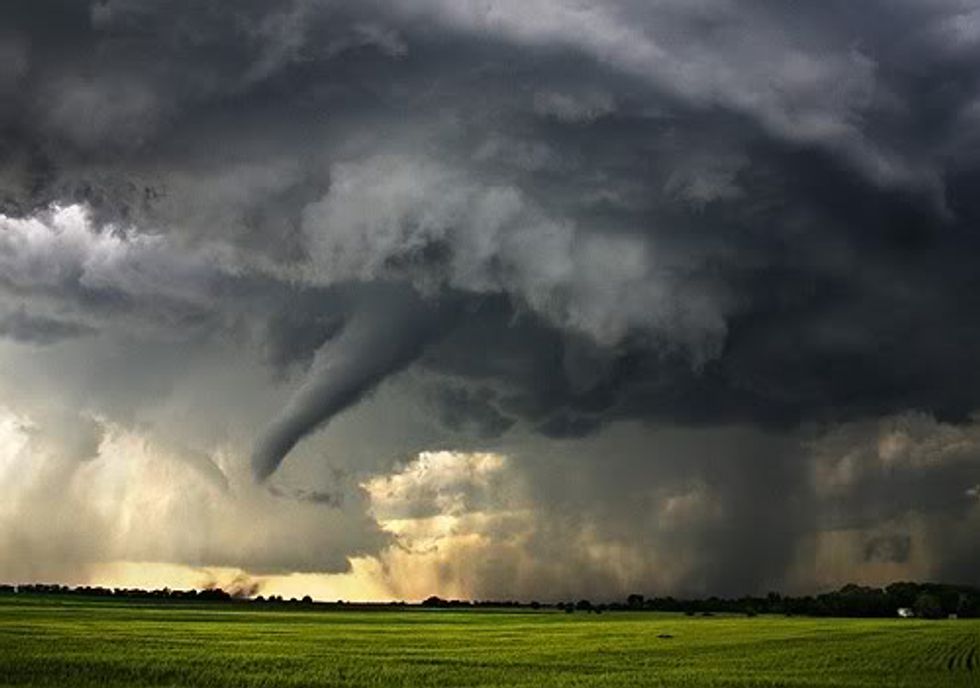 After a year that saw many parts of the country hit by scorching heat, devastating wildfires, severe storms and record flooding, a new Environment America report documents how global warming could lead to certain extreme weather events becoming even more common or more severe in the future. The report found that, already, 4 out of 5 Americans live in counties affected by federally declared weather-related disasters since 2006. Last year's Hurricane Irene, which resulted in the death of 45 people in the 13 states hit by the storm, and an estimated $7.3 billion in damage, is one of the extreme weather events highlighted in the report.
"Millions of Americans have lived through extreme weather causing extremely big problems for our economy and our public safety," said Nathan Willcox, Environment America's federal global warming program director. "Given that global warming will likely fuel even more extreme weather, we need to cut dangerous carbon pollution now."
The new report, entitled In the Path of the Storm: Global Warming, Extreme Weather, and the Impacts of Weather-Related Disasters in the United States, examined county-level weather-related disaster declaration data from the Federal Emergency Management Agency for 2006 through 2011 to determine how many Americans live in counties hit by recent weather disasters. The complete county-level data can be viewed through an interactive map available here. The report also details the latest science on the projected influence of global warming on heavy rain and snow; heat, drought and wildfires; and hurricanes and coastal storms. Finally, the report explores how the damage from even non-extreme weather events could increase due to other impacts of global warming such as sea level rise.
Key findings from the Environment America report include:
Since 2006, federally declared weather-related disasters affected 2,466 counties across the U.S. which house more than 242 million people.
2011 set a record with at least 14 weather disasters across the country inflicting more than $1 billion each in damage, the total cost in damages from these disasters amounted to $55 billion.
Other research shows that the U.S. has experienced an increase in heavy precipitation events, with the rainiest 1 percent of all storms delivering 20 percent more rain on average at the end of the 20th century than at the beginning. The trend towards extreme precipitation is projected to continue in a warming world, even though higher temperatures and drier summers will likely also increase the risk of drought in between the rainy periods and for certain parts of the country.
Records show that the U.S. has experienced an increase in the number of heat waves over the last half-century. Scientists project that the heat waves and unusually hot seasons will likely become more common in a warming world.
Other research predicts that hurricanes are expected to become even more intense and bring greater amounts of rainfall in a warming world, even though the number of hurricanes may remain the same or decrease. 
Environment America was joined by Sens. Bernie Sanders (I-VT) and John Kerry (D-MA) in releasing their report.
"Global warming is real and we are seeing significant impacts today. We must cut greenhouse gas emissions and move to energy efficiency and sustainable energy. If we move in that direction we can create, over a period of years, millions of good-paying jobs," said Sen. Sanders.
"Years and years of peer reviewed scientific studies should've been motivation enough for Washington to get serious about climate change instead of denying its consequences and ducking tough choices. This study is the latest and the last red alert that inaction is risking lives here at home. This is not business as usual for Mother Nature. I've never in my life seen the extreme weather patterns I've witnessed with my own eyes the last years in New England, and I'm sick and tired of politicians ducking the issue and finding excuses for inaction or worse. At this point, you're either on the side of dealing with reality or you're against it," Sen. Kerry added.
Willcox noted that global warming is expected to have varying impacts on different types of extreme weather events. While the Intergovernmental Panel on Climate Change recently concluded that it is "virtually certain" that hot days will become hotter and "likely" that extreme precipitation events will continue to increase worldwide, there is little scientific consensus about the impact of global warming on events such as tornadoes. In addition, every weather event is now a product of a climate system where global warming "loads the dice" for extreme weather, though in different ways for different types of extreme weather.
"The bottom line is that extreme weather is happening, it is causing very serious problems, and global warming increases the likelihood that we'll see even more extreme weather in the future," said Willcox. "Carbon pollution from our power plants, cars and trucks is fueling global warming, and so tackling global warming demands that we cut emissions of carbon pollution from those sources."
The report was released as the Obama administration is finalizing historic new carbon pollution and fuel efficiency standards for cars and light trucks, and as the U.S. Environmental Protection Agency is poised to develop carbon pollution standards for coal-fired power plants—the largest single source of the carbon pollution that is fueling global warming. At the same time, some polluting industries and their allies in Congress are working to block these and other clean air standards. Environment America applauded those members of the U.S. Senate who have continued their efforts to hold polluters accountable by rejecting attacks on clean air standards.
"We applaud the Obama administration for the clean car standards they are finalizing, and urge EPA to move ahead with strong carbon pollution standards for coal-fired power plants," said Willcox. "The extreme weather we suffered through in 2011 is a frightening reminder of why we must do everything we can to cut the dangerous carbon pollution that is fueling global warming, and lessen the threat of even worse extreme weather in the future."
For more information, click here.
EcoWatch Daily Newsletter
We need our government to do everything it can to stop PFAS contamination and exposure from wreaking havoc in communities across the country. LuAnn Hun /
Unsplash
By Genna Reed
The EPA announced last week that it is issuing a preliminary regulatory determination for public comment to set an enforceable drinking water standard to two of the most common and well-studied PFAS, PFOA and PFOS.
This decision is based on three criteria:
PFOA and PFOS have an adverse effect on public health
PFOA and PFOS occur in drinking water often enough and at levels of public health concern;
regulation of PFOA and PFOS is a meaningful opportunity for reducing the health risk to those served by public water systems.
Charging EVs in Stockholm: But where does a dead battery go? Ranjithsiji / Wikimedia Commons
By Kieran Cooke
Driving an electric-powered vehicle (EV) rather than one reliant on fossil fuels is a key way to tackle climate change and improve air quality — but it does leave the old batteries behind as a nasty residue.
U.S. Secretary of the Treasure Steven Mnuchin arrives for a welcome dinner at the Murabba Palace in Riyadh, Saudi Arabia on Feb. 22, 2020 during the G20 finance ministers and central bank governors meeting. FAYEZ NURELDINE / AFP via Getty Images
Finance ministers from the 20 largest economies agreed to add a scant mention of the climate crisis in its final communiqué in Riyadh, Saudi Arabia on Sunday, but they stopped short of calling it a major economic risk, as Reuters reported. It was the first time the G20 has mentioned the climate crisis in its final communiqué since Donald Trump became president in 2017.
Aerial view of Parque da Cachoeira, which suffered the January 2019 dam collapse, in Brumadinho, state of Minas Gerais, Brazil — one of the country's worst industrial accidents that left 270 people dead. Millions of tons of toxic mining waste engulfed houses, farms and waterways, devastating the mineral-rich region. DOUGLAS MAGNO / AFP / Getty Images
Participants of the climate demonstration Fridays for Future walk through Hamburg, Germany on Feb. 21, 2020. Axel Heimken / picture alliance via Getty Images