This website uses cookies to ensure you get the best experience while browsing it. By clicking 'Got It' you're accepting these terms.
Report Exposes How the TTIP Could Expand Fracking in U.S. and Europe
Mar. 06, 2014 09:13AM EST
As the U.S. and European Union (EU) governments continue negotiating the Transatlantic Trade and Investment Partnership (TTIP), environmental organizations are growing more concerned about a loophole that could leave the door open for expanded fracking in both regions.
According to a report released today from Friends of the Earth Europe, the Sierra Club, Corporate Europe Observatory and others, the pending TTIP contains language that could allow energy companies to take governments to private arbitrators if they try to regulate or ban fracking. Now, campaigners in Europe and the U.S. are fighting to eliminate such rights from the trade deal. 
"Giving companies more rights as part of the EU-U.S. trade deal would undermine Europe's growing resistance to fracking," said Antoine Simon of Friends of the Earth Europe. "Energy companies must not be given the power to challenge democratically agreed laws that safeguard the environment and citizen health.
"Put simply, this puts profits before people, democracy and the planet."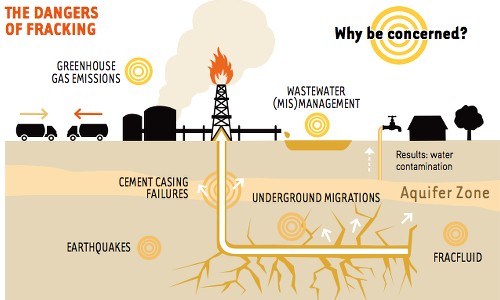 The report, "No Fracking Way," states that the Investor-State Dispute Settlement clause would enable corporations to claim damages in secret courts or arbitration panels if they believe their profits are adversely affected by changes in a regulation or policy. Those companies could seek compensation through private international tribunals. U.S. firms or those with a subsidiary in the U.S. that invest in Europe could also use those rights to seek compensation for future bans or other regulation on fracking. The arbitrators are mainly set up for investment cases and not part of the normal judicial system, according to the report.
"Trade should help strengthen economies while protecting families and communities—it should never put them at risk," Ilana Solomon, director of the Sierra Club's responsible trade program, said. "The egregious Lone Pine lawsuit shows how investor-state dispute settlement threatens people and our environment by letting big corporations attack common-sense policies. We need protections from dangerous practices like fracking, and big oil and gas corporations shouldn't use trade as the trump card to get their way."
The report points out several other examples, including Swedish energy giant Vattenfall's request of the equivalent of nearly $5.1 billion from Germany to compensate for the country's voted to phase out nuclear power.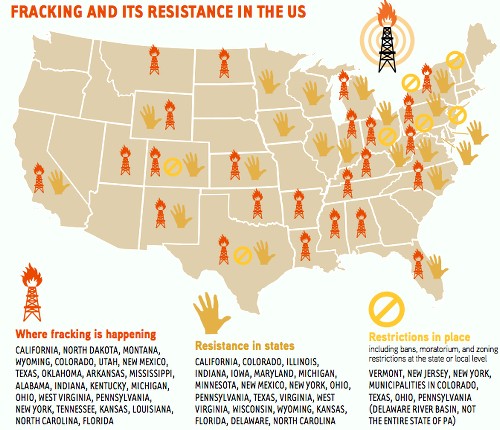 In the U.S., some individual cities and states are taking notice of the dangers of fracking. Last week, the Los Angeles City Council approved a moratorium on fracking within city limits. The decision made Los Angeles the nation's largest city to approve such a ruling.
Four days before that, groups in Colorado launched a ballot initiative that would essentially give residents control over fracking within their communities.
Visit EcoWatch's FRACKING page for more related news on this topic.

Plus, learn if there's one that's best for your health.
Catherine Falls Commercial / Moment / Getty Images
An invasive Amynthas worm, also known as a crazy snake worm, Asian jumping worm and Alabama jumper Tom Potterfield / Flickr
By Jason Bittel
My wife and I built a house two years ago on a few acres of woodland outside of Pittsburgh. The backyard is full of maples, poplars, briars and common spicebush. Two-lined salamanders and grumpy-looking crayfish wade among the rocks in the small stream that runs down the edge of the property. Deer, raccoon and opossum tracks appear regularly in the snow and mud. Sometimes, my trail-cam even catches a pair of gray foxes as they slink through the night.
AleksandarNakic / Getty Images
By Kate Murphy
No matter the time of year, there's always a point in each season when my skin decides to cause me issues. While these skin issues can vary, I find the most common issues to be dryness, acne and redness.

David Woodfall / The Image Bank / Getty Images
By Sam Nickerson
The U.S. Environmental Protection Agency (EPA) in April 2018 proposed relaxing standards related to how it assesses the effects of exposure to low levels of toxic chemicals on public health.
Now, correspondence obtained by the LA Times revealed just how deeply involved industry lobbyists and a controversial, industry-funded toxicologist were in drafting the federal agency's proposal to scrap its current, protective approach to regulating toxin exposure.
Steve Irwin poses with a three foot long alligator at the San Francisco Zoo on June 26, 2002. Justin Sullivan / Getty Images
February 22 is the birthday of conservationist and beloved TV personality "Crocodile Hunter" Steve Irwin, who would have been 57 years old today.
Irwin's life was tragically cut short when the barb from a stingray went through his chest while he was filming in 2006, but his legacy of loving and protecting wildlife lives on, most recently in a Google Doodle today honoring his birthday.