This website uses cookies to ensure you get the best experience while browsing it. By clicking 'Got It' you're accepting these terms.
Report Exposes European Lobby Groups Who Ensure Expansion of Shale Gas
Jul. 24, 2014 10:10AM EST
Energy
The shuffling of lobby dollars that keeps fossil fuel-friendly policies on the books for the benefit of huge corporations and their legislative pals isn't specific to the U.S.
A new report from Friends of the Earth Europe aims to expose Shell, Total and ExxonMobil, along with groups like BusinessEurope and OGP, to reveal what it calls a "thick web of lobbying activity." The report says public relations and law firms, paid-for scientific reports, and even members of Parliament have all been used to advance fracking for shale gas around the continent.
"The legislative process has been taken hostage by private interests," Antoine Simon, a shale gas campaigner for Friends of the Earth Europe, said in a statement. "They have created a climate of industry-funded misinformation that sells shale gas as a responsible resource—this could not be further from reality. The European Commission needs to put the interest of people and planet before the profits of big oil companies, by re-opening the debate on shale gas regulation."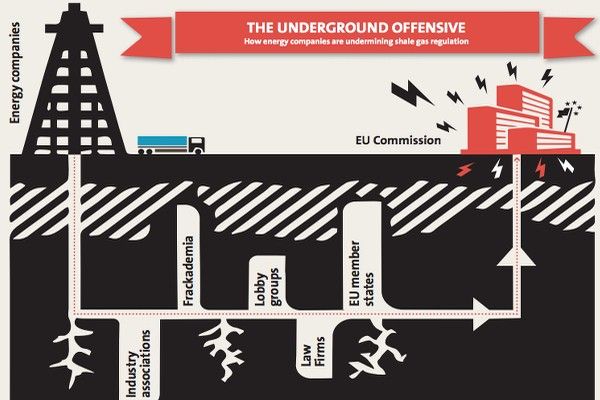 The report hopes to reignite the discussion of stronger shale gas industry regulation within the European Commission and increased lobbying transparency. At the very least, FOE Europe hopes for a moratorium on fracking, similar to those passed in the U.S. by the New York Assembly and in cities like Los Angeles.
In the meantime, the organization seeks to explain who is making contributions to keep a practice with proven health risks alive. Here is a visualization of the tangled web of gas companies and lobbyists in Europe. Each line shows membership, affiliation or financial contributions from energy companies to lobby groups in Brussels who represent their interests. Europia, European Union of the Natural Gas Industry and European Federation of Energy Traders are among the names included.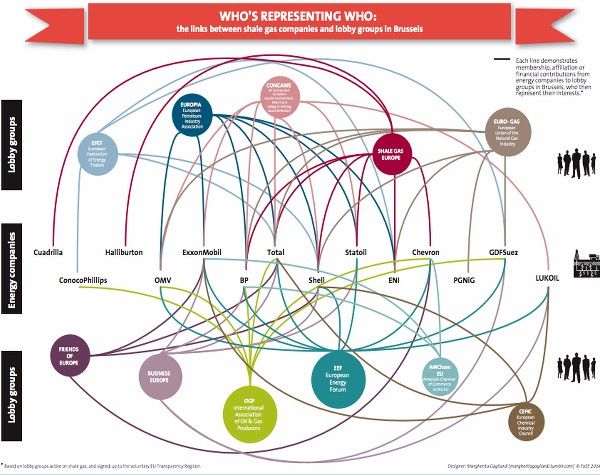 "An underground offensive by the oil industry has managed to silence well-founded concerns about the dangers of fracking," Simon said. "It has side-stepped the growing body of evidence on the environmental, economic and health risks of shale gas development, and undermines Europe-wide opposition from citizens to the unconventional fossil fuel."
EcoWatch Daily Newsletter
Fabian Krause / EyeEm / Getty Images
Water protectors of all persuasions gathered in talking circles at Borderland Ranch in Pe'Sla, the heart of the sacred Black Hills, during the first Sovereign Sisters Gathering. At the center are Cheryl Angel in red and white and on her left, Lyla June. Tracy Barnett
By Tracy L. Barnett
Sources reviewed this article for accuracy.
For Sicangu Lakota water protector Cheryl Angel, Standing Rock helped her define what she stands against: an economy rooted in extraction of resources and exploitation of people and planet. It wasn't until she'd had some distance that the vision of what she stands for came into focus.
Hedges, 2019 © Hugh Hayden. All photos courtesy of Lisson Gallery
By Patrick Rogers
"I'm really into trees," said the sculptor Hugh Hayden. "I'm drawn to plants."
BruceBlock / iStock / Getty Images
Thanks to their high concentration of powerful plant compounds, foods with a natural purple hue offer a wide array of health benefits.
Environmental Investigation Agency
Last week, the Peruvian Palm Oil Producers' Association (JUNPALMA) promised to enter into an agreement for sustainable and deforestation-free palm oil production. The promise was secured by the U.S. based National Wildlife Federation (NWF) in collaboration with the local government, growers and the independent conservation organization Sociedad Peruana de Ecodesarrollo.
Pixabay
Leaked documents show that Jair Bolsonaro's government intends to use the Brazilian president's hate speech to isolate minorities living in the Amazon region. The PowerPoint slides, which democraciaAbierta has seen, also reveal plans to implement predatory projects that could have a devastating environmental impact.
XL CATLIN SEAVIEW SURVEY / THE OCEAN AGENCY
Hope may be on the horizon for the world's depleted coral reefs thanks to scientists who successfully reproduced endangered corals in a laboratory setting for the first time, according to Reuters.