This website uses cookies to ensure you get the best experience while browsing it. By clicking 'Got It' you're accepting these terms.
Renowned Scientists Urge Museums to Drop Climate-Denier Donors, BP Dumps ALEC
Mar. 24, 2015 10:27AM EST
Climate
The Natural History Museum is a New York-based organization that provides online and mobile programming, and exhibits intended to "affirm the truth of science" and call attention to the "political /funding climate" in the science museum community. It has no multimillion-dollar signature building, expensive exhibits with benefactors' names next to them on gold plaques or an admission price that will set a family back $100. But it's taking aim at those science and natural history museums that do, questioning the integrity of accepting funding from donors with an interest in and history of refuting scientific research on issues like climate change—donors like the Koch Brothers of the fossil fuel-driven Koch Industries.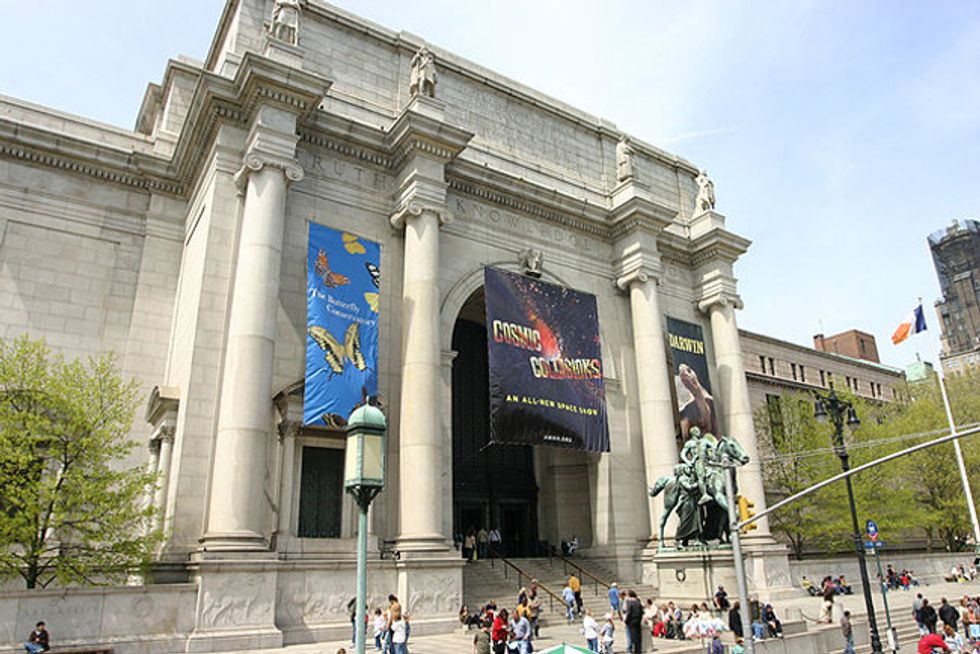 The group has issued an open letter to these museums from members of the scientific community, urging them to cut such ties.
It points to the Code of Ethics for Museums, adopted in 1991 by the Board of Directors of the American Alliance of Museums, which says, "It is incumbent on museums to be resources for humankind and in all their activities to foster an informed appreciation of the rich and diverse world we have inherited. It is also incumbent upon them to preserve that inheritance for posterity."
"We are deeply concerned by the links between museums of science and natural history with those who profit from fossil fuels or fund lobby groups that misrepresent climate science," says the letter. "Museums are trusted sources of scientific information, some of our most important resources for educating children and shaping public understanding. We are concerned that the integrity of these institutions is compromised by association with special interests who obfuscate climate science, fight environmental regulation, oppose clean energy legislation and seek to ease limits on industrial pollution."
The letter points out that David Koch, one of the two billionaire Koch brothers whose big donations have funded climate-denying organizations, candidates and elected officials, is a major donor, exhibit sponsor and trustee at the Smithsonian's National Museum of Natural History and the American Museum of Natural History in New York City.
"David Koch's oil and manufacturing conglomerate Koch Industries is one of the greatest contributors to greenhouse gas emissions in the United States," the letter says. "When some of the biggest contributors to climate change and funders of misinformation on climate science sponsor exhibitions in museums of science and natural history, they undermine public confidence in the validity of the institutions responsible for transmitting scientific knowledge. This corporate philanthropy comes at too high a cost."
"We believe that the only ethical way forward for our museums is to cut all ties with the fossil fuel industry and funders of climate science obfuscation," it concludes.
The letter is signed by 36 scientists and members of the science community, including James Hansen, retired head of the NASA Goddard Institute for Space Studies; James Powell, former president and director of the Los Angeles County Natural History Museum; George Woodwell, founder of the Woods hole Research Center; and Kevin E. Trenberth, Distinguished Senior Scientist, Climate Analysis Section of National Center for Atmospheric Research, the lead author of the Intergovernmental Panel of Climate Change (IPCC) reports that led to IPCC winning the 2007 Nobel Peace Prize.
The Natural History Museum invites others with scientific credentials to sign. The public can also sign their petition at KickKochOff TheBoard.com. The Natural History Museum plans to deliver the signatures to the American Museum of Natural History before their annual board meeting in April. and to the Smithsonian board at their meeting in June and to ask the museums of remove Koch from their boards.
The museums deny that funders have any impact on their programming. Randall Kremer, director of public affairs for the Smithsonian National Museum of Natural History, told the New York Times that while Mr. Koch was the largest single donor to the museum, "He signed our standard gift agreement, which prohibits donor or sponsor involvement in content."
Large institutional museums have a history of receiving funding from those who might have an interest in slanting how they cover climate issues. Oil company BP, for instance, is a corporate sponsor at Chicago's venerable Museum of Science and Industry, whose exhibits have long promoted a cheerful upbeat "better living through science" approach and whose interactive coal mine exhibit has been one of its major attractions since 1933.
But BP is doing a little image scrubbing of its own. It announced Monday that it has dropped its membership in the American Legislative Exchange Council (ALEC), the rightwing climate denying group that is heavily funded by—you guessed it!—the Koch brothers. BP gave no reason for dropping its membership, but it follows in the footsteps of Walmart, Amazon, McDonald's, Coca-Cola Co., Best Buy, Google, Microsoft, Facebook, eBay, Wells-Fargo and dozens of others that have dropped their ALEC membership in response to pressure from activist groups.
YOU MIGHT ALSO LIKE
New Map Shows Koch's Connection to Keystone
Climate Denial Machine Fueled By Big Oil and Koch Brothers Impacts Congressional Races
Sen. Whitehouse Calls Out ALEC for Role in Funding Climate Deniers
EcoWatch Daily Newsletter
A harbour seal on an ice floe in Glacier Bay, Alaska. A new study shows that the climate crisis has warmed waters, changing ecosystems and crippling sea ice growth. Janette Hill / robertharding / Getty Images Plus
Doctors report that only 1 in 4 children are getting the recommended 60 minutes of physical activity per day. Ronnie Kaufman / DigitalVision / Getty Images
By Dan Gray
Pediatricians are being urged to start writing "exercise prescriptions" for the children they see in their office.
A First Nations protester walks in front of a train blockade in Tyendinaga, near Belleville, Ontario, Canada on Feb. 21, 2020. LARS HAGBERG / AFP via Getty Images
An indigenous rail blockade that snarled train travel in Canada for more than two weeks came to an end Monday when police moved in to clear protesters acting in solidarity with another indigenous community in British Columbia (B.C.), which is fighting to keep a natural gas pipeline off its land.
A rainbow snake, a rare reptile spotted in a Florida county for the first time in more than 50 years, seen here on July 5, 2013.
Kevin Enge / FWC Fish and Wildlife Research Institute / Flickr
A Florida hiker recently stumbled across a slithering surprise — a rare snake that hadn't been spotted in the area for more than 50 years.
We need our government to do everything it can to stop PFAS contamination and exposure from wreaking havoc in communities across the country. LuAnn Hun /
Unsplash
By Genna Reed
The EPA announced last week that it is issuing a preliminary regulatory determination for public comment to set an enforceable drinking water standard to two of the most common and well-studied PFAS, PFOA and PFOS.
This decision is based on three criteria:
PFOA and PFOS have an adverse effect on public health
PFOA and PFOS occur in drinking water often enough and at levels of public health concern;
regulation of PFOA and PFOS is a meaningful opportunity for reducing the health risk to those served by public water systems.