Renowned Scientists Urge Museums to Drop Climate-Denier Donors, BP Dumps ALEC
The Natural History Museum is a New York-based organization that provides online and mobile programming, and exhibits intended to "affirm the truth of science" and call attention to the "political /funding climate" in the science museum community. It has no multimillion-dollar signature building, expensive exhibits with benefactors' names next to them on gold plaques or an admission price that will set a family back $100. But it's taking aim at those science and natural history museums that do, questioning the integrity of accepting funding from donors with an interest in and history of refuting scientific research on issues like climate change—donors like the Koch Brothers of the fossil fuel-driven Koch Industries.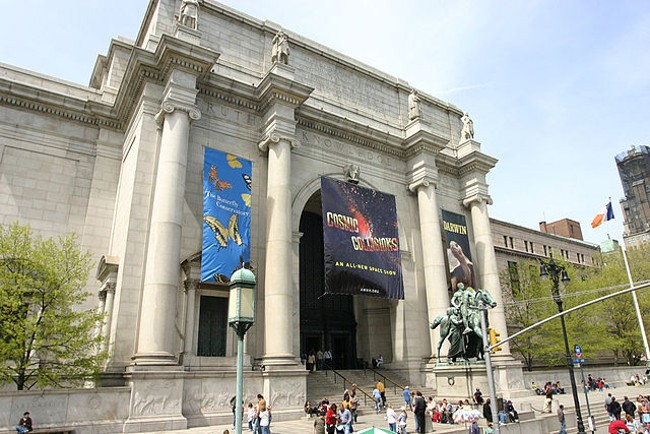 The group has issued an open letter to these museums from members of the scientific community, urging them to cut such ties.
It points to the Code of Ethics for Museums, adopted in 1991 by the Board of Directors of the American Alliance of Museums, which says, "It is incumbent on museums to be resources for humankind and in all their activities to foster an informed appreciation of the rich and diverse world we have inherited. It is also incumbent upon them to preserve that inheritance for posterity."
"We are deeply concerned by the links between museums of science and natural history with those who profit from fossil fuels or fund lobby groups that misrepresent climate science," says the letter. "Museums are trusted sources of scientific information, some of our most important resources for educating children and shaping public understanding. We are concerned that the integrity of these institutions is compromised by association with special interests who obfuscate climate science, fight environmental regulation, oppose clean energy legislation and seek to ease limits on industrial pollution."
The letter points out that David Koch, one of the two billionaire Koch brothers whose big donations have funded climate-denying organizations, candidates and elected officials, is a major donor, exhibit sponsor and trustee at the Smithsonian's National Museum of Natural History and the American Museum of Natural History in New York City.
"David Koch's oil and manufacturing conglomerate Koch Industries is one of the greatest contributors to greenhouse gas emissions in the United States," the letter says. "When some of the biggest contributors to climate change and funders of misinformation on climate science sponsor exhibitions in museums of science and natural history, they undermine public confidence in the validity of the institutions responsible for transmitting scientific knowledge. This corporate philanthropy comes at too high a cost."
"We believe that the only ethical way forward for our museums is to cut all ties with the fossil fuel industry and funders of climate science obfuscation," it concludes.
The letter is signed by 36 scientists and members of the science community, including James Hansen, retired head of the NASA Goddard Institute for Space Studies; James Powell, former president and director of the Los Angeles County Natural History Museum; George Woodwell, founder of the Woods hole Research Center; and Kevin E. Trenberth, Distinguished Senior Scientist, Climate Analysis Section of National Center for Atmospheric Research, the lead author of the Intergovernmental Panel of Climate Change (IPCC) reports that led to IPCC winning the 2007 Nobel Peace Prize.
The Natural History Museum invites others with scientific credentials to sign. The public can also sign their petition at KickKochOff TheBoard.com. The Natural History Museum plans to deliver the signatures to the American Museum of Natural History before their annual board meeting in April. and to the Smithsonian board at their meeting in June and to ask the museums of remove Koch from their boards.
The museums deny that funders have any impact on their programming. Randall Kremer, director of public affairs for the Smithsonian National Museum of Natural History, told the New York Times that while Mr. Koch was the largest single donor to the museum, "He signed our standard gift agreement, which prohibits donor or sponsor involvement in content."
Large institutional museums have a history of receiving funding from those who might have an interest in slanting how they cover climate issues. Oil company BP, for instance, is a corporate sponsor at Chicago's venerable Museum of Science and Industry, whose exhibits have long promoted a cheerful upbeat "better living through science" approach and whose interactive coal mine exhibit has been one of its major attractions since 1933.
But BP is doing a little image scrubbing of its own. It announced Monday that it has dropped its membership in the American Legislative Exchange Council (ALEC), the rightwing climate denying group that is heavily funded by—you guessed it!—the Koch brothers. BP gave no reason for dropping its membership, but it follows in the footsteps of Walmart, Amazon, McDonald's, Coca-Cola Co., Best Buy, Google, Microsoft, Facebook, eBay, Wells-Fargo and dozens of others that have dropped their ALEC membership in response to pressure from activist groups.
YOU MIGHT ALSO LIKE
New Map Shows Koch's Connection to Keystone
Climate Denial Machine Fueled By Big Oil and Koch Brothers Impacts Congressional Races
Sen. Whitehouse Calls Out ALEC for Role in Funding Climate Deniers
www.facebook.com
Keep reading...
Show less
Scott Pruitt testifies during his Senate confirmation hearing for EPA administrator, January 2017.
The U.S. Environmental Protection Agency's (EPA) chief of staff pressured the leader of its Board of Scientific Counselors to change her congressional testimony to downplay the impact of the agency's mass dismissal of scientists from the board, the New York Times reports.
Keep reading...
Show less
By Jason Mark
Sequoiadendron giganteum. That's the scientific name for the giant sequoia: the mammoth trees found in California's Sierra Nevada that are the largest organisms on Earth, and among the longest-lived. Biologists estimate that about half of all sequoias live in Giant Sequoia National Monument, a 328,000-acre preserve in the Southern Sierra Nevada established by President Clinton in 2000.
Now that national monument is in jeopardy.
Keep reading...
Show less
By Andy Rowell
Donald Trump this week is launching an "energy week," pushing the argument that the U.S. will become a net exporter of oil and gas.
The president and his cronies are talking about a new era of "U.S. energy dominance," which could stretch for decades to come. However, no one believes the president anymore.
Keep reading...
Show less
UN
By Colleen Curry
The United Nations has designated 23 new sites around the world to its World Network of Biosphere reserves—stunning natural landscapes that balance environmental and human concerns and strive for sustainability.
The forests, beaches and waterways were added to the list this year at the International Coordinating Council of the Man and the Biosphere Programme meeting in Paris earlier this month.
Keep reading...
Show less
Jun. 26, 2017 01:48PM EST
www.elysee.fr
By Andy Rowell
There is a growing feeling within European capitals that a quiet, but deeply positive, revolution is happening under Emmanuel Macron in France.
Macron's opinion poll rating is high, especially boosted in how the young French president has reacted to Donald Trump on the international stage.
Keep reading...
Show less
Jun. 26, 2017 12:32PM EST
www.facebook.com
Keep reading...
Show less
Jun. 26, 2017 02:46PM EST
Keep reading...
Show less
Jun. 26, 2017 03:34PM EST
www.youtube.com
According to Bloomberg, "SeaWorld Entertainment Inc. received a subpoena earlier this month from regulators investigating disclosures and public statements by executives, including comments about the Blackfish documentary that caused a public backlash against the confinement of orcas.
Keep reading...
Show less


Get EcoWatch in your inbox