This website uses cookies to ensure you get the best experience while browsing it. By clicking 'Got It' you're accepting these terms.
Renewables Help Push Nuclear Giants to Brink of Collapse
Nov. 24, 2014 09:10AM EST
Energy
Plans to build two giant nuclear reactors in south-west England are being reviewed as French energy companies now seek financial backing from China and Saudi Arabia—while the British government considers whether it has offered vast subsidies for a white elephant.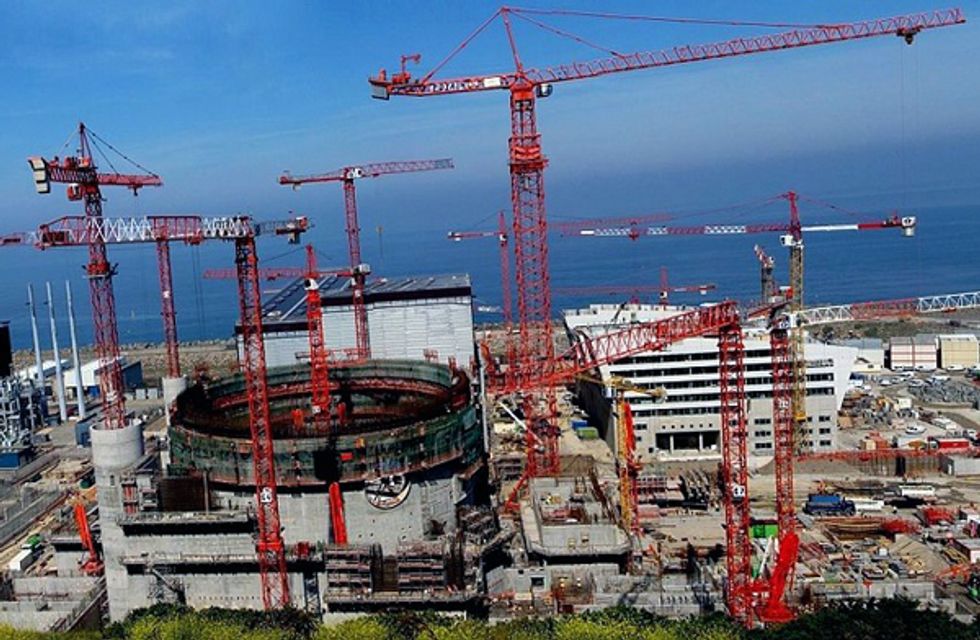 A long-delayed final decision on whether the French electricity utility company EDF will build two 1.6 gigawatt European Pressurised water Reactors at Hinkley Point in Somerset—in what would be the biggest construction project in Europe—was due in the new year, but is likely to drift again.
Construction estimates have already escalated to £25 billion, which is £9 billion more than a year ago, and four times the cost of putting on the London Olympics last year.
Costs Escalate
Two prototypes being built in Olikuoto, Finland and Flamanville, France, were long ago expected to be finished and operational, but are years late and costs continue to escalate. Until at least one of these is shown to work as designed, it would seem a gamble to start building more, but neither of them is expected to produce power until 2017.
With Germany phasing nuclear power out altogether and France reducing its dependence on the technology, all the industry's European hopes are on Britain's plans to build 10 new reactors. But British experts, politicians and businessmen have begun to doubt that the new nuclear stations are a viable proposition.
Steve Thomas, professor of energy policy at the University of Greenwich, London, said: "The project is at very serious risk of collapse at the moment. Only four of those reactors have ever been ordered. Two of them are in Europe, and both of those are about three times over budget. One is about five or six years late and the other is nine years late. Two more are in China and are doing a bit better, but are also running late."
Tom Greatrex, the British Labour party opposition's energy spokesman, called on the National Audit Office to investigate whether the nuclear reactors were value for money for British consumers.
Peter Atherton, of financial experts Liberum Capital, believes the enormous cost and appalling track record in the nuclear industry of doing things on time mean that ministers should scrap the Hinkley plans.
Billionaire businessman Jim Ratcliffe, who wants to invest £640 million in shale gas extraction in the UK, said that the subsidy that the British government would pay for nuclear electricity is "outrageous."
Finding the vast sums of capital needed to finance the project is proving a problem. Both EDF and its French partner company, Areva, which designed the European Pressurised water Reactor (EPR), have money troubles. Last week, Areva suspended future profit predictions and shares fell by 20 percent.
Chinese power companies have offered to back the project, but want many of the jobs to go to supply companies back home—something the French are alarmed about because they need to support their own ailing nuclear industry. Saudi Arabia is offering to help too, but this may not go down well in Britain.
On the surface, all is well. Preparation of the site is already under way on the south-west coast of England, with millions being spent on earthworks and new roads. The new reactors would be built next to two existing much smaller nuclear stations—one already closed and the second nearing the end of its life. The new ones would produce 7 percent of Britain's electricity.
But leaks from civil servants in Whitehall suggest that the government may be getting cold feet about its open-ended guarantees. The industry has a long history of cost overruns and cancellations of projects when millions have already been spent—including an ill-fated plan to build a new nuclear station on the same site 20 years ago.
The Treasury is having a review because of fears that, once this project begins, so much money will have been invested that the government will have to bail it out with billions more of taxpayers' money to finish it—or write off huge sums.
The whole project is based on British concern about its aging nuclear reactors, which produce close on 20 percent of the country's electricity. The government wanted a new generation of plants to replace them and eventually produce most of the country's power.
Guaranteed Prices
In order to induce EDF to build them, it offered subsidies of £37 billion in guaranteed electricity prices over the 60-year life of the reactors. This would double the existing cost of electricity in the UK.
The European Commission gave permission for this to happen, despite the distortion to the competitive electricity market. But this decision is set to be challenged in the European Court by the Austrian government and renewable energy companies, which will further delay the project.
Since the decision was made to build nuclear power stations, renewable energy has expanded dramatically across Europe and costs have dropped. Nuclear is now more costly than wind and solar power. In Britain alone, small-scale solar output has increased by 26 percent in the last year.
In theory, there are a number of other nuclear companies—from the U.S., China, Japan and Russia—keen to build stations of their own design in Britain, but they would want the same price guarantees as EDF for Hinkley Point.
With a general election in the UK looming in May next year, no decisions will be reached on any of these projects any time soon. And a new government might think renewables are a better bet.
YOU MIGHT ALSO LIKE
The Slow Death of Nuclear Power and the Rise of Renewables
Solar Energy Could Power America 100 Times Over
Renewables Beat Coal, Oil and Nukes by 35 Times in New Energy Capacity
EcoWatch Daily Newsletter
Protesters holding signs in solidarity with the Wet'suwet'en Nation outside the Canadian Consulate in NYC. The Indigenous Peoples Day NYC Committee (IPDNYC), a coalition of 13 Indigenous Peoples and indigenous-led organizations gathered outside the Canadian Consulate and Permanent Mission to the UN to support the Wet'suwet'en Nation in their opposition to a Coastal GasLink pipeline scheduled to enter their traditional territory in British Columbia, Canada. Erik McGregor / LightRocket / Getty Images
Tensions are continuing to rise in Canada over a controversial pipeline project as protesters enter their 12th day blockading railways, demonstrating on streets and highways, and paralyzing the nation's rail system
Horseshoe Bend (seen above) is a horseshoe-shaped meander of the Colorado River in Page, Arizona.
didier.camus
/ Flickr /
public domain
Millions of people rely on the Colorado River, but the climate crisis is causing the river to dry up, putting many at risk of "severe water shortages," according to new research, as The Guardian reported.
An alarming sign of an impending drought is the decreased snowpack in the Sierra Nevada Mountain range, as seen here in Christmas Valley, South Lake Tahoe, California on Feb. 15, 2020.
jcookfisher
/
CC BY 2.0
California is headed toward drought conditions as February, typically the state's wettest month, passes without a drop of rain. The lack of rainfall could lead to early fire conditions. With no rain predicted for the next week, it looks as if this month will be only the second time in 170 years that San Francisco has not had a drop of rain in February, according to The Weather Channel.
New and recent books explore how we can effectively respond to climate change while enhancing our health and happiness. Kei Uesugi / DigitalVision / Getty Images
A warm day in winter used to be a rare and uplifting relief.

Now such days are routine reminders of climate change – all the more foreboding when they coincide with news stories about unprecedented wildfires, record-breaking "rain bombs," or the accelerated melting of polar ice sheets.
Where, then, can one turn for hope in these dark months of the year?