This website uses cookies to ensure you get the best experience while browsing it. By clicking 'Got It' you're accepting these terms.
Renewables Beat Fossil Fuels Second Year in a Row
Apr. 21, 2015 08:39AM EST
Start spreading the news: The world is now deploying more renewable energy in the production of electricity—more wind and solar power, in particular—than it is fossil fuels. And it has been since 2013, according to the analysts at Bloomberg New Energy Finance. That year, the world added 143 gigawatts of new renewables capacity, compared to the 141 gigawatts of power generated by coal, natural gas and oil combined.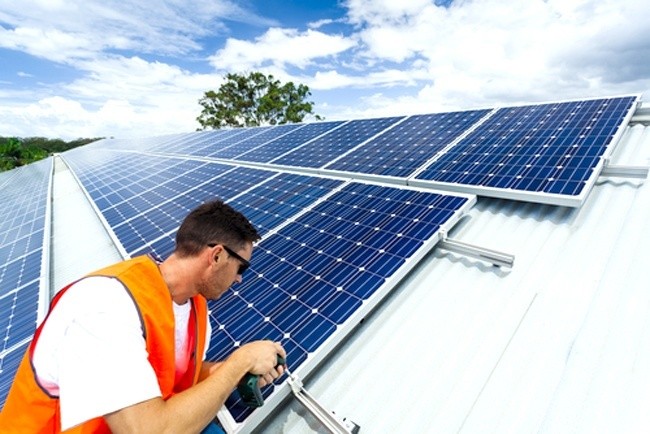 Photo credit: Shutterstock
Not only that, but by 2030, we'll likely add a whopping four times as much renewable energy generating capacity as fossil fuel capacity, the Bloomberg folks say. "The electricity system is shifting to clean," Michael Liebreich, of Bloomberg New Energy Finance, said at the company's The Future of Energy Summit 2015 in New York City last week. "Despite the change in oil and gas prices, there is going to be a substantial build-out of renewable energy that is likely to be an order of magnitude larger than the build-out of coal and gas."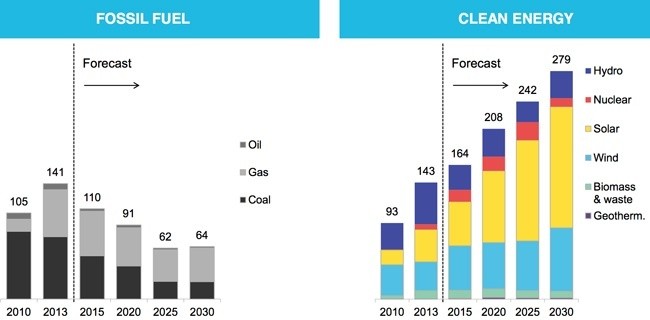 That is great news, but it doesn't mean we're out of the woods, global warming-wise. Renewables still produce less energy (gigawatt-hours) than fossil fuels. Worldwide and here in the U.S., we're still not investing nearly as much as we need to to prevent the worst impacts of climate change. But we're making headway and the goal is in sight, assuming we continue with policies that incentivize clean energy for all it has to offer. Here I mean, of course, significant climate change mitigation, cleaner air for our kids to breathe, improved public health (and the decreased healthcare spending that comes with it), and good jobs galore.
Recent advances in the deployment of renewables, and commensurate drops in fossil fuel installation, have been made possible because many nations around the world—ours included—along with their state, provincial and local governments, have used smart policies to support renewable energy. These policies have spurred demand, sped economies of scale, driven investment in improved technologies and increased competition in the marketplace, all of which, in turn, have led to breath-taking price declines in the costs of both wind and solar power.
To continue these advances around the world, and help make renewable energy even more prevalent and accessible, there's much we in the U.S. can do. And what we do in the U.S. is especially significant, because the progress we make here influences the world marketplace (Here's an example: Policy-driven demand in the U.S. helped bring Chinese solar manufacturers into the market. Their efforts, in turn, significantly drove down the cost of solar panels so that last year, they cost a mind-blowing 50 cents a watt in most places. Compare that to $1.31 a watt in 2011).
There are three federal policies, at a minimum, that need to be renewed if we are to continue to push down prices and deploy more clean energy: the Production Tax Credit for wind power and the Investment Tax Credit for offshore wind power, both of which have already expired; and the 30 percent Solar Investment Tax Credit, which remains in effect through 2016. That credit has been pivotal in solar's exponential growth in recent years, including double-digit job growth in an industry that provides good-paying jobs to many people with only high school degrees. That credit should be renewed as well.
The U.S. Environmental Protection Agency's Clean Power Plan to cut carbon pollution from existing power plants will also likely become a huge driver of renewable energy development here in the U.S. and, thus, help lower prices and increase deployment worldwide.
At the state level, renewable energy standards, which require utilities to get certain percentages of their electricity from sources such as solar and wind power, have been the major impetus behind clean energy development. These standards are under attack in some states by legislators connected with the fossil-fuel-funded American Legislative Exchange Council, and we should defend these standards with all we've got. The good news is that many states are increasing their standards so that more and more of their energy comes from renewable sources, a move the Natural Resources Defense Council encourages.
California is the current leader, with its plan to get 50 percent of its electricity from renewable sources by 2030. New York could pull ahead, though, with a 50 percent by 2025 standard that the Natural Resources Defense Council and its partners are promoting now. States can also speed the deployment of solar through more efficient permitting and interconnection processes, and, importantly, by allowing third-party developers to install solar on homes, businesses and community institutions and sell the electricity the systems generate back to customers at a reduced cost.
As renewable energy prices come down fast and the concentration of carbon pollution in our atmosphere continues to skyrocket, renewable energy offers a solution with benefits for everyone—cleaner air, good jobs and a safer climate for our kids. Smart policies that promote it and its many benefits are key to advances not just here in the U.S. but all the way around the world.
YOU MIGHT ALSO LIKE
Community Solar Bill Puts Maryland at Forefront of Renewable Energy
How You Can Go Solar Without Even Owning a Single Panel
Plus, learn if there's one that's best for your health.
Catherine Falls Commercial / Moment / Getty Images
An invasive Amynthas worm, also known as a crazy snake worm, Asian jumping worm and Alabama jumper Tom Potterfield / Flickr
By Jason Bittel
My wife and I built a house two years ago on a few acres of woodland outside of Pittsburgh. The backyard is full of maples, poplars, briars and common spicebush. Two-lined salamanders and grumpy-looking crayfish wade among the rocks in the small stream that runs down the edge of the property. Deer, raccoon and opossum tracks appear regularly in the snow and mud. Sometimes, my trail-cam even catches a pair of gray foxes as they slink through the night.
AleksandarNakic / Getty Images
By Kate Murphy
No matter the time of year, there's always a point in each season when my skin decides to cause me issues. While these skin issues can vary, I find the most common issues to be dryness, acne and redness.

David Woodfall / The Image Bank / Getty Images
By Sam Nickerson
The U.S. Environmental Protection Agency (EPA) in April 2018 proposed relaxing standards related to how it assesses the effects of exposure to low levels of toxic chemicals on public health.
Now, correspondence obtained by the LA Times revealed just how deeply involved industry lobbyists and a controversial, industry-funded toxicologist were in drafting the federal agency's proposal to scrap its current, protective approach to regulating toxin exposure.
Steve Irwin poses with a three foot long alligator at the San Francisco Zoo on June 26, 2002. Justin Sullivan / Getty Images
February 22 is the birthday of conservationist and beloved TV personality "Crocodile Hunter" Steve Irwin, who would have been 57 years old today.
Irwin's life was tragically cut short when the barb from a stingray went through his chest while he was filming in 2006, but his legacy of loving and protecting wildlife lives on, most recently in a Google Doodle today honoring his birthday.