This website uses cookies to ensure you get the best experience while browsing it. By clicking 'Got It' you're accepting these terms.
Renewable Power and Energy Efficiency on the Rise in Ohio
Feb. 17, 2012 01:26PM EST
Renewable Energy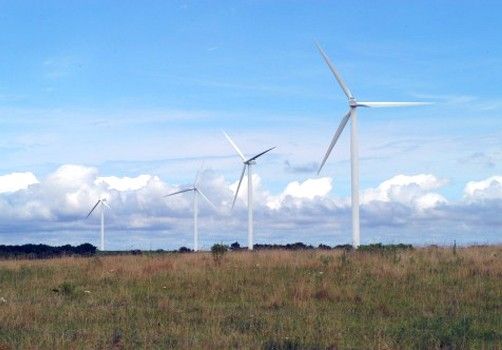 Ohio is on its way to a clean energy future, according to a new report by Environment Ohio, Ohio's Clean Energy Report Card, Year 2: Wind, Solar, and Energy Efficiency on the Rise. Two years into the implementation of the state's clean energy law, which sets standards for both renewable energy and energy efficiency, Ohio saved enough electricity each year to power 82,000 homes, among other significant benefits.
 
Coal-fired power plants still make up the vast majority of Ohio's electricity supply, and that dependence contributes to making Ohio one of the nation's largest emitters of soot, smog and global warming pollution. However, as Ohio's largest utilities are taking steps to retire some of their oldest and most inefficient plants, clean energy technologies are becoming an increasingly important part of Ohio's energy economy.
"As utilities modernize their electricity portfolios, Ohio's Clean Energy Law is putting the state on track to replace its dirtiest fuel with the cleanest," said Julian Boggs, Environment Ohio policy advocate. "Ohio is at a turning point, and we can see a clear, bright future ahead of us. Now is the time to double-down on clean energy and not look back."
 
Environment Ohio's report found that Ohio's clean energy law had been instrumental in the development of major clean energy projects across the state. In 2011, a 99 megawatt wind farm, the state's largest, went online in Paulding County. The wind farm was built after American Electric Power signed a long-term contract to purchase electricity from its developer in order to meet their targets for renewable energy generation.
Other major projects highlighted in the report include Turning Point Solar which will break ground this summer in Noble County and is expected to be one of the largest solar projects east of the Mississippi, and a solar array on a Campbell's Soup factory in Napoleon, which will be large enough to provide 15 percent of that factory's power. In the short term, however, the biggest boost to Ohio's clean energy sector has been from energy efficiency programs.
"In the short term, the cheapest, cleanest form of energy is efficiency. Ohio's energy law has been remarkably successful in getting utilities to help their consumers save money and help cut pollution at the same time," said Boggs. Utility programs saved Ohio consumers $351 million in 2009 and 2010, according to the American Council on an Energy Efficient Economy.
 
Clean energy alternatives are good news for Ohio's health, too. "Pollution from power plants has a negative public health impact," said Dr. Aparna Bole, Sustainability Manager at University Hospitals and a pediatrician at Rainbow Babies & Children's Hospital. "Here in Ohio, we have an important opportunity to invest in the health of our communities through investment in energy efficiency and renewable energy."
Ohio's growing clean energy economy is seeing jobs benefits as well. "Ohio's clean energy law ensures demand for solar energy that gives us confidence that we can grow our business," said Nael Zayed, a sales engineer with Yellowlite, Inc, a Cleveland, Ohio-based Solar Panel Installation company. "Because of the law, we've been able to grow and hire knowing that there will always be a buyer for solar power."
 
The report also evaluated individual utilities in their success in developing clean energy in 2010, the most recent year for which a complete data set was available. Dayton Power & Light and American Electric Power earned top marks for their efforts, while Duke Energy and First Energy missed the mark. Duke Energy earned a C-, coming short on securing renewable power, and FirstEnergy's D- grade largely stemmed from its failure to implement energy efficiency programs.
 
Despite these shortfalls, the report showed a very positive picture of clean energy development in Ohio. "Every single one of Ohio's utilities has been engaged in the development of clean energy. Even Duke and FirstEnergy have showed encouraging signs in 2011 and I'm optimistic that their scores will improve in our next report," said Boggs.
 
In order to further tap clean energy potential in the state, the report made several recommendations to policymakers including stronger oversight from state regulators on renewable energy and energy efficiency utility programs, and a suite of supporting policies such as stronger building codes and better financing tools. Ultimately, said Boggs, legislators should consider strengthening the standards. "Leading states have solar standards that are six times as strong as Ohio's. As the evidence continues to pour in that clean energy can provide local and sustainable energy alternatives to fossil fuels, we need to continue to be raising the bar."
Click here to download the report.
-----
Environment Ohio is a state-wide, citizen-based, environmental advocacy organization.
EcoWatch Daily Newsletter
Colombia rainforest. Marcel Oosterwijk / CC BY-SA 2.0
Many of us think of the Amazon as an untouched wilderness, but people have been thriving in these diverse environments for millennia. Due to this long history, the knowledge that Indigenous and forest communities pass between generations about plants, animals and forest ecology is incredibly rich and detailed and easily dwarfs that of any expert.
picture-alliance / Newscom / R. Ben Ari
By Wesley Rahn
Plastic byproducts were found in 97 percent of blood and urine samples from 2,500 children tested between 2014 and 2017, according to a study by the German Environment Ministry and the Robert Koch Institute.

Pexels
Medically reviewed by Daniel Bubnis, MS, NASM-CPT, NASE Level II-CSS
Hot yoga has become a popular exercise in recent years. It offers many of the same benefits as traditional yoga, such as stress reduction, improved strength, and flexibility.
Lara Hata / iStock / Getty Images
By SaVanna Shoemaker, MS, RDN, LD
Rice is a staple in many people's diets. It's filling, inexpensive, and a great mild-tasting addition to flavorful dishes.
An image of the trans-alaskan oil pipeline that carries oil from the northern part of Alaska all the way to valdez. This shot is right near the arctic national wildlife refuge. kyletperry / iStock / Getty Images Plus
The Trump administration has initialized the final steps to open up nearly 1.6 million acres of the protected Alaskan National Wildlife Refuge to allow oil and gas drilling.
Kaboompics / Pexels
Tensions between lawmakers and several large manufacturing companies came to a head on Capitol Hill this week during a hearing on toxic fluorochemicals in U.S. drinking water.