This website uses cookies to ensure you get the best experience while browsing it. By clicking 'Got It' you're accepting these terms.
Renewable Energy Surges to Record-Breaking Levels Around the World
Jun. 01, 2016 08:17AM EST
Energy
The renewable revolution is gathering apace according to new research. Last year was an "extraordinary" record year for the sector, with "the largest global capacity additions seen to date."
An estimated 147 gigawatts of renewable power capacity was added in 2015, according to the annual report of REN21, the renewables policy organization made up of energy experts, NGOs and governments, which is based in Paris.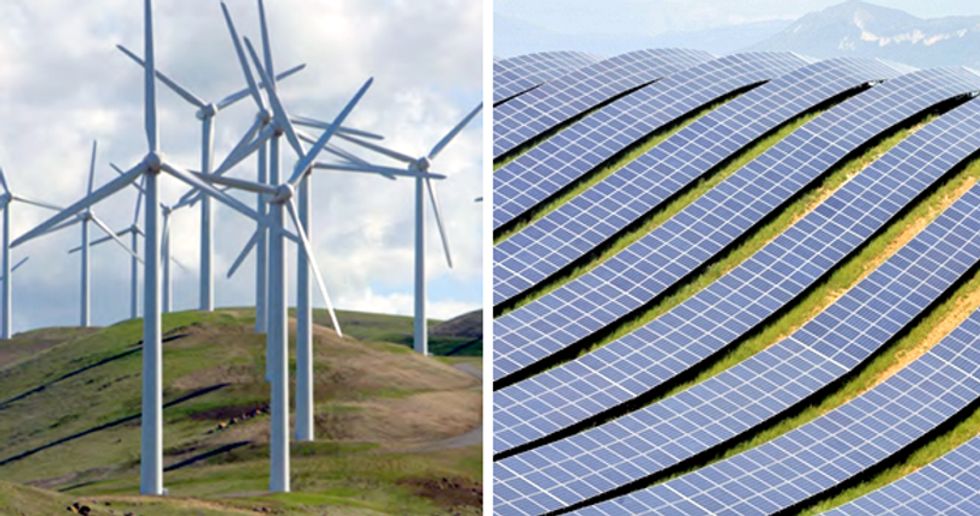 In total, new installations of renewable power generation capacity rose to 1,848.5 GW globally in 2015, underlying the fact I made in yesterday's blog that Big Oil's demise might come sooner rather than later, in part due to the renewable revolution.
Most importantly, slowly but surely every year, renewables are becoming more cost competitive with fossil fuels.
"I've been working in this sector for 20 years and the economic case is now fully there," said Christine Lins, the executive secretary of REN21: "The fact that we had 147GW of capacity, mainly of wind and solar is a clear indication that these technologies are cost competitive (with fossil fuels)."
Lins also points out that this record renewable growth has been achieved despite huge subsidies to fossil fuels. "What is truly remarkable about these results is that they were achieved at a time when fossil fuel prices were at historic lows and renewables remained at a significant disadvantage in terms of government subsidies," she said in a statement.
Lins continued: "For every dollar spent boosting renewables, nearly four dollars were spent to maintain our dependence on fossil fuels."
Most worrying for Big Oil is that this is the largest ever annual increase in installed clean capacity ever. As if to emphazise the point the amount spent on renewables was double that spent on new coal and gas-fired power plants.
In total, including large hydro projects, new investment was an estimated $328.9 billion, echoing research by Bloomberg New Energy Finance from earlier in the year which put clean energy investment a fraction higher at $329.3 billion.
More than 8 million people are now employed in the sector.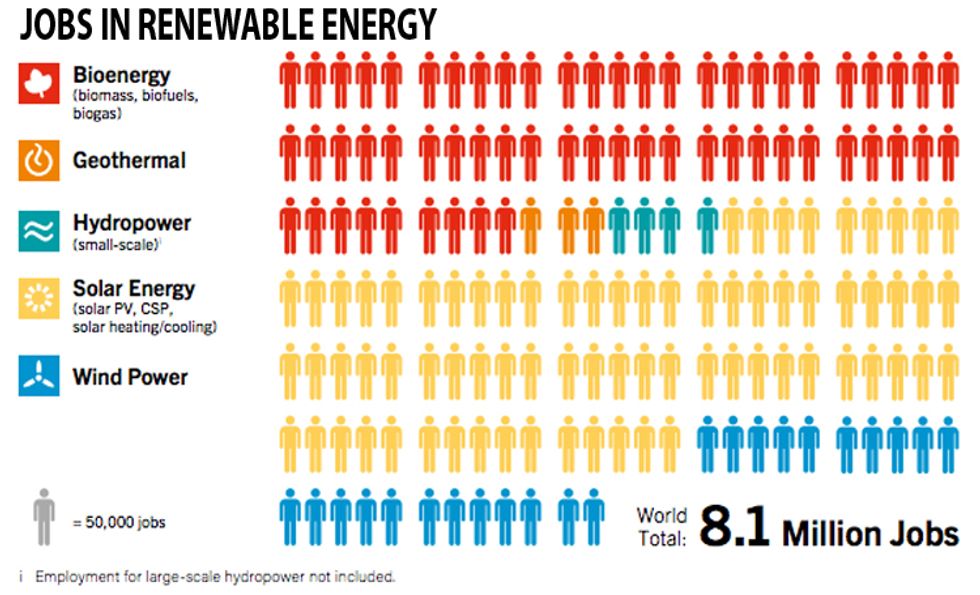 Other important trends were apparent too: For the first time ever, developing nations spent more than the developed world on renewables. "For the first time in history, total investment in renewable power and fuels in developing countries in 2015 exceeded that in developed economies," the report said.
China alone accounted for more than one-third of the global total. "The renewables industry is not just dependant on a couple of markets but it has turned into a truly global one with markets everywhere and that is really encouraging," added Christine Lins.
The report also advocated the desperate need to integrate renewables into the current power infrastructure which was built for fossil fuels. "The renewables train is barreling down the tracks, but it's running on 20th century infrastructure—a system based on outdated thinking where conventional base load is generated by fossil fuels and nuclear power," said Arthouros Zervoz, chairman of REN21.
Zervoz added: "To accelerate the transition to a healthier, more secure and climate-safe future, we need to build the equivalent of a high-speed rail network—a smarter, more flexible system that maximizes the use of variable sources of renewable energy and accommodates decentralized and community-based generation."
YOU MIGHT ALSO LIKE
It's Time to Break Saudi's Oil Monopoly and Embrace Clean Transportation
Santiago's Metro System to Become World's First to Be Powered Largely by Solar and Wind
Ready to Buy an Electric Vehicle? Here's What You Need to Know
Shell Pipeline Leaks 20,000 Gallons of Oil in California's Central Valley
EcoWatch Daily Newsletter
Coldplay is releasing a new album on Friday, but the release will not be followed by a world tour.
Ash dieback is seen infecting a European ash (Fraxinus excelsior) in Bottomcraig, Scotland, UK on Aug. 10, 2016.
nz_willowherb / Flickr
Scientists have discovered a genetic basis to resistance against ash tree dieback, a devastating fungal infection that is predicted to kill over half of the ash trees in the region, and it could open up new possibilities to save the species.
Truth in Action is a day-long global conversation on the climate crisis and how we solve it. The Climate Reality Project
Former Vice President Al Gore kicked off 24 hours of climate talks in the U.S. and 77 other countries around the world Wednesday night.
Activists highlighted the climate emergency outside Scottish Government headquarters at St Andrew's House in Edinburgh on Oct. 13, 2017. Usage of the term "climate emergency" spiked in 2019, according to Oxford Dictionaries.
By Jessica Corbett
Climate advocates and experts celebrated Oxford Dictionaries' announcement Wednesday that "climate emergency" is the Oxford Word of the Year 2019.
By Kieran Cooke
There could be a way of countering one key aspect of the climate emergency by making much greater use of a widely-available plant: bamboo building.