This website uses cookies to ensure you get the best experience while browsing it. By clicking 'Got It' you're accepting these terms.
Renewable Energy Jobs Continue to Grow
Sep. 02, 2014 08:34AM EST
Business
As Labor Day retreats in the rear view mirror, a new report from nonprofit, nonpartisan business group Environmental Entrepreneurs (E2) offers a positive job growth outlook for one sector: clean energy.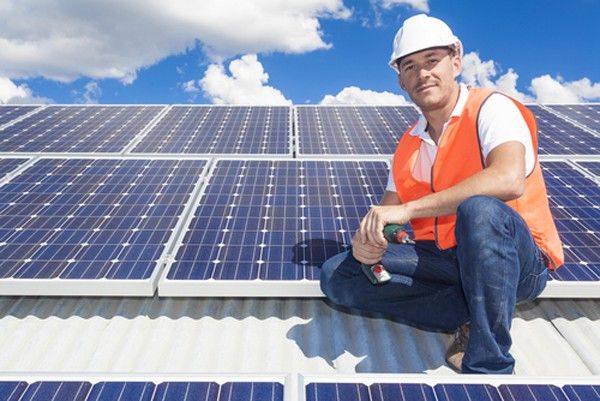 Solar energy is a job creator, with more than 5,300 jobs announced in the second quarter of 2014. Photo credit: Shutterstock
While the coal and fracking industries try to make their case with an emotional appeal to anxious workers, saying that regulating these industries will cost jobs in a still-struggling economy (and despite record declines in mining jobs due to mechanization), the report shows that the new energy technologies are a growth area for labor.
"Clean Energy Works for Us: Second Quarter 2014 Report" says 12,500 new jobs were announced in the areas of clean energy and clean transportation, double the number in the first quarter. It says:
Solar power generation led all sectors in Q2 with more than 5,300 jobs announced, and the wind industry announced more than 2,700 jobs, many stemming from projects that qualified for the recently expired Production Tax Credit (PTC). Other major announcements came from electric car manufacturers Tesla and General Motors.
While celebrating the findings, the group warns that policy uncertainty—measures such as Ohio's freeze and possible repeal of its clean energy standards—could put a damper on growth.
"This Labor Day weekend, the story is that more Americans are working because of clean energy," said E2 executive director Bob Keefe. "But to keep that growth going, we need our state and federal leaders to do their jobs too. We need them to support smart policies that grow our economy and protect our environment— policies like the federal Clean Power Plan."
That plan, announced by the U.S. Environmental Protection Agency in June, cuts carbon from power plants by 30 percent by 2030. That policy could create hundreds of thousands of jobs in renewable energy along the way.
Wind Power Monthly reports a similar optimistic take on worldwide job opportunities in clean energy while issuing a similar caveat in an article "The Challenge of Wind Recruitment."
In interviews, three wind energy executives pointed to the growing need for skilled workers in their field. In the article, Eddie Halkett, group business development director for energy company EarthStream said that continued growth in wind energy could produce as many as 2.6 million jobs worldwide by 2030.
"The challenge is to establish and preserve a sustainable, international skills market that does not fluctuate and decline as a result of inconsistent investment, political interference and fierce competition from other subsidised energy sources," he said.
YOU ALSO MIGHT LIKE
Global Renewable Energy Jobs Grow to 6.5 Million
Powering America: How Solar Energy Creates Green Jobs and Grows the Economy
Leonardo DiCaprio Narrates Climate Change Films Urging Shift From Fossil Fuels to Renewables
EcoWatch Daily Newsletter
People carry children on a flooded street in Almoradi, Spain on Sept. 13. JOSE JORDAN / AFP / Getty Images
Large food companies are following in the footsteps of fast-food restaurants such as Burger King and KFC by offering meat alternatives. Getty Images
By Elizabeth Pratt
Hormel, Kellogg's, and Kroger are among the large companies now planning to offer "fake meat" products at grocery stores.
Experts say the trend toward plant-based meats coincides with consumers' desires to eat less meat.
However, experts urge consumers to closely check package labels as a product isn't necessarily healthy just because it's described as plant-based.
In grocery stores and fast-food outlets around the U.S., a revolution is taking place.
Colombia rainforest. Marcel Oosterwijk / CC BY-SA 2.0
Many of us think of the Amazon as an untouched wilderness, but people have been thriving in these diverse environments for millennia. Due to this long history, the knowledge that Indigenous and forest communities pass between generations about plants, animals and forest ecology is incredibly rich and detailed and easily dwarfs that of any expert.
picture-alliance / Newscom / R. Ben Ari
By Wesley Rahn
Plastic byproducts were found in 97 percent of blood and urine samples from 2,500 children tested between 2014 and 2017, according to a study by the German Environment Ministry and the Robert Koch Institute.

Pexels
Medically reviewed by Daniel Bubnis, MS, NASM-CPT, NASE Level II-CSS
Hot yoga has become a popular exercise in recent years. It offers many of the same benefits as traditional yoga, such as stress reduction, improved strength, and flexibility.
Lara Hata / iStock / Getty Images
By SaVanna Shoemaker, MS, RDN, LD
Rice is a staple in many people's diets. It's filling, inexpensive, and a great mild-tasting addition to flavorful dishes.
An image of the trans-alaskan oil pipeline that carries oil from the northern part of Alaska all the way to valdez. This shot is right near the arctic national wildlife refuge. kyletperry / iStock / Getty Images Plus
The Trump administration has initialized the final steps to open up nearly 1.6 million acres of the protected Alaskan National Wildlife Refuge to allow oil and gas drilling.