This website uses cookies to ensure you get the best experience while browsing it. By clicking 'Got It' you're accepting these terms.
Renewable Energy 'Creates More Jobs Than Fossil Fuels'
Nov. 11, 2014 08:30AM EST
A new study by the UK's Energy Research Centre (UKERC) took a deep dive into job creation claims made by proponents of renewable energy and energy efficiency, looking at the figures and projected figures for the EU from a number of angles. It came to the conclusion that in the short run, moving to renewables and ramping up energy conservation would create more jobs than the fossil fuel sector, at a rate of about one job per gigawatt hour of electricity saved or generated by a clean energy source, with the long-term picture murkier because of factors in the economy and government policy that are hard to predict.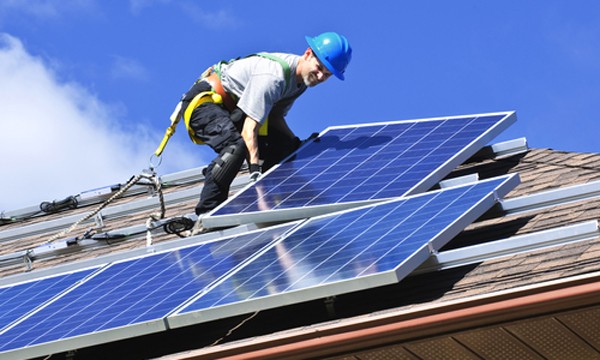 Photo credit: Shutterstock
The report, Low Carbon Jobs: The evidence for net job creation from policy support for energy efficiency and renewable energy, said, "'Green' sectors account for as many as 3.4 million jobs in the EU, or 1.7 percent of all paid employment, more than car manufacturing or pharmaceuticals. Given the size of the green jobs market, and the expectation of rapid change and growth, there is a pressing need to independently analyse labour market dynamics and skills requirements in these sectors. What is more controversial is the question of whether policy-driven expansion of specific green sectors actually creates jobs, particularly when the policies in question require subsidies that are paid for through bills or taxes. Politicians often cite employment benefits as part of the justification for investing in clean energy projects such as renewables and energy efficiency. However, other literature is more sceptical, claiming that any intervention that raises costs in the energy sector will have an adverse impact on the economy as a whole."
The report focused not simply on job creation, but on net job creation, subtracting the number of fossil fuel-based jobs that could potentially be displaced by spending on green infrastructure projects. It also employs "counterfactuals": what other power generation sources would have been built instead without green policies. It says that over-optimistic green jobs figures don't take this into account. But it also says that jobs skeptics tend to be overly broad in their application of counterfactuals.
"There is a reasonable degree of evidence that in general, renewable energy and energy efficiency are more labor-intensive in terms of electricity produced than either coal- or gas-fired power plant," the report said. "This implies that at least in the short-term, building new renewable generation capacity or investing in greater energy efficiency to avoid the need for new generation would create more jobs than investing in an equivalent level of fossil fuel-fired generation. ... Therefore, if investment in new power generation is needed, renewables and energy efficiency can contribute to short-term job creation so long as the economy is experiencing an output gap, such as is the case during and shortly after recession.  However, long-term impacts will depend on how these investments ripple through the economy, and in particular the impact on disposable household incomes."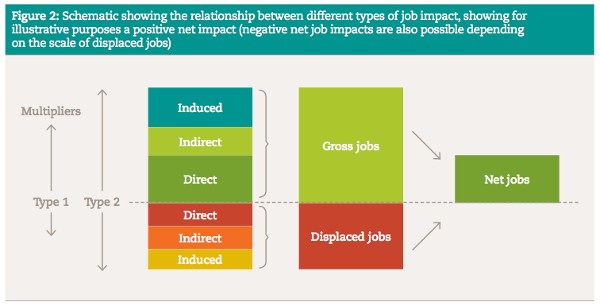 In the end, moving to clean energy sources is about much more than job creation as Simon Evans at The Carbon Brief notes in his analysis of the report and breakdown of its complex models.
"Ultimately though, the UK is attempting to decarbonize because of the risks of unmanaged climate change—not because of green job creation," he saids. "The UKERC report reveals the limitations of jobs creation studies, but doesn't change that ultimate rationale for low-carbon policy."
YOU MIGHT ALSO LIKE
10 Reasons Renewable Energy Can Save the Planet
Wind Energy Could Generate Nearly 20 Percent of World's Electricity by 2030
KarinaKnyspel / iStock / Getty Images
2018 saw a number of studies pointing to the outsized climate impact of meat consumption. Beef has long been singled out as particularly unsustainable: Cows both release the greenhouse gas methane into the atmosphere because of their digestive processes and require a lot of land area to raise. But for those unwilling to give up the taste and texture of a steak or burger, could lab-grown meat be a climate-friendly alternative? In a first-of-its-kind study, researchers from the Oxford Martin School set out to answer that question.
Three scissor-tailed flycatcher fledglings in a mesquite tree in Texas. Texas Eagle / CC BY-NC 2.0
By Gary Paul Nabhan
President Trump has declared a national emergency to fund a wall along our nation's southern border. The border wall issue has bitterly divided people across the U.S., becoming a vivid symbol of political deadlock.
PeopleImages / E+ / Getty Images
By Daniel Ross
Hurricane Florence, which battered the U.S. East Coast last September, left a trail of ruin and destruction estimated to cost between $17 billion and $22 billion. Some of the damage was all too visible—smashed homes and livelihoods. But other damage was less so, like the long-term environmental impacts in North Carolina from hog waste that spilled out over large open-air lagoons saturated in the rains.
Hog waste can contain potentially dangerous pathogens, pharmaceuticals and chemicals. According to the state's Department of Environmental Quality, as of early October nearly 100 such lagoons were damaged, breached or were very close to being so, the effluent from which can seep into waterways and drinking water supplies.
This picture taken on May 21, 2018 shows discarded climbing equipment and rubbish scattered around Camp 4 of Mount Everest. Decades of commercial mountaineering have turned Mount Everest into the world's highest rubbish dump as an increasing number of big-spending climbers pay little attention to the ugly footprint they leave behind. DOMA SHERPA / AFP / Getty Images
China has closed its Everest base camp to tourists because of a buildup of trash on the world's tallest mountain.