This website uses cookies to ensure you get the best experience while browsing it. By clicking 'Got It' you're accepting these terms.
Renewable Energy 'Creates More Jobs Than Fossil Fuels'
Nov. 11, 2014 08:30AM EST
A new study by the UK's Energy Research Centre (UKERC) took a deep dive into job creation claims made by proponents of renewable energy and energy efficiency, looking at the figures and projected figures for the EU from a number of angles. It came to the conclusion that in the short run, moving to renewables and ramping up energy conservation would create more jobs than the fossil fuel sector, at a rate of about one job per gigawatt hour of electricity saved or generated by a clean energy source, with the long-term picture murkier because of factors in the economy and government policy that are hard to predict.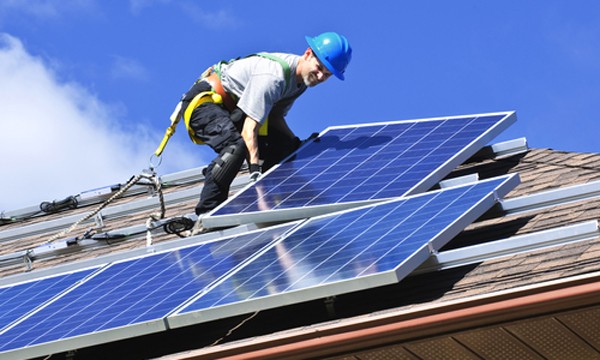 Photo credit: Shutterstock
The report, Low Carbon Jobs: The evidence for net job creation from policy support for energy efficiency and renewable energy, said, "'Green' sectors account for as many as 3.4 million jobs in the EU, or 1.7 percent of all paid employment, more than car manufacturing or pharmaceuticals. Given the size of the green jobs market, and the expectation of rapid change and growth, there is a pressing need to independently analyse labour market dynamics and skills requirements in these sectors. What is more controversial is the question of whether policy-driven expansion of specific green sectors actually creates jobs, particularly when the policies in question require subsidies that are paid for through bills or taxes. Politicians often cite employment benefits as part of the justification for investing in clean energy projects such as renewables and energy efficiency. However, other literature is more sceptical, claiming that any intervention that raises costs in the energy sector will have an adverse impact on the economy as a whole."
The report focused not simply on job creation, but on net job creation, subtracting the number of fossil fuel-based jobs that could potentially be displaced by spending on green infrastructure projects. It also employs "counterfactuals": what other power generation sources would have been built instead without green policies. It says that over-optimistic green jobs figures don't take this into account. But it also says that jobs skeptics tend to be overly broad in their application of counterfactuals.
"There is a reasonable degree of evidence that in general, renewable energy and energy efficiency are more labor-intensive in terms of electricity produced than either coal- or gas-fired power plant," the report said. "This implies that at least in the short-term, building new renewable generation capacity or investing in greater energy efficiency to avoid the need for new generation would create more jobs than investing in an equivalent level of fossil fuel-fired generation. ... Therefore, if investment in new power generation is needed, renewables and energy efficiency can contribute to short-term job creation so long as the economy is experiencing an output gap, such as is the case during and shortly after recession.  However, long-term impacts will depend on how these investments ripple through the economy, and in particular the impact on disposable household incomes."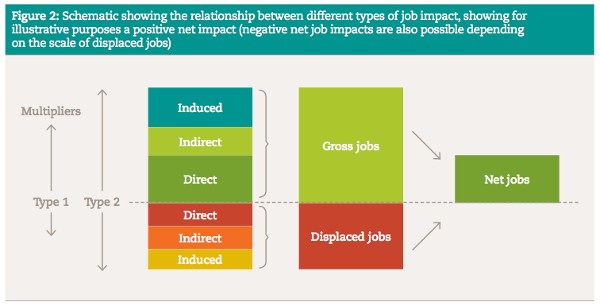 In the end, moving to clean energy sources is about much more than job creation as Simon Evans at The Carbon Brief notes in his analysis of the report and breakdown of its complex models.
"Ultimately though, the UK is attempting to decarbonize because of the risks of unmanaged climate change—not because of green job creation," he saids. "The UKERC report reveals the limitations of jobs creation studies, but doesn't change that ultimate rationale for low-carbon policy."
YOU MIGHT ALSO LIKE
10 Reasons Renewable Energy Can Save the Planet
Wind Energy Could Generate Nearly 20 Percent of World's Electricity by 2030
The Russian military is taking measures to protect the residents of a remote Arctic settlement from a mass of polar bears, German press agency DPA reported.
The move comes after regional authorities declared a state of emergency over the weekend after sightings of more than 50 bears in the town of Belushya Guba since December.
This year's letter from Bill and Melinda Gates focused on nine things that surprised them. For the Microsoft-cofounder, one thing he was surprised to learn was the massive amount of new buildings the planet should expect in the coming decades due to urban population growth.
"The number of buildings in the world is going to double by 2060. It's like we're going to build a new New York City every month for the next 40 years," he said.
Over the past few years, it seems vegan cooking has gone from 'brown rice and tofu' to a true art form. These amazing cooks show off the creations on Instagram—and we can't get enough.
The USS Ashland, followed by the USS Green Bay, in the Philippine Sea on Jan. 21. U.S. Department of Defense
By Shana Udvardy
After a dearth of action on climate change and a record year of extreme events in 2017, the inclusion of climate change policies within the annual legislation Congress considers to outline its defense spending priorities (the National Defense Authorization Act) for fiscal year 2018 was welcome progress. House and Senate leaders pushed to include language that mandated that the Department of Defense (DoD) incorporate climate change in their facility planning (see more on what this section of the bill does here and here) as well as issue a report on the impacts of climate change on military installations. Unfortunately, what DoD produced fell far short of what was mandated.
The Paradise Fossil Plant in western Kentucky. CC BY 3.0
Trump is losing his rallying cry to save coal. The Tennessee Valley Authority (TVA) voted on Thursday to retire two coal-fired power plants in the next few years despite a plea from the president to keep one of the plants open.
Earlier this week, the president posted an oddly specific tweet that urged the government-owned utility to save the 49-year-old Paradise 3 plant in Kentucky. It so happens that the facility burns coal supplied by Murray Energy Corporation, whose CEO is Robert Murray, is a major Trump donor.