This website uses cookies to ensure you get the best experience while browsing it. By clicking 'Got It' you're accepting these terms.
Renewable Energy 'Creates More Jobs Than Fossil Fuels'
Nov. 11, 2014 08:30AM EST
Business
A new study by the UK's Energy Research Centre (UKERC) took a deep dive into job creation claims made by proponents of renewable energy and energy efficiency, looking at the figures and projected figures for the EU from a number of angles. It came to the conclusion that in the short run, moving to renewables and ramping up energy conservation would create more jobs than the fossil fuel sector, at a rate of about one job per gigawatt hour of electricity saved or generated by a clean energy source, with the long-term picture murkier because of factors in the economy and government policy that are hard to predict.
Photo credit: Shutterstock
The report, Low Carbon Jobs: The evidence for net job creation from policy support for energy efficiency and renewable energy, said, "'Green' sectors account for as many as 3.4 million jobs in the EU, or 1.7 percent of all paid employment, more than car manufacturing or pharmaceuticals. Given the size of the green jobs market, and the expectation of rapid change and growth, there is a pressing need to independently analyse labour market dynamics and skills requirements in these sectors. What is more controversial is the question of whether policy-driven expansion of specific green sectors actually creates jobs, particularly when the policies in question require subsidies that are paid for through bills or taxes. Politicians often cite employment benefits as part of the justification for investing in clean energy projects such as renewables and energy efficiency. However, other literature is more sceptical, claiming that any intervention that raises costs in the energy sector will have an adverse impact on the economy as a whole."
The report focused not simply on job creation, but on net job creation, subtracting the number of fossil fuel-based jobs that could potentially be displaced by spending on green infrastructure projects. It also employs "counterfactuals": what other power generation sources would have been built instead without green policies. It says that over-optimistic green jobs figures don't take this into account. But it also says that jobs skeptics tend to be overly broad in their application of counterfactuals.
"There is a reasonable degree of evidence that in general, renewable energy and energy efficiency are more labor-intensive in terms of electricity produced than either coal- or gas-fired power plant," the report said. "This implies that at least in the short-term, building new renewable generation capacity or investing in greater energy efficiency to avoid the need for new generation would create more jobs than investing in an equivalent level of fossil fuel-fired generation. ... Therefore, if investment in new power generation is needed, renewables and energy efficiency can contribute to short-term job creation so long as the economy is experiencing an output gap, such as is the case during and shortly after recession.  However, long-term impacts will depend on how these investments ripple through the economy, and in particular the impact on disposable household incomes."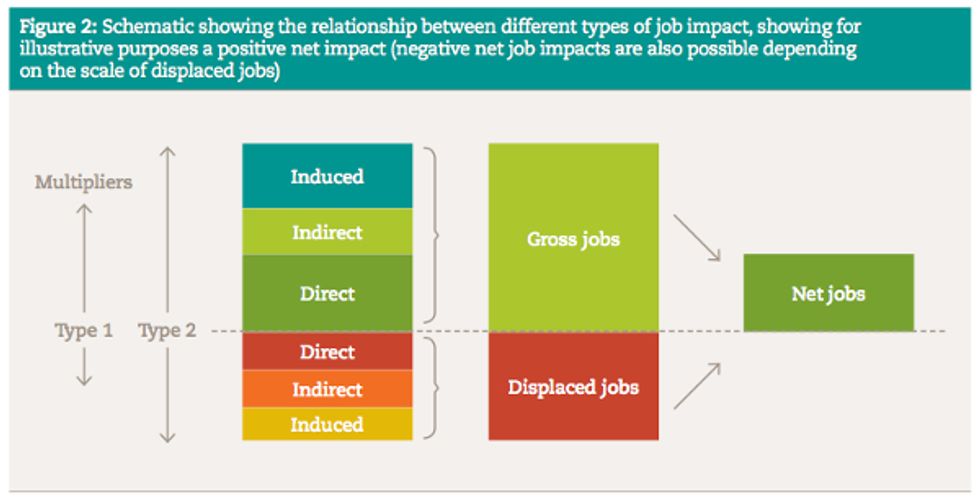 In the end, moving to clean energy sources is about much more than job creation as Simon Evans at The Carbon Brief notes in his analysis of the report and breakdown of its complex models.
"Ultimately though, the UK is attempting to decarbonize because of the risks of unmanaged climate change—not because of green job creation," he saids. "The UKERC report reveals the limitations of jobs creation studies, but doesn't change that ultimate rationale for low-carbon policy."
YOU MIGHT ALSO LIKE
10 Reasons Renewable Energy Can Save the Planet
Wind Energy Could Generate Nearly 20 Percent of World's Electricity by 2030
EcoWatch Daily Newsletter
A harbour seal on an ice floe in Glacier Bay, Alaska. A new study shows that the climate crisis has warmed waters, changing ecosystems and crippling sea ice growth. Janette Hill / robertharding / Getty Images Plus
Doctors report that only 1 in 4 children are getting the recommended 60 minutes of physical activity per day. Ronnie Kaufman / DigitalVision / Getty Images
By Dan Gray
Pediatricians are being urged to start writing "exercise prescriptions" for the children they see in their office.
A First Nations protester walks in front of a train blockade in Tyendinaga, near Belleville, Ontario, Canada on Feb. 21, 2020. LARS HAGBERG / AFP via Getty Images
An indigenous rail blockade that snarled train travel in Canada for more than two weeks came to an end Monday when police moved in to clear protesters acting in solidarity with another indigenous community in British Columbia (B.C.), which is fighting to keep a natural gas pipeline off its land.
A rainbow snake, a rare reptile spotted in a Florida county for the first time in more than 50 years, seen here on July 5, 2013.
Kevin Enge / FWC Fish and Wildlife Research Institute / Flickr
A Florida hiker recently stumbled across a slithering surprise — a rare snake that hadn't been spotted in the area for more than 50 years.
We need our government to do everything it can to stop PFAS contamination and exposure from wreaking havoc in communities across the country. LuAnn Hun /
Unsplash
By Genna Reed
The EPA announced last week that it is issuing a preliminary regulatory determination for public comment to set an enforceable drinking water standard to two of the most common and well-studied PFAS, PFOA and PFOS.
This decision is based on three criteria:
PFOA and PFOS have an adverse effect on public health
PFOA and PFOS occur in drinking water often enough and at levels of public health concern;
regulation of PFOA and PFOS is a meaningful opportunity for reducing the health risk to those served by public water systems.