This website uses cookies to ensure you get the best experience while browsing it. By clicking 'Got It' you're accepting these terms.
Renewable Energy Co-op Races Toward Milestone Project
May. 20, 2015 08:23AM EST

An innovative renewable energy cooperative in the Northeast is racing toward a June 1 deadline to finish the financing needed to build Northeast Biodiesel, a refinery that will make liquid fuel from waste vegetable oil collected from area restaurants and institutions.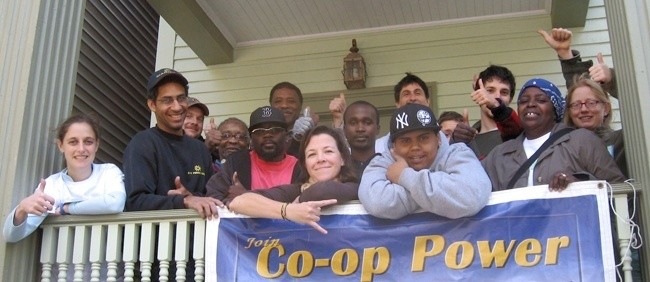 Co-op Power is a member-owned cooperative that helps launch renewable and energy efficiency businesses that are owned in part by its 475 members (in full disclosure, I'm one) from five states in the Northeast. Its clever hack of the cooperative structure has given rise to a dozen plus such businesses in the last 10 years, from large solar arrays on food coops to crews of workers who tighten up homes and businesses against the elements, creating over 100 new green jobs in the region to date.
Its business model that roots equity in local economies has been written up widely and highlighted by authors like Michael Shuman in his great Local Dollars, Local Sense and in the community-owned power manual Power from the People by Greg Pahl (both essential reading published by Chelsea Green). Groups around the nation have since taken up the coop's blueprint that leverages member equity with grants, loans and other financial instruments to create member and community-owned renewable energy assets.
The keystone project for Co-op Power is certainly the biodiesel refinery, which will make diesel and home heating oil from recycled vegetable oil collected in the area.

As reported this week, the coop "has raised and spent more than $2 million to date for the land, site work, foundation and building, installed tanks, equipment and a biodiesel processor. The group has received a building permit to complete construction. In the past few months, Co-op Power has hired a general manager and has completed final engineering designs and received construction bids. Once funds have been secured, final plans will be submitted to the town for the final permit."
It needs a final $850,000 to close that deal, which itself is a case study in 'patient capital.' Originally projected to be operational in 2006 or 2007, the Wall Street-generated economic crash of 2008 set the bio-refinery plans back by many years when grassroots supporters lacked cash to invest and traditional partners like banks became allergic to new ideas.
Refusing offers of venture capital and its attendant loss of ownership, the coop has soldiered on in grassroots fashion, raising the needed funds largely from members, friends and angel investors. With a startup capacity of 5,000 gallons of biodiesel a day created from used cooking oil, Northeast Biodiesel will sell to the transportation and home heating markets (the fuel is identical to home heating oil and can be blended to a high degree with its fossil-based counterpart). Once operational, the plant should be able to add a second processor within a year, for a total capacity of 3.5 million gallons a year.
Now Co-op Power is looking for new members and partners as it brings its signature project to the next level. While I feel that one shouldn't use overuse the term 'amazing,' this project and the huge community effort it's taken to get it to this point certainly is.
YOU MIGHT ALSO LIKE
This Company Is Leading the Charge to Expedite Renewable Energy
4 Climate Surprises From Al Gore in Iowa
Thrilling Ted Talk Looks at the First 21 Days of a Bee's Life
Plus, learn if there's one that's best for your health.
Catherine Falls Commercial / Moment / Getty Images
An invasive Amynthas worm, also known as a crazy snake worm, Asian jumping worm and Alabama jumper Tom Potterfield / Flickr
By Jason Bittel
My wife and I built a house two years ago on a few acres of woodland outside of Pittsburgh. The backyard is full of maples, poplars, briars and common spicebush. Two-lined salamanders and grumpy-looking crayfish wade among the rocks in the small stream that runs down the edge of the property. Deer, raccoon and opossum tracks appear regularly in the snow and mud. Sometimes, my trail-cam even catches a pair of gray foxes as they slink through the night.
AleksandarNakic / Getty Images
By Kate Murphy
No matter the time of year, there's always a point in each season when my skin decides to cause me issues. While these skin issues can vary, I find the most common issues to be dryness, acne and redness.

David Woodfall / The Image Bank / Getty Images
By Sam Nickerson
The U.S. Environmental Protection Agency (EPA) in April 2018 proposed relaxing standards related to how it assesses the effects of exposure to low levels of toxic chemicals on public health.
Now, correspondence obtained by the LA Times revealed just how deeply involved industry lobbyists and a controversial, industry-funded toxicologist were in drafting the federal agency's proposal to scrap its current, protective approach to regulating toxin exposure.
Steve Irwin poses with a three foot long alligator at the San Francisco Zoo on June 26, 2002. Justin Sullivan / Getty Images
February 22 is the birthday of conservationist and beloved TV personality "Crocodile Hunter" Steve Irwin, who would have been 57 years old today.
Irwin's life was tragically cut short when the barb from a stingray went through his chest while he was filming in 2006, but his legacy of loving and protecting wildlife lives on, most recently in a Google Doodle today honoring his birthday.