Removal of Cancer-Causing Chemicals in Cosmetics Gains Momentum
Dec. 19, 2014 11:07AM EST
Health + Wellness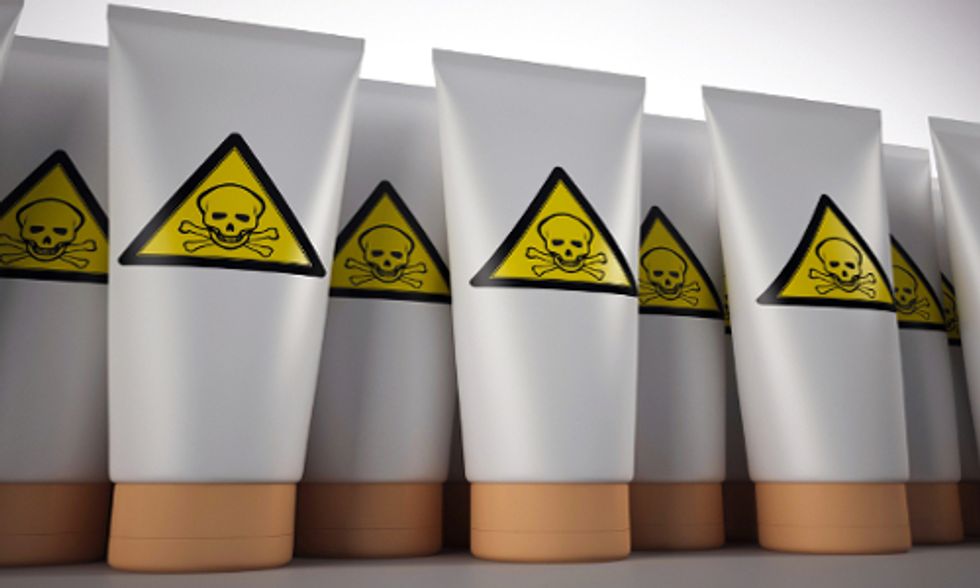 Revlon, one of the oldest and best known names in beauty and personal care products, has announced it will remove some toxic chemicals from its products. They include some long-chain parabens and some formaldehyde-releasing chemicals.
The news comes against a background of heightened awareness of the dangers of chemicals used in a range of commonly used personal care products. Last month, for instance, Women's Voices for the Earth released a major study called Beauty and the Beast, revealing the health impacts on salon workers of long-term exposure to chemicals in the products they use. Last year, more than 100,000 people signed a petition by the Environmental Working Group (EWG), urging Revlon to make this move.
"We are pleased that Revlon has acted to remove these toxic ingredients," said EWG executive director Heath White. "Long-chain parabens and formaldehyde-releasing chemicals have no place in everyday cosmetic products. We applaud Revlon for taking these important steps and hope that other companies will follow Revlon's lead by reformulating their products to remove chemicals that have been linked to serious health problems. The move by Revlon confirms that companies can produce cosmetics products without these troubling ingredients. Today's news reflects real progress, but more reformulation and ongoing review of the science is needed."
Long-chained parabens, used as preservatives in many cosmetics like lotions, creams and deodorants, have been in the news as endocrine disruptors with links to breast cancer and decreased fertility. Johnson & Johnson agreed to stop using them two years ago but they're still found in many cosmetics under names like propylparaben, isopropylparaben, butylparaben and isobutylparaben.
Formaldehyde is also a preservative, and formaldehyde releasers are designed to interact with water in products like shampoos, conditioners and bubble baths—including those designed for children—to unlock it. It's an allergen and a potential carcinogen, listed on labels as DMDM hydantoin, imidazolidinyl urea, diazolidinyl urea and quaternium-15. Johnson & Johnson has also started phasing out these chemicals.
But while companies like Johnson & Johnson and Revlon have already responded to public pressure, many others have yet to do so. The Story of Stuff Project is leading a campaign to pressure L'Oreal to remove the potentially cancer-causing ingredients as well. Its Campaign for Safe Cosmetics points out that the company is using Ovarian Cancer Awareness to market its products, which include formaldehyde releasers and other ingredients that have links to cancer.
"The Campaign for Safe Cosmetics has reviewed the scientific literature on carcinogens and found a whole host of carcinogens, formaldehyde releasers and contaminants in products sold under the L'Oreal, Maybelline and Garnier brands—all owned by L'Oreal," said the organization. "Many of the chemicals L'Oreal uses have already been banned in certain countries, but the company continues to ship toxic formulas to countries with weaker regulations. There is no reason for L'Oreal to put cancer-causing chemicals in its personal beauty products when safer alternatives exist."
YOU MIGHT ALSO LIKE
3 Common Chemicals That May Cause Breast Cancer
Toxic Chemicals in Salons Linked to Adverse Health Effects, Including Cancer
EcoWatch Daily Newsletter
Related Articles from EcoWatch
Recent Stories from EcoWatch