Removal of 4 Dams to Reopen 420 Miles of Historic Salmon Habitat on Klamath River
It's been 115 years since the first of six dams began regulating flows on the Klamath River, which runs from the high desert of eastern Oregon to the northern California coast.
By 2020 most of them will be gone—and the river's once-abundant salmon runs hopefully on the rebound—if two new agreements between tribal, state and federal governments, the operator and other stakeholders work out as planned.
On Wednesday, standing before the mouth of the Klamath River on the Yurok Reservation in California, Secretary of the Interior Sally Jewell announced that the federal departments of the interior and commerce, along with the states of Oregon and California and the Karuk and Yurok tribes, have signed a new agreement with electric power company PacifiCorp to decommission and remove four hydropower dams along the Klamath River.
The agreement creates a "path forward for the largest river restoration in the history of the United States," along with "the largest dam removal project in the history of our nation," Jewell said.
The new pact will allow PacifiCorp to take three dams in California—Copco 1, Copco 2 and the Iron Gate Dam—and the John C. Boyle Dam in Oregon out of service by using the Federal Energy Regulatory Commission's established licensing process for hydropower.
PacifiCorp's license to operate the dams expired in 2006. An earlier agreement to authorize their removal, created in 2010, required Congressional approval and expired at the end of 2015 after Congress adjourned without enacting it.
"From the company's point of view, we have the same agreement [today] that we negotiated since 2008," said Bob Gravely, a spokesperson for PacifiCorp. "This is simply a way to continue pursuing it without needing involvement from Congress."
The second agreement commits the state and federal governments to assisting farmers and ranchers in the river's upper basin with the likely financial and regulatory impacts of returning fish runs, which will need to be protected from irrigation infrastructure.
While the Klamath River's runs of spring and fall Chinook salmon have not been formally declared endangered, they have been faltering for years. And since 1997, the Klamath River run of coho salmon has been listed as threatened under the federal Endangered Species Act.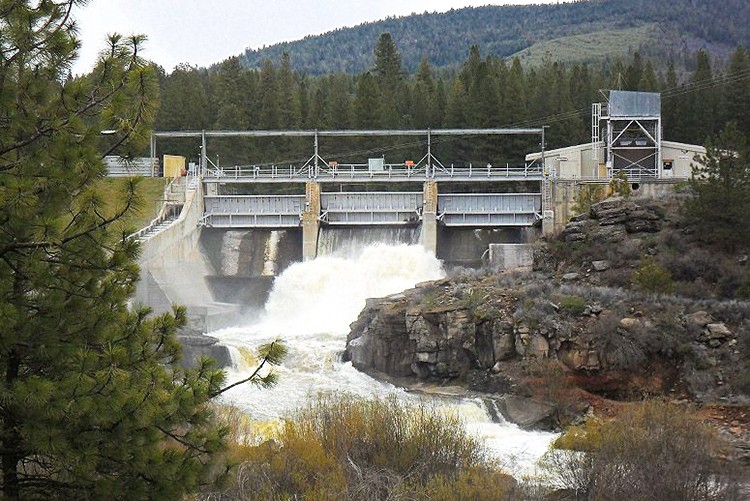 This year's salmon runs are expected to hit historic lows, as drought and the impacts of climate change intensify the effects of poor river conditions created by the dams.
"By removing dams we're reopening hundreds of miles of spawning habitat and dramatically improving water quality," said Craig Tucker, natural resources policy advocate for the 4,000-member Karuk Tribe of California, which has signed on to the new agreement. "The Karuk, and the Yurok and other people in this basin are salmon people. Their cultures, their economies, their religion, all rely upon the return of the salmon."
The removal of the four dams will be the necessary first step in restoring the river's fish habitat, Tucker said, but much more will need to be done, including restoration of marshes and other wetlands in the upper basin.
Lack of salmon has led many Karuk to consume a more Western diet, Tucker said, leading to rates of heart disease, diabetes and obesity in the tribe that outpace national averages. "Historically, research shows that Karuk consumed 1.2 pounds of salmon per person per day. Now we're lucky if each person gets four pounds a year," he said.
The absence of the salmon has also harmed the tribe's religious practices, including one ceremony tied to the arrival of the first spring Chinook. "The spring salmon is probably the most at-risk run of salmon in the river," Tucker said. "You can't have that ceremony without salmon."
Hosts of other important ceremonies traditionally "feed everyone with salmon who comes and if there are no fish, they can't meet that obligation," Tucker added. "It would be like if the Pope didn't have enough wine and crackers for mass."
"We see removal of these dams as the single biggest act of restoration that can be carried out on the Klamath," Tucker said. "I would assert that it's the biggest salmon restoration project in U.S. history."
This article was reposted with permission from our media associate TakePart.

YOU MIGHT ALSO LIKE
Half of World Heritage Sites at Risk From Fossil Fuel Development and Other Industries
Protecting the Earth Is Not a Crime
Groups Sue FDA Over Approval of Genetically Engineered Salmon
Maryland to Become First State to Ban Bee-Killing Pesticides for Consumer Use
Wikimedia Commons
By Stacy Malkan
Neil deGrasse Tyson has inspired millions of people to care about science and imagine themselves as participants in the scientific process. What a hopeful sign it is to see young girls wearing t-shirts emblazoned with the words, "Forget princess, I want to be an astrophysicist."
Keep reading...
Show less
www.youtube.com
By Andy Rowell
Any day now we will truly witness climate change in action. Within days at worst, maybe weeks at best, scientists predict that a huge section of the Larsen C ice shelf in Antarctica will break off into the ocean, in what is called a major "carving" event.
Keep reading...
Show less
www.youtube.com
President Trump visited Cedar Rapids, Iowa on June 21 to speak to a large crowd in the U.S. Cellular Center at a political rally organized by his campaign.
As Trevor Noah noted during The Daily Show episode last night (starts at 2:25), the real reason Trump has these rallies is to "get back in front of his loyal crowds and feed of their energy." Noah believes that "Trump supporters are so on board with their dude he can say anything and they'll come along for the ride."
Keep reading...
Show less
The Kamuthi solar plant in the southern Indian state of Tamil Nadu.
The rapid growth in renewable energy continues to put a dent in the demand for coal.
Coal India, the world's biggest coal mining company and producer of 82 percent of the country's coal, announced the closure of 37 mines that are financially "unviable."
Keep reading...
Show less
www.youtube.com
By Katie O'Reilly
Two years ago—long before coal became one of the most dominant and controversial symbols of the 2016 presidential election—Bloomberg Philanthropies approached production company RadicalMedia with the idea of creating a documentary exploring the U.S. coal mining industry. Last spring, they brought on Emmy-nominated director Michael Bonfiglio, tasked with forging a compelling story out of the multitudes of facts, statistics and narratives underlying the declining industry.
Keep reading...
Show less
Mayors for 100% Clean Energy
Keep reading...
Show less
www.youtube.com
Thanks to Newsy for their coverage on Thursday's news that the U.S. Fish and Wildlife Service removed grizzly bears in the Greater Yellowstone region from the Endangered Species List.
Watch above as Newsy explains that the decision comes despite serious concerns from the environmental and scientific community, and Tribal Nations about a declining, isolated grizzly bear population with diminishing food resources and record-high mortalities.
Keep reading...
Show less
www.facebook.com
By Francine Kershaw
Seismic airguns exploding in the ocean in search for oil and gas have devastating impacts on zooplankton, which are critical food sources for marine mammals, according to a new study in Nature. The blasting decimates one of the ocean's most vital groups of organisms over huge areas and may disrupt entire ecosystems.
And this devastating news comes on the heels of the National Marine Fisheries Service's proposal to authorize more than 90,000 miles of active seismic blasting. Based on the results of this study, the affected area would be approximately 135,000 square miles.
Keep reading...
Show less
By Jill Richardson
Is coconut oil:
good for you
bad for you
neither good nor bad
scientists don't know
The subject of this question is the source of a disagreement. Initially, the question was thought to be settled decades ago, when scientist Ancel Keys declared all saturated fats unhealthy. Coconut oil, which is solid at room temperature, is a saturated fat.
Keep reading...
Show less


Get EcoWatch in your inbox