Remarkable Forest Hotel Takes Green Architecture to a Whole New Level
We've heard of vertical gardens but what about vertical forests? The Mountain Forest Hotel in Guizhou, China's Wanfeng Valley is a carbon-sucking, sky-high marvel created by Milan-based architect Stefano Boeri.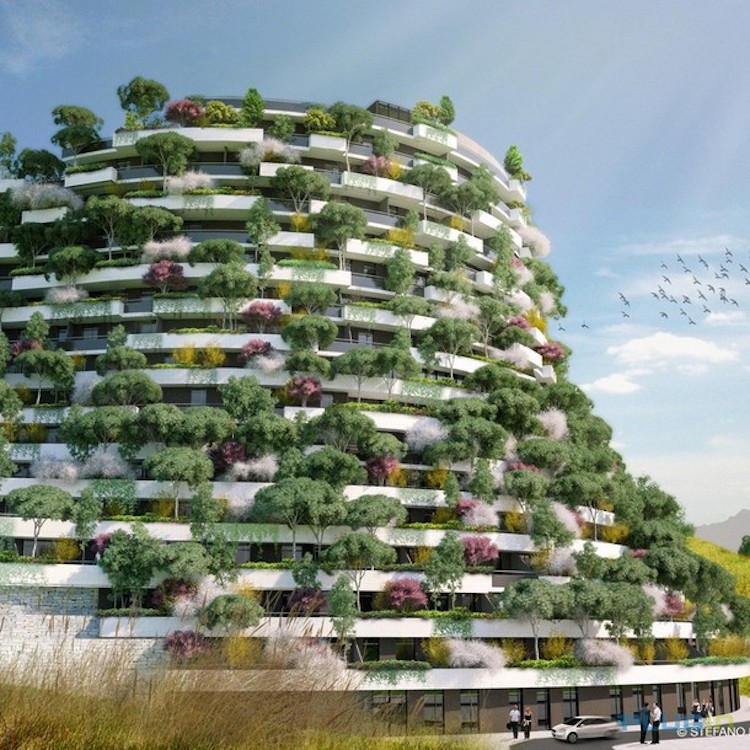 The Mountain Forest Hotel, located in Guizhou, China, is so green that it will improve the air surrounding it. Photo credit: Stefano Boeri Architetti China
Boeri is the visionary behind similar plant-covered structures, such as Bosco Verticale in Milan and The Tower of the Cedars in Lausanne, Switzerland that features trees and plants on every floor.
"It's a symbol of restitution," Boeri told TIME of the Mountain Forest Hotel that's opening fall 2017. "Buildings have to take care of nature."
The 31,200-square-meter development was designed in collaboration with Chinese artist and interior designer Simon Ma for the Hong Kong-based Cachet Hotel Group. In addition to rooms and suites, additional hotel amenities will include two restaurants and lounges and recreation facilities such as a swimming pool, spa and a fully equipped fitness center.
The developers point out on their website that the hotel was inspired by the site's original topography and ecosystem, which is also known as the Forest of Ten Thousands Peaks.
"The design aims to restore the landscape, by reconstructing a former existing hill that was flattened years ago, in this way emulating the past and present hills," Boeri's group said.
"Symbiosis is the goal. Sustainability not only depends on energy conservation, but on a wider biodiversity. The symbiosis between man, architecture and nature is the real sustainability."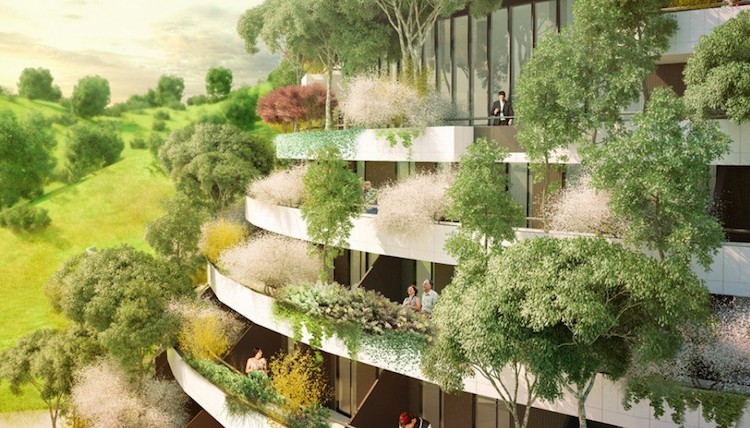 With plants and trees lining every floor, the hotel is like a reconstruction of the former hill on the site that was demolished years before. Photo credit: Stefano Boeri Architetti China
The New York Times named Guizhou as one of its 52 Places to Go in 2016. The province had been one of China's least inaccessible regions until a $20 billion high-speed railway that opened in 2014 cut travel time from Guangzhou, the nearest major city, from 20 hours to four.
Spa Business Magazine notes that Boeri is involved with several Chinese projects, including a stock exchange building in Shanghai and a "Forest City" masterplan in Shijiazhuang, the smog-choked capital and largest city of North China's Hebei Province.
"Shijiazhuang for its part, has a sad record: it is the city with the highest rate of air pollution in China. A pall of smog and soot that rises only a few days a year," Boeri says of his concept.
"The Forest City in Shijiazhuang will be a new city for 100,000 inhabitants. A city of new generation, capable of becoming a model of sustainable growth in a large country that each year sees 14 million farmers migrating to the cities."
YOU MIGHT ALSO LIKE
South African Solar-Powered Eco-Village Will Be Car-Free
This Eco-Village Is Being Built From More Than 1 Million Recycled Plastic Bottles
'World's Most Sustainable City' to Run on 100% Solar
Will Philadelphia Become the Vertical Farming Capital of the World?
Wikimedia Commons
By Stacy Malkan
Neil deGrasse Tyson has inspired millions of people to care about science and imagine themselves as participants in the scientific process. What a hopeful sign it is to see young girls wearing t-shirts emblazoned with the words, "Forget princess, I want to be an astrophysicist."
Keep reading...
Show less
www.youtube.com
By Andy Rowell
Any day now we will truly witness climate change in action. Within days at worst, maybe weeks at best, scientists predict that a huge section of the Larsen C ice shelf in Antarctica will break off into the ocean, in what is called a major "carving" event.
Keep reading...
Show less
www.youtube.com
President Trump visited Cedar Rapids, Iowa on June 21 to speak to a large crowd in the U.S. Cellular Center at a political rally organized by his campaign.
As Trevor Noah noted during The Daily Show episode last night (starts at 2:25), the real reason Trump has these rallies is to "get back in front of his loyal crowds and feed of their energy." Noah believes that "Trump supporters are so on board with their dude he can say anything and they'll come along for the ride."
Keep reading...
Show less
The Kamuthi solar plant in the southern Indian state of Tamil Nadu.
The rapid growth in renewable energy continues to put a dent in the demand for coal.
Coal India, the world's biggest coal mining company and producer of 82 percent of the country's coal, announced the closure of 37 mines that are financially "unviable."
Keep reading...
Show less
www.youtube.com
By Katie O'Reilly
Two years ago—long before coal became one of the most dominant and controversial symbols of the 2016 presidential election—Bloomberg Philanthropies approached production company RadicalMedia with the idea of creating a documentary exploring the U.S. coal mining industry. Last spring, they brought on Emmy-nominated director Michael Bonfiglio, tasked with forging a compelling story out of the multitudes of facts, statistics and narratives underlying the declining industry.
Keep reading...
Show less
Mayors for 100% Clean Energy
Keep reading...
Show less
www.youtube.com
Thanks to Newsy for their coverage on Thursday's news that the U.S. Fish and Wildlife Service removed grizzly bears in the Greater Yellowstone region from the Endangered Species List.
Watch above as Newsy explains that the decision comes despite serious concerns from the environmental and scientific community, and Tribal Nations about a declining, isolated grizzly bear population with diminishing food resources and record-high mortalities.
Keep reading...
Show less
www.facebook.com
By Francine Kershaw
Seismic airguns exploding in the ocean in search for oil and gas have devastating impacts on zooplankton, which are critical food sources for marine mammals, according to a new study in Nature. The blasting decimates one of the ocean's most vital groups of organisms over huge areas and may disrupt entire ecosystems.
And this devastating news comes on the heels of the National Marine Fisheries Service's proposal to authorize more than 90,000 miles of active seismic blasting. Based on the results of this study, the affected area would be approximately 135,000 square miles.
Keep reading...
Show less
By Jill Richardson
Is coconut oil:
good for you
bad for you
neither good nor bad
scientists don't know
The subject of this question is the source of a disagreement. Initially, the question was thought to be settled decades ago, when scientist Ancel Keys declared all saturated fats unhealthy. Coconut oil, which is solid at room temperature, is a saturated fat.
Keep reading...
Show less


Get EcoWatch in your inbox