This website uses cookies to ensure you get the best experience while browsing it. By clicking 'Got It' you're accepting these terms.
Reducing Meat and Dairy Consumption Important for Healthy People and Planet
Oct. 01, 2014 02:18PM EST
Climate
With the federal government considering sustainability for the first time as it solicits public comments for its 2015 Dietary Guidelines for Americans, the Center for Biological Diversity, as part of its Take Extinction Off Your Plate campaign, is encouraging the government to adopt guidelines that are more environmentally friendly.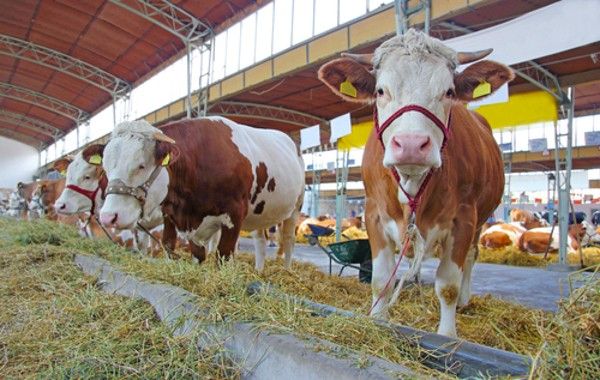 Photo credit: Shutterstock
Center for Biological Diversity says the new guidelines should include recommendations to reduce meat and dairy consumption.
The guidelines, issues by the U.S. Department of Health and Human Services every five years, offer recommendations on eating to maintain a health weight and prevent disease. This year comment guidelines include a field for "Food Systems Sustainability," asking for comments pertaining to the impact of food groups or commodities on the whole food system and on sustainability metrics that have been implemented or are in development.
"Animal agriculture has devastating impacts on wildlife and the environment," says Center for Biological Diversity. "Meat production is one of humanity's most destructive and least efficient systems, accounting for astounding levels of wildlife losses, land and water pollution, deforestation and greenhouse gas emissions."
Meat production and dairy farming are resource-intensive. Livestock consume land, water and feed, creating pollution, increasing greenhouse gases and reducing biodiversity while fueling Americans' meat-heavy diet. If Americans eliminated meat one day a week, Center for Biological Diversity asserts, it would reduce emissions equivalent to taking 30 to 40 million cars of the road. But it says the current guidelines encouraging the substitution of dairy products offer no improvement when it comes to the environment.
The group pointed to a study published this month by researchers at the University of Michigan's Center for Sustainable Solutions that said that if Americans actually followed the current dietary guidelines, it would result in a 12 percent increase in diet-related greenhouse gas emissions, largely due to increased dairy consumption. 
"The take-home message is that health and environmental agendas are not aligned in the current dietary recommendations," said study co-author Martin Heller. 
"I applaud the advisory committee for considering sustainability concerns in the next set of dietary guidelines," said Stephanie Feldstein, director of Center for Biological Diversity's population and sustainability program.
"But in order for the American diet to be sustainable, it must include drastic cuts in meat and dairy consumption. Study after study points to livestock production as a key driver of climate change, habitat loss and other threats to wildlife and the planet. We simply can't achieve sustainable food systems through organic produce or eating local alone—addressing our oversized appetite for meat and dairy has to be part of the picture."
YOU MIGHT ALSO LIKE
Earth-Friendly Diet Campaign Urges Americans to Eat Less Meat
'Mystery Meat' Photos Make You Rethink Your Food
EcoWatch Daily Newsletter
Hedges, 2019 © Hugh Hayden. All photos courtesy of Lisson Gallery
By Patrick Rogers
"I'm really into trees," said the sculptor Hugh Hayden. "I'm drawn to plants."
BruceBlock / iStock / Getty Images
Thanks to their high concentration of powerful plant compounds, foods with a natural purple hue offer a wide array of health benefits.
Environmental Investigation Agency
Last week, the Peruvian Palm Oil Producers' Association (JUNPALMA) promised to enter into an agreement for sustainable and deforestation-free palm oil production. The promise was secured by the U.S. based National Wildlife Federation (NWF) in collaboration with the local government, growers and the independent conservation organization Sociedad Peruana de Ecodesarrollo.
Pixabay
Leaked documents show that Jair Bolsonaro's government intends to use the Brazilian president's hate speech to isolate minorities living in the Amazon region. The PowerPoint slides, which democraciaAbierta has seen, also reveal plans to implement predatory projects that could have a devastating environmental impact.
XL CATLIN SEAVIEW SURVEY / THE OCEAN AGENCY
Hope may be on the horizon for the world's depleted coral reefs thanks to scientists who successfully reproduced endangered corals in a laboratory setting for the first time, according to Reuters.
Last week we received positive news on the border wall's imminent construction in an Arizona wildlife refuge. The Trump administration delayed construction of the wall through about 60 miles of federal wildlife preserves.
PhotoAlto / Frederic Cirou / Getty Images
Drinking water treated with fluoride during pregnancy may lead to lower IQs in children, a controversial new study has found.