This website uses cookies to ensure you get the best experience while browsing it. By clicking 'Got It' you're accepting these terms.


The best of EcoWatch, right in your inbox. Sign up for our email newsletter!
Reducing Food Waste Is Good for Economy and Climate, Report Says
Feb. 26, 2015 10:47AM EST
Climate
It's no secret that a significant portion of the food grown and produced globally ends up as waste, whether from our homes, restaurants, schools or institutions of various sorts.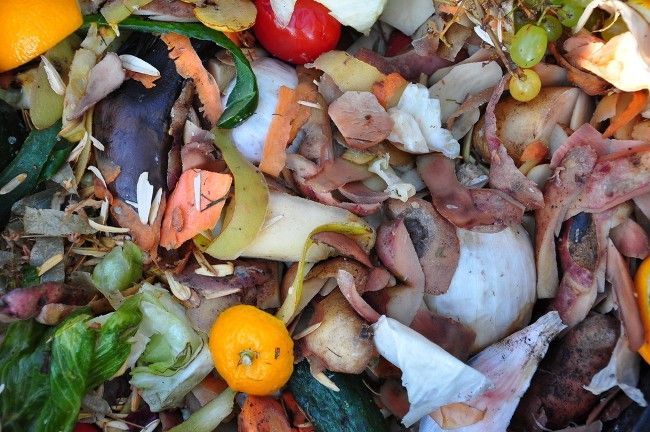 Photo credit: Shutterstock
A new report, Strategies to Achieve Economic and Environmental Gains by Reducing Food Waste, documents what could be saved by reducing food waste, both in money spent by consumers and governments, and stress on the planet and its climate.
The UK-based the Waste & Resources Action Programme (WRAP), which produced the study for the Global Commission on the Economy and Climate, cites figures from the UN Food and Agriculture Association (FAO) that one third of all food ends up as waste, with a global cost of more than $400 billion annually. That could increase to $600 billion within a decade as the world population in general and its heavily consuming middle class in particular grow around the world. But reducing that waste could save between $120 and $300 billion a year and limit some of the stresses on the planet caused by the food production system.
"Food waste is a global issue and tackling it is a priority," said Dr. Richard Swannell, director of sustainable food systems at WRAP. "This report emphasizes the benefits that can be obtained for businesses, consumers and the environment. The difficulty is often in knowing where to start and how to make the biggest economic and environmental savings. [This report] produced international guidance on how to achieve that through implementing effective food waste prevention strategies that can be used across the world."
The report estimated that in the UK, the cost of disposing of this food waste is about $450 million; in the U.S. it could be as high as $1.5 billion.
WRAP cites programs have already been tried and have been successful in reducing waste. In the UK, WRAP's own Love Food Hate Waste program aimed at consumers reduced food waste by about 21 percent and saved about $2.1 million. The group has also worked with manufacturers and groceries to improve packaging and storage to better protect food and reduce the amount ultimately thrown away. Something as simple as reducing refrigeration temperature slightly can have big impact on the amount of food that ends up thrown away. The report also pointed to concerted efforts in countries like Norway and Japan that had dramatically cut waste.
The study suggested that consumers might spend the money saved on additional, higher value food purchases, while governments would save on the amount of food carted to landfills, which could then be directed to other purposes.
But it points to an even more significant benefit: cutting that waste could be a significant factor in addressing climate change in a couple of ways. One is a reduction in methane emitted from landfills. Another is a reduction in the climate cost of the food production process, with less land, water and fuel needed to grow the same amount of food and move it to market. The report estimates that 7 percent of all greenhouse gas emissions are caused by food waste, not a huge amount but still significant.
"Reducing food waste is good for the economy and good for the climate," said Helen Mountford, global program director for the New Climate Economy, a project of the Global  Commission on Economy and the Climate.
"Less food waste means greater efficiency, more productivity and direct savings for consumers. It also means more food available to feed the estimated 805 million that go to bed hungry each day. Reducing food waste is also a great way to reduce the greenhouse gas emissions that contribute to climate change. These findings should serve as a wakeup call to policymakers around the world."
YOU MIGHT ALSO LIKE
Dan Barber's Pop-Up Restaurant Puts Food Waste on the Plate
French Supermarket Limits Food Waste by Selling Ugly Produce
EcoWatch Daily Newsletter
An artist's rendering of the recomposition facility. MOLT Studios
Washington became the first U.S. state to legalize human composting Tuesday, offering residents a more environmentally friendly way to dispose of their remains, AFP reported.
Mr.TinDC / Flickr / CC BY-ND 2.0
Many nutrients are essential for good health.
By Pat Thomas
Throughout the U.S., major food brands are trying to get rid of GMO ingredients — not necessarily for the right reasons, but because nearly half of consumers say they avoid them in their food, primarily for health reasons.
But the CEO of Impossible Foods, purveyor of the Impossible Burger, is bucking that trend.
People in more than 100 countries are expected to take part in well over 1,000 strikes on May 24 to demand climate action from their governments. @ExtinctionR / Twitter
DoneGood
By Cullen Schwarz
Ethical shopping is a somewhat new phenomenon. We're far more familiar with the "tried and tested" methods of doing good, like donating our money or time.
Asian elephants frolic in Kaudulla Wewa at Kaudulla National Park in central Sri Lanka.
David Stanley /
CC BY 2.0
When it comes to saving some of the planet's largest animals, a group of researchers says that old methods of conservation just won't cut it anymore.
smcgee / Flickr / CC BY-NC 2.0
Several New York City Starbucks exposed customers to a potentially deadly pesticide, two lawsuits filed Tuesday allege.