Recycled Plastic Bottles Transform Into Striking Wall Art
Jan. 19, 2015 03:38PM EST
Business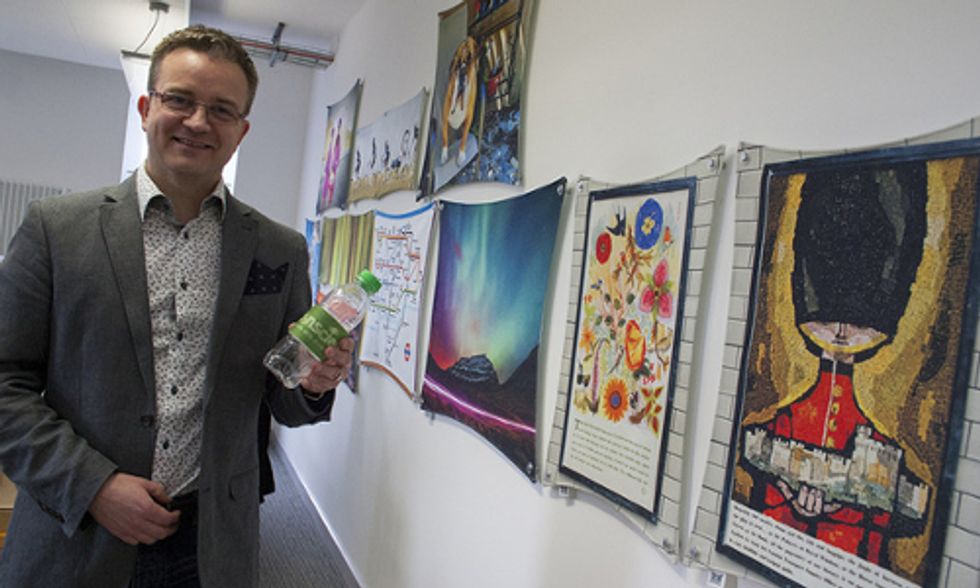 Decorating an office often boils down to ordering a batch of pre-framed posters with inspirational mottos or photos of improbably gorgeous landscapes from an office supply business. They're mundane, they're trite and you  probably barely notice them anymore.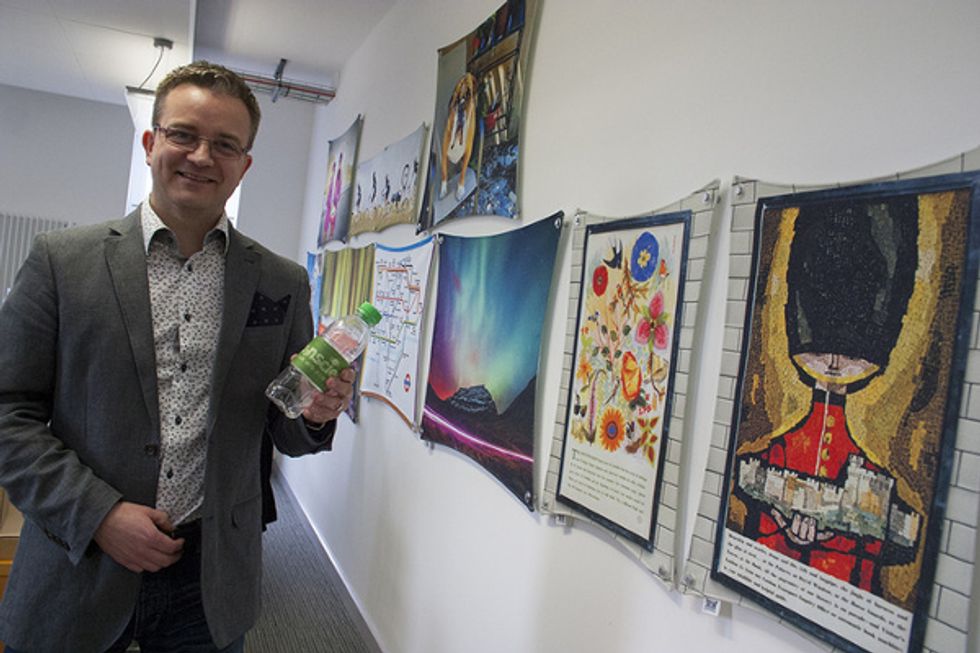 But what if you could have something more distinctive, striking and customized—that's also environmentally friendly? That's what a company called Co2nscience, whose motto is "Transforming Waste Into Art," is offering.
Working with a roster of artists and photographers, they've created canvasses called Stretcher Prints that come in a variety of arresting shapes that make even the typical scenic shot look fresh. That might seem sort of intriguing. But it's how they do it that sets them apart. All of the wall art pieces are made out of recycled plastic bottles.
"The environment has been a passion of ours for a long time," says company founder Stuart Jones. "Since 2004, my team have been innovating in the CD/DVD industry. We love working with recycled materials and have developed many recycled card and disc-packaging designs and saved as much as 240 kg of co2 per 1,000 packs in some cases. So when we came up with the idea for Stretcher Wall Prints and upcycling plastic bottles, we were particularly excited."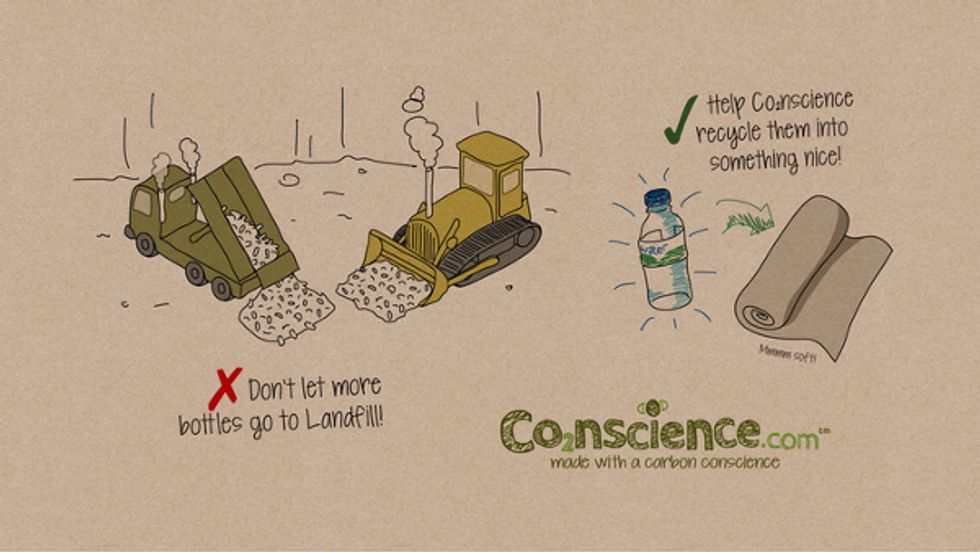 Each print is put together from a printable fabric-like material that uses from 4-22 plastic bottles, depending on the print size. The flexibility of the material allows it to be stretched into the unusual shapes that Co2nscience is marketing, which can be hung on spiral staircases, curved corridors and other unconventionally configured spaces. They don't require a frame to hang, they're easy to move around (and fit into) other spaces, and they're fully washable.
The company has been licensed to produce posters and maps from the collection of Transport for London, which runs the city's public transportation system, and the British National Archives. And if nothing in their gallery of prints works for you, you can also send them your own photo or artwork to create a custom wall hanging in a shape of your choosing.
But  that's not all.
A conversation with a potential client who mentioned that controlling noises levels was an issue in his office led Jones to apply for a grants to test Stretcher Prints' acoustic performance and to upgrade them in a spin-off business called Agile Acoustics. It features an "Artcoustics" panel installed behind the Stretcher Print and concealed by it that softens ambient sounds, making Stretcher Prints a potential asset to bars, restaurants, conference centers and lobbies for more than just enhancing the decor.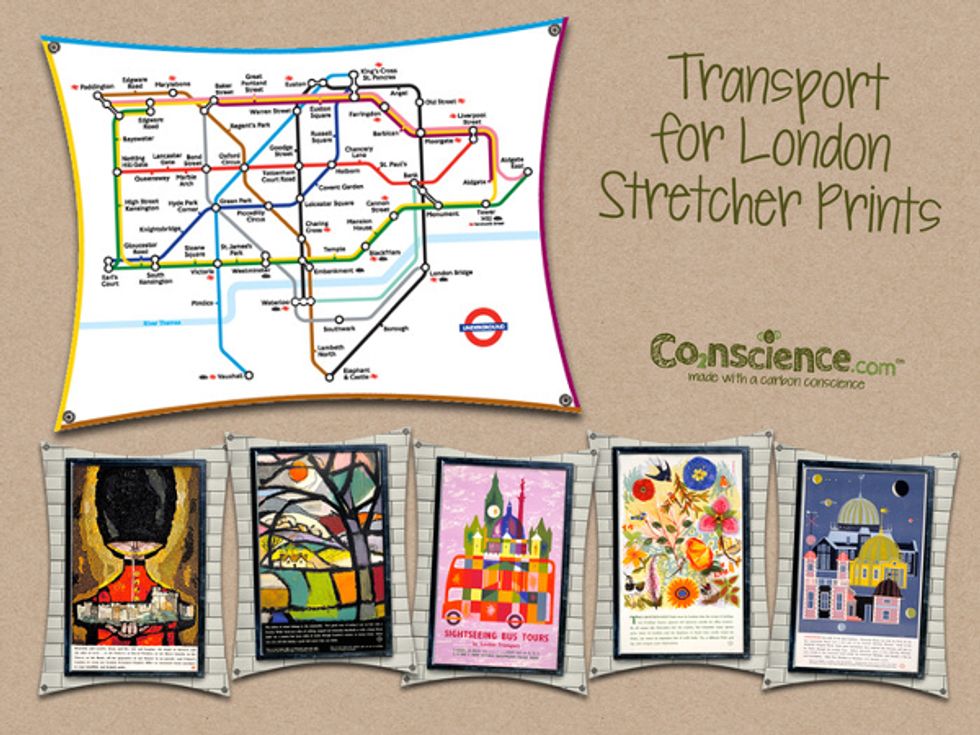 "Stretcher Prints have the potential to be a game-changer in the global wall print sector," says Jones. "Just think how any millions or even billions of bottles we could upcycle along the way."
The Yorkshire, England-based company's eco-friendliness doesn't stop with their product either. Their offices are located in the largest hemp-bale building in building in Europe. And if you use bicycle or public transportation to get to their showroom, they will give you a gift when you arrive.
YOU MIGHT ALSO LIKE
World's Largest Plastic Bottle Structure Draws Attention to Global Plastic Pollution Crisis
Groundbreaking Study: 5 Trillion Pieces of Plastic Floating in World's Oceans
EcoWatch Daily Newsletter
Related Articles from EcoWatch
Recent Stories from EcoWatch