Record-Breaking Solar Flight Lands in Hawaii Demonstrating Potential of Carbon-Free Travel
Jul. 03, 2015 12:46PM EST
Business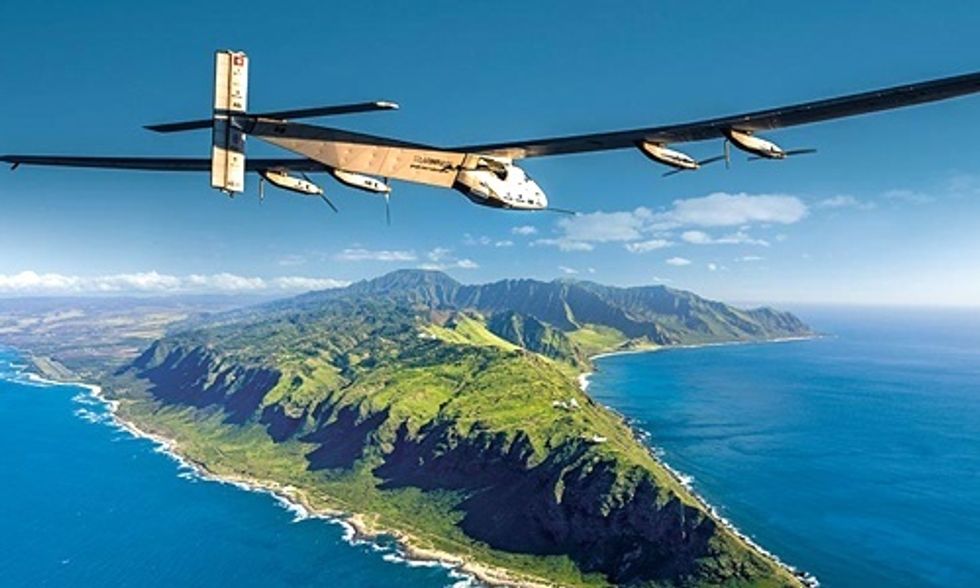 It's official. Solar Impulse has landed in Hawaii breaking the world records for the longest distance and duration for solar aviation, and the world record for the longest solo flight ever.
"On June 28, Si2 took off at 18:03 UTC from Nagoya, with André Borschberg at the controls, for a historic flight over the Pacific ocean to Hawaii. By remaining airborne for five consecutive days and nights, producing its own power with solar energy, Solar Impulse 2 has proven that Bertrand Piccard's vision of reaching unlimited endurance without fuel was not a crazy dream," according to a Solar Impulse press statement.
Watch live here:
"We are demonstrating that human commitment and clean technologies can achieve the impossible: flying across an ocean on solar power only," says the Solar Impulse team.
HE MADE IT! @andreborschberg just touched down in #Hawaii after a record-breaking flight! #futureisclean @b... https://t.co/WQWsRKiCEi

— SOLAR IMPULSE (@solarimpulse) July 3, 2015
On May 30, poor weather conditions forced Solar Impulse to land in Nagoya after attempting the flight across the Pacific. The first leg of the journey took place in early March, taking off from from Abu Dhabi in the United Arab Emirates and landing in the Omani capital, Muscat.
The launch of the project was announced in November 2003, almost exactly a century after the Wright brothers' historic flight. The team began work soon after that. The plane went on its first test flights in 2010, and in July of that year, it made the first night flight in the history of solar aviation, lasting more than 26 hours. It took progressively longer flights, leading up to this historic day.
YOU MIGHT ALSO LIKE
Solar-Powered Plane Takes Off for Historic Round-the-World Trip
Coal Is No Longer King in America, Says EIA Report
EcoWatch Daily Newsletter