Record-Breaking Hurricane Season Hits the Pacific
Sep. 04, 2015 09:50AM EST
Climate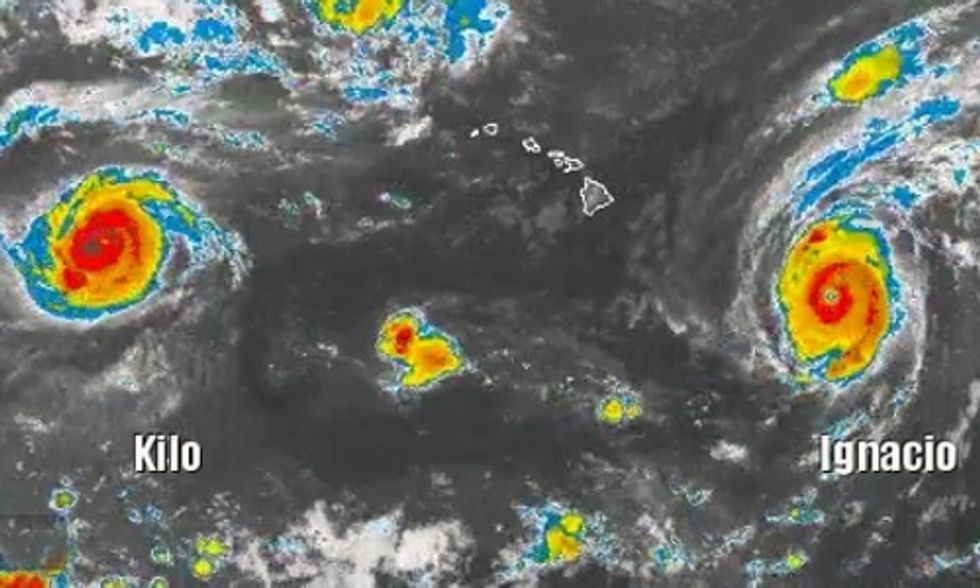 It's been quite a week for tropical cyclones (the umbrella term for hurricanes and typhoons) with several records set. Last weekend, for the first time ever there were three Category 4 hurricanes (Kilo, Ignacio and Jimena) in the central and eastern Pacific basins at the same time.
Historic central/eastern Pacific outbreak- 3 major hurricanes at once for the first time on record! #ElNino #climate pic.twitter.com/t4fdIZwhOO

— Eric Blake (@EricBlake12) August 29, 2015
Before then, we had never seen two Category 3 hurricanes, let alone Category 4 hurricanes in the North Central Pacific at the same time prior to this, says hurricane researcher and forecaster Phil Klotzbach of Colorado State University. And we are close to setting yet another record: the number of hurricanes that have reached Category 4 or 5 strength in the Northern Hemisphere. We're at 15 so far, just three short of the record 18 set in 2004, according to Klotzbach. The storms have even drawn the attention of astronauts at the International Space Station, who posted images to Twitter:
#Jimena in the Pacific is a massive storm. Makes the moon look puny. #YearInSpace pic.twitter.com/MsvkEphQEK — Scott Kelly (@StationCDRKelly) August 30, 2015
Ignacio and Jimena have since weakened, but they've been joined by yet another storm: Tropical Storm Kevin. While hurricanes in the Pacific were breaking all kinds of records, Hurricane Fred formed further east in the tropical Atlantic than any hurricane on record.
Two impressive #Fred images: 1st ever satellite pics of a #hurricane over Cape Verde, and waves pounding Ilha de Sal. pic.twitter.com/TZzFcejO4I — John Morales (@JohnMoralesNBC6) August 31, 2015
Not to be outdone by Fred, Hurricane Kilo crossed over the international date line, a rare but not unprecedented event, becoming a typhoon (typhoons and hurricanes are called different names in different ocean basins). Though it wasn't the first time a cyclone crossed the international date line, Kilo was the third storm to do so this season—marking yet another first.
The western half of #Kilo is a typhoon and it's Sept. 2, but the eastern half is a hurricane and it's Sept. 1! pic.twitter.com/iljoimCl1M — Dan Lindsey (@DanLindsey77) September 1, 2015
Now-Typhoon Kilo might set even more records. It's forecasted to strengthen in the next several days. If it does, it could become the longest-lived cyclone this year and could even become the longest-lived cyclone ever. That title currently goes to Hurricane John, which also crossed the international date line, becoming a typhoon and lasting 31 days in 1994. Read page 1 Needless to say this has been a very active hurricane season in the Pacific, which experts predicted because of El Niño. "This year, we have had a very active hurricane season and the main reason is El Niño," meteorologist Chevy Chevalier told The LA Times. There's a good chance of breaking the record for Category 4 and 5 storms "with the Pacific remaining active, and all of September and October to go in the Atlantic," says AOL. On Tuesday, the World Meteorological Society said the current El Niño could be one of the strongest ever. "The 2015-16 El Niño is likely to strengthen further before the end of the year, ... potentially placing this El Niño event among the four strongest events since 1950," said the organization. It's already the strongest since 1997–98. How hurricane activity will change in a warming world is still under intense investigation. The central Pacific is expected to see more tropical cyclones (looking at you, Hawaii) with climate change producing "effects similar to an El Niño," says Climate Central. "In the flurry of hurricane-climate change research in the decade since Hurricane Katrina, scientists have come to largely agree that while some areas may see an uptick in storms, global tropical cyclone activity may decline. But of those storms that do form, more are likely to be on the more intense end of the spectrum."
A 'gray swan' hurricane could be worse than anything we've ever seen http://t.co/cZErUWQAEQ pic.twitter.com/87yji9R4MV — Business Insider (@businessinsider) September 2, 2015
And a study published last week in Nature found that future storms could devastate places previously believed to be at low risk for hurricanes (like Hurricane Fred hitting the Cape Verde Islands), and the destruction from some of these hurricanes would be unlike anything we've ever seen. YOU MIGHT ALSO LIKE Ten Years After Katrina
Fox News Host: Obama Is so Obsessed With Climate Change He Should Work for the Weather Channel
It's So Hot in LA That Even 'All-Weather' Fields Are Melting
EcoWatch Daily Newsletter