Recognizing the Rights of Nature and the Living Forest
Feb. 02, 2016 03:17PM EST
Climate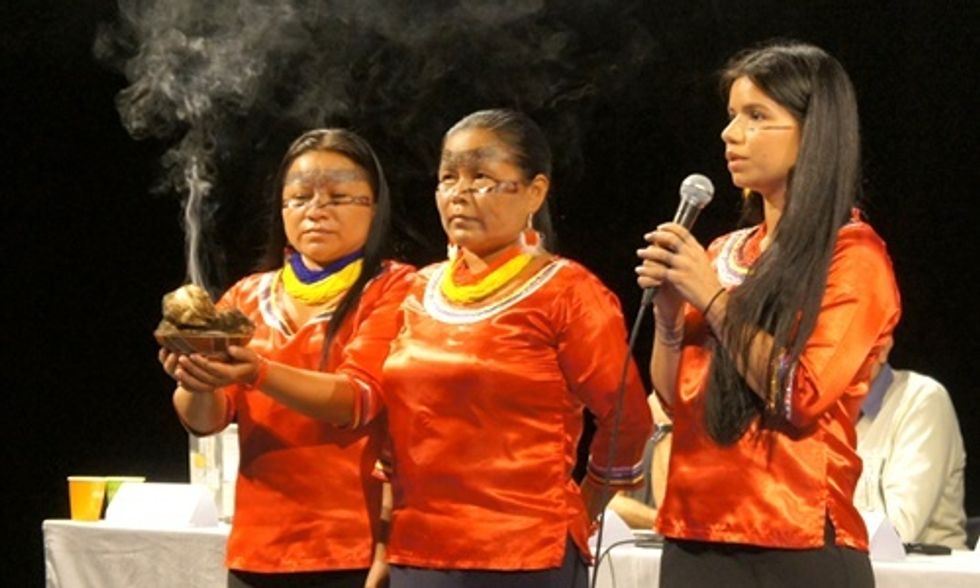 By Osprey Orielle Lake
"The message our Living Forest proposal delivers is aimed at the entire world with the goal of reaching the hearts and minds of human beings everywhere, encouraging us all to reflect on the close relation between Human Rights and the Rights of Nature."‎ —From Kawsak Sacha, The Living Forest: An Indigenous Proposal for Confronting Climate Change, presented by the Amazonian Kichwa People of Sarayaku, Ecuador
December 2015 found all eyes on Paris as government representatives from around the world debated and finalized a new international climate change agreement at the United Nations COP21 climate negotiations. The news was abuzz with stories and analysis about the Paris agreement and the commitments (or lack thereof) made by world governments, however it was just outside of the narrow glance of the mainstream media that actions and events for bold transformative change were taking place.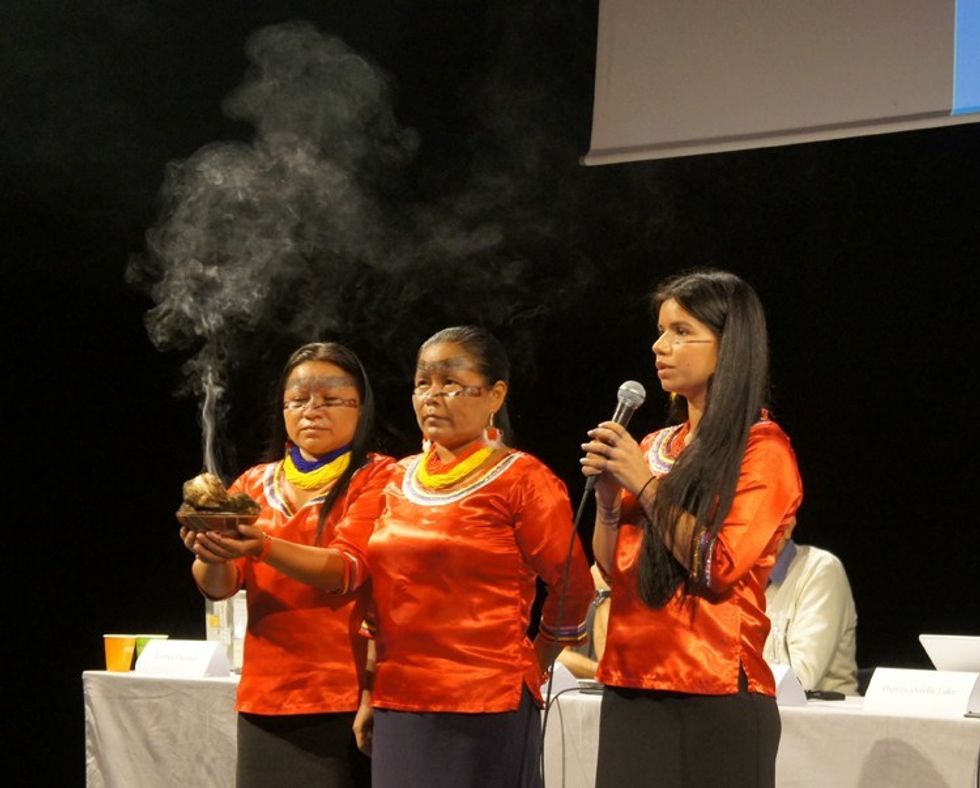 Civil society, non-governmental and community organizations representing hundreds of thousands of people from diverse social movements and international networks gathered during the Paris climate negotiations for major actions on the streets, hundreds of events, assemblies, concerts and educational workshops focused on just, community driven climate solutions.
It is critical to highlight these peoples' movement initiatives, planned in parallel to COP21 proceedings, because they are the ones bringing about the socio-ecologic and systemic transformation that concerned people around the world are calling forth—from decentralized energy systems and food sovereignty to Indigenous rights and gender-responsive climate policies.
Like inconspicuous stones cast into a deep pond, the ripples from these alternative proceedings are reaching outward and broadening into ever widening circles, connecting one to another and spreading worldwide.
So it was that two significant ripples that demonstrate respect for Nature and the natural laws of the Earth, topics stunningly absent from the UN negotiations, radiated out into the corridors of COP21, to civil society gatherings and onto the streets of Paris. One ripple was the growing global movement for the Rights of Nature, the other, going hand-in-hand, the potent voice of the Indigenous Kichwa People of Sarayaku, Ecuador and their Living Forest Proposal.
International Rights of Nature Tribunal
Rights of Nature is a revolutionary and evolutionary concept, at the heart of which lies a key to addressing our horrifically dysfunctional economic system and the legal, social and political frameworks that are destroying people and planet.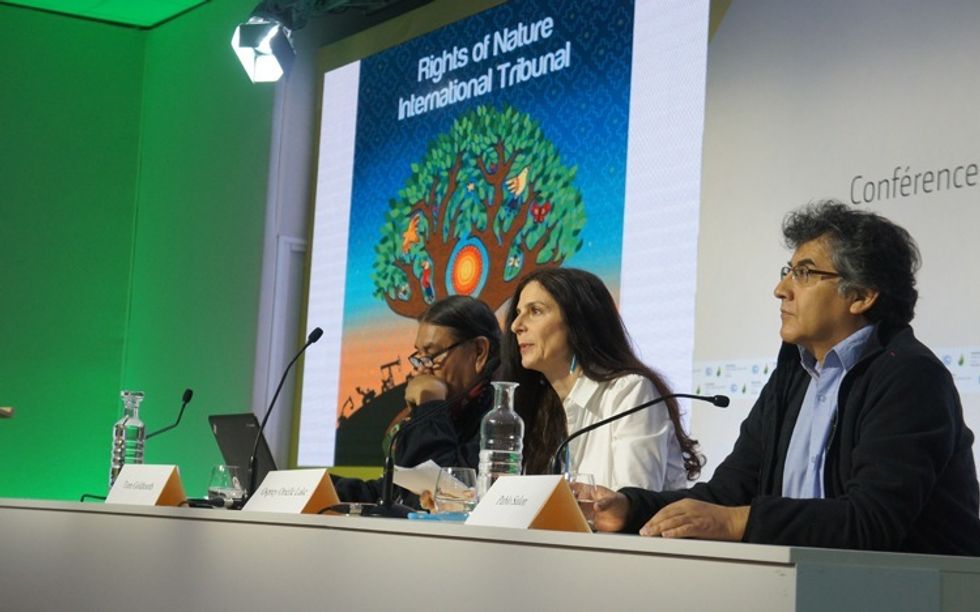 The Rights of Nature framework originated from the understanding that after decades of environmental protection laws (which surely have achieved some notable successes), our modern legal systems have failed to prevent the increasingly grave threats of climate change, ecosystem degradation, and the growing displacement of humans and other species.
The majority of the world's legal frameworks are based on treating nature as property, meaning that our life-giving rivers, forests and mountains are seen as objects to be sold and consumed. Our current legal paradigm furthers dangerous ideas around the commodification and financialization of nature, and we can see the disastrous results of this way of thinking.
To avert the worst impacts of the climate crisis and move towards truly sustainable living, we must challenge the idea that Earth's living systems are property and change the very DNA of our legal frameworks to adhere to the natural laws of the Earth.
Recognizing Rights of Nature means that human activities and development must not interfere with the ability of ecosystems to absorb their affects, to regenerate their natural capacities, to thrive and evolve, and requires that those responsible, including corporate actors, be held fully accountable for negative impacts on Earth systems.
The power of the global movement for Rights of Nature has been growing quickly, in part due to the popularity of local and international Rights of Nature tribunals.
Rights of Nature Tribunals give people from all around the world the opportunity to testify publicly on the destruction of the Earth and their communities, while simultaneously creating a new legal framework, providing critical alternatives for environmental protection, and offering a new vision for just social, economic and political structures.
Critically, a Rights of Nature framework also provides a path through which people can re-learn respect for Mother Earth, as Indigenous peoples of the world have been demonstrating for thousands of years. As more and more activists in Paris began to acknowledge, we are not just protecting nature, we are nature - a recognition of profound significance given that it is the belief that we are separate from the Earth that resides at the root of and furthers a destructive relationship to the natural world.
In Paris, the Global Alliance for the Rights of Nature held its third International Rights of Nature Tribunal, covering topics ranging from fracking and mega-dams to GMO's, deforestation and violence against defenders of the land.
Rights of Nature Tribunals cases were founded on the mandate of the Universal Declaration of the Rights of Mother Earth, drafted in 2010 at the World People's Conference on Climate Change and the Rights of Mother Earth in Bolivia. Outcomes and final judgments were based on scientific, technical, research-based and other expert testimony, the first-hand experiences of witnesses, as well as the world views and wisdom of Indigenous peoples who hold an ancient understanding of humans as part and particle of the living cosmos.
Kawsak Sacha: The Living Forest
"Let's leave our old perceptions and ideas, to be reborn and boost a collective transformation! Now is the time to stop these destructive ideas in our ancestral territories and around the world. We as Indigenous peoples have the great opportunity to bring our vision—and a clear proposal—that could call on a transformation for all of humanity." —Patricia Gualinga, Director of International Relations for the Kichwa community of Sarayaku, Ecuador (Source: Amazon Watch)
Throughout the two weeks of the UN climate talks, a delegation of Indigenous Kichwa leaders from Sarayaku, Ecuador worked ceaselessly to present and spread their proposal of Kawsak Sacha, or the "Living Forest," a comprehensive vision for living in harmony with the natural world based upon the practices with which their ancestors have sustainably inhabited and cared for the health of the Amazon Rainforest for millennia.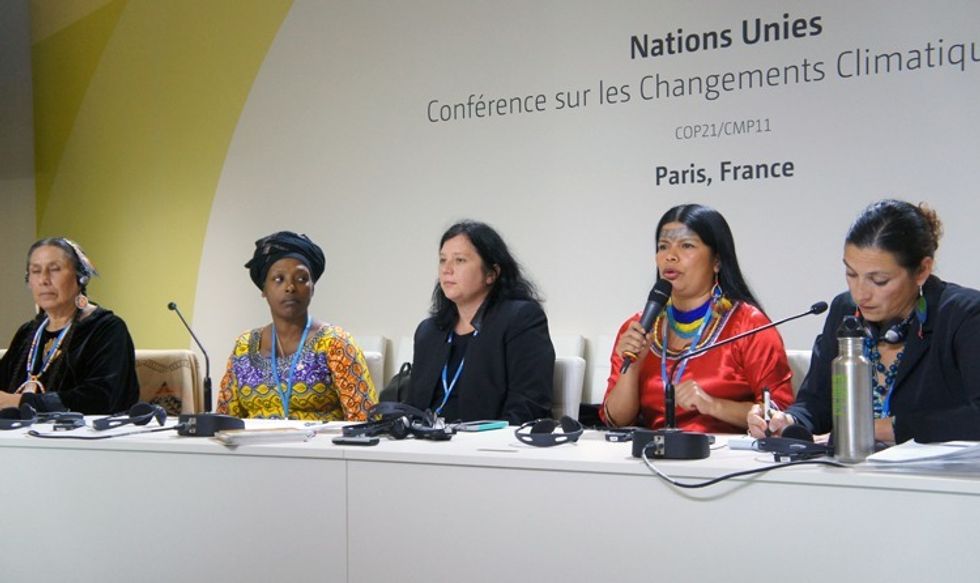 Their proposal is a profound challenge to dominant concepts and practices, which view nature as a resource to market, commodify and exploit without limit. In the context of the Paris climate change agreement, this means a challenge to the idea that we can put forests into carbon trading schemes and other market mechanisms as a means of addressing climate change.
The Kawsak Sacha "Living Forests" vision is vital for many reasons, the most fundamental being that maintaining the ecologic balance of the Amazon is essential to Earth's health and capacity to mitigate climate change. Approximately 20 percent of the carbon dioxide produced from burning fossil fuels is absorbed by tropical forests around the world, and this is just one of many critical ecologic functions. Consequently, protecting the Amazon rainforest, the largest of the world's tropical forests, must be central to climate change discussions and policies.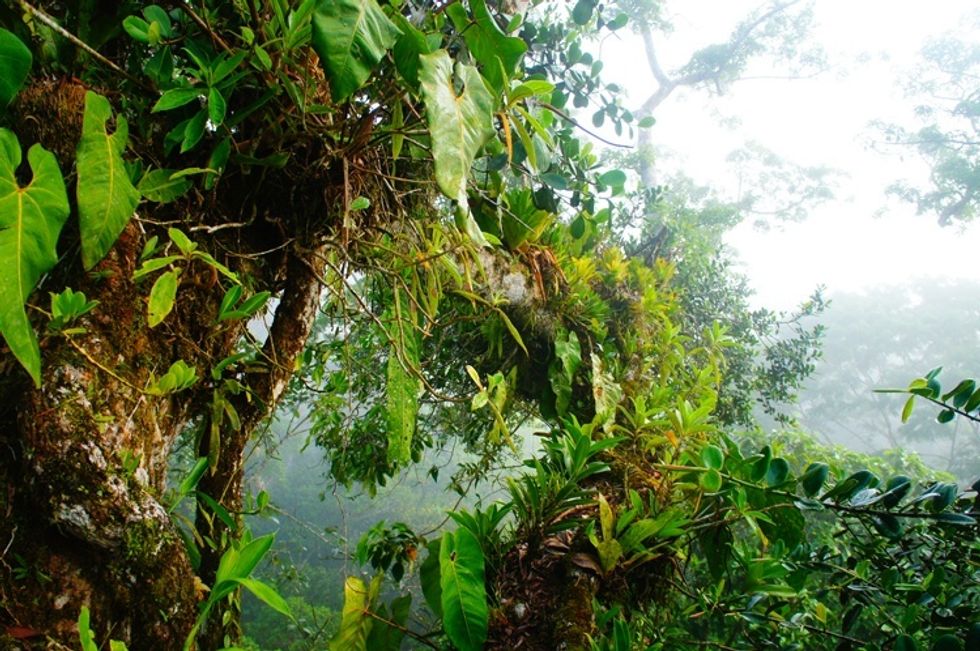 Within this context, Indigenous peoples and their rights must be respected and protected because it is their intimate relationship with their forests and their courageous ongoing struggles to defend their territories that has and will continue to bring about the highest protection of these vital rainforests. It is a grave and dangerous tragedy that alongside human rights, Indigenous rights were removed from the operative part of the final Paris agreement.
The wisdom and worldview expressed in the Kawsak Sacha proposal has much to offer and is best shared through excerpts of the words of the Sarayaku people themselves:
Kawsak Sacha (The Living Forest) is a proposal for living together with the natural world that grows out of the millennial knowledge of the Indigenous Peoples who inhabit the Amazonian rainforest, and it is one that is also buttressed by recent scientific studies. Whereas the western world treats nature as an undemanding source of raw materials destined exclusively for human use, Kawsak Sacha recognizes that the forest is made up entirely of living selves and the communicative relations they have with each other. These selves, from the smallest plants to the supreme beings who protect the forest, are persons (runa) who inhabit the waterfalls, lagoons, swamps, mountains, and rivers, and who, in turn, compose the Living Forest as a whole.
Kawsak Sacha, understood as sacred territory, is the primordial font of Sumak Kawsay (Buen Vivir, "Good Living"). In essence, the forest is neither simply a landscape for aesthetic appreciation nor a resource for exploitation. It is, rather, the most exalted expression of life itself. It is for this reason that continued coexistence with the Living Forest can lead to Sumak Kawsay. This encourages us to propose that maintaining this lively space, based on a continuous relation with its beings, can provide a global ethical orientation as we search for better ways to face the worldwide ecological crisis in which we live today. In this manner Sumak Kawsay can become a planetary reality.
Proposal: Declaration of Kawsak Sacha (the Living Forest)
1. Our Concrete Proposal consists in attaining national and international recognition for Kawsak Sacha (the Living Forest), as a new legal category of protected area that would be considered Sacred Territory and Biological and Cultural Patrimony of the Kichwa People in Ecuador.
2. The Living Forest proposes a way of achieving Sumak Kawsay by means of the application and execution of Life Plans that are sustained by the three foundational pillars of the Sumak Kawsay Plan: Fertile Land (Sumak Allpa); Living in Community (Runaguna Kawsay); and Forest Wisdom (Sacha Runa Yachay).
3. Understood as Territory, the Living Forest, thanks to forty years of communal effort, is now demarcated by a border of flowering and fruiting trees visible from the air. We call this vital cordon a Frontier of Life or Trail of Flowers (Jatun Kawsak Sisa Ñampi). By means of the flower's ephemeral beauty, the Frontier of Life conveys the fragility of life and the fertility of the Living Forest that it both surrounds and protects. At the same time it creates the possibility of beginning to dialogue with the beings that make up the Living Forest. In this way the Frontier of Life creates a permanent forum for communication among beings. This can help the entire world recuperate the original understanding of Mother Earth as a shared home.
Given the gravity and speed of climate change, it would behoove us to immediately welcome truly transformative ideas such as Rights of Nature and the Kawsak Sacha proposal. May these ripples in the pond turn into waves of change, or we will have overwhelming waves from sea level rise that will not be the transformation we are seeking.
Special thanks to Amazon Watch and the Indigenous Environmental Network for their support of the Indigenous peoples and the initiatives featured in this article.
Osprey Orielle Lake is the founder and executive director of the Women's Earth and Climate Action Network (WECAN) International and co-chair of International Advocacy for the Global Alliance for the Rights of Nature. Osprey is the author of the award-winning book Uprisings for the Earth: Reconnecting Culture with Nature. Follow on Twitter @WECAN_INTL.
YOU MIGHT ALSO LIKE
Monsanto's Glyphosate Most Heavily Used Weed Killer in History
Leonardo DiCaprio to Produce Post-Apocalyptic Climate Change Film
Lumber Liquidators Sentenced to $13.2 Million for Smuggling Illegal Wood Into the U.S.
Cancer Prevention Needs Attention Too: What if We Weren't Exposed to 80,000 Toxic Chemicals Every Day?
Rise and Resist activist group marched together to demand climate and racial justice. Steve Sanchez / Pacific Press / LightRocket / Getty Images
After experiencing California's wildfires, I researched the connection between wildfires and climate change. Even though I was only 13 at the time, I realized I needed to do everything in my power to advocate for our planet and ensure that we have a safe and habitable Earth for not only my generation's future, but for future generations. Every day, our planet is increasing its calls for our help. Our ice caps are melting; sea levels are rising; heatwaves and droughts are increasing. We're seeing more frequent wildfires, hurricanes, tornadoes, and other extreme weather events. Climate change is happening right now, and people all over the world are losing their livelihoods — and even their lives — as a result of the growing number of climate-fueled disasters.
My activism started with the youth climate strike movement, which began when Greta Thunberg started striking in front of the Swedish Parliament in 2018. However, I want to acknowledge that young people, especially youth of color, have been protesting and demanding action for the planet for decades. I'm honored to follow in the footsteps of all the youth activists who paved the way for my activism and for the phenomenal growth of the youth climate movement that we have seen since 2018.
My experiences in the youth climate movement have allowed me to see that one of the greatest barriers we have to urgent climate action is education. Because of the lack of climate education around the world, I founded Earth Uprising International to help young people educate one another on the climate crisis, which ultimately has the effect of empowering young people to take direct action for their futures.
The primary mission of Earth Uprising International is increased climate and civics education for youth. Climate literacy and environmental education are the first steps to mobilizing our generations. By adding climate literacy to curricula worldwide, governments can ensure young people leave school with the skills and environmental knowledge needed to be engaged citizens in their communities. A climate-educated and environmentally literate global public is more likely to take part in the green jobs revolution, make more sustainable consumer choices, and hold world leaders accountable for their climate action commitments. Youth who have been educated about the climate crisis will lead the way in adaptation, mitigation, and solution making. Youth will be the ones who will protect democracy and freedom, advocate for climate and environmental migrants, and create the political will necessary to address climate change at the scale of the crisis.
So this year, for Earth Week, I am thrilled to be organizing a global youth climate summit called "Youth Speaks: Our Message to World Leaders," on April 20. Together, in collaboration with EARTHDAY.ORG and hundreds of youth climate activists around the world, the summit will address our main issues of concern, including climate literacy, biodiversity protection, sustainable agriculture, the creation of green jobs, civic skill training, environmental justice, environmental migration and borders, the protection of democracy and free speech, governmental policy making, and political will.
From this summit, youth climate activists from all over the world will be creating a concise list of demands that we want addressed at President Biden's World Leaders Summit, occurring on Earth Day, April 22. We believe that youth must inform and inspire these critical conversations about climate change that will impact all of us!
For more information about our global youth climate summit, "Youth Speaks: Our Message to World Leaders," go to www.EarthUprising.org/YouthSpeaks2021. There, you will find information about how to participate in our summit as well as be kept up to date on the latest agenda, participants, and follow along as we develop our demands and platform.
The youth will continue to make noise and necessary trouble. There is so much left to be done.
This story originally appeared in Teen Vogue and is republished here as part of Covering Climate Now, a global journalism collaboration strengthening coverage of the climate story.
EcoWatch Daily Newsletter
U.S. Interior Secretary Deb Haaland announced a pair of climate-related secretarial orders on Friday, April 16. U.S. Department of the Interior
By Jessica Corbett
As the Biden administration reviews the U.S. government's federal fossil fuels program and faces pressure to block any new dirty energy development, Interior Secretary Deb Haaland won praise from environmentalists on Friday for issuing a pair of climate-related secretarial orders.
"Today is a watershed moment in the history of the U.S. Department of the Interior," declared Jeremy Nichols, climate and energy program director for WildEarth Guardians. "With Secretary Haaland's actions today, it's clear the Interior Department is now working for communities, science, and justice. We are grateful for her leadership and bold action to put people over polluters."
David Attenborough narrates "The Year Earth Changed," premiering globally April 16 on Apple TV+. Apple
Next week marks the second Earth Day of the coronavirus pandemic. While a year of lockdowns and travel restrictions has limited our ability to explore the natural world and gather with others for its defense, it is still possible to experience the wonder and inspiration from the safety of your home.
Here are three new films to watch this Earth Week that will transport you from pole to pole and introduce you to the scientists and activists working to save our shared home.
Where to Watch: Apple TV+
When to Watch: From April 16
The coronavirus pandemic has brought home the stakes of humanity's impact on the environment. But the lockdowns also proved how quickly nature can recover when humans give it the space. Birds sang in empty cities, whales surfaced in Glacier Bay and capybara roamed the South American suburbs.
The Year Earth Changed captures this unique year with footage from more than 30 lockdowned cities between May 2020 to January 2021. Narrated by renowned wildlife broadcaster David Attenborough, the film explores what positive lessons we can take from the experience of a quieter, less trafficked world.
"What the film shows is that the natural world can bounce back remarkably quickly when we take a step back and reduce our impact as we did during lockdown," executive producer Alice Keens-Soper of BBC Studios Natural History Unit told EcoWatch. "If we are willing to make even small changes to our habits, the natural world can flourish. We need to learn how to co-exist with nature and understand that we are not separate from it- for example if we closed some of our beaches at for a few weeks during the turtle breeding we see that it can make a huge difference to their success. There are many ways that we can adapt our behavior to allow the natural world to thrive as it did in lockdown."
When to Watch: 12 a.m. PST April 9 to 11:59 p.m. April 18
In 1989, Will Steger led an international team of six scientists and explorers to be the first humans to cross Antarctica by dogsled. Steger and his team weren't just in it for the adventure. They also wanted to draw attention to the ways in which the climate crisis was already transforming the icy continent and to rally support for the renewal of the Antarctic Treaty, which would keep the continent safe from extractive industries.
In After Antarctica, award-winning filmmaker Tasha Van Zandt follows Steger 30 years later as he travels the Arctic this time, reflecting on his original journey and once again bringing awareness to changes in a polar landscape. The film intersperses this contemporary journey with footage from the original expedition, some of which has never been seen before.
"Will's life journey as an explorer and climate activist has led him not only to see more of the polar world than anyone else alive today, but to being an eyewitness to the changes occurring across both poles," Van Zandt told EcoWatch. "But now, these changes are happening in all of our own backyards and we have all become eyewitnesses. Through my journey with Will, I have learned that although we cannot always control change, we can change our response. I feel strongly that this is a message that resonates when we look at the current state of the world, as we each have power and control over how we choose to respond to hardships, and we all have the power to unite with others through collective action around a common goal."
After Antarctica is available to stream once you purchase a ticket to the San Francisco International Film Festival. If you miss it this weekend, it will screen again at the Minneapolis St. Paul International Film Festival from May 13 to May 23.
Tasha Van Zandt
When to Watch: From Earth Day, April 22
While many films about the climate crisis seek to raise awareness about the extent of the problem, The Race to Save the World focuses on the people who are trying to stop it. The film tells the story of climate activists ranging from 15-year-old Aji to 72-year-old Miriam who are working to create a sustainable future. It follows them from the streets to the courtroom to their homes, and explores the impact of their advocacy on their personal lives and relationships.
Emmy award-winning documentary filmmaker Joe Gantz told EcoWatch that he wanted to make a film about climate change, but did not want to depress viewers with overwhelming statistics. Instead, he chose to inspire them by sharing the stories of people trying to make a difference.
"Unless millions of people take to the streets and make their voices heard for a livable future, the politicians are not going to get on board to help make the changes needed for a sustainable future," Gantz told Ecowatch. "I think that The Race To Save The World will energize and inspire people to take action so that future generations, as well as the plants, animals and ecosystems, can survive and thrive on this planet."
Check back with EcoWatch on the morning of Earth Day for a special preview of this inspiring film!
By Michael Svoboda
For April's bookshelf we take a cue from Earth Day and step back to look at the bigger picture. It wasn't climate change that motivated people to attend the teach-ins and protests that marked that first observance in 1970; it was pollution, the destruction of wild lands and habitats, and the consequent deaths of species.
An Amazon.com Inc. worker walks past a row of vans outside a distribution facility on Feb. 2, 2021 in Hawthorne, California. PATRICK T. FALLON / AFP via Getty Images
Over the past year, Amazon has significantly expanded its warehouses in Southern California, employing residents in communities that have suffered from high unemployment rates, The Guardian reports. But a new report shows the negative environmental impacts of the boom, highlighting its impact on low-income communities of color across Southern California.
The report, from the People's Collective for Environmental Justice (PCEJ) and students from the University of Redlands, shared with The Guardian, is meant to serve as an "advocacy tool to help raise awareness related to the warehouse industry's impacts on Southern California's air pollution issues," Earthjustice noted.
California's Inland Empire, 60 miles east of Los Angeles, has emerged as one of the largest "warehousing hubs" in the world in just the past few decades, according to Grist. Since establishing its first warehouse in the region in 2012, Amazon has become the largest private employer in the region, where 40,000 people now work in Amazon warehouses, picking, packing, sorting and unloading, as well as driving trucks and operating aircrafts, The New York Times Magazine reported.
"The company is so enmeshed in the community that it can simultaneously be a TV channel, grocery store, home security system, boss, personal data collector, high school career track, internet cloud provider and personal assistant," The New York Times Magazine added.
In just the last year, Amazon has tripled its delivery hubs in the region due to the demand for online shopping during the COVID-19 crisis. But despite the economic boom, heavy air pollution mainly from trucks going in and out of the warehouses infects nearby communities, the new research showed, according to The Guardian.
The research found, for example, that the populations living within a half-mile of the warehouses are 85 percent people of color, while California's overall population is 64 percent people of color, The Guardian reported. The research also found that communities with the most Amazon warehouses nearby have the lowest rates of Amazon sales per household.
"Amazon has boomed in 2020 and tripled the amount of money it's making, and it is happening at a cost to the folks who live in these communities," Ivette Torres, a PCEJ environmental science researcher and analyst, who helped put the research together, told The Guardian.
The research also demonstrated that the top 10 communities with the most warehouses in the region also experience pollution from other facilities, like gas plants and oil refineries, Earthjustice wrote in a statement.
"The Inland Empire, probably more than any region in the United States, has disproportionately [borne] the brunt of the environmental and economic impact of goods movement, and Amazon is driving that now in the Inland Empire," Jake Wilson, a California State University, Long Beach, professor of sociology, told Grist.
Last year, the San Bernardino International Airport Authority ratified a decision to allow an air cargo facility development at the airport, allowing Amazon to operate more flights out of the region, Grist reported.
Among the local residents to oppose the decision was Jorge Osvaldo Heredia, a resident of San Bernadino in Southern California since 2005. "This whole region has been taken over by warehouses," Heredia told Grist, and commented on the "horrible" air quality in the city on most days. "It's really reaching that apex point where you can't avoid the warehouses, you can't avoid the trucks," he added.
Advocates who published the research are pushing on the South Coast Air Quality Management District, a local air pollution regulatory agency, to move forward with the Warehouse Indirect Source Rule, which would require new and existing warehouses to take action to reduce emissions locally each year, The Guardian reported. Some solutions include moving towards zero-emissions trucks and mitigation fees.
"Last year, we saw some of the worst air quality, with wildfires adding to it, and the trucks were still in and out of our communities. So this is a huge change that we need right now, and that we actually needed yesterday," Torres concluded, according to The Guardian.
From Your Site Articles
Related Articles Around the Web