This website uses cookies to ensure you get the best experience while browsing it. By clicking 'Got It' you're accepting these terms.
Rare Photos Provide Birds-Eye-View of Mount St. Helens Massive Eruption 36 Years Ago
May. 19, 2016 11:28AM EST
Adventure
Thirty-six years ago Mount St. Helens erupted in the most destructive volcanic eruption in the U.S. One pilot and his family witnessed the eruption from 10,000 feet in their Cessna 340 plane.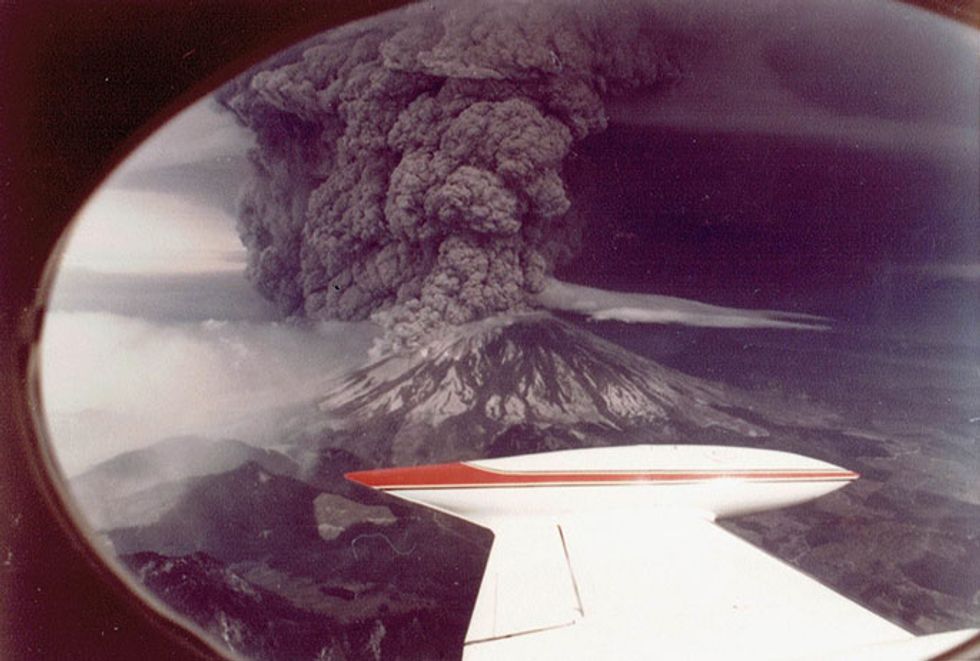 Photo credit: Cody Norman, Reddit
Shortly after 8:30 a.m. on May 18, 1980, Mount St. Helens erupted. The event lasted nine hours, shooting volcanic ash 80,000 feet into the air. The eruption caused the largest landslide ever recorded and spewed ash into 11 other states. It killed everything within 230 square miles, including animals and plants, according to a History Channel video about the event. And 57 people died.
Jerry Cornwell, the pilot who witnessed the explosion from a birds-eye-view, recalled the day for Nina Golgowski at the Huffington Post:
It was the morning of May 18, 1980 when the retired Navy veteran was attempting to fly toward Mount St. Helens to reach Seattle with his now ex-wife and two young daughters. Shortly after the volcano began to erupt, they snapped a series of stunning photos from their windows. "We didn't have the TV on, so I had no idea what was going on," Cornwell, now 78, told The Huffington Post Wednesday by phone.
"As soon as we got in the air, someone said that the airways were shut off," he recalled. "Because we had full fuel — we just fueled up — we had plenty of fuel to stay above. They asked us to stay above."

Cornwell's plane was about 5 miles west of the volcano's rim. He and his family watched in amazement as riverbeds flooded and lightening highlighted the background of the event.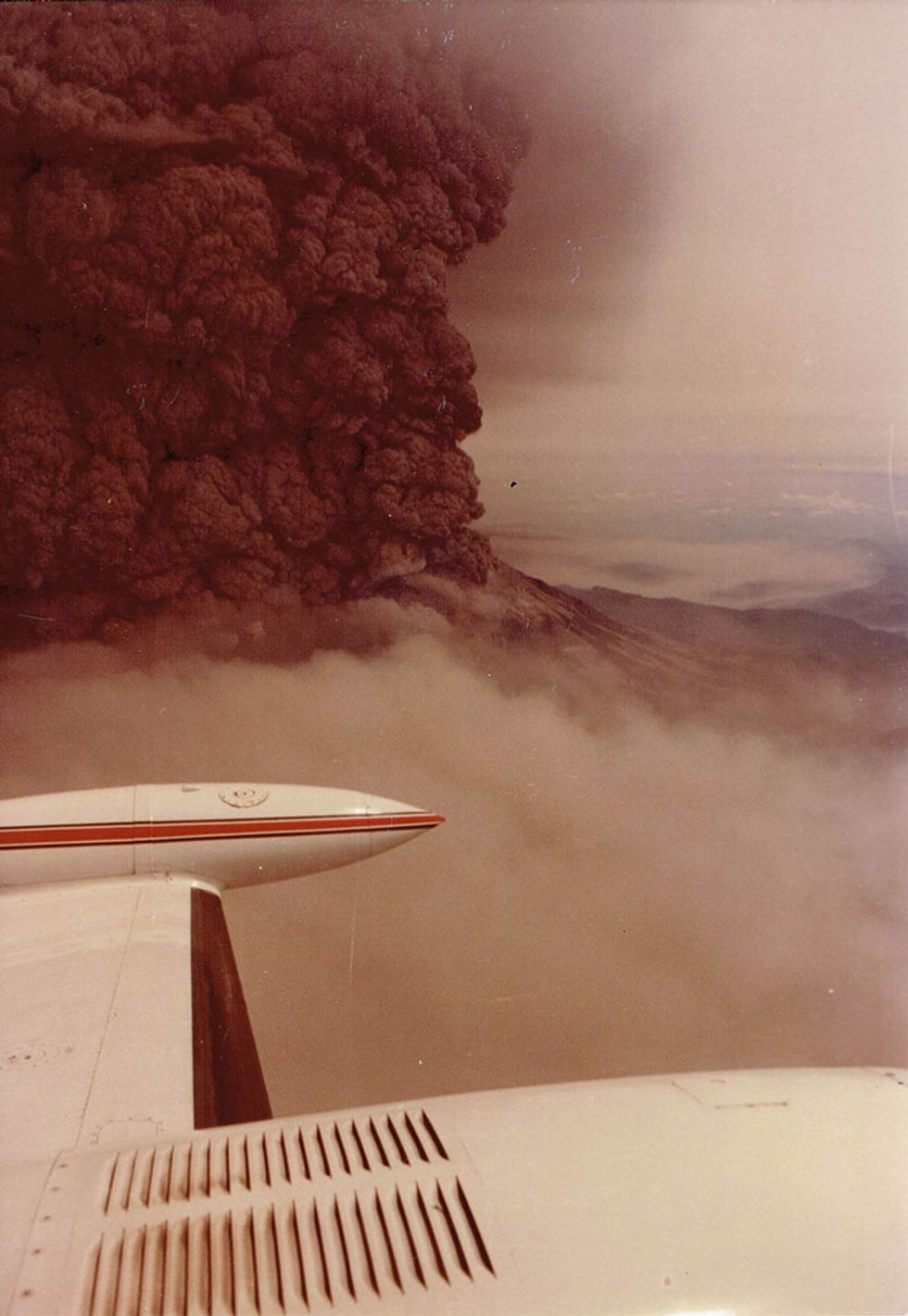 Photo credit: Cody Norman, Reddit
One of the most troubling aspects of the day, he told the Huffington Post, was being able to hear radio communications from first responders working below them.
"There were people on the road that were trying to block people off these roads from going up, and a couple of them had to escape too, and they were warning the people," he told the Huffington Post. "I heard this one helicopter saying, you've got to get these people out. And then they said they didn't make it."
Once Cornwell landed his plane in Seattle, his family's destination and home, he copied the negatives of his photos before sending the film off to be processed. His decision to copy the negatives was a smart one: the film and photos were never returned to the family.
"Someone stole them and then we saw that some of those pictures were for sale," he told the Huffington Post. Cornwell added that he saw the photos being sold at a mall kiosk. He knew they were his photos because he could see his plane's wing in some of them.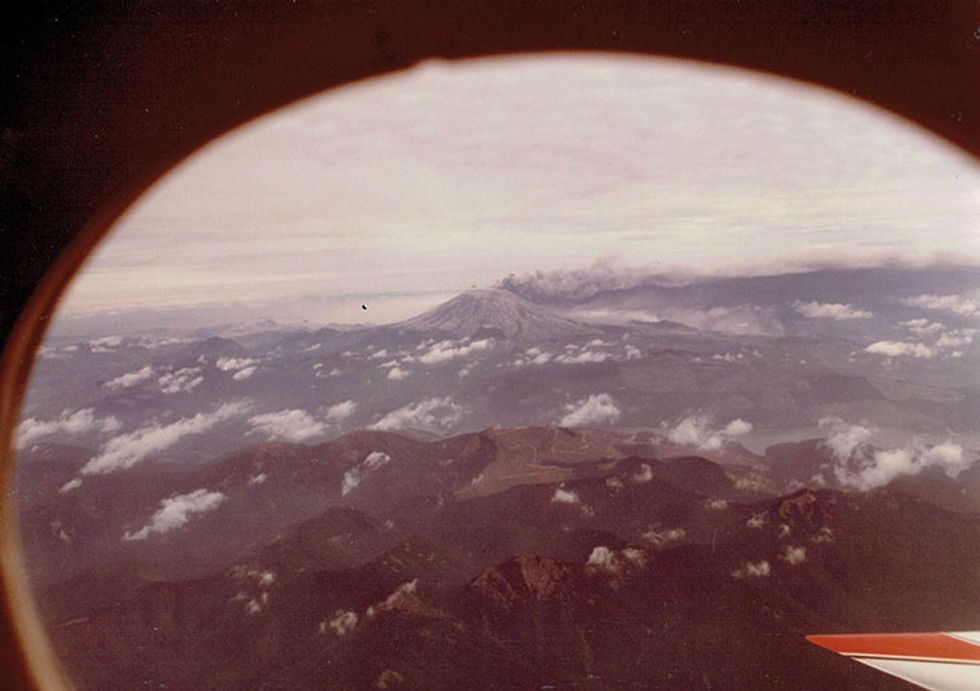 Photo credit: Cody Norman, Reddit
For the 36 anniversary, Cornwell's grandson, Cody Norman, posted the photos on Reddit and Imgur to share the historic event.
More information about the events leading up to Mount St. Helen's eruption is presented in this History Channel video:
YOU MIGHT ALSO LIKE
Volcano Grows New Island Off Japanese Coast
Celebrating John Muir's Incessant Study That Saved Yosemite National Park
Hiker Snaps Terrifying Selfie From 'Edge of the World'
EcoWatch Daily Newsletter
Pro-environment demonstrators on the streets of Washington, DC during the Jan. 20, 2017 Trump inauguration.
Mobilus In Mobili
/ Flickr /
CC BY-SA 2.0
By Dr. Brian R. Shmaefsky
One year after the Flint Water Crisis I was invited to participate in a water rights session at a conference hosted by the US Human Rights Network in Austin, Texas in 2015. The reason I was at the conference was to promote efforts by the American Association for the Advancement of Science (AAAS) to encourage scientists to shine a light on how science intersects with human rights, in the U.S. as well as in the context of international development. My plan was to sit at an information booth and share my stories about water quality projects I spearheaded in communities in Bangladesh, Colombia, and the Philippines. I did not expect to be thrown into conversations that made me reexamine how scientists use their knowledge as a public good.
Mt. Rainier and Reflection Lake on Sept. 10, 2015. Crystal Geyser planned to open a bottling plant near Mt. Rainier, emails show.
louelke - on and off / Flickr
Bottled water manufacturers looking to capture cool, mountain water from Washington's Cascade Mountains may have to look elsewhere after the state senate passed a bill banning new water permits, as The Guardian reported.
Large storage tank of Ammonia at a fertilizer plant in Cubatão, Sao Paulo State, Brazil. Luis Veiga / The Image Bank / Getty Images
The shipping industry is coming to grips with its egregious carbon footprint, as it has an outsized contribution to greenhouse gas emissions and to the dumping of chemicals into open seas. Already, the global shipping industry contributes about 2 percent of global carbon emissions, about the same as Germany, as the BBC reported.
At high tide, people are forced off parts of the pathway surrounding DC's Tidal Basin. Andrew Bossi /
Wikimedia
The Jefferson Memorial in Washington, DC overlooks the Tidal Basin, a man-made body of water surrounded by cherry trees. Visitors can stroll along the water's edge, gazing up at the stately monument.
But at high tide, people are forced off parts of the path. Twice a day, the Tidal Basin floods and water spills onto the walkway.
Lioness displays teeth during light rainstorm in Kruger National Park, South Africa. johan63 / iStock / Getty Images
Ahead of government negotiations scheduled for next week on a global plan to address the biodiversity crisis, 23 former foreign ministers from various countries released a statement on Tuesday urging world leaders to act "boldly" to protect nature.