This website uses cookies to ensure you get the best experience while browsing it. By clicking 'Got It' you're accepting these terms.
Rand Paul Says Hillary Clinton's Focus on Climate Change Shows She Lacks 'Wisdom' to Be President
Sep. 08, 2014 12:28PM EST
Last week, Hillary Clinton spoke at the National Clean Energy Summit, calling out climate deniers and saying that the impacts of climate change are "the most consequential, urgent, sweeping collection of challenges we face."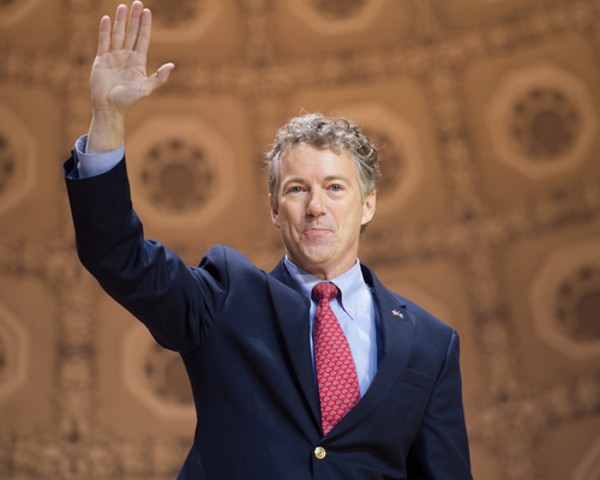 Photo credit: Shutterstock
Rand Paul, apparently escalating the 2016 presidential campaign early, attacked her comments, saying on Fox News that they prove she doesn't have the wisdom to be president.
He said, "For her to be out there saying that the biggest threat to our safety and to our well-being is climate change, I think, goes to the heart of the matter or whether or not she has the wisdom to lead the country, which I think it's obvious that she doesn't. I don't think we really want a commander-in-chief who's battling climate change instead of terrorism."
But the problem for Paul is that the accepted wisdom is virtually all on Clinton's side, not his. Many experts see fighting climate change and fighting terrorism as intertwined—including those at the U.S. Department of Defense.
Think Progress points out that the Defense Department's 2014 Quadrennial Defense Review says climate change is a "significant challenge for the United States."
The Defense Department's report says:
The pressures caused by climate change will influence resource competition while placing additional burdens on economies, societies, and governance institutions around the world. These effects are threat multipliers that will aggravate stressors abroad such as poverty, environmental degradation, political instability, and social tensions—conditions that can enable terrorist activity and other forms of violence.
In addition, The New Republic writes that Daniel Chiu of the Defense Department testified to the Senate Foreign Relations committee in July, saying "The effects of the changing climate affect the full range of Department activities, including plans, operations, training, infrastructure, acquisition, and longer-term investments. By taking a proactive, flexible approach to assessment, analysis, and adaptation, the Department can keep pace with the impacts of changing climate patterns, minimize effects on the Department, and continue to protect our national security interests."
Paul is a member of that committee, although it's unclear if he was at the hearing. But Paul is most likely looking at something more compelling to a Republican presidential hopeful than facts. A poll in May found that only 36 percent of mainstream Republicans and only 23 percent of Tea Party Republicans—those mot likely to vote in a primary—accept scientific findings about climate change.
YOU MIGHT ALSO LIKE
Hillary Clinton Calls Out Climate Deniers at Clean Energy Summit
Yale Study Finds Nearly One-Quarter of Americans Are Climate Deniers
New Study Delivers Blow to Climate Deniers, Refutes 'Natural-Warming' Theory With 99% Certainty
Plus, learn if there's one that's best for your health.
Catherine Falls Commercial / Moment / Getty Images
An invasive Amynthas worm, also known as a crazy snake worm, Asian jumping worm and Alabama jumper Tom Potterfield / Flickr
By Jason Bittel
My wife and I built a house two years ago on a few acres of woodland outside of Pittsburgh. The backyard is full of maples, poplars, briars and common spicebush. Two-lined salamanders and grumpy-looking crayfish wade among the rocks in the small stream that runs down the edge of the property. Deer, raccoon and opossum tracks appear regularly in the snow and mud. Sometimes, my trail-cam even catches a pair of gray foxes as they slink through the night.
AleksandarNakic / Getty Images
By Kate Murphy
No matter the time of year, there's always a point in each season when my skin decides to cause me issues. While these skin issues can vary, I find the most common issues to be dryness, acne and redness.

David Woodfall / The Image Bank / Getty Images
By Sam Nickerson
The U.S. Environmental Protection Agency (EPA) in April 2018 proposed relaxing standards related to how it assesses the effects of exposure to low levels of toxic chemicals on public health.
Now, correspondence obtained by the LA Times revealed just how deeply involved industry lobbyists and a controversial, industry-funded toxicologist were in drafting the federal agency's proposal to scrap its current, protective approach to regulating toxin exposure.
Steve Irwin poses with a three foot long alligator at the San Francisco Zoo on June 26, 2002. Justin Sullivan / Getty Images
February 22 is the birthday of conservationist and beloved TV personality "Crocodile Hunter" Steve Irwin, who would have been 57 years old today.
Irwin's life was tragically cut short when the barb from a stingray went through his chest while he was filming in 2006, but his legacy of loving and protecting wildlife lives on, most recently in a Google Doodle today honoring his birthday.