Rally to Protest Obama's 'All of the Above' Energy Policy at Ohio State University
Mar. 22, 2012 07:25AM EST
Climate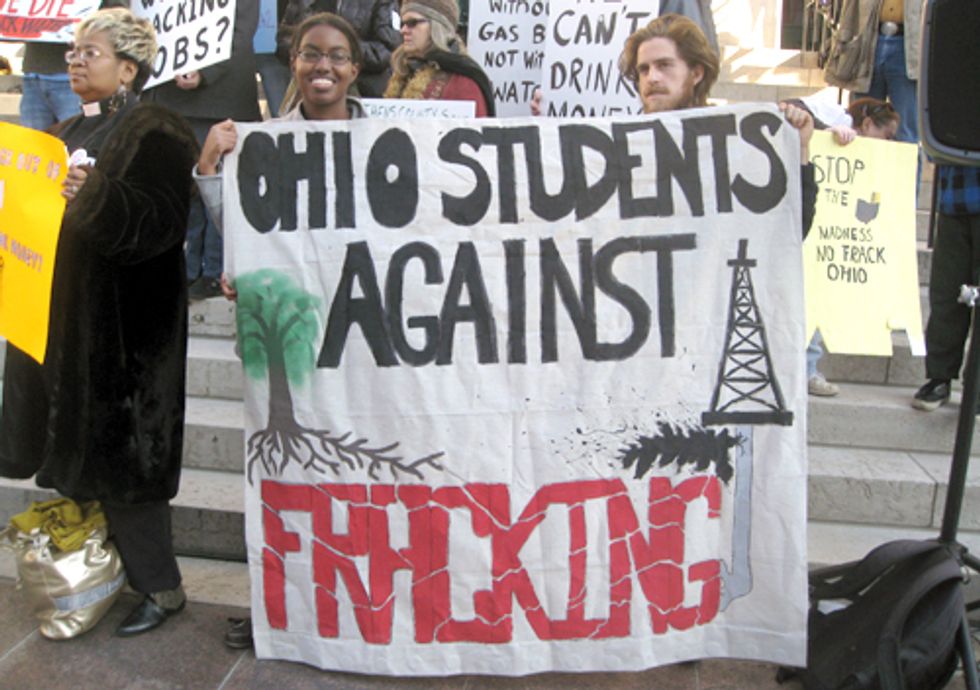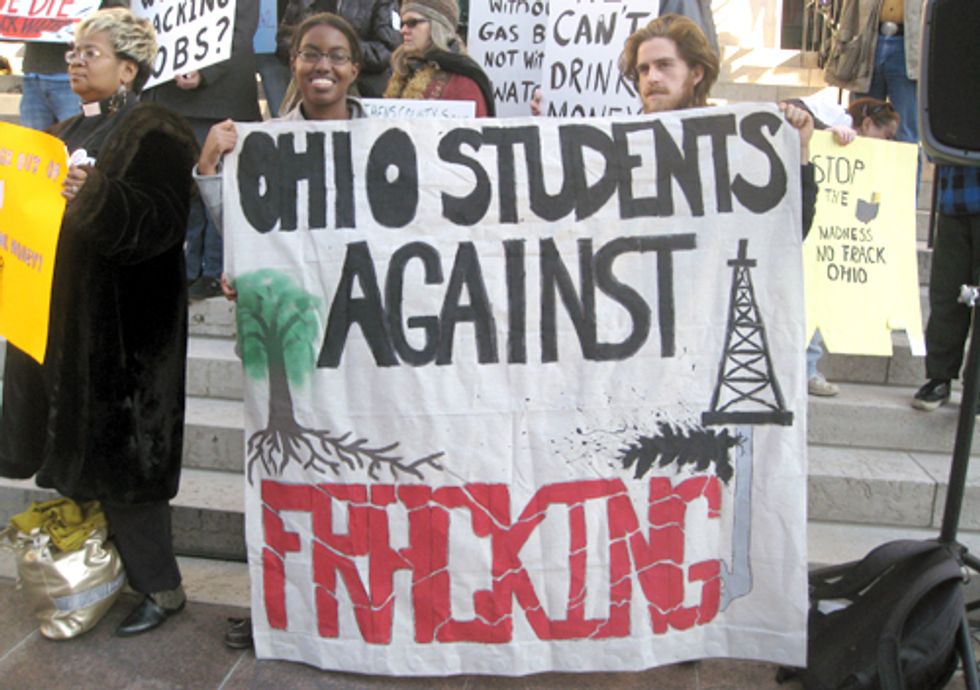 President Obama will be greeted by a rally opposed to his "all of the above" energy policy—a plan fostering the cultivation of alternative energy sources as well as oil and gas—when he visits the campus of Ohio State University on March 22 at 2 p.m. Obama's stop in Ohio will be immediately preceded by a visit to Cushing, Oklahoma—also known as 'the pipeline crossroads of the world'—where the president is expected to applaud construction of the southern leg of the Keystone XL pipeline.
"'All of the above' is not a particularly coherent energy policy, not if one worries about climate change," said Bill McKibben, founder of 350.org. "Burning all the oil you can and then putting up a solar panel is like drinking six martinis at lunch and then downing a VitaminWater. You're still a drunk—just one with your daily requirement of C and D."
Obama's new energy policy will be delivered in a particularly absurd context as Ohio has just recorded its warmest winter ever. More, scientists recently confirmed a string of earthquakes in Youngstown, Ohio were caused by wastewater injection wells.
"We're in the middle of the hottest spring week America has ever seen," said McKibben. "It makes it ironic almost to the point of parody that the president is still lauding pipelines and drilling rigs alongside solar panels and advanced batteries, as if all forms of energy were equally benign."
In addition to the global presence of climate change being felt across the world this winter and spring, Ohioans also sit on the front lines of the fracking boom as oil and gas developers are eager to declare an open drilling season. No one wants to live in the next Dimock, Pa. or Pavillion, Wyo. President Obama needs to revise his "all of the above" energy policy and reaffirm his commitment to alternative and renewable sources that he promised Americans.
If we can show Obama that renewable energy is a priority for Ohioans, at a time when all eyes are on our state, then maybe he'll think twice before supporting dirty energy projects. The bigger the crowd, the stronger the message will be.
Can you join us tomorrow? Click here to RSVP on Facebook.
Here are the details:
What: Rally to Greet President Obama on his 'All of the Above' Energy Tour
Where: Meetup in front (east lawn) of the Ohio Union, at Ohio State University (1739 N High St, Columbus, OH 43210). Parking is available next door at the Ohio Union Parking Garage.
When: Thursday, March 22, 2 - 4 p.m. We will head over to the Recreation and Physical Activity Center (RPAC, 337 W 17th Ave), location of the President's speech, for the rally itself at 2:30 p.m.
EcoWatch Daily Newsletter
Related Articles from EcoWatch