Rag Pickers: Engineers for a Cradle-to-Cradle Future
May. 24, 2012 08:37AM EST
Insights + Opinion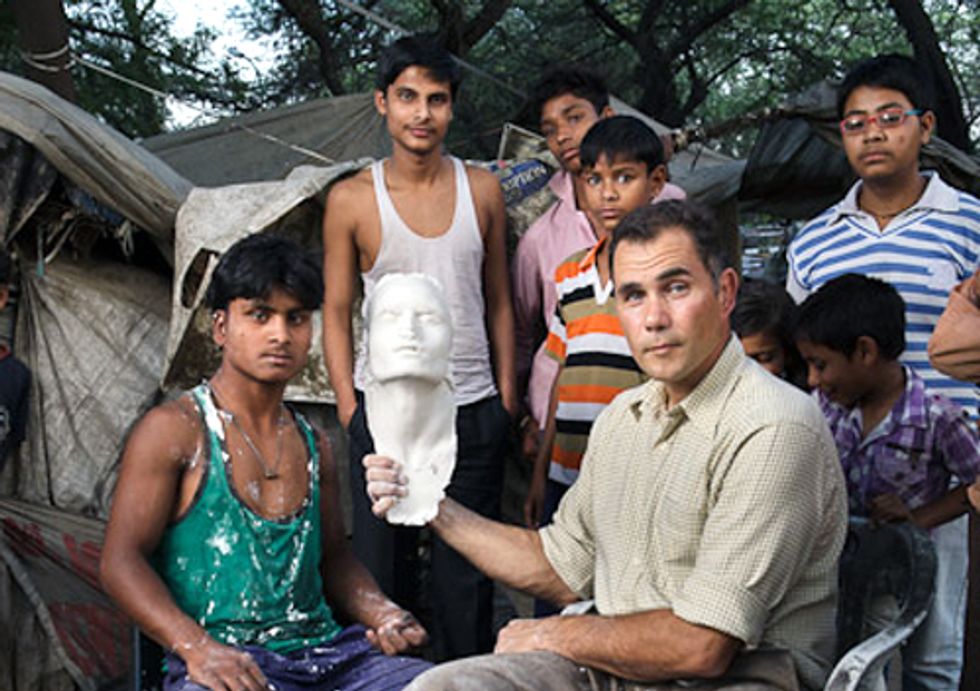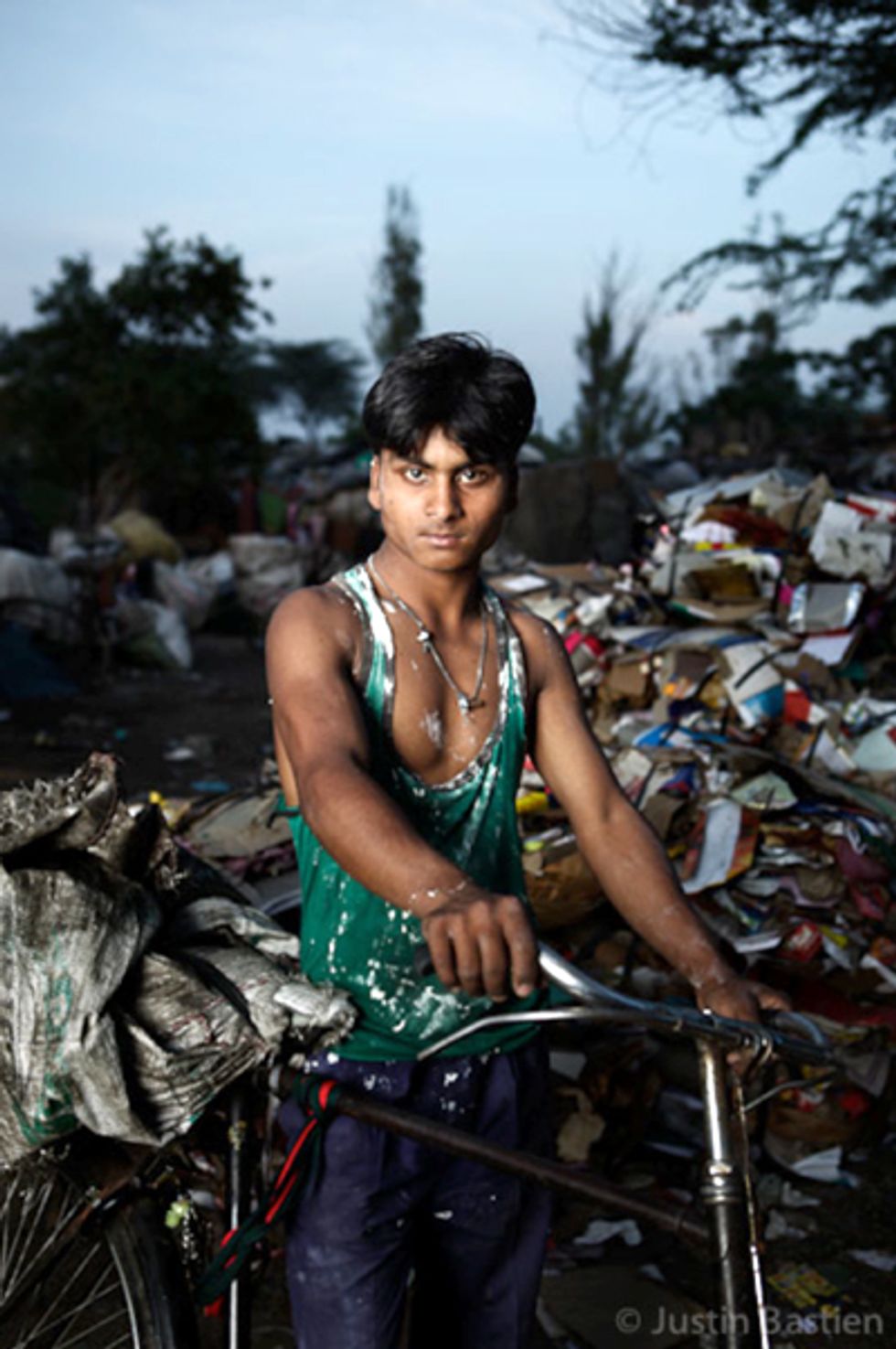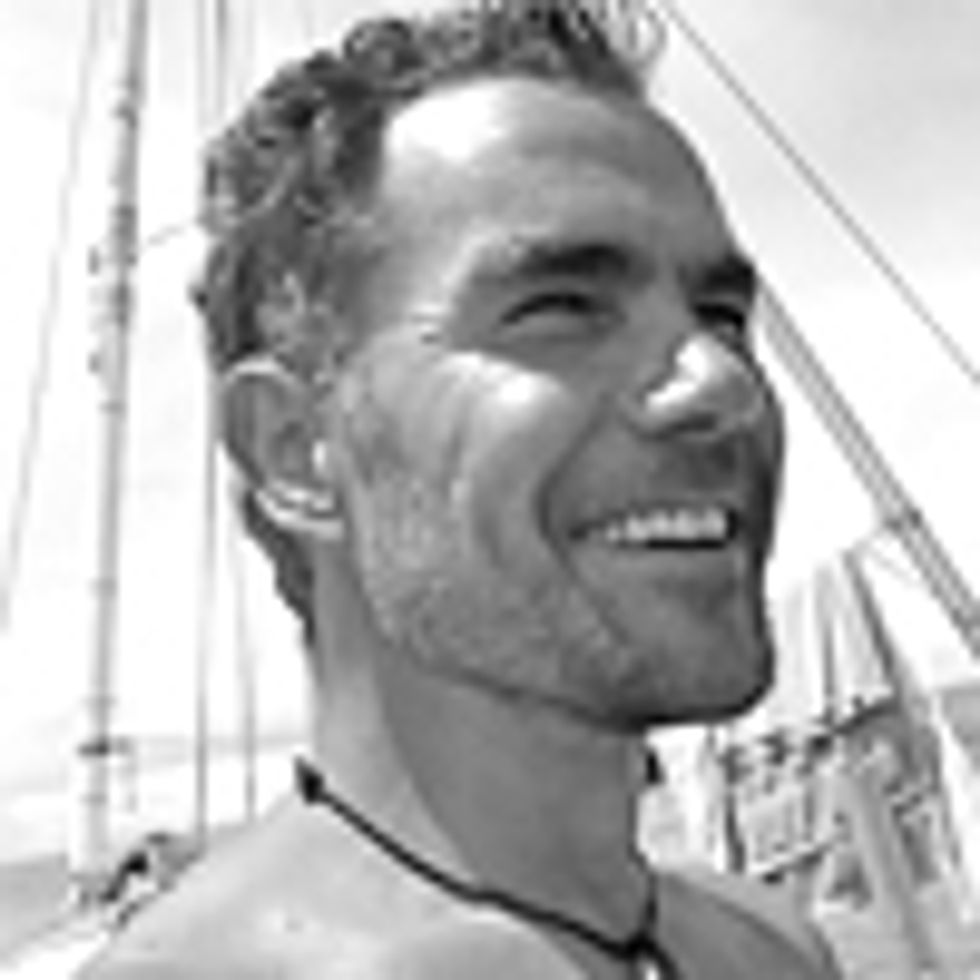 Minar came to New Delhi more than 10 years ago with his family from a small village in rural India to find opportunity in the city. He is one of 3000 people in the Vivekanan Camp, one of 300 million, a quarter of India's population living in poverty, each with a story. Minar and his family are commonly called "Rag Pickers," self-employed men and women that account for the 47 percent recovery rate for plastic produced in India. I met Minar last month when I first visited his camp to learn about the true life cycle of plastic.
I wanted to cast these men in a different light. Literally, I wanted to cast them, using plaster of paris. They are social entrepreneurs, earning no government pay for their work, doing a service for the whole of the country. Minar is a gold mine of information about what people throw away, what's worth picking up and what gets washed down the Yamuna River. These three areas describe the plastic pollution problem: Individual beliefs and litter, Industry product design and defense, Government policy and waste management. Often one blames the other, leaving wasted time and resources to join the tangible waste piling up around the world.
I told Minar that I had taken a boat across the Yamuna River, which provides most of the drinking water for 18 million people in Delhi, and drains their waste as well. I spent an afternoon with Sunny Verma from the NGO "SWECHHA: We for Change" in a boat across the lower end of the river, where 80 percent of it is raw sewage, zero dissolved oxygen, and as Sunny put it, "This river is dead." Putrid black anaerobic muck bubbles methane to the surface with every oar stroke. Before I could finish my description Minar interrupted me and said, "There are no plastic bottles there." I showed him a photo in my camera. "See, there are no plastic bottles. Nobody wants the rest of it."
Minar is right. There are no bottles here. Plastic films, like plastic bags and food wrappers, pile against the bridge pilings. Minar explained that it takes 350 plastic bags to make 1 kg, whereas only 30 plastic bottles equals the same weight, of which he earns $.30. 
"But what if the plastic bags were thicker?" I asked him.
"It depends how thick, then I might collect it," he responded, adding, "But if they are dirty, I must wash them, otherwise the wholesaler will not buy them from me. He'll remember me and not buy any of my plastic."
He must constantly weigh the cost/benefit of his work against time, monetary return, personal health, wear and tear on his bicycle, and the needs of his family. His father left long ago, leaving him to care for his mother, grandfather and siblings. "This life is not easy," he says.
The products that he doesn't pick up are the ones that are not designed for recovery. If we held manufactures to a standard of recovery, by asking the rag-pickers and the recycle centers around the world "what is not recyclable by design," then make those products obsolete, plastic would begin to lose its place as a major polluter. You simply wouldn't see it, or need to bury or burn it. The production-consumption-recovery loop would begin to close.
The loop of plastic waste comes to a semi-closed loop in Mumbai in the Dharavi Slum, where plastic is collected, sorted, melted, pelletized and resold. Rakesh, a guide with Reality Tours, meets us at the bridge that goes over the train tracks and into the Dharavi slum community built on reclaimed landfill. With 540,000 people/km sq., Dharavi boasts of being the heart and industrial center of Mumbai, where $2/day labor beats any other market in the world. Mumbai is one of the major recipients of plastic waste from the U.S. and Europe, and Dharavi is where a poor and eager workforce doesn't complain. Through a maze of narrow alleys and raw sewage channels, we enter the plastic smelting zone, but we smell it first. 
Giant sacks, piled two stories high, are filled with everything plastic, from washing machine parts, to bottle caps and Barbie dolls. There are thousands of them. In damp and dark rooms, men and women squat on piles of mixed plastic and sort it all by hand into separate types. "It's the feel and smell of it that makes them know what it is," Rakesh explains. The ear-piercing crush of plastic into penny-size fragments happens in rooms where men stuff larger pieces into giant funnels with rotating blades attached to heavy flywheels. 
We meander between sacks of sorted plastic to a place where the rooftop is billowing black smoke. My eyes and throat burn. "Here is where they melt it," Rakesh explains, adding, "…and they sleep and eat here because the owner, who only comes into the slum once a month, likes the free security." Inside the long dark room there's one man on one end pouring shredded HDPE into a hopper, which is then melted inside what looks like a red-hot cannon. I pick up a broken piece that reads "York," as in NY. On the other end of the cannon the melted plastic is extruded like spaghetti, cooled in a bath of water, and then chopped into tiny pellets.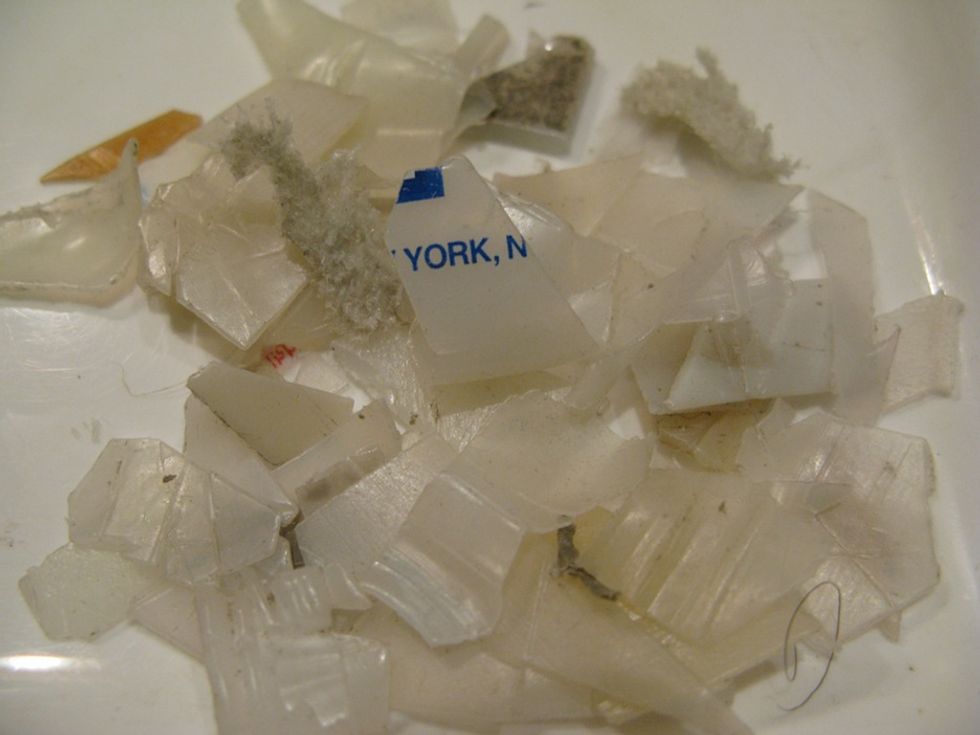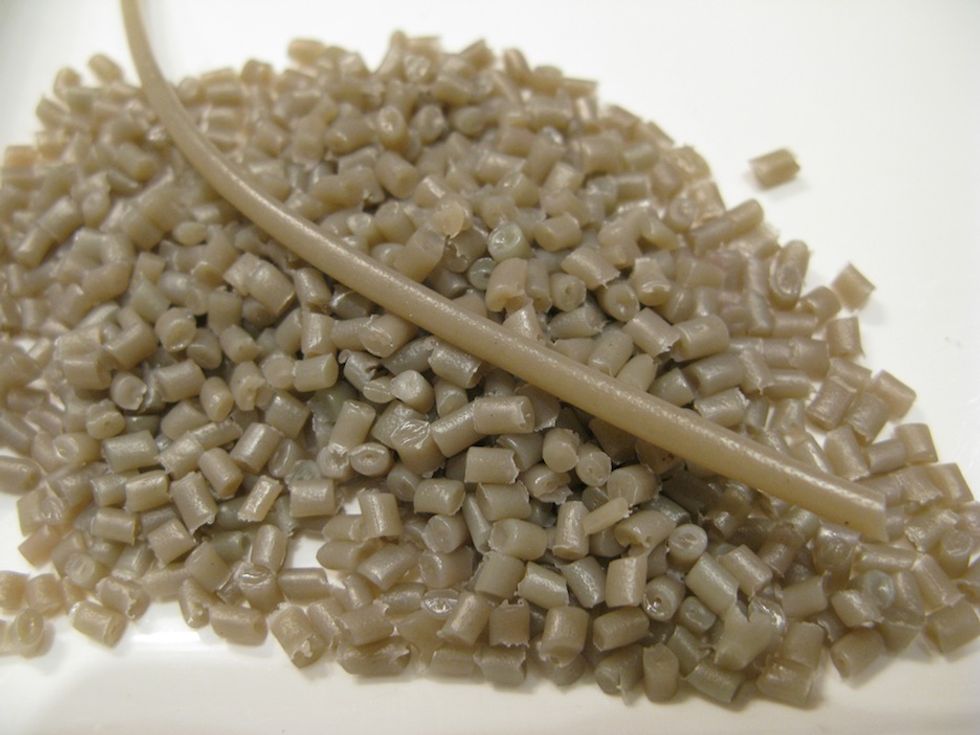 This plastic may have come from food-grade plastic, but will not return to it, because toxins absorbed into the plastic is not removed in this process. This plastic gets another life as a lesser-quality plastic product, which keeps it out of the environment for now. Two men working here are shirtless, wearing sandals, covered with tiny bits of plastic and soot. Their lifespan here is 50-55. They are the ones that turn the plastic that waste pickers, like Minar in Delhi, collect for 15 Rupees/kg ($.30) into plastic worth 40 Rupees/kg ($.90) in exchange for $2/day minus 20 years of life.
I returned to the Vivenkanan Camp with my molding materials and plaster of paris, just as Minar pulls into camp with 4 giant bundles, the days catch of plastic bottles, strapped to his bicycle. I asked last week if I could cast him. My intention is to acknowledge his important role in society, and the dignity he deserves for his work, as the "Sanitation Engineer" of India. He agreed. I cast his hand first, so he would trust the process. Thirty children gathered around us. Justin Bastien took a dozen photographs of him and everyone, including Minar's grandfather, who was squatting comfortably next to stuffed sacks of plastic bottles. 
Thirty minutes later I had a plaster cast of Minar, his strong jawline, arched neck and closed eyes gave a powerful performance. His grandfather looked over and gave the cast a smile and a 'thumbs-up.' In time I will recast his image with some of the plastic he collected for me, so that my original intention will be served—to show that the people that pick up the waste of the world are the best qualified to tell us how to design a cradle-to-cradle future.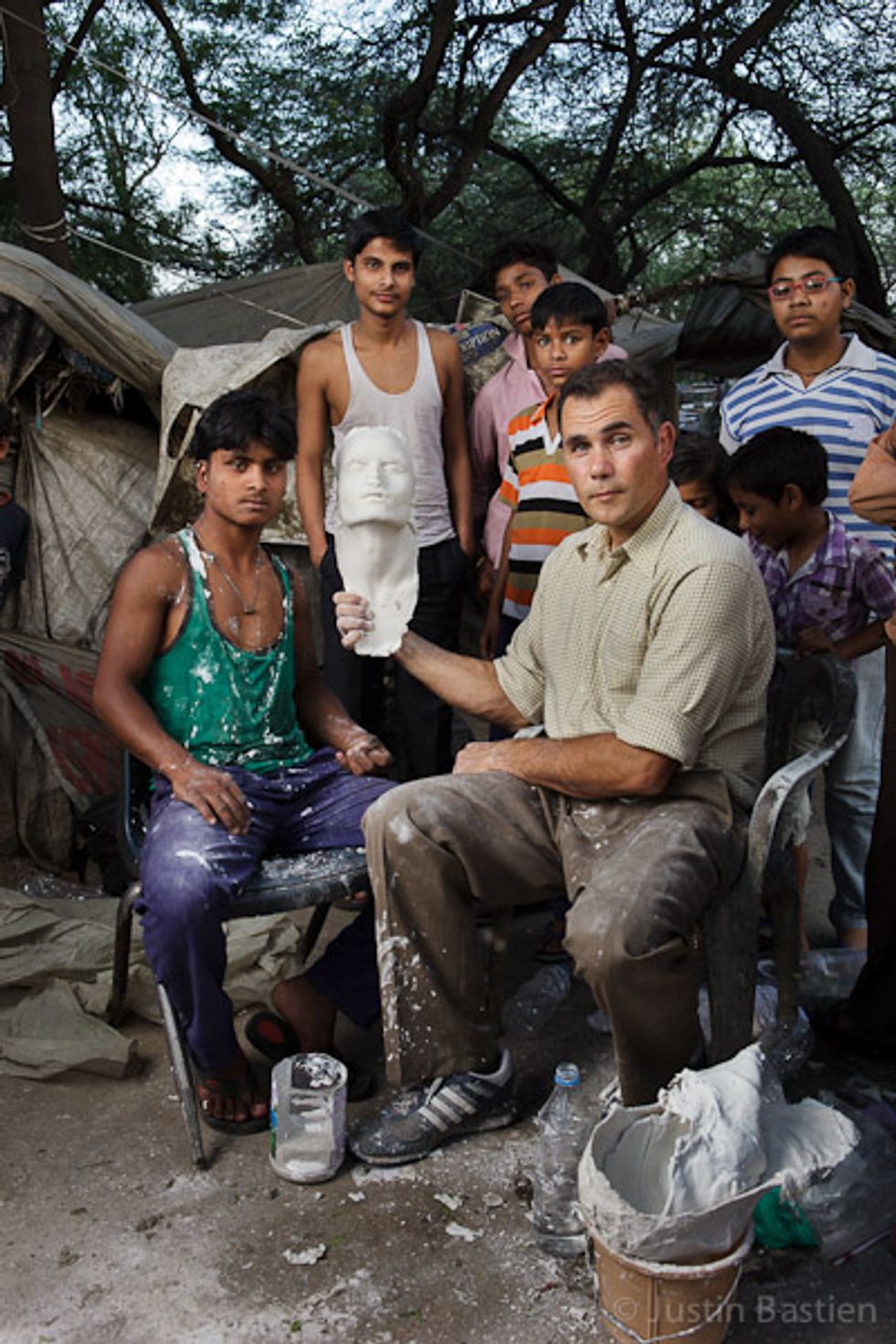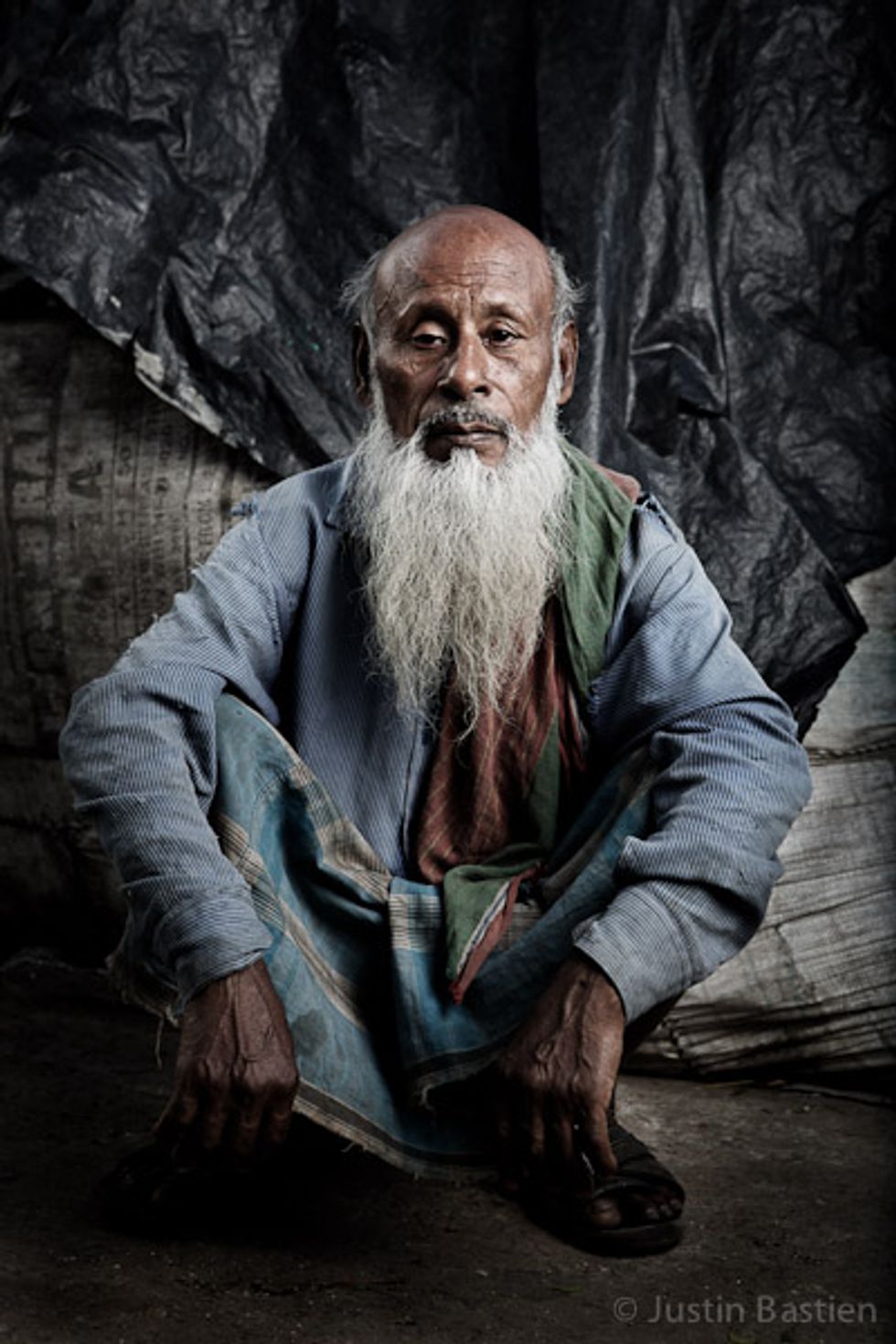 EcoWatch Daily Newsletter