Rag Pickers: Engineers for a Cradle-to-Cradle Future
May. 24, 2012 08:37AM EST
Insights + Opinion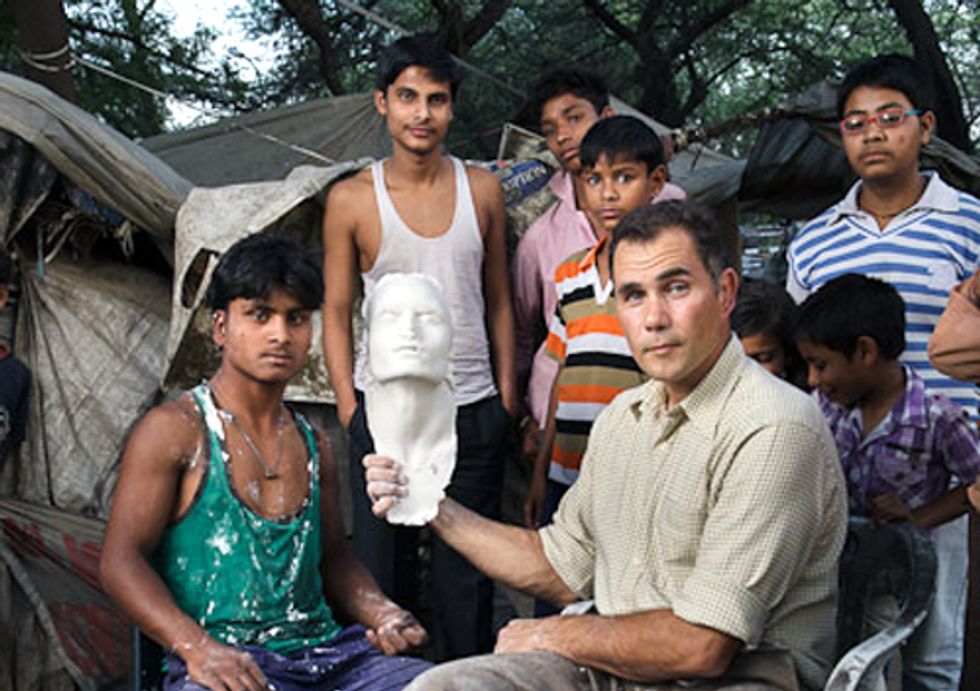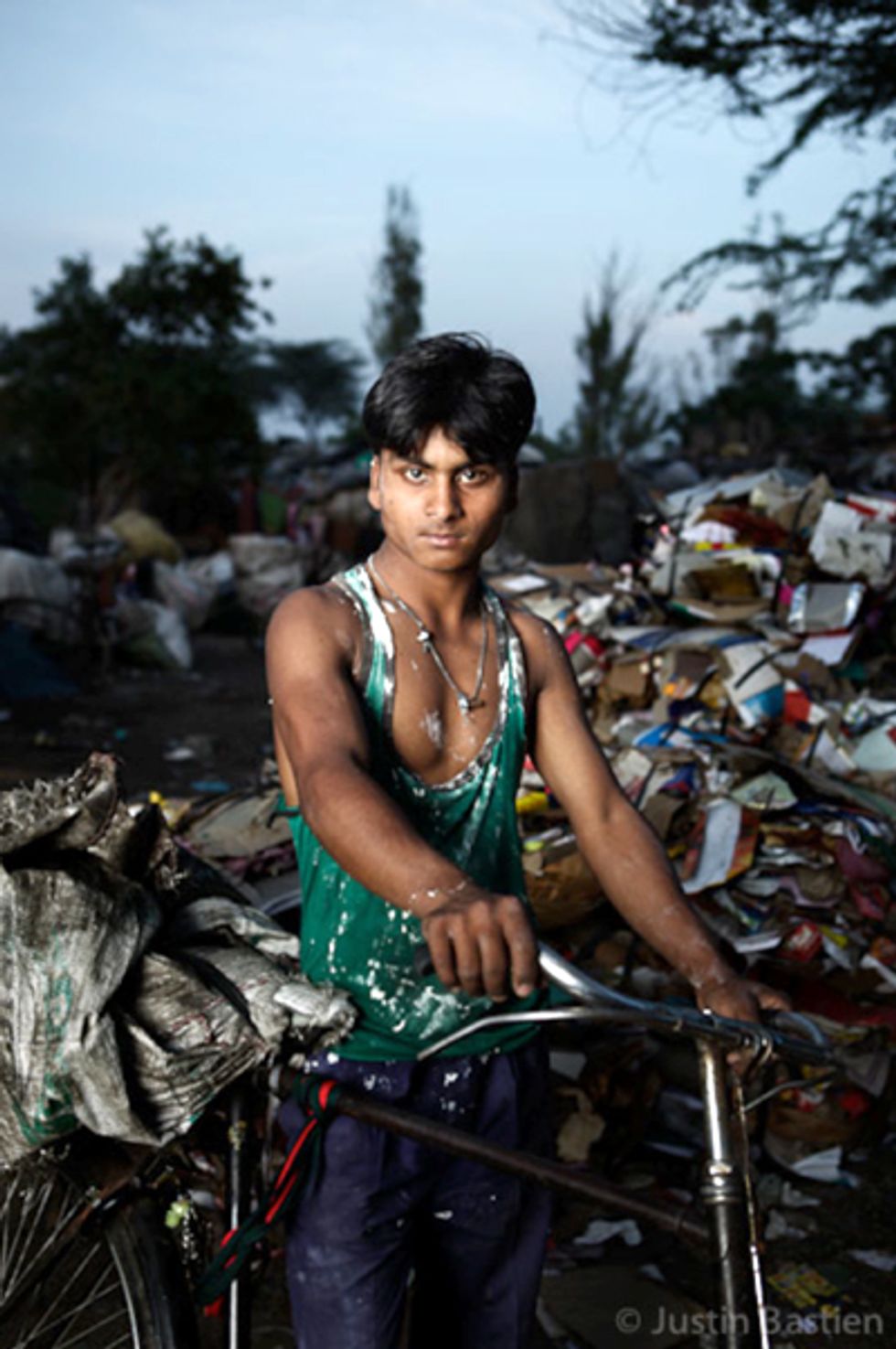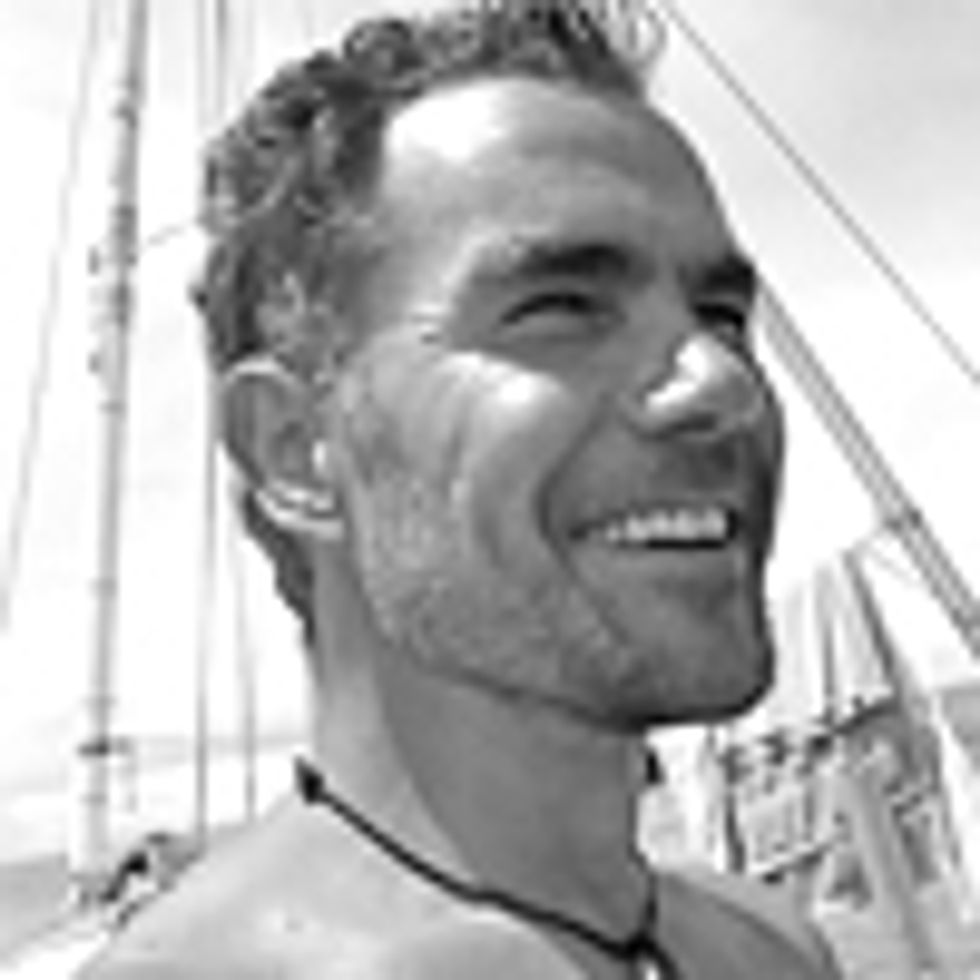 Minar came to New Delhi more than 10 years ago with his family from a small village in rural India to find opportunity in the city. He is one of 3000 people in the Vivekanan Camp, one of 300 million, a quarter of India's population living in poverty, each with a story. Minar and his family are commonly called "Rag Pickers," self-employed men and women that account for the 47 percent recovery rate for plastic produced in India. I met Minar last month when I first visited his camp to learn about the true life cycle of plastic.
I wanted to cast these men in a different light. Literally, I wanted to cast them, using plaster of paris. They are social entrepreneurs, earning no government pay for their work, doing a service for the whole of the country. Minar is a gold mine of information about what people throw away, what's worth picking up and what gets washed down the Yamuna River. These three areas describe the plastic pollution problem: Individual beliefs and litter, Industry product design and defense, Government policy and waste management. Often one blames the other, leaving wasted time and resources to join the tangible waste piling up around the world.
I told Minar that I had taken a boat across the Yamuna River, which provides most of the drinking water for 18 million people in Delhi, and drains their waste as well. I spent an afternoon with Sunny Verma from the NGO "SWECHHA: We for Change" in a boat across the lower end of the river, where 80 percent of it is raw sewage, zero dissolved oxygen, and as Sunny put it, "This river is dead." Putrid black anaerobic muck bubbles methane to the surface with every oar stroke. Before I could finish my description Minar interrupted me and said, "There are no plastic bottles there." I showed him a photo in my camera. "See, there are no plastic bottles. Nobody wants the rest of it."
Minar is right. There are no bottles here. Plastic films, like plastic bags and food wrappers, pile against the bridge pilings. Minar explained that it takes 350 plastic bags to make 1 kg, whereas only 30 plastic bottles equals the same weight, of which he earns $.30. 
"But what if the plastic bags were thicker?" I asked him.
"It depends how thick, then I might collect it," he responded, adding, "But if they are dirty, I must wash them, otherwise the wholesaler will not buy them from me. He'll remember me and not buy any of my plastic."
He must constantly weigh the cost/benefit of his work against time, monetary return, personal health, wear and tear on his bicycle, and the needs of his family. His father left long ago, leaving him to care for his mother, grandfather and siblings. "This life is not easy," he says.
The products that he doesn't pick up are the ones that are not designed for recovery. If we held manufactures to a standard of recovery, by asking the rag-pickers and the recycle centers around the world "what is not recyclable by design," then make those products obsolete, plastic would begin to lose its place as a major polluter. You simply wouldn't see it, or need to bury or burn it. The production-consumption-recovery loop would begin to close.
The loop of plastic waste comes to a semi-closed loop in Mumbai in the Dharavi Slum, where plastic is collected, sorted, melted, pelletized and resold. Rakesh, a guide with Reality Tours, meets us at the bridge that goes over the train tracks and into the Dharavi slum community built on reclaimed landfill. With 540,000 people/km sq., Dharavi boasts of being the heart and industrial center of Mumbai, where $2/day labor beats any other market in the world. Mumbai is one of the major recipients of plastic waste from the U.S. and Europe, and Dharavi is where a poor and eager workforce doesn't complain. Through a maze of narrow alleys and raw sewage channels, we enter the plastic smelting zone, but we smell it first. 
Giant sacks, piled two stories high, are filled with everything plastic, from washing machine parts, to bottle caps and Barbie dolls. There are thousands of them. In damp and dark rooms, men and women squat on piles of mixed plastic and sort it all by hand into separate types. "It's the feel and smell of it that makes them know what it is," Rakesh explains. The ear-piercing crush of plastic into penny-size fragments happens in rooms where men stuff larger pieces into giant funnels with rotating blades attached to heavy flywheels. 
We meander between sacks of sorted plastic to a place where the rooftop is billowing black smoke. My eyes and throat burn. "Here is where they melt it," Rakesh explains, adding, "…and they sleep and eat here because the owner, who only comes into the slum once a month, likes the free security." Inside the long dark room there's one man on one end pouring shredded HDPE into a hopper, which is then melted inside what looks like a red-hot cannon. I pick up a broken piece that reads "York," as in NY. On the other end of the cannon the melted plastic is extruded like spaghetti, cooled in a bath of water, and then chopped into tiny pellets.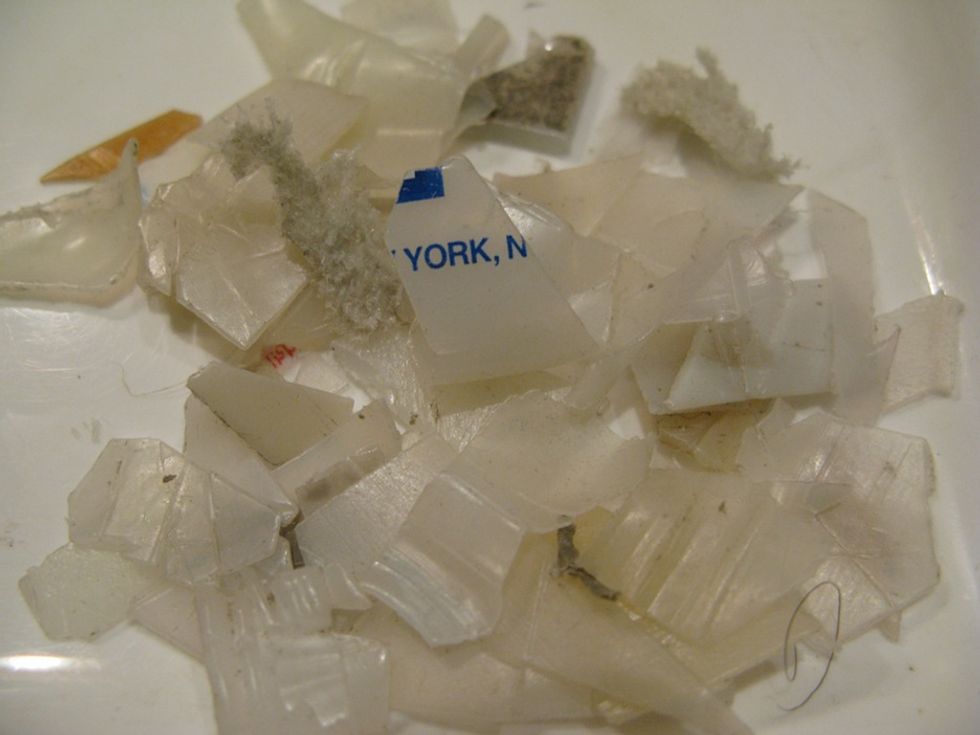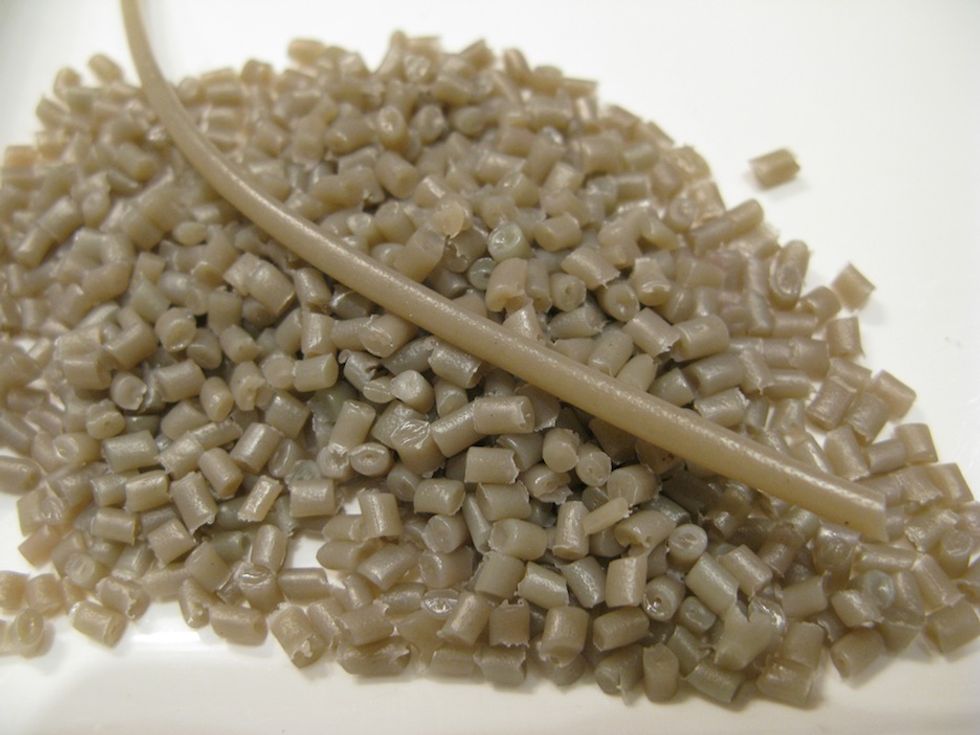 This plastic may have come from food-grade plastic, but will not return to it, because toxins absorbed into the plastic is not removed in this process. This plastic gets another life as a lesser-quality plastic product, which keeps it out of the environment for now. Two men working here are shirtless, wearing sandals, covered with tiny bits of plastic and soot. Their lifespan here is 50-55. They are the ones that turn the plastic that waste pickers, like Minar in Delhi, collect for 15 Rupees/kg ($.30) into plastic worth 40 Rupees/kg ($.90) in exchange for $2/day minus 20 years of life.
I returned to the Vivenkanan Camp with my molding materials and plaster of paris, just as Minar pulls into camp with 4 giant bundles, the days catch of plastic bottles, strapped to his bicycle. I asked last week if I could cast him. My intention is to acknowledge his important role in society, and the dignity he deserves for his work, as the "Sanitation Engineer" of India. He agreed. I cast his hand first, so he would trust the process. Thirty children gathered around us. Justin Bastien took a dozen photographs of him and everyone, including Minar's grandfather, who was squatting comfortably next to stuffed sacks of plastic bottles. 
Thirty minutes later I had a plaster cast of Minar, his strong jawline, arched neck and closed eyes gave a powerful performance. His grandfather looked over and gave the cast a smile and a 'thumbs-up.' In time I will recast his image with some of the plastic he collected for me, so that my original intention will be served—to show that the people that pick up the waste of the world are the best qualified to tell us how to design a cradle-to-cradle future.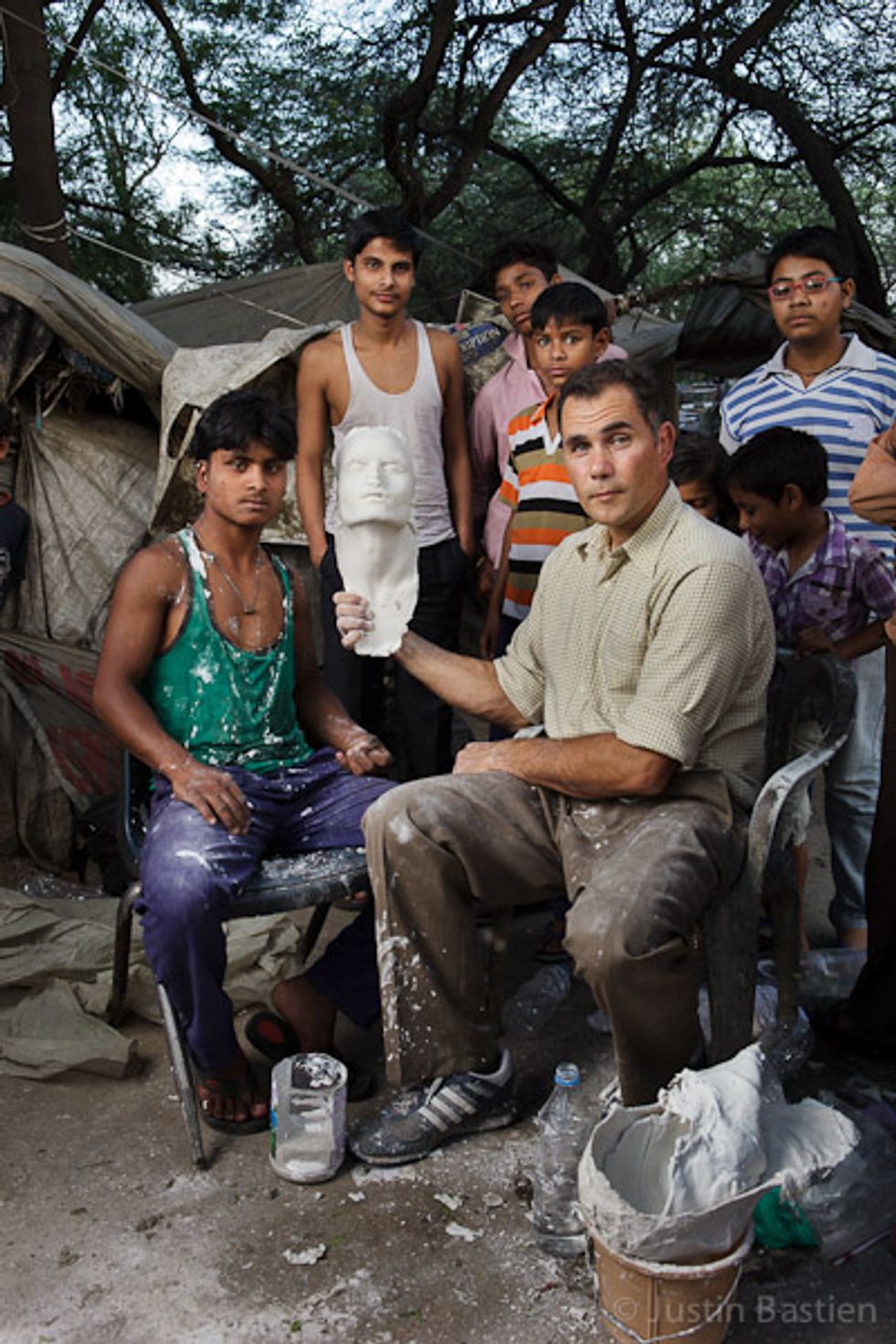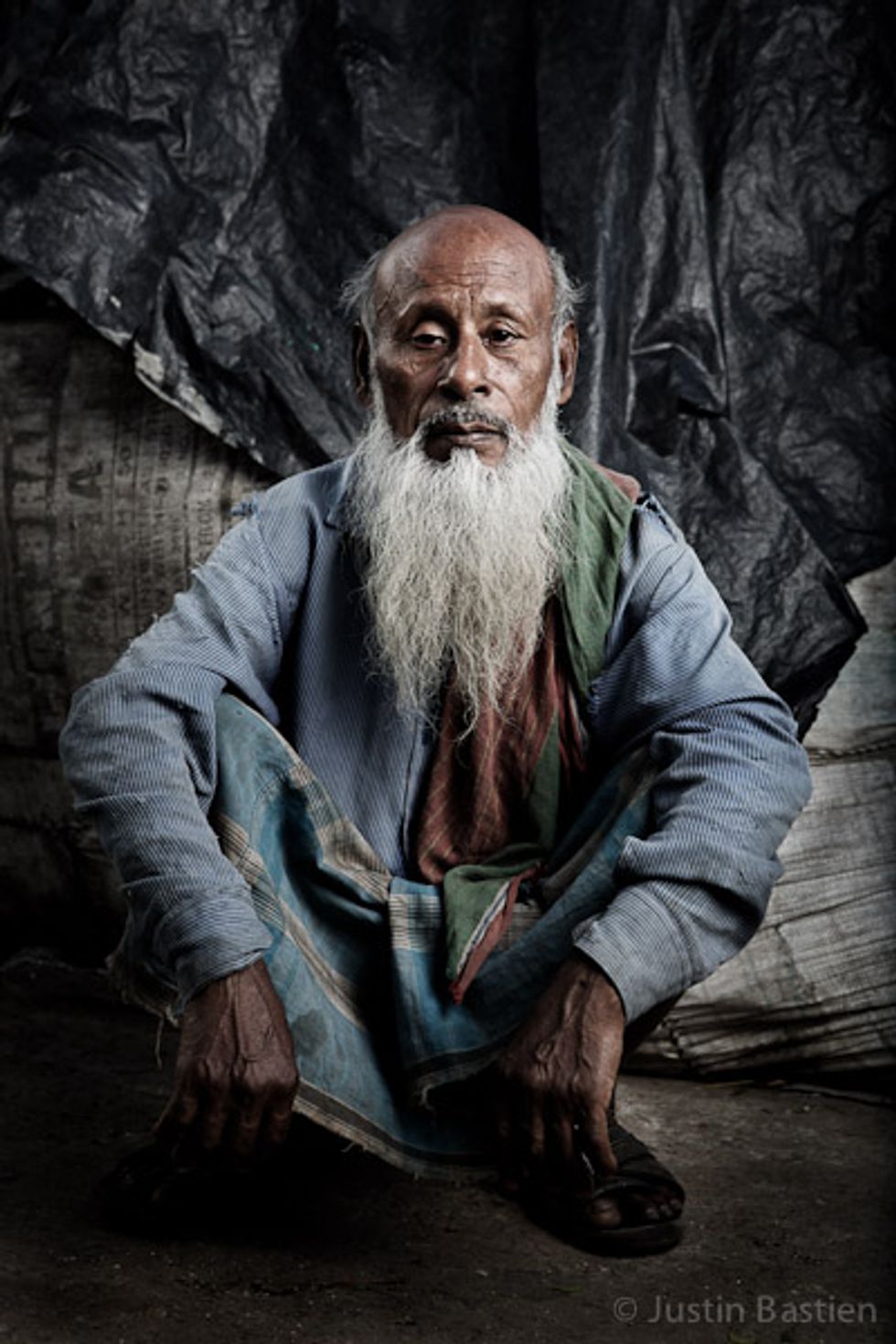 Recycling and general waste plastic wheelie bins awaiting collection for disposal in Newport, Rhode Island. Tim Graham / Getty Images
Reduce. Reuse. Recycle. According to The National Museum of American History, this popular slogan, with its iconic three arrows forming a triangle, embodied a national call to action to save the environment in the 1970s. In that same decade, the first Earth Day happened, the EPA was formed and Congress passed the Resource Conservation and Recovery Act, encouraging recycling and conservation of resources, Enviro Inc. reported.
According to Forbes, the Three R's sustainability catch-phrase, and the recycling cause it bolstered, remain synonymous with the U.S. environmental movement itself. There's only one problem: despite being touted as one of the most important personal actions that individuals can take to help the planet, "recycling" – as currently carried out in the U.S. – doesn't work and doesn't help.
Turns out, there is a vast divide between the misleading, popular notion of recycling as a "solution" to the American overconsumption problem and the darker reality of recycling as a failing business model.
Tiffany Duong is an avid ocean advocate. She holds degrees from UCLA and the University of Pennsylvania Carey Law School and is an Al Gore Climate Reality Leader and student member of The Explorer's Club.
She spent years as a renewable energy lawyer in L.A. before moving to the Amazon to conduct conservation fieldwork (and revamp her life). She eventually landed in the Florida Keys as a scientific scuba diver and field reporter and writes about the oceans, climate, and the environment from her slice of paradise. Follow her on Twitter/Instagram @lilicedt.
EcoWatch Daily Newsletter
The coal-fired Huaneng Power Plant in Huai 'an City, Jiangsu Province, China on Sept. 13, 2020. Costfoto / Barcroft Media via Getty Images
Overall energy demand is expected to rise 4.6 percent this year compared to 2020 and 0.5 percent compared to 2019, according to the IEA's Global Energy Review 2021. Demand for fossil fuels is expected to jump to such an extent that emissions will rise by nearly five percent in 2021. This will reverse 80 percent of the emissions decline reported in 2020, to end emissions just 1.2 percent below 2019 emissions levels. Because the lockdown saw the biggest drop in energy demand since World War II, the projected increase in carbon dioxide emissions will still be the second-highest on record, BBC News pointed out.
"This is a dire warning that the economic recovery from the COVID crisis is currently anything but sustainable for our climate," IEA Executive Director Fatih Birol said in a statement reported by AFP.
Birol said much of that increase was being driven by the resurgence of coal use. In fact, coal demand is expected to increase by 60 percent more than all forms of renewable energy, according to the report. Overall coal demand is expected to increase by 4.5 percent in 2021. More than 80 percent of that growth is in Asia, and more than 50 percent is in China. While coal use is expected to increase in the U.S. and Europe as well, it will remain far below pre-pandemic levels. Still, global coal use is expected to rise to nearly its 2014 peak, BBC News reported.
Natural gas demand is also expected to rise by 3.2 percent in 2021, to put it more than one percent above 2019 levels, according to the report.
There are, however, two bright spots in the report from a climate perspective. The first is that oil demand, while up 6.2 percent from 2020, is still expected to remain around 3 percent below 2019 levels. This is because oil use for ground transportation is not expected to recover until the end of 2021, and oil use for air travel is expected to remain at 20 percent below 2019 levels by December of 2021.
"A full return to pre-crisis oil demand levels would have pushed up CO2 emissions a further 1.5%, putting them well above 2019 levels," the report authors wrote.
The second bright spot is that renewable energy demand is set to rise in all sectors in 2021. In power, where its rise is the greatest, it is set to increase by more than eight percent. This is "the largest year-on-year growth on record in absolute terms," the report authors wrote.
Renewable energy will provide 30 percent of electricity overall, BBC News reported, which is the highest percentage since the industrial revolution. The problem is that the increase in renewables is running parallel to an increase in fossil fuels in some places. China, for example, is also expected to account for almost half of the rise in renewable electricity.
"As we have seen at the country-level in the past 15 years, the countries that succeed to cut their emissions are those where renewable energy replaces fossil energy," energy expert and University of East Anglia professor Corinne Le Quéré told BBC News. "What seems to be happening now is that we have a massive deployment of renewable energy, which is good for tackling climate change, but this is occurring alongside massive investments in coal and gas. Stimulus spending post-Covid-19 worldwide is still largely funding activities that lock us into high CO2 emissions for decades."
To address this issue, Birol called on the world leaders gathering for U.S. President Joe Biden's climate summit Thursday and Friday to pledge additional action before November's UN Climate Change Conference, according to AFP.
"Unless governments around the world move rapidly to start cutting emissions, we are likely to face an even worse situation in 2022," said Birol.
From Your Site Articles
Related Articles Around the Web
A grizzly bear killed an outdoor guide in a rare attack near Yellowstone Park. William Campbell / Corbis / Getty Images
Representative Alexandria Ocasio-Cortez (D-NY) re-introduces the Green New Deal in Washington, D.C. on April 20, 2021. Mandel Ngan / AFP / Getty Images
By Brett Wilkins
In the latest of a flurry of proposed Green New Deal legislation, Reps. Cori Bush and Alexandria Ocasio-Cortez on Monday introduced the Green New Deal for Cities Act of 2021, a $1 trillion plan to "tackle the environmental injustices that are making us and our children sick, costing us our homes, and destroying our planet."
Offshore oil and gas drillers have left more than 18,000 miles of pipelines at the bottom of the Gulf of Mexico. Drew Angerer / Getty Images
Offshore oil and gas drillers have discarded and abandoned more than 18,000 miles of pipelines on the floor of the Gulf of Mexico since the 1960s, a report from the Government Accountability Office says.
The industry has essentially recovered none of the pipelines laid in the Gulf in the last six decades; the abandoned infrastructure accounts for more than 97% of all of the decommissioned pipelines in the Gulf.
The pipelines pose a threat to the habitat around them, as maritime commerce and hurricanes and erosion can move sections of pipeline.
The Bureau of Safety and Environmental Enforcement does not conduct undersea inspections even though surface monitoring is "not always reliable for detecting ruptures," according to the GAO.
For a deeper dive:
For more climate change and clean energy news, you can follow Climate Nexus on Twitter and Facebook, sign up for daily Hot News, and visit their news site, Nexus Media News.