This website uses cookies to ensure you get the best experience while browsing it. By clicking 'Got It' you're accepting these terms.
By Liz Dwyer
Last fall Sacha Harland, a member of the Netherlands-based web video team Lifehunters, decided to record what happened when he gave up alcohol, junk food and sugar for a month. Four days into the stunt, Harland reported intense cravings for candy and other sugary items—the same symptoms experienced by plenty of folks who have tried to give up sweets.
Well, it turns out those cravings aren't merely the result of people being weak-willed or looking for an excuse to roll through a Krispy Kreme drive-through. According to a pair of studies by the Institute of Health and Biomedical Innovation at the University of Queensland, quitting sugar can be as tough for people as giving up another powdery white substance: cocaine.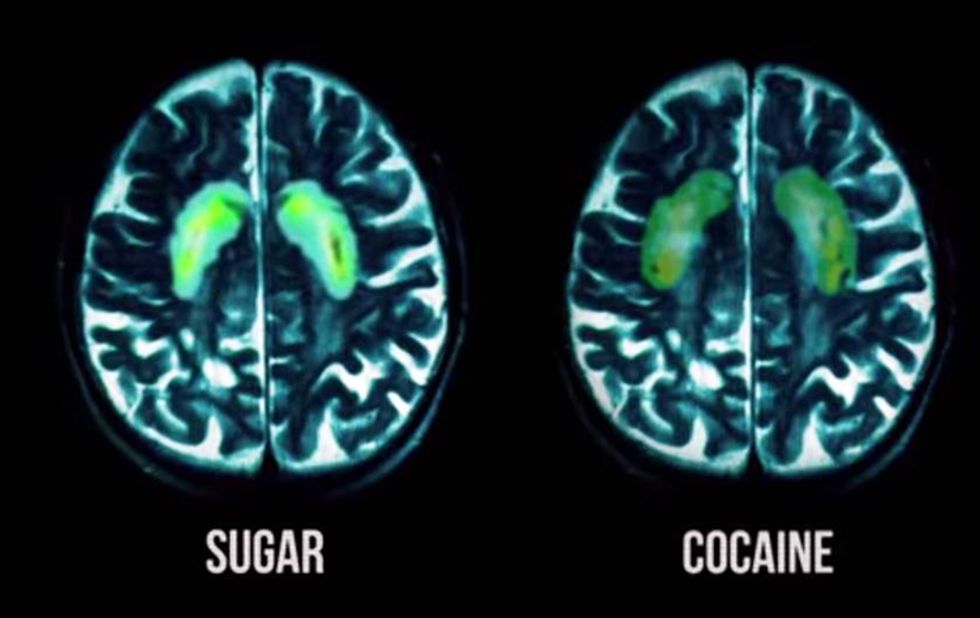 As a result, the Australian researchers believe treating sugar addicts the same way as people hooked on drugs could be the key to getting folks to kick their sweets habit for good.
Sugar consumption elevates "dopamine levels which control the brain's reward and pleasure centers in a way that is similar to many drugs of abuse including tobacco, cocaine and morphine," Selena Bartlett, a researcher at the institute and one of the study's authors, told Science Daily. "Like other drugs of abuse, withdrawal from chronic sucrose exposure can result in an imbalance in dopamine levels and be as difficult as going 'cold turkey' from them."
According to the research, published in the journal PLOS ONE, people have to consume more and more sugar to maintain elevated dopamine levels. That's particularly problematic given that studies have shown consuming large amounts of sugar contributes to high blood pressure, diabetes and obesity.
"The latest World Health Organization (WHO) figures tell us 1.9 billion people worldwide are overweight, with 600 million considered obese," said Bartlett.
Indeed, to help curb the obesity epidemic, last year WHO recommended that people try to get no more than 5 percent of their total daily calories from sugar. Drinking one can of cola puts someone consuming 2,000 calories a day over that limit. A study released in March found that sugary, ultra-processed foods make up more than half the diet of the average American.
There's a growing awareness of the connection between health problems and sugar consumption: A survey released last summer found that 75 percent of adults in the UK are actively looking to consume foods with less sugar. But given how addictive sugar is, those folks may find it's tough to give it up—much like Harland discovered in his monthlong stunt in Amsterdam.
As a result, Bartlett and her team have been experimenting with giving sugar addicts the same drugs used to treat people who are having a tough time quitting smoking. They found that the prescription medication Chantix, "which treats nicotine addiction, can work the same way when it comes to sugar cravings," said Bartlett.
So does this mean that in a few years people looking to kick their sugar habit will be able to do so with a medicated patch on their shoulder or by popping a pill? Bartlett said the idea is still being tested, but these medications "may represent a novel new treatment strategy to tackle the obesity epidemic."
This article was reposted with permission from our media associate TakePart.

YOU MIGHT ALSO LIKE
5 Ways Fruit and Veggies Can Replace Medications
9 Health Benefits to Adding Avocado Oil to Your Diet
What Will Happen When Genetically Engineered Salmon Escape Into the Wild?
EcoWatch Daily Newsletter
polaristest / Flickr / CC BY-NC-ND 2.0
By Melissa Kravitz Hoeffner
Over six gallons of water are required to produce one gallon of wine. "Irrigation, sprays, and frost protection all [used in winemaking] require a lot of water," explained winemaker and sommelier Keith Wallace, who's also a professor and the founder of the Wine School of Philadelphia, the largest independent wine school in the U.S. And water waste is just the start of the climate-ruining inefficiencies commonplace in the wine industry. Sustainably speaking, climate change could be problematic for your favorite glass of wine.
Pixabay
Spinach is a true nutritional powerhouse, as it's rich in vitamins, minerals, and antioxidants.
Pexels
By Jeff Turrentine
From day to day, our public health infrastructure — the people and systems we've put in place to keep populations, as opposed to individuals, healthy — largely goes unnoticed. That's because when it's working well, its success takes the form of utter normalcy.
By Eoin Higgins
A viral video showing cell phone data collected by location accuracy company X-Mode from spring break partiers potentially spreading the coronavirus around the U.S. has brought up questions of digital privacy even as it shows convincingly the importance of staying home to defeat the disease.
Aerial shot top view Garbage trucks unload garbage to a recycle in the vicinity of the city of Bangkok, Thailand. bugto / Moment / Getty Images
German researchers have identified a strain of bacterium that not only breaks down toxic plastic, but also uses it as food to fuel the process, according to The Guardian.