This website uses cookies to ensure you get the best experience while browsing it. By clicking 'Got It' you're accepting these terms.
By Liz Dwyer
Last fall Sacha Harland, a member of the Netherlands-based web video team Lifehunters, decided to record what happened when he gave up alcohol, junk food and sugar for a month. Four days into the stunt, Harland reported intense cravings for candy and other sugary items—the same symptoms experienced by plenty of folks who have tried to give up sweets.
Well, it turns out those cravings aren't merely the result of people being weak-willed or looking for an excuse to roll through a Krispy Kreme drive-through. According to a pair of studies by the Institute of Health and Biomedical Innovation at the University of Queensland, quitting sugar can be as tough for people as giving up another powdery white substance: cocaine.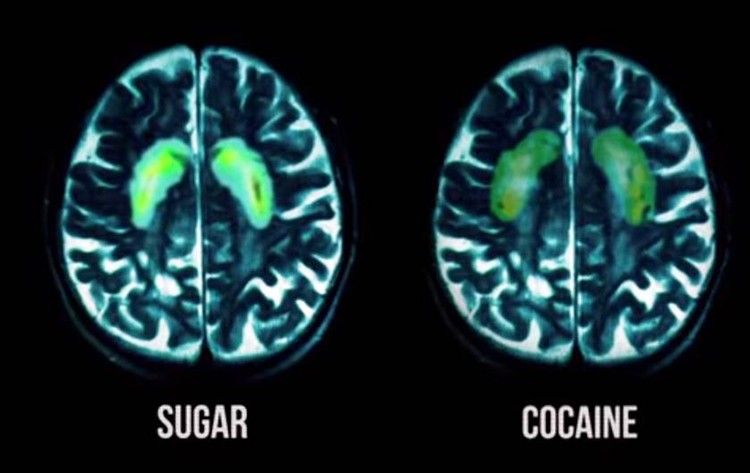 As a result, the Australian researchers believe treating sugar addicts the same way as people hooked on drugs could be the key to getting folks to kick their sweets habit for good.
Sugar consumption elevates "dopamine levels which control the brain's reward and pleasure centers in a way that is similar to many drugs of abuse including tobacco, cocaine and morphine," Selena Bartlett, a researcher at the institute and one of the study's authors, told Science Daily. "Like other drugs of abuse, withdrawal from chronic sucrose exposure can result in an imbalance in dopamine levels and be as difficult as going 'cold turkey' from them."
According to the research, published in the journal PLOS ONE, people have to consume more and more sugar to maintain elevated dopamine levels. That's particularly problematic given that studies have shown consuming large amounts of sugar contributes to high blood pressure, diabetes and obesity.
"The latest World Health Organization (WHO) figures tell us 1.9 billion people worldwide are overweight, with 600 million considered obese," said Bartlett.
Indeed, to help curb the obesity epidemic, last year WHO recommended that people try to get no more than 5 percent of their total daily calories from sugar. Drinking one can of cola puts someone consuming 2,000 calories a day over that limit. A study released in March found that sugary, ultra-processed foods make up more than half the diet of the average American.
There's a growing awareness of the connection between health problems and sugar consumption: A survey released last summer found that 75 percent of adults in the UK are actively looking to consume foods with less sugar. But given how addictive sugar is, those folks may find it's tough to give it up—much like Harland discovered in his monthlong stunt in Amsterdam.
As a result, Bartlett and her team have been experimenting with giving sugar addicts the same drugs used to treat people who are having a tough time quitting smoking. They found that the prescription medication Chantix, "which treats nicotine addiction, can work the same way when it comes to sugar cravings," said Bartlett.
So does this mean that in a few years people looking to kick their sugar habit will be able to do so with a medicated patch on their shoulder or by popping a pill? Bartlett said the idea is still being tested, but these medications "may represent a novel new treatment strategy to tackle the obesity epidemic."
This article was reposted with permission from our media associate TakePart.

YOU MIGHT ALSO LIKE
5 Ways Fruit and Veggies Can Replace Medications
9 Health Benefits to Adding Avocado Oil to Your Diet
What Will Happen When Genetically Engineered Salmon Escape Into the Wild?
EcoWatch Daily Newsletter
Europe is gearing up for another extreme heat wave that could set all-time records for several European countries.
Modern agricultural greenhouses in the Netherlands use LED lights to support plant growth. GAPS / iStock / Getty Images Plus
By Kevin M. Folta
A nighttime arrival at Amsterdam's Schiphol Airport flies you over the bright pink glow of vegetable production greenhouses. Growing crops under artificial light is gaining momentum, particularly in regions where produce prices can be high during seasons when sunlight is sparse.
Golde Wallingford submitted this photo of "Pure Joy" to EcoWatch's first photo contest. Golde Wallingford
EcoWatch is pleased to announce our third photo contest!

On Oct. 4, 2017, the Senate EPW Committee held a hearing on Wehrum's nomination.
EPA / YouTube screenshot
The U.S. Environmental Protection Agency's (EPA) former head of the Office of Air and Radiation who was instrumental in drafting policies that eased climate protection rules and pollution standards is under investigation by a federal watchdog for his dealings with the fossil fuel industry he was supposed to be regulating, according to the New York Times.
It's no secret that the Trump administration has championed fossil fuels and scoffed at renewable energy. But the Trump administration is trying to keep something secret: the climate crisis. That's according to a new analysis from the watchdog group Environmental Data and Governance Initiative (EDGI) who found that more than a quarter of the references to climate change on .gov websites vanished.
Pexels
New York is officially the first state in the union to ban cat declawing.
People walk in the Shaw neighborhood on July 20 in Washington, DC, where an excessive heat warning was in effect according to the NWS. Alex Wroblewski / Getty Images
By Adrienne Hollis
Climate change is a threat multiplier. This is a fact I know to be true. I also know that our most vulnerable populations, particularly environmental justice communities — people of color and/or low socioeconomic status — are suffering and will continue to suffer first and worst from the adverse effects of climate change. Case in point? Extreme heat.