Quaker Oats Accused of Being 'Deceptive and Misleading' After Glyphosate Detected in Oatmeal
PepsiCo Inc.'s Quaker Oats has been accused of false advertising by a group of consumers in New York, California and Illinois, who have filed a class action lawsuit challenging the company's claim of being "100 Percent Natural" despite having traces of the weedkiller glyphosate found in its famous oatmeal.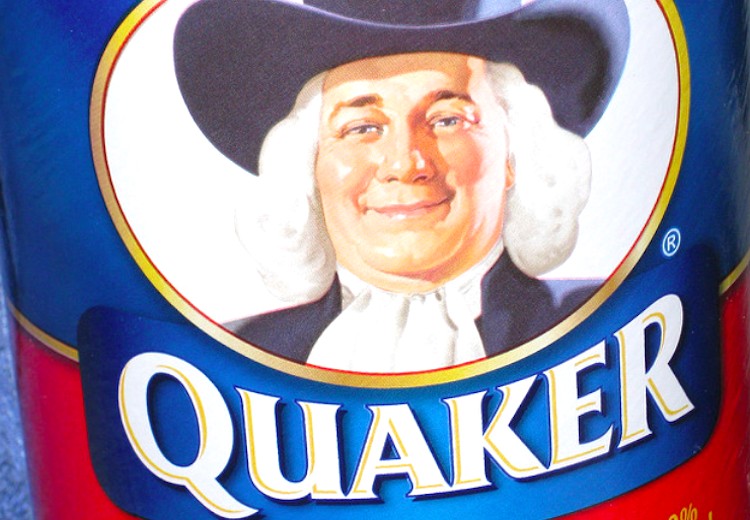 Quaker says that its oatmeal is made from 100 percent whole grain oats. Photo credit: Flickr
According to the complaint, glyphosate allegedly made its way into Quaker Oats "not simply because it is used as an agricultural weed killer, but because it is sprayed on the oats as a drying agent shortly before harvest."
The plaintiffs, who are seeking refunds from PepsiCo., are not accusing Quaker of illegally using glyphosate but that its "100 Percent Natural" claim is "false, deceptive and misleading" since it contains the controversial chemical.
Glyphosate, the main ingredient in Monsanto's flagship herbicide Roundup, was declared a probable carcinogen by the World Health Organization's International Agency for Research on Cancer (IARC) last year.
"Quaker knows that consumers seek out and wish to purchase whole, natural foods that do not contain chemicals, and that consumers will pay more for foods that they believe to be natural," the court document states.
Bloomberg noted that in 1997, "Quaker Oats oatmeal became the first food product to be allowed by the Food and Drug Administration to carry the claim that it was healthy, according to a study that examined the marketing of health foods."
Quaker advertises its popular whole grain oats for its "wholesome goodness." However, as the complaint states:
No reasonable consumer, seeing these representations, would expect Quaker Oats to contain anything unnatural, or anything other than whole, rolled oats.
Quaker Oats, despite their labels, do contain something other than whole, rolled oats; namely, Quaker Oats contain glyphosate.
Glyphosate is not "Natural" or "100 Percent Natural." Glyphosate is a synthetic biocide and probable human carcinogen, with additional health dangers rapidly becoming known.
Quaker issued a defense to the New York Times, stating, "Any levels of glyphosate that may remain are trace amounts and significantly below any limits which have been set by the EPA as safe for human consumption."
The New York Times reported that in a test paid for by lawyers for the plaintiffs, the Richman Law Group, glyphosate was detected at a level of 1.18 parts per million in a sample of Quaker Oats Quick 1-Minute, or 4 percent of the 30 parts per million that the U.S. Environmental Protection Agency (EPA) allows in cereal grains.
Glyphosate is the most widely used agricultural herbicide in the world. Farmers sprayed 2.6 billion pounds of Monsanto's glyphosate herbicide on U.S. agricultural land between 1992 and 2012, according to the U.S. Geological Survey.
The chemical has been detected in several products, from alcoholic beverages and even women's hygiene products. Last month, the Alliance for Natural Health-USA released the results of food safety testing conducted on an assortment of popular breakfast foods, revealing that glyphosate was found in 10 of the 24 food samples tested, including oatmeal, bagels, eggs (including the organic variety), potatoes and even non-GMO soy coffee creamer.
Monsanto has vehemently denied the cancer claims of its blockbuster product and has demanded a retraction of the IARC report.
"Regulatory agencies have reviewed all the key studies examined by IARC—and many more—and arrived at the overwhelming consensus that glyphosate poses no unreasonable risks to humans or the environment when used according to label instructions," the company states on its website.
For instance, in November, the European Food Safety Authority rejected the IARC's classification of glyphosate as a possible carcinogen, declaring that the ingredient is "unlikely to pose a carcinogenic hazard to humans."
And on Friday, the EPA published a report online that concluded glyphosate is not likely to be carcinogenic to humans.
However, the document was pulled on Monday. According to Reuters, the agency said that the document was inadvertently published and it had not finished the review of the chemical.
Unsurprisingly, Monsanto is pleased with the release of the document, telling Reuters after the documents had been removed that they were "clearly labeled and signed as the final report of EPA's Cancer Assessment Review Committee."
Monsanto's chief technology officer Robb Fraley tweeted, "EPA declares (again) that glyphosate, the active ingredient in Roundup, is not a carcinogen."
He added, "This is the EPA's highest ranking for product safety—they also do nice job of explaining all of IARC's mistakes."
The Center for Biological Diversity, however, has issued a statement accusing the EPA of relying heavily on "industry-funded studies that have not undergone public scrutiny" for its draft analysis whereas the IARC used publicly available research for its own study. The nonprofit conservation organization also pointed out that the IARC took into account studies on actual products that are available on store shelves, while the EPA ignored those studies to focus solely on studies that tested glyphosate as a single ingredient.
"EPA's determination that glyphosate is non-carcinogenic is disappointing, but not terribly surprising—industry has been manipulating this process for years," Nathan Donley, a scientist with the Center for Biological Diversity, said. "The analysis done by the World Health Organization is more open and transparent and remains the gold standard."
A lawyer representing the New York consumers in the Quaker Oats lawsuit told Bloomberg that the contrary opinions from government agencies will not affect the suit because their complaint centers on advertising claims rather than the levels of the herbicide in Quaker Oats.
Monsanto is facing a growing number of lawsuits over its widely popular product, including a wrongful death lawsuit filed in March by the widow of a Cambria, California farmer alleging that the St. Louis-based company had known for years that exposure to glyphosate could cause cancer and other serious illnesses or injuries.
YOU MIGHT ALSO LIKE
Glyphosate Found in Popular Breakfast Foods
Why Is This Hormone-Disrupting Pesticide Banned in Europe But Widely Used in the U.S.?
Top 10 Vegan-Friendly Cities of 2016
Nation's Leading Yogurt Maker Will Remove GMO Ingredients and Source Milk From Non-GMO Fed Cows
By Melissa Hellmann
When her eldest son was in elementary school in the Oakland Unified School District, Ruth Woodruff became alarmed by the meals he was being served at school. A lot of it was frozen, processed foods, packed with preservatives. At home, she was feeding her children locally sourced, organic foods.
Keep reading...
Show less
Laurie Woolever
By James O'Hare
There are 20 million people in the world facing famine in South Sudan, Somalia, Nigeria and Yemen. In developed nations, too, people go hungry. Venezuela, for instance, is enduring food insecurity on a national level as a result of economic crisis and political corruption. In the U.S., the land of supposed excess, 12.7 percent of households were food insecure in 2015, meaning they didn't know where their next meal would come from.
Keep reading...
Show less
Melwater, Greenland ice sheet. Diane Tuft
Artists are taking the climate crisis into frame and the results are emotional, beautiful and stirring.
So you've seen the best climate change cartoons and shared them with your friends. You've showed your family the infographics on climate change and health, infographics on how the grid works and infographics about clean, renewable energy. You've even forwarded these official National Oceanic and Atmospheric Administration graphs that explain the 10 clear indicators of climate change to your colleagues at the office.
Keep reading...
Show less
May. 27, 2017 01:11PM EST
As the Trump administration moves full speed ahead on boosting the oil and fossil fuel industry, opposition to increased pipeline construction is cropping up in different communities around the country.
Keep reading...
Show less
May. 27, 2017 01:02PM EST
Minke whale stranding near Havergate Island in Suffolk. MCGA.
By Simon Evans
Last Saturday, two dead whales washed up on the coast of Suffolk, in eastern England, and a third was spotted floating at sea.
What happened next illustrates how news can spread and evolve into misinformation, when reported by journalists rushing to publish before confirming basic facts or sourcing their own quotes.
Keep reading...
Show less
May. 27, 2017 01:22PM EST
By Monica Amarelo and Paul Pestano
Sun safety is a crucial part of any outdoor activity for kids, and sunscreen can help protect children's skin from harmful ultraviolet rays. Kids often get sunburned when they're outside unprotected for longer than expected. Parents need to plan ahead and keep sun protection handy in their cars or bags.
Keep reading...
Show less
May. 27, 2017 01:02PM EST
By Joe McCarthy
A lot of people take part in community clean-up efforts—spending a Saturday morning picking up litter in a park, mowing an overgrown field or painting a fence.
Keep reading...
Show less
May. 26, 2017 03:22PM EST
Rink Glacier in western Greenland, with a meltwater lake visible center. NASA/OIB
Scientists have had their eyes on Greenland as its iconic glaciers have begun disappearing due to a warming climate. But, what they didn't expect to see was a whole new type of melting.
Keep reading...
Show less


Get EcoWatch in your inbox